SEC575: Mobile Device Security and Ethical Hacking
Mon, October 24 - Sat, October 29, 2016
SEC575 is cutting-edge security material and is well taught.

In the fast-paced world of Bring Your Own Device (BYOD) and mobile device management, SEC575 is a must-have course for InfoSec managers.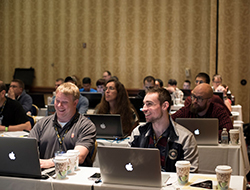 Imagine an attack surface spread throughout your organization, in the hands of every user, which moves from place to place regularly, stores highly sensitive and critical data, and sports numerous different wireless technologies all ripe for attack. You have it today: mobile devices. These devices are the biggest attack surface in most organizations today, yet these same organizations often don't have the skills needed to assess them.
NOW COVERING ANDROID MARSHMALLOW, iOS 10, APPLE WATCH AND ANDROID WEAR
Mobile devices are no longer a convenience technology: they are an essential tool carried or worn by users worldwide, often displacing conventional computers for everyday enterprise data needs. You can see this trend in corporations, hospitals, banks, schools, and retail stores throughout the world. Users rely on mobile devices more today than ever before - we know it, and the bad guys do too.
LEARN HOW TO PEN TEST THE BIGGEST ATTACK SURFACE IN YOUR ENTIRE ORGANIZATION
This course is designed to give you the skills you need to understand the security strengths and weaknesses in Apple iOS, Android, and wearable devices including Apple Watch and Android Wear. With these skills, you will evaluate the security weaknesses of built-in and third party applications. You'll learn how to bypass platform encryption, and how to manipulate Android apps to circumvent obfuscation techniques. You'll leverage automated and manual mobile application analysis tools to identify deficiencies in mobile app network traffic, file system storage, and inter-app communication channels. You'll safely work with mobile malware samples to understand the data exposure and access threats affecting Android and iOS devices, and you'll exploit lost or stolen devices to harvest sensitive mobile application data.
TAKE A DEEP DIVE INTO EVALUATING MOBILE APPS, OPERATING SYSTEMS, AND THEIR ASSOCIATED INFRASTRUCTURES
Understanding and identifying vulnerabilities and threats to mobile devices is a valuable skill, but it must be paired with the ability to communicate the associated risks. Throughout the course, you'll review the ways in which we can effectively communicate threats to key stakeholders. You'll leverage tools including Mobile App Report Cards to characterize threats for management and decision makers, while identifying sample code and libraries that developers can use to address risks for in-house applications as well.
YOUR MOBILE DEVICES ARE GOING TO COME UNDER ATTACK - HELP YOUR ORGANIZATION PREPARE FOR THE ONSLAUGHT!
Through the use of your new skills, you'll apply a mobile device deployment penetration test in a step-by-step fashion. Starting with gaining access to wireless networks to implement man-in-the-middle attacks and finishing with mobile device exploits and data harvesting, you'll examine each step in conducting such a test with hands-on exercises, detailed instructions, and tips and tricks learned from hundreds of successful penetration tests. By building these skills, you'll return to work prepared to conduct your own test, or better informed on what to look for and how to review an outsourced penetration test.
Mobile device deployments introduce new threats to organizations including advanced malware, data leakage, and the disclosure of enterprise secrets, intellectual property, and personally identifiable information assets to attackers. Further complicating matters, there simply are not enough people with the security skills needed to identify and manage secure mobile phone and tablet deployments. By completing this course, you'll be able to differentiate yourself as having prepared to evaluate the security of mobile devices, to effectively assess and identify flaws in mobile applications, and to conduct a mobile device penetration test - all critical skills to protect and defend mobile device deployments.
Course Syllabus
Additional Information
Throughout the course, students will participate in hands-on lab exercises. Students must bring their own laptops to class that meet the requirements described below.
Windows
Students must bring a Windows 10, Windows 8.1 or Windows 7 laptop to class. Virtualization of Windows is OK for Mac OS X and Linux users.
Administrative Access
For several tools utilized in the course, students will be required to perform actions with administrative privileges. Students must have administrative access on their Windows host, including the ability to unload or disable security software such as anti-virus or firewall agents as necessary for the completion of lab exercises. Further, students should have knowledge of the local passwords required to manage their system, including local Administrator account passwords, and passwords necessary to make system BIOS configuration changes.
VMware
Students will use a virtualized Linux VMware guest for several lab exercises. VMware Workstation or VMware Player is recommended. Note that there is no cost associated with the use of VMware Player, which can be downloaded from the VMware website.
VirtualBox and other virtualization tools are not supported.
Laptop Requirements
Several of the software components used in the course are hardware intensive, requiring more system resources than what might be required otherwise for day-to-day use of a system. Please ensure your laptop meets the following minimum hardware requirements:
Minimum 2 GB RAM, 4 GB recommended
Ethernet (RJ45) network interface; students will not be able to complete lab exercises without an Ethernet interface, either built-in or through a USB adapter.
30 GB free hard disk space
Minimum screen resolution 1366x768, larger screen resolution will reduce scrolling in for several applications and a more pleasant end-user experience
During the course, you will install numerous tools, and make several system changes. Some students may wish to bring a clean system that is not their everyday production system, or a dedicated Windows virtual machine that meets the minimum requirements for a system, to avoid any changes that may interfere with other system software.
If you have additional questions about the laptop specifications, please contact laptop_prep@sans.org.
Penetration testers
Ethical hackers
Auditors who need to build deeper technical skills
Security personnel whose job involves assessing, deploying or securing mobile phones and tablets
Network and system administrators supporting mobile phones and tablets
Other Courses People Have Taken
Course books with table of contents and a comprehensive index
Step-by-step instructions for all lab exercises
Handouts and cheat-sheets used for quick reference to detailed information sources
Access to associated software, files and analysis resources
MP3 audio files of the complete course lecture
Use jailbreak tools for Apple iOS and Android systems
Conduct an analysis of iOS and Android file system data to plunder compromised devices and extract sensitive mobile device use information
Analyze Apple iOS and Android applications with reverse-engineering tools
Change the functionality of Android and iOS apps to defeat anti-jailbreaking or circumvent in-app purchase requirements
Conduct an automated security assessment of mobile applications
Use wireless network analysis tools to identify and exploit wireless networks used by mobile devices
Intercept and manipulate mobile device network activity
Leverage mobile-device-specific exploit frameworks to gain unauthorized access to target devices
Manipulate the behavior of mobile applications to bypass security restrictions
Hijacking Mobile Banking: Evil Bank
Virtualizing Android with VMware
Accessing Android with the Android Debug Bridge (ADB) Tool
Recovering Android Swipe Lock Patterns
iPhone File System Data Analysis
Evaluating Mobile Device Network Packet Captures
Mobile App Analysis with NetworkMiner
Android App Reverse Engineering with JD-GUI, Jadx
Automated Android App Analysis with Androwarn
Manipulating Android Intents with the Drozer Framework
Modifying Android Applications with Apktool
WiFi Monitor Mode Packet Capture Analysis
Probed Network Mapping and Vulnerability Discovery
Recovering WPA2-PSK Passphrases
Mobile Device Fingerprinting with Satori
Sidejacking WordPress
Manipulating Web Browser Activity
Bypassing Android Same Origin Policy with Metasploit for Session Hijacking
Mobile App Banking Transaction Manipulation
Crazy Cars SQL Injection Attack
"Cutting edge security material, well taught." - Donald Farrell, Kingsisle Entertainment Inc.
"In the fast paced world of Bring Your Own Device (BYOD) and mobile device management, SEC575 is a must course for infosec managers." - Jude Meche, DSCC
"SEC575 provides a pretty comprehensive overview of different attack vectors and vulnerabilities in the mobile field. It covers many topics in enough depth to really get a foothold in the subject. I wish I had taken this course several years ago when first entering the mobile landscape. It would have saved me months of painful self-teaching, and is vastly more complete in many areas." - Jeremy Erickson, Sandia National Labs
SEC575 Mobile Device Security and Ethical Hacking Review by Matt Edmonson http://digitalforensicstips.com/2014/11/sans-sec575-mobile-device-security-and-ethical-hacking-review/
Author Statement
I'm not sure exactly when it happened, but laptops and PCs have become legacy computing devices, replaced by mobile phones and tablets. Just when I thought we were getting a much better handle on the security of Windows, Mac, and other Unix systems, there has been an explosion of new devices wanting to join our networks that simply do not have the same security controls that we rely on in modern, secure networks.
Even with their weaknesses, mobile phones are here to stay, and we are being called on to support them more and more. Some organizations try to drag their feet on allowing mobile phones, but that ultimately contributes to the problem: if we do not address security, the threats continue to grow, uncontrolled and unmonitored.
Fortunately, we can securely deploy, manage and monitor mobile phones and tablets inside our organizations through policy and careful network deployment and monitoring. We need to build some essential skills in analyzing the risks of data leakage in mobile code and in the applications our end-users want to run from the app store. And we need to ethically hack our networks to identify the real threat and exposure of mobile phone weaknesses.
I wrote this course to help people build their skills in all these areas, focusing on the topics and concepts that are most important and immediately useful. Every organization should have an analyst who has the skills for mobile phone security analysis and deployment. By taking this course, you will become an even more valued part of your organization. And we'll have lots of geeky fun in getting you there!
- Josh Wright