FOR572: Advanced Network Forensics: Threat Hunting, Analysis, and Incident Response
Mon, November 29 - Sat, December 4, 2021
Associated Certification: GIAC Network Forensic Analyst (GNFA)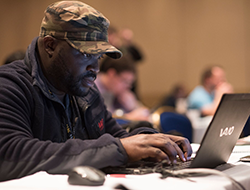 Take your system-based forensic knowledge onto the wire. Incorporate network evidence into your investigations, provide better findings, and get the job done faster.
It is exceedingly rare to work any forensic investigation that doesn't have a network component. Endpoint forensics will always be a critical and foundational skill for this career but overlooking their network communications is akin to ignoring security camera footage of a crime as it was committed. Whether you handle an intrusion incident, data theft case, employee misuse scenario, or are engaged in proactive adversary discovery, the network often provides an unparalleled view of the incident. Its evidence can provide the proof necessary to show intent, uncover attackers that have been active for months or longer, or may even prove useful in definitively proving a crime actually occurred.
FOR572: ADVANCED NETWORK FORENSICS: THREAT HUNTING, ANALYSIS AND INCIDENT RESPONSE was designed to cover the most critical skills needed for the increased focus on network communications and artifacts in today's investigative work, including numerous use cases. Many investigative teams are incorporating proactive threat hunting to their skills, in which existing evidence is used with newly-acquired threat intelligence to uncover evidence of previously-unidentified incidents. Others focus on post-incident investigations and reporting. Still others engage with an adversary in real time, seeking to contain and eradicate the attacker from the victim's environment. In these situations and more, the artifacts left behind from attackers' communications can provide an invaluable view into their intent, capabilities, successes, and failures.
In FOR572, we focus on the knowledge necessary to examine and characterize communications that have occurred in the past or continue to occur. Even if the most skilled remote attacker compromised a system with an undetectable exploit, the system still has to communicate over the network. Without command-and-control and data extraction channels, the value of a compromised computer system drops to almost zero. Put another way: Bad guys are talking - we'll teach you to listen.
This course covers the tools, technology, and processes required to integrate network evidence sources into your investigations, with a focus on efficiency and effectiveness. You will leave this week with a well-stocked toolbox and the knowledge to use it on your first day back on the job. We will cover the full spectrum of network evidence, including high--evel NetFlow analysis, low-level pcap-based dissection, ancillary network log examination, and more. We cover how to leverage existing infrastructure devices that may contain months or years of valuable evidence as well as how to place new collection platforms while an incident is underway.
Whether you are a consultant responding to a client's site, a law enforcement professional assisting cybercrime victims and seeking prosecution of those responsible, an on-staff forensic practitioner, or a member of the growing ranks of threat hunters, this course offers hands-on experience with real-world scenarios that will help take your work to the next level. Previous SANS SEC curriculum students and other network defenders will benefit from the FOR572 perspective on security operations as they take on more incident response and investigative responsibilities. SANS DFIR alumni can take their existing operating system or device knowledge and apply it directly to the network-based attacks that occur daily. In FOR572, we solve the same caliber of real-world problems without the use of disk or memory images.
Most of FOR572's hands-on labs have been developed together with the latest version of FOR508, Advanced Incident Response, Threat Hunting, and Digital Forensics. In these shared scenarios, you'll quickly see a hybrid approach to forensic examination that includes both host and network artifacts is ideal. Although our primary focus is on the network side of that equation, we will point out areas where the host perspective could provide additional context, or where the network perspective gives deeper insight. Both former and future FOR508 students will appreciate the nexus between these extensive evidence sets.
The hands-on labs in this class cover a wide range of tools and platforms, including the venerable tcpdump and Wireshark for packet capture and analysis; NetworkMiner for artifact extraction; and open-source tools including nfdump, tcpxtract, tcpflow, and more. Newly added tools in the course include the free and open-source SOF-ELK platform - a VMware appliance pre-configured with a tailored configuration of the Elastic stack. This "big data" platform includes the Elasticsearch storage and search database, the Logstash ingest and parsing engine, and the Kibana graphical dashboard interface. Together with the custom SOF-ELK configuration files, the platform gives forensicators a ready-to-use platform for log and NetFlow analysis. For full-packet analysis and hunting at scale, the free and open-source Moloch platform is also covered and used in a hands-on lab. Through all of the in-class labs, shell scripting skills are highlighted as quick and easy ways to rip through hundreds of thousands of data records.
FOR572 is an advanced course - we hit the ground running on day one. Bring your entire bag of skills: forensic techniques and methodologies, full-stack networking knowledge (from the wire all the way up to user-facing services), Linux shell utilities, and everything in between. They will all benefit you throughout the course material as you FIGHT CRIME. UNRAVEL INCIDENTS...ONE BYTE (OR PACKET) AT A TIME.
You Will Be Able To
Extract files from network packet captures and proxy cache files, allowing follow-on malware analysis or definitive data loss determinations
Use historical NetFlow data to identify relevant past network occurrences, allowing accurate incident scoping
Reverse engineer custom network protocols to identify an attacker's command-and-control abilities and actions
Decrypt captured SSL/TLS traffic to identify attackers' actions and what data they extracted from the victim
Use data from typical network protocols to increase the fidelity of the investigation's findings
Identify opportunities to collect additional evidence based on the existing systems and platforms within a network architecture
Examine traffic using common network protocols to identify patterns of activity or specific actions that warrant further investigation
Incorporate log data into a comprehensive analytic process, filling knowledge gaps that may be far in the past
Learn how attackers leverage meddler-in-the-middle tools to intercept seemingly secure communications
Examine proprietary network protocols to determine what actions occurred on the endpoint systems
Analyze wireless network traffic to find evidence of malicious activity
Learn how to modify configuration on typical network devices such as firewalls and intrusion detection systems to increase the intelligence value of their logs and alerts during an investigation
Apply the knowledge you acquire during the week in a full-day capstone lab, modeled after real-world nation-state intrusions and threat actors
FOR572 Advanced Network Forensics: Threat Hunting, Analysis and Incident Response Course Topics:
Foundational network forensics tools: tcpdump and Wireshark refresher
Packet capture applications and data
Unique considerations for network-focused forensic processes

Network evidence types and sources
Network architectural challenges and opportunities for investigators
Investigation OPSEC and footprint considerations

Network protocol analysis

Hypertext Transfer Protocol (HTTP)
Domain Name Service (DNS)
File Transfer Protocol (FTP)
Server Message Block (SMB) and related Microsoft protocols
Simple Mail Transfer Protocol (SMTP)

Commercial network forensic tools
Automated tools and libraries
NetFlow

Introduction
Collection approaches
Open-source NetFlow tools

Wireless networking

Capturing wireless traffic
Useful forensic artifacts from wireless traffic
Common attack methods and detection

Log data to supplement network examinations

Syslog
Microsoft Windows Event Forwarding
HTTP server logs
Firewalls, Intrusion Detection Systems (IDSes), and Network Security Monitoring (NSM) Platforms
Log collection, aggregation, and analysis
Web proxy server examination

Encryption

Secure Sockets Layer (SSL) and Transport Layer Security (TLS)
Profiling TLS clients without interception
Introduction
Meddler-in-the-middle
Secure Sockets Layer (SSL) and Transport Layer Security (TLS)

Deep packet work

Network protocol reverse engineering
Payload reconstruction

What You Will Receive
Custom distribution of the Linux SANS SIFT Workstation Virtual Machine with over 500 digital forensics and incident response tools prebuilt into the environment, including network forensic tools added just for this course
SOF-ELK Virtual Machine - a publicly available appliance running the ELK stack and the course author's custom set of configurations and dashboards. The VM is preconfigured to ingest syslog logs, HTTPD logs, and NetFlow, and will be used during the class to help students wade through the hundreds of millions of records they are likely to encounter during a typical investigation
Moloch Virtual Machine - a standalone VM running the free Moloch application. Moloch ingests and indexes live network data or pcap files, providing a platform that makes full-packet analysis attainable.
Realistic case data to examine during class, from multiple sources including:

NetFlow data
Web proxy, firewall, and intrusion detection system logs
Network captures in pcap format
Network service logs

Electronic Downloadable package loaded with case examples, tools, and documentation
Notice:
Please plan to arrive 30 minutes early on Day 1 for lab preparation and set-up.
Course Syllabus
Additional Information
Important! Bring your own system configured according to these instructions!
A properly configured system is required to fully participate in this course. If you do not carefully read and follow these instructions, you will likely leave the class unsatisfied because you will not be able to participate in hands-on exercises that are essential to this course. Therefore, we strongly urge you to arrive with a system meeting all the requirements specified for the course.
This is common sense, but we will say it anyway. Back up your system before class. Better yet, do not have any sensitive data stored on the system. SANS can't responsible for your system or data.
MANDATORY FOR572 SYSTEM HARDWARE REQUIREMENTS
CPU: 64-bit Intel i5/i7 (4th generation+) - x64 bit 2.0+ GHz processor or more recent processor is mandatory for this class (Important - Please Read: a 64-bit system processor is mandatory)
It is critical that your CPU and operating system support 64-bit so that our 64-bit guest virtual machine will run on your laptop. VMware provides a free tool for Windows that will detect whether or not your host supports 64-bit guest virtual machines. For further troubleshooting, this article also provides good instructions for Windows users to determine more about the CPU and OS capabilities. For Macs, please use this support page from Apple to determine 64-bit capability.
Note: Apple systems using the M1 processor cannot perform the necessary virtualization at this time and cannot be used for this course.
BIOS settings must be set to enable virtualization technology, such as "Intel-VTx". Be absolutely certain you can access your BIOS if it is password protected, in case changes are necessary. Test it!
16 GB (Gigabytes) of RAM or higher is mandatory for this class (Important - Please Read: 16 GB of RAM or higher of RAM is mandatory and minimum.)
USB 3.0 Type-A port is required. At least one open and working USB 3.0 Type-A port is required. (A Type-C to Type-A adapter may be necessary for newer laptops.) (Note: Some endpoint protection software prevents the use of USB devices - test your system with a USB drive before class to ensure you can load the course data.)
200 Gigabytes of Free Space on your System Hard Drive - Free Space on Hard Drive is critical to host the VMs and data sets we distribute
Local Administrator Access is required. This is absolutely required. Don't let your IT team tell you otherwise. If your company will not permit this access for the duration of the course, then you should make arrangements to bring a different laptop.
Wireless 802.11 Capability - there are no wired networks in the classroom.
MANDATORY FOR572 HOST CONFIGURATION AND SOFTWARE REQUIREMENTS
Host Operating System: Latest version of Windows 10 or macOS 10.15.x
On Windows hosts, VMware products cannot coexist with the Hyper-V hypervisor. Disable Hyper-V and ensure VMware can boot a virtual machine. Disabling Hyper-V, Device Guard, and Credential Guard can be accomplished using these instructions.
Please note: It is necessary to fully update your host operating system prior to the class to ensure you have the right drivers and patches installed to utilize the latest USB 3.0 devices.
Linux hosts cannot be supported in the classroom due to their numerous variations. Students that wish to use Linux hosts must be experienced users or administrators, and must also be able to access ExFAT partitions using the appropriate kernel and/or FUSE modules.
PLEASE INSTALL THE FOLLOWING SOFTWARE PRIOR TO CLASS
Microsoft Office (any version) w/Excel or OpenOffice w/Calc installed on your host - Note you can download Office Trial Software online (free for 30 days)
Download and install VMware Workstation Pro 15.5.X+, VMware Player 15.5.X+ or Fusion 11.5+ on your system prior to class beginning. If you do not own a licensed copy of VMware Workstation or Fusion, you can download a free 30-day trial copy from VMware. VMware will send you a time-limited serial number if you register for the trial at their website. Also note that VMware Player offers fewer features than VMware Workstation, and Workstation is recommended for a more seamless student experience.
Your course media will now be delivered via download. The media files for class can be large, some in the 40 - 50 GB range. You need to allow plenty of time for the download to complete. Internet connections and speed vary greatly and are dependent on many different factors. Therefore, it is not possible to give an estimate of the length of time it will take to download your materials. Please start your course media downloads as you get the link. You will need your course media immediately on the first day of class. Waiting until the night before the class starts to begin your download has a high probability of failure.
SANS has begun providing printed materials in PDF form. Additionally, certain classes are using an electronic workbook in addition to the PDFs. The number of classes using eWorkbooks will grow quickly. In this new environment, we have found that a second monitor and/or a tablet device can be useful by keeping the class materials visible while the instructor is presenting or while you are working on lab exercises.
If you have additional questions about the laptop specifications, please contact laptop_prep@sans.org.
Incident response team members and forensicators who are expanding their investigative scope from endpoint systems to the network
Hunt team members who proactively seek adversaries already in their network environments through leveraging new intelligence against previously collected evidence
Law enforcement officers, federal agents, and detectives who want to become network forensic subject matter experts
Security Operations Center (SOC) personnel and information security practitioners who support hunt operations, seeking to identify attackers in their network environments
Network defenders who are taking on added investigative and/or incident response workloads
Information security managers who need to understand network forensics in order to manage risk, convey information security implications, and manage investigative teams
Network engineers who are proactively orienting their networks to best meet investigative requirements
Information technology professionals who want to learn how network investigations take place
Anyone interested in computer network intrusions and investigations who has a solid background in computer forensics, information systems, and information security
"Best course material on network forensics available. I've learned so many quick tips about how to do things more effectively." - Mike Ahrendt, KPMG
"Essential to any investigators skill set. This course makes the advanced network forensics techniques easily graspable." - Casey Brooks
"This course is fantastic. It has prepared me with new ideas to take back to work." - Ryan Fletcher
"First course I've taken that gives insight into the forensic mindset required for investigating incidents." - Tyler Whittington
"Single word: Relevancy. Techniques and methodologies taught in his class will immediately improve your IR posture." - Nathan Hwang
"Useful, real world scenarios make the training relevant. Walkthrough labs are extremely helpful!" - Roisin Cullen
"All of the material has been very informative and beneficial. One of the best courses I've ever taken." - Chris Pardo
"The exposure to top-notch instruction, relevant information, & hands-on activities (labs) provides a comprehensive learning experience." - Ryan Paros
"Content is excellent and the course is very intense. I've improved my knowledge and tool use skills. I think all IR engineers should take this course." - Yigit Turak
"We had to deal with a DDoS where the only available data was a 600GB PCAP file. We reduced to NetFlow and loaded that to the SOF-ELK VM. It quickly showed the waves of attack and how effective the countermeasures were." - David D.
"FOR572 is the best SANS course I have taken. The labs and course material are outstanding and everything I have learned is usable in real world application." - Lionel B.
"This was the best course I've ever been to. Nothing but the best to say about SANS and this course. SANS stuff is really expensive, but I know why now. It was incredibly helpful to our duties here." - Anonymous
"You won't get exposure to the breadth of info on network forensics in any other course." - Devin J.
"NetFlow is cool. We've been receiving massive NetFlow feeds but were unable to fully utilize them apart from DDoS. With this course, I'm getting so many ideas how to use them in hunting." - Anonymous
"I literally was alerted to a potential incident from work on day 5 and used things I'd learned in class to analyze and help remediate." - Patterson C.
"I feel like I have won the lottery with the wealth of information from this week! Very relevant and applicable. I have already started using in our environments with results." - Charlie H.
"This is an incredible curriculum. This class NEEDED to happen, and I am glad it did." - Peter S.
"Cutting edge - puts me ahead in the job market." - Anonymous
"Very good real-world material." - Jason L.
"Great resource. Only true network forensics course I know of." - Jeremy R.
"If you are into disk/memory forensics, you will need this, too!" - Wouter J.
"This class is immediately applicable to my work environment." - Thomas H.
"No FLUFF - focused and targeted learning!" - Jackie S.
"Awesome! Best SANS course I have taken!" - Jim H.
"Although FOR572 is a network forensics class, it gets exactly right what most incident response courses get wrong. Instead of focusing on specific exploits and malware that quickly become outdated, 'Advanced Network Forensics' taught me about the full range of evidence sources available and how to effectively mine them for clues. Even more importantly, FOR572 taught me how to use different evidence sources to fill in missing gaps. This is critical, as most environments or incidents will not have every type of evidence available. A large-scale APT breach will not have full packet capture available for what could be over a year of attacker activity but making effective use of network log files can fill in those gaps. It also dove into advanced topics like analyzing unknown protocols, which is an important skill when dealing with the ever-evolving landscape of malware and odd but legitimate applications. Finally, the network forensics capstone investigation is a small but realistic simulation of an APT breach. Having to perform a realistic investigation under the pressure of limited in-class hours felt much like the pressures of investigating a live incident under the pressure of stopping ongoing data theft. It is an excellent class, and I would definitely recommend it to anyone wanting to bring their IR skills to the next level." - Alexander B.
"Loving the detailed and mutli-layered labs. I have been doing the walkthroughs for time sake but will revisit in depth later." - Anonymous
"FOR572 - next step in developing top notch incident response and network analysis professionals." - Tom L.
"Phil shared an example of extracting cached content and identifying and extracting a GZIP file. These practical analysis examples I think are extremely valuable." - Anonymous
"Material is directly relevant to what our analysts are doing daily. Highly useful." - Tom L.
Author Statement
"When I first became interested in computer and network security in the mid-1990s, the idea of "attacking" another computer network was still science fiction. Today, commercial, governmental, military, and intelligence entities have robust, integrated information security processes. Within the forensic community, we have seen developments that show the agility we must have to remain effective in the face of dynamic adversaries. Endpoint forensic practices will remain the keystone of digital forensics for the foreseeable futur - this is where the events ultimately occur, after all.
"We created FOR572: Advanced Network Forensics: Threat Hunting, Analysis, and Incident Response to address the most transient domain of digital forensics. Many enterprises have grown to the scale that identifying which handful of endpoints to examine among thousands is a significant challenge. Additionally, the network has become its own medium for incident response and investigation. Our ability to use evidence from all kinds of network devices as well as from captured network data itself will be critical to our success in addressing threats today and tomorrow. From low-grade "script kiddie" attacks to long-term, strategic state-sponsored espionage activity, the network is one of the few common elements found throughout the life cycle of an incident. FOR572 will provide you with the tools and methods to conduct network investigations within environments of all sizes, using scenarios developed from real-world cases. You will finish the course with valuable knowledge that you will use the first day back on the job, and with the methodologies that will help address future generations of adversaries' capabilities." - Phil Hagen
"When I first started my career in computer security, the term "advanced persistent threat" was unknown, yet I had personally recovered terabytes of data obtained from both commercial and government networks. The biggest cybersecurity threat in the news was the latest worm that would propagate through unsuspecting systems and cause more of a nuisance than actual destruction. What was known as the Russian Business Network wasn't even around yet. Network security monitoring was still in its infancy, with very little formal documentation or best practices, most of which were geared towards system administrators. While the Internet has continued to expand, we have all become more interconnected and the threat against our networks continues to grow. We wrote FOR572 as the class we wish we had when we were entering the field of network forensics and investigations - a class that not only provides background when needed but is primarily tailored toward finding evil using multiple data sources and performing a full scope investigation. I am confident this course provides the most up-to-date training covering topics both old and new, based on real-life experiences and investigations." - Mat Oldham
"Phil is probably one of the best instructors I've ever learned from. He's an excellent guy, smart, has a ton of relevant industry knowledge that he can bring in while teaching, and knows how to keep the content interesting." - Ronald Bartwitz, Southern Company