Overview

Industry-relevant and innovative, Cyber42 is the ultimate continuous table top simulation for developing your cybersecurity leadership skills in a fun and collaborative environment.
Individuals or teams play to improve the state of security for a fictional organization. Just as in real life, any program has constraints, such as time, money, and resources. Students are required to manage their resources even amongst changing tides and requirements within the organization. They must capitalize on the schedule and available resources to accomplish necessary tasks in a timely and effective manner. Players can interact with one another in order to maximize the results of their program. This type of interactive simulation puts students in real-world scenarios that spur discussion, critical thinking of situations, and melding of different points of view and personalities that they will encounter at work.
As students progress in the game, they choose different initiatives to implement. These initiatives are larger, strategic activities that drive change for the organization. By the end of the game various different initiatives are implemented.
Just like in the real world, however, unexpected events can arise that delay or even possibly derail a planned strategic initiative. In the game there are multiple events to which players will respond. The decisions that are made in response to these events will alter budgets, time, level of security functions, and ultimately the player's final score.
Winning the game is simple. A player/team needs to have the highest score.
Features
Play solo or on a team
Designed for cybersecurity managers, directors, and aspiring leaders
Apply what you've learned in class and on the job in a safe and interactive environment
Earn recognition on our real-time scoreboard
Share your knowledge using interactive Slack chat with other players
Sharpen your skills with game-based training that is fun and engaging
Versions Include

Security Program Capabilities
CISO for A Day
Vulnerability Management
Industrial Edition
Security Culture
Security Operations Centers
Leading Cloud
Versions Of Cyber42: Detailed Descriptions
1. Security Program Capabilities
This version of the game represents how well your fictional organization builds and leads a security program. It's about balancing the implementation of various security controls to build a well rounded program and, ultimately, create lasting security improvement.
Topics:
Balance the build out of your security program by improving your Identify, Protect, Detect, and Respond capabilities as defined by the NIST Cybersecurity Framework (CSF). These core functions represent key areas of investment as you seek to find ways to build your team.

Who Should Attend:
Security Managers: Newly appointed information security officers or recently promoted security leaders who want to build a security foundation for leading and building teams
Security Professionals: Technically skilled security administrators who have recently been given leadership responsibilities or team leads with responsibility for a specific security function who want to understand what other teams are doing
Managers: Managers who want to understand what technical people are telling them or who need an understanding of security from a management perspective
2. CISO For A Day
This version of the game represents how well your fictional organization builds a security strategic plan.
Topics:
Learn to meet business goals and lead execution by building your ability to Decipher, Develop, Deliver, and Lead as defined by the MGT514 strategic planning process.

Who Should Attend:
CISOs
Information security officers
Security directors
Security managers
Aspiring security leaders
Security personnel who have team lead or management responsibilities
Anyone who wants to go beyond technical skills
Technical professionals who want to learn to communicate with senior leaders in business terms
3. Vulnerability Management
This version of the game represents how well your fictional organization builds a vulnerability management program. It's about maturing vulnerability management capabilities to mitigate and remediate the never ending stream of security vulnerabilities.
Topics:
Build a sustainable vulnerability management program by improving your ability to Identify, Analyze, Communicate, and Treat security vulnerabilities as defined by the MGT516 vulnerability management process.
Who Should Attend:
CISOs
Security managers, officers, and directors
Aspiring information security leaders
Risk management professionals
4. Industrial Edition
This version of the game will put you through the paces as an industrial control system (ICS) security manager as players adapt to challenges in operational technology (OT) environments. Players will focus on balancing security program improvements that impact engineers, operations, and customers all while considering the various technical and cultural implications of an OT security program, and the requirement to maintain safe and reliable control system operations.
Topics:
Difference in IT-centric security controls within OT networks
Impacts of ICS-specific cyber attacks, including reliability, health and human safety, the environment, and more
Unique ICS cyber risk considerations
Who should attend:
ICS security managers or directors
CISOs for industrial organizations
IT and OT security leaders
Engineers and operators of industrial organizations
Aspiring ICS security professionals
Anyone interested in ICS security beyond technical controls
5. Security Culture 
The impact of your cybersecurity program is no longer just about technology, rather organizational change. To have this level of influence, you must strive to change how people think about cybersecurity in what they prioritize and how they act. Not only does it help to create a far more secure workforce, but it also helps to ensure your security initiatives are more successful when you have buy-in from the entire organization. Your goal is not to change your organization's existing culture but to embed security into the existing culture. 
Topics:
How to define culture, really? 
Indicators of a strong security culture 
How to assess your security culture 
How to embed a strong security culture in your organization 
Resources you can now use to improve your security culture 
Who should attend: 
Chief Information Security Officers 
Chief Risk Officers/Risk Management Leaders
Security Awareness/Engagement Managers
Information Security Officers, Managers, and Directors 
Aspiring Information Security Leaders
Privacy/Ethics Officers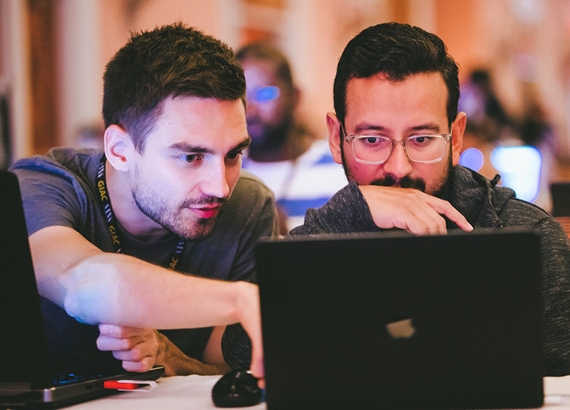 Private Ranges for your Team
Select a private cyber range experience for your team to assess or advance their skills to meet the unique needs of your organization. SANS will help you to:
Define Learning Objectives
Develop Scorecards
Configure Content & Platform
Cyber42 Game Days 2021
Free and Open To The Community Mark your calendars for the 4th Tuesday of each month in 2021 at 10:30 ET for a free, 90-minute Cyber42 Game Day challenge! Versions will be rotated throughout the year; topic and leader subject to change until the event is live.
| Date | Start Time | Cyber42 Version | Leader |
| --- | --- | --- | --- |
| Jan 26 | 10:30 ET | 3:30 GMT | | Joe Sullivan |
| Feb 23 | 10:30 ET | 3:30 GMT | | Jonathan Risto & Chris Denney |
| March 23 | 10:30 ET | 2:30 GMT | | Kevin Garvey |
| April 27 | 10:30 ET | 2:30 GMT | | Joe Sullivan |
| May 25 | 10:30 ET | 2:30 GMT | | Kevin Garvey |
| June 22 | 10:30 ET | 2:30 GMT | | David Hazar |
| July 27 | 10:30 ET | 2:30 GMT | | Dean Parsons & Jason Christopher |
| Aug 24 | 10:30 ET | 2:30 GMT | | Russell Eubanks & Kevin Garvey |
| Sept 28 | 10:30 ET | 2:30 GMT | Security Operations Center | Mark Orlando & John Hubbard |
| Oct 26 | 10:30 ET | 2:30 GMT | Cloud Design & Implementation | Jason Lam |
| Nov 16 | 10:30 ET | 3:30 GMT | TBD | Kevin Garvey |
Laptop Requirements

A laptop or mobile device with the latest web browser is required to play the Cyber42 leadership simulation game.
I want to participate again and again. It was just awesome.
I liked how comprehensive the scenarios were. You have to work through several aspects in order to formulate an answer and then get ranked on a number of different facets. It's good to work through table-top exercises on a management level.
Thank you for creating the game. It helps to get people to understand the choices to be made.
Great initiative!! It's a big learning for me that if the impact and likelihood is not assessed properly then our remediation plan will be bound to fail.
I am learning a lot from the Cyber42 Security Event games.