SEC575: Mobile Device Security and Ethical Hacking
The training in SEC575 pushes me out of my comfort zone. I am not a programmer, but I am heavily involved in mobile for enterprise.

SEC575 is up-to-date and covers a broad range of areas.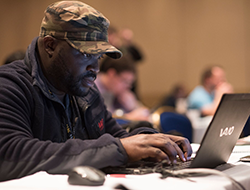 Imagine an attack surface that is spread across your organization and in the hands of every user. It moves from place to place regularly, stores highly sensitive and critical data, and sports numerous different wireless technologies all ripe for attack. Such a surface already exists today: mobile devices. These devices are the biggest attack surface in most organizations, yet these same organizations often don't have the skills needed to assess them.
SEC575 NOW COVERS ANDROID PIE and iOS 12
SEC575: Mobile Device Security and Ethical Hacking is designed to give you the skills you need to understand the security strengths and weaknesses in Apple iOS and Android devices. Mobile devices are no longer a convenience technology: they are an essential tool carried or worn by users worldwide, often displacing conventional computers for everyday enterprise data needs. You can see this trend in corporations, hospitals, banks, schools, and retail stores throughout the world. Users rely on mobile devices more today than ever before -- we know it, and the bad guys do too. The SEC575 course examines the full gamut of these devices.
LEARN HOW TO PEN TEST THE BIGGEST ATTACK SURFACE IN YOUR ENTIRE ORGANIZATION
With the skills you learn in SEC575, you will be able to evaluate the security weaknesses of built-in and third-party applications. You'll learn how to bypass platform encryption and how to manipulate apps to circumvent client-side security techniques. You'll leverage automated and manual mobile application analysis tools to identify deficiencies in mobile app network traffic, file system storage, and inter-app communication channels. You'll safely work with mobile malware samples to understand the data exposure and access threats affecting Android and iOS, and you'll bypass lock screen to exploit lost or stolen devices.
TAKE A DEEP DIVE INTO EVALUATING MOBILE APPS, OPERATING SYSTEMS, AND THEIR ASSOCIATED INFRASTRUCTURES
Understanding and identifying vulnerabilities and threats to mobile devices is a valuable skill, but it must be paired with the ability to communicate the associated risks. Throughout the course, you'll review ways to effectively communicate threats to key stakeholders. You'll leverage tools, including Mobile App Report Cards, to characterize threats for managers and decision-makers, while also identifying sample code and libraries that developers can use to address risks for in-house applications.
YOUR MOBILE DEVICES ARE GOING TO COME UNDER ATTACK -- HELP YOUR ORGANIZATION PREPARE FOR THE ONSLAUGHT!
In employing your newly learned skills, you'll apply a step-by-step mobile device deployment penetration test. Starting with gaining access to wireless networks to implement man-in-the-middle attacks and finishing with mobile device exploits and data harvesting, you'll examine each step of the test with hands-on exercises, detailed instructions, and tips and tricks learned from hundreds of successful penetration tests. By building these skills, you'll return to work prepared to conduct your own test, or better informed on what to look for and how to review an outsourced penetration test.
Mobile device deployments introduce new threats to organizations, including advanced malware, data leakage, and the disclosure to attackers of enterprise secrets, intellectual property, and personally identifiable information assets. Further complicating matters, there simply are not enough people with the security skills needed to identify and manage secure mobile phone and tablet deployments. By completing this course, you'll be able to differentiate yourself as having prepared to evaluate the security of mobile devices, effectively assess and identify flaws in mobile applications, and conduct a mobile device penetration test -- all critical skills to protect and defend mobile device deployments.
Course Syllabus
SEC575.1: Device Architecture and Common Mobile Threats
Overview
The first module of SEC575 quickly looks at the significant threats affecting mobile device deployments, highlighted by a hands-on exercise evaluating network traffic from a vulnerable mobile banking application. As a critical component of a secure deployment, we will examine the architectural and implementation differences and similarities between Android (including Android Pie), Apple iOS 12, and the Apple Watch and Google Wear platforms. We will also look at the specific implementation details of popular platform features such as iBeacon, AirDrop, App Verification, and more. Hands-on exercises will be used to interact with mobile devices running in a virtualized environment, including low-level access to installed application services and application data. We'll examine the tools used to evaluate mobile devices as part of establishing a lab environment for mobile device assessments, including the analysis of mobile malware affecting Android and non-jailbroken iOS devices. Finally, we will address the threats of lost and stolen devices (and opportunities for a pen tester), including techniques to bypass mobile device lock screens.
Topics
Mobile Problems and Opportunities
Challenges and opportunities for secure mobile phone deployments
Weaknesses in mobile devices
Exploiting weaknesses in mobile apps: Bank account hijacking exercise
Mobile Device Platform Analysis
iOS and Android permission management models
Code signing weaknesses on Android
Inter-app communication channels on iOS
Android app execution: Android Runtime vs. Android Dalvik virtual machine
Android Nougat security benefits
Wearable Platforms
Application isolation and data sharing for Apple Watch
Network connectivity and Android Wear apps
Data exfiltration in WatchOS
Weaknesses in wearable device authentication controls
Deficiencies in Android Wear and storage encryption
Mobile Device Lab Analysis Tools
Using iOS and Android emulators
Android mobile application analysis with Android Debug Bridge (ADB) tools
Uploading, downloading, and installing applications with ADB
Application testing with the iOS Simulator
Mobile Device Malware Threats
Trends and popularity of mobile device malware
Mobile malware command and control architecture
Efficiency of Android ransomware malware threats
Analysis of iOS malware targeting non-jailbroken devices
Hands-on analysis of Android malware
Mobile malware defenses: What works and what doesn't
SEC575.2: Mobile Platform Access and Application Analysis
Overview
With an understanding of the threats, architectural components and desired security methods, we dig deeper into iOS and Android mobile platforms focusing on sandboxing and data isolation models, and on the evaluation of mobile applications. This module is designed to help build skills in analyzing mobile device data and applications through rooting and jailbreaking Android and iOS devices and using that access to evaluate file system artifacts. We will also start to evaluate the security of mobile applications, using network capture analysis tools to identify weak network protocol use and sensitive data disclosure over the network. Finally, we'll wrap up the module with an introduction to reverse engineering of iOS and Android applications using decompilers, disassemblers, and manual analysis techniques.
Topics
Unlocking, Rooting, and Jailbreaking Mobile Devices
Legal issues with rooting and jailbreaking
Jailbreaking iOS
Android root access through unlocked bootloaders
Root exploits for Android
Debugging and rooting Android Wear devices
Using a rooted or jailbroken device effectively: Tools you must have!
Mobile Phone Data Storage and File System Architecture
Data stored on mobile devices
Mobile device file system structure
Decoding sensitive data from database files on iOS and Android
Extracting data from Android backups
Using file system artifacts for location disclosure attacks beyond GPS coordinates
Hands-on attacks against password management apps
Network Activity Monitoring
Mobile application network capture and data extraction
Capturing iOS cellular/4G network traffic
Transparent network proxying for data capture
Encrypted data capture manipulation
Extracting files and sensitive content from network captures
Recovering sensitive data from popular cloud storage providers
Static Application Analysis
Retrieving iOS and Android apps for reverse engineering analysis
Decompiling Android applications including Android Wear
Circumventing iOS app encryption with Dumpdecrypted and Rasticrac
Header analysis and Objective-C disassembly
Accelerating iOS disassembly: Hopper and IDA Pro
Swift iOS apps and reverse engineering tools
SEC575.3: Mobile Application Reverse Engineering
Overview
One of the core skills you need as a mobile security analyst is the ability to evaluate the risks and threats a mobile app introduces to your organization. Through lecture and hands-on exercises in this module, with some analysis skills, you will be able to evaluate critical mobile applications to determine the type of access threats and information disclosure threats they represent. In this module we will use automated and manual application assessment tools to evaluate iOS and Android apps. We'll build upon the static application analysis skills covered in Module 2 to manipulate application components, including Android Intents and iOS URL extensions. We'll also learn and practice techniques for manipulating iOS and Android applications, such as method swizzling on iOS, and disassembly, modification, and reassembly of Android apps. The module ends with a look at a consistent system for evaluating and grading the security of mobile applications using the Application Report Card Project.
Topics
Automated Application Analysis Systems
iOS application vulnerability analysis with Needle
Structured iOS application header analysis
Tracing iOS application behavior and API use
Effective Android application analysis with Androwarn
Android application interaction and Intent manipulation with Drozer
Extracting secrets with KeychainDumper
Reverse Engineering Obfuscated Applications
Identifying obfuscation techniques
Decompiling obfuscated applications
Effective reconstructed code annotation with Android Studio
Decrypting obfuscated content with Simplify
Application Report Cards
Step-by-step recommendations for application analysis
Tools and techniques for mobile platform vulnerability identification and evaluation
Recommended libraries and code examples for developers
Detailed recommendations for jailbreak detection, certificate pinning, and application integrity verification
Android and iOS critical data storage: Keychain and key store recommendations
SEC575.4: Penetration Testing Mobile Devices, Part 1
Overview
An essential component of developing a secure mobile device deployment is to perform or outsource a penetration test. Through ethical hacking and penetration testing, we examine the mobile devices and infrastructure from the perspective of an attacker, identifying and exploiting flaws that deliver unauthorized access to data or supporting networks. By identifying these flaws we can evaluate the mobile phone deployment risk to the organization with practical and useful risk metrics. Whether your role is to implement the penetration test, or to source and evaluate the penetration tests of others, understanding these techniques will help your organization identify and resolve vulnerabilities before they become incidents.
Topics
Manipulating Application Behavior
Runtime iOS application manipulation with Cycript
iOS method swizzling
Android application manipulation with Apktool
Reading and modifying Dalvik bytecode
Adding Android application functionality, from Java to Dalvik bytecode
Using Mobile Device Remote Access Trojans
Building RAT tools for mobile device attacks
Hiding RATs in legitimate Android apps
Customizing RATs to evade anti-virus tools
Integrating the Metasploit Framework into your mobile pen test
Effective deployment tactics for mobile device Phishing attacks
Wireless Network Probe Mapping
Monitoring network probing activity
Visualizing network discovery and search
Wireless anonymity attacks
Exploiting iOS and Android wireless network scanning characteristics
Weak Wireless Attacks
Wireless network scanning and assessment
Exploiting weak wireless infrastructure
Monitoring mobile device network scanning
Exploiting "Google WiFi" and iPad or iPhone captive portal detection
Secure network impersonation
Enterprise Wireless Security Attacks
Exploiting WPA2 Enterprise networks with certificate impersonation
Manipulating enterprise wireless authentication protocols
RADIUS server impersonation attacks
SEC575.5: Penetration Testing Mobile Devices, Part 2
Overview
Continuing our look at ethical hacking and penetration testing, we turn our focus to exploiting weaknesses on iOS and Android devices. We will also examine platform-specific application weaknesses and look at the growing use of web framework attacks in mobile application exploitation. Hands-on exercises are used throughout the module to practice these attacks, exploiting both vulnerable mobile applications and the supporting back-end servers.
Topics
Network Manipulation Attacks
Using man-in-the-middle tools against mobile devices
Sniffing, modifying, and dropping packets as man-in-the-middle
Mobile application data injection attacks
Sidejacking Attacks
Identifying mobile applications vulnerable to sidejacking
Using sidejacking effectively in a penetration test
Hands-on exploitation of popular mobile applications
SSL/TLS Attacks
Exploiting HTTPS transactions with man-in-the-middle attacks
Core pen test technique: TLS impersonation against iOS Mail.app for password harvesting
Integrating man-in-the-middle tools with Burp Suite for effective HTTP manipulation attacks
Client-Side Injection Attacks
Android WebView and JavaScript injection for remote code execution
Harvesting session cookies through Android browser vulnerabilities with Metasploit
Using the Spec.js library for mobile browser vulnerability detection and exploit delivery
Web Framework Attacks
Site impersonation attacks
Application cross-site scripting exploits
Remote browser manipulation and control
Data leakage detection and analysis
Hands-on attacks: Mobile banking app transaction manipulation
Back-end Application Support Attacks
Exploiting SQL injection in mobile application frameworks
Leveraging client-side injection attacks
Getting end-to-end control of mobile application server resources
SEC575.6: Hands-on Capture-the-Flag Event
Overview
In the final module of SEC575 we will pull together all the concepts and technology covered during the week in a comprehensive Capture-the-Flag event. In this hands-on exercise, you will have the option to participate in multiple roles, including designing a secure infrastructure for the deployment of mobile phones, monitoring network activity to identify attacks against mobile devices, extracting sensitive data from a compromised iPad, and attacking a variety of mobile phones and related network infrastructure components. During this mobile security event you will put into practice the skills you have learned in order to evaluate systems and defend against attackers, simulating the realistic environment you will be prepared to protect when you get back to the office.
Additional Information
In this course students will use an advanced lab system to maximize the time spent on learning objectives, and minimize setup and troubleshooting.
Students may use a Windows or a macOS/OS X system for exercises. You will need a wired network adapter to connect to the classroom network. Larger laptop displays will make for an improved lab experience (less scrolling).
If you have additional questions about the laptop specifications, please contact laptop_prep@sans.org.
Penetration testers
Ethical hackers
Auditors who need to build deeper technical skills
Security personnel whose job involves assessing, deploying or securing mobile phones and tablets
Network and system administrators supporting mobile phones and tablets
Other Courses People Have Taken
Course books with table of contents and a comprehensive index
Step-by-step instructions for all lab exercises
Handouts and cheat-sheets used for quick reference to detailed information sources
Access to associated software, files and analysis resources
MP3 audio files of the complete course lecture
Use jailbreak tools for Apple iOS and Android systems
Conduct an analysis of iOS and Android file system data to plunder compromised devices and extract sensitive mobile device use information
Analyze Apple iOS and Android applications with reverse-engineering tools
Change the functionality of Android and iOS apps to defeat anti-jailbreaking or circumvent in-app purchase requirements
Conduct an automated security assessment of mobile applications
Use wireless network analysis tools to identify and exploit wireless networks used by mobile devices
Intercept and manipulate mobile device network activity
Leverage mobile-device-specific exploit frameworks to gain unauthorized access to target devices
Manipulate the behavior of mobile applications to bypass security restrictions
Hijacking Mobile Banking: Evil Bank
Virtualizing Android with VMware
Accessing Android with the Android Debug Bridge Tool
Recovering Android Swipe Lock Patterns
iPhone File System Data Analysis
Evaluating Mobile Device Network Packet Captures
Mobile App Analysis with NetworkMiner
Android App Reverse Engineering with JD-GUI, Jadx
Automated Android App Analysis with Androwarn
Manipulating Android Intents with the Drozer Framework
Modifying Android Applications with Apktool
WiFi Monitor Mode Packet Capture Analysis
Probed Network Mapping and Vulnerability Discovery
Recovering WPA2-PSK Passphrases
Mobile Device Fingerprinting with Satori
Sidejacking WordPress
Manipulating Web Browser Activity
Bypassing Android Same Origin Policy with Metasploit for Session Hijacking
Mobile App Banking Transaction Manipulation
Crazy Cars SQL Injection Attack
Student Testimonials:
"SEC575 exposes a new world that complements all information security backgrounds I learned in previous courses and work experiences." - Fred Bedrich, BCI Group
"In the fast-paced world of Bring Your Own Device (BYOD) and mobile device management, SEC575 is a must-have course for InfoSec managers." - Jude Meche, DSCC
"SEC575 was my first SANS training course, and I found it to be very valuable. The information was well delivered."- Rodney Helsens, KPMG LLP
"SEC575 is directly useful training--both to penetration testers and developers." - Roy Cabaniss, LGS
"SEC575 is a great course taught by a great instructor. There is so much useful information covered that is extremely relevant." - Adam Cravedi, Compass ITC
"The explanations of the concepts behind the tools are great! SEC575 provides both the process and application of tools--not just a ton of tools and information." - Sean Burden, Western Union
"I appreciate the formalized mobile application analysis report card information in SEC575; I can bring it back and use it at work to help formalize the application security program." - Adam Kliarsky, Disney
"I love the new lab structure in SEC575, because it doesn't require running or troubleshooting virtual machines--it's much faster." - Jem Jensen, NetSPI
Reviews:
Author Statement
I'm not sure exactly when it happened, but laptops and PCs have become legacy computing devices, replaced by mobile phones and tablets. Just when I thought we were getting a much better handle on the security of Windows, Mac, and other Unix systems, there has been an explosion of new devices wanting to join our networks that simply do not have the same security controls that we rely on in modern, secure networks.
Even with their weaknesses, mobile phones are here to stay, and we are being called on to support them more and more. Some organizations try to drag their feet on allowing mobile phones, but that ultimately contributes to the problem: if we do not address security, the threats continue to grow, uncontrolled and unmonitored.
Fortunately, we can securely deploy, manage, and monitor mobile phones and tablets inside our organizations through policy and careful network deployment and monitoring. We need to build some essential skills in analyzing the risks of data leakage in mobile code and in the applications our end-users want to run from the app store. And we need to ethically hack our networks to identify the real threat and exposure of mobile phone weaknesses.
I wrote this course to help people build their skills in all these areas, focusing on the topics and concepts that are most important and immediately useful. Every organization should have an analyst who has the skills for mobile phone security analysis and deployment. By taking this course, you will become an even more valued part of your organization. And we'll have lots of geeky fun in getting you there!
- Josh Wright
Additional Resources
Take your learning beyond the classroom. Explore our site network for additional resources related to this course's subject matter.