MGT535: Incident Response Team Management
The training was valuable to me because it put a lot of things in perspective with my job but providing good content to take back was worth the training.

This course brings hands-on and very relevant information for everyone establishing or being part of an incident response team.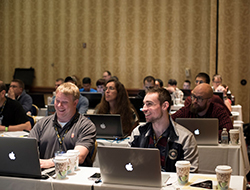 This course discusses the often-neglected topic of managing an incident response team. Given the frequency and complexity of today's cyber attacks, incident response is a critical function for organizations. Incident response is the last line of defense.
Detecting and efficiently responding to incidents requires strong management processes, and managing an incident response team requires special skills and knowledge. A background in information security management or security engineering is not sufficient for managing incidents. On the other hand, incident responders with strong technical skills do not necessarily become effective incident response managers. Special training is necessary.
The course has been updated to address current issues such as advanced persistent threat, incident response in the cloud, and threat intelligence.
You Will Learn:
Fundamentals of incident response
How to establish requirements
How to set up operations
Communications
How to make operations work
Legal and regulatory issues
Training, education, and awareness
Course Content Overlap Notice:
Please note that course material for MGT517 and MGT535 overlaps. Days 4 and 5 of MGT517 contain material that is covered in MGT535. We recommend MGT517 for those interested in managing security operations overall in addition to incident response. MGT535 only covers managing incident response.
Course Syllabus
MGT535.1: Incident Response Team Management
Topics
Incident Response - 6 Steps
Creating Incident Response Requirements
Developing Incident Handling Capabilities
Reporting, SLAs, Cost of Incidents
Setting up Operations
MGT535.2: Incident Response Team Management II
Topics
Managing Daily Operations
Navigating Executive Management
Advanced Persistent Threat
The Cloud
Legal and Regulatory Issues
Awareness and Outreach
Additional Information
Laptop requirements:
Modern web browser
Office software for document editing and spreadsheets
If you have additional questions about the laptop specifications, please contact laptop_prep@sans.org.
Information security engineers and managers
IT managers
Operations managers
Risk management professionals
IT/system administration/network administration professionals
IT auditors
Business continuity and disaster recovery staff
No specific prerequisites are required for this course, but knowledge of technical terms is beneficial and will facilitate participation in class discussions. Prior to attending the course, it would be useful to gather statistics from your organization such as those listed below:
Incidents per month
Average time to detection
Lost devices per quarter
Average cost per incident
Annual expenditure on loss-prevention capabilities
Other Courses People Have Taken
Course book
MP3 audio files of the complete course lecture
"Since I am fresh out of college this was a definite eye opener. This course was very valuable in that it gives a view of most tools available for auditing networks." - Ryan Awai, SANS student
"Valuable information to take back to work with me, as well as hands-on testing examples." - Carol Jones, SANS student
"Very good info that I will take back and try to implement at my workplace. Great use of outside resources." - David Bennett, BNBI
Author Statement
Incident response management is a dynamic and challenging endeavor fraught with high personnel turnover, rapid technology shifts, minimal funding, and a nearly impossible objective of defending an organization from every conceivable threat. I have managed incident response teams and created incident response capabilities where none existed before. Incident response is the most challenging position to hold in Information Assurance, as you are the team that is called upon at the worst time, to fight the hardest battles. Through this course, I intend to equip each one of you to navigate difficult political environments, understand complicated technology, analyze the data and information provided by technical staff, and translate this information into business relevant information that will make the organization more resilient for the long term.
- Chris Crowley