Notice
Please note that early bird discounts do not apply to Hosted courses.
Critical Infrastructure and Control System Cybersecurity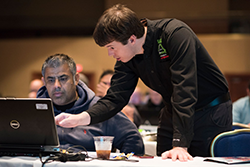 Critical Infrastructure Control System Cybersecurity Course Description
This course is an intermediate to advanced course covering control system cybersecurity vulnerabilities, threats and mitigating controls. This course will provide hands-on analysis of control system environments allowing students to understand the environmental, operational and economic impacts of attacks like Stuxnet and supporting mitigating controls.
Hands-on environment (PLC, HMI, Network Communications, Backtrack)
Operational, Cyber and Physical Protective Solutions
Kits provided and used by pods of two attendees (Laptop, Customized I/O Trainer, PLC, HMI, communications infrastructure, CYBATIFIED Backtrack)
Attendee Laboratory Training Kit Details
Allen Bradley (AB) MicroLogix and Siemens S7 PLC
SCADA and DCS Communication Configuration and Analysis
Configurable COTS OPC/HMI (Displays, Tags, Communication Protocols)
PLC Ladder-Logic Programming using AB RSLogix and Siemens Simatic Step 7
CYBATIFIED Backtrack Virtual Machine
Hands-on Critical Infrastructure Control System Cybersecurity 5-Day Course
What material is covered during the course?
Brief history of critical infrastructure and control systems
Control system risk management (Threats, Vulnerabilities and Exploits)
Surveying your attack surface; fingerprinting control system components and communications inside your organization
Introduction to programmable logic controllers, function block diagrams, ladder logic, points/tags, communications and OLE for process control (OPC) / Human Machine Interface (HMI) programming
Sensor and actuator design analysis using customizable I/O control system trainer units
Performing physical-cyber-operational assessments and penetration tests
Hardware hacking networks, mice, technician PLC/PAC USB cables and more within control systems using a Teensyduino++, Arduino and Netduino Plus
Analyze small scale mock control system environments
AB PCCC, Ethernet/IP, DNP3, IEC Variants, ICCP, Modbus communication protocol analysis
Secure remote access solutions; Architecture and operations for administrative and operations remote access
Integrating and monitoring layered operational, cyber and physical controls
Simulated power grid control system red team / blue team exercise
What are the security risks of Control System components, communication protocols and operations?
Whether the Control System is automating an industrial facility or a local amusement park roller coaster, the system was designed to operate in a physically, cyber and operationally secure domain. This domain extends throughout the facility using a combination of Programmable Logic Controllers, Programmable Automation Controllers, embedded logic controllers, Remote Terminal Units, as well as Human Machine Interfaces interlinked with one or a variety of SCADA systems and communication protocols across local and long distance geographic regions. The risks vary from simple eavesdropping or electronic denial of service to more sophisticated asset misuse and destruction. To further compound the challenge, today there are not enough professionals with security skills to sufficiently deter, detect and defend active threats against our critical infrastructure's control systems.
How can we progress from Control System security policy development to design, deployment, and assessment?
This course was designed to help organizations struggling with control system cybersecurity by equipping personnel with the skills needed to design, deploy, operate, and assess a control system's cybersecurity architecture. The course begins by quickly describing the risks and then introducing the participants to a customizable actuator and sensor control system trainer and programmable logic environment. This automation programming analysis creates the platform to identify logic flaws that combined with active cyber, physical, and operational procedures may lead to increased risk. The participants then utilize this knowledge to analyze the control system architecture through cyber, physical and operational risks including:
Control System component engineered, programmed and firmware logic flaws
Wired and wireless communication protocol analysis
Physical, cyber and operational procedures
Deterrence, detection and response to threats
The participant's knowledge is challenged through non-kinetic and kinetic analysis associated with common industry components as well as red team/blue team exercises of both physical and simulated control system environments such as Traffic Lights, Chemical Storage and Mixing, Pipelines, Robotic Arms, Heavy Rail and Power Grids.
What is critical infrastructure Control System cybersecurity?
Control Systems (Local, Distributed and SCADA systems) are used throughout the world to automate common processes. These systems need to provide reliable and safe automation for such critical infrastructures as the Bulk Electric System (BES), natural gas, oil, transportation, chemical, mining, fresh water/waste water, manufacturing, food, and defense. The critical necessities for both government and its people to survive are automated using industrial control systems. In the past decade, advances in technology have added automation that has intertwined of these systems with the Internet, wireless, business networks and traditional hardware and communications protocols. Many Control Systems (CSs) are in some way electronically connected to networks of less trust, potentially even a slight distance away from the Internet. These CSs typically use vulnerable communication protocols. Many even use TCP/IP and in specific situations, common off-the-shelf hardware and chipsets. It is paramount to the safety of our society to sufficiently understand the architecture of and protect these critical systems.
Notice:
SANS Hosted are a series of classes presented by other educational providers to complement your needs for training outside of our current course offerings.
Course Syllabus
HST.1: Critical Infrastructure and Control System Cybersecurity - Section One
Topics
Critical Infrastructure Control System Cybersecurity Background
Brief History of Critical Infrastructure and Control Systems
Risk Management (Threats, Vulnerabilities and Exploits)
Laboratory: Training Kit Orientation and Setup
Control System Cyber Architecture and Device Programming
Control System Cyber Architecture Components
Programmable Logic Controllers, Ladder Logic, Points and OPC/HMI
Laboratory: Introduction to Programmable Logic Controllers, Ladder Logic, Communications and OLE for Process Control (OPC) / Human Machine Interface (HMI) Programming
HST.2: Critical Infrastructure and Control System Cybersecurity - Section Two
Topics
Cyber Asset Vulnerability Assessments
Case Study Review and Analysis (e.g. Bellingham Gas Pipeline; BP Texas Refinery; Washington DC Metro)
ICS-CERT Vulnerability Notification Review and Analysis
Open Source Intelligence (OSINT)
Cyber, Physical and Operational Security Assessments
Cyber Toolsets
Laboratory: PLC Vulnerability Assessments
Laboratory: Analyze and develop control system oriented Metasploit modules
Laboratory: Mock Environment Analysis (e.g. Robotic Arm, Traffic Lights, Heavy Rail)
HST.3: Critical Infrastructure and Control System Cybersecurity - Section Three
Topics
Automation Technologies Attack Surface and Mitigations
Programmable Logic Controller Analysis
Mitigating Controls
Laboratory: PLC Exploit Analysis and Control
Analyzing Control System IEDs
Laboratory: Applied IED Security Analysis
OLE for Process Control / Human Machine Interface Attack Surface and Mitigations
OPC / HMI Analysis
Mitigating Controls
Laboratory: OPC/HMI Exploit Analysis and Control
HST.4: Critical Infrastructure and Control System Cybersecurity - Section Four
Topics
Communications Attack Surface and Mitigations
General Communications Protocol Analysis
DNP3, IEC Variants, ICCP, Modbus Specific Protocol Analysis
Vulnerabilities and Exploits
Analyzing Wireless in Control Systems
Mitigating Controls
Laboratory: Communications Exploit Analysis and Control
Laboratory: Protocol Spoofing and Fuzzing
Laboratory: Industrial Wireless (802.11, 900 Mhz, GPRS and Zigbee) Analysis
HST.5: Critical Infrastructure and Control System Cybersecurity - Section Five
Topics
Integrated Defense in Depth Security Controls
Layered Operational, Cyber and Physical Controls
Forensics and attribution in control systems
Performing Physical-Cyber-Operational Assessments and Penetration Tests
Laboratory: Automation Technology Exploration and Vulnerability Assessments
Situation Awareness and Incident Response
Laboratory: Simulated Power Grid Control System Environment Attack and Defend
Additional Information
Each team of two participants (a Pod) are provided training kits containing all hardware and software necessary for the course: a laptop, PLC programming software, HMI software, customizable actuator/sensor training unit, communications network and cabling, external wireless card, teensyduino++, customized Backtrack platform. The participant is not required to bring any technology to the class; however, the participant may use their own analysis tools.
If you have additional questions about the laptop specifications, please contact laptop_prep@sans.org.
The class establishes a high-level understanding of Control System cybersecurity valuable to a wide-range of professionals, whether directly in the field or responsible for compliance. The class also dives into a great deal of real-world cybersecurity applications and satisfies those who need or want to understand the inner-workings of the systems as well as the programming behind industrial automation. Therefore, the class is applicable to:
Security personnel whose job involves assessing, deploying, or securing control system components, communications and operations
Programmers, network and system administrators supporting control systems
Process engineers and field technicians
Operations and plant management personnel
Control System vendor personnel
Penetration testers
NERC CIP, DHS CFATS and other Auditors who need to build deeper technical skills
Computer emergency response teams
Author Statement
I wrote this class so that people could understand the elements of, ethically hack and proactively defend our control systems. This course will help the participants figuratively and literally get their hands around the challenges of protecting local and geographically dispersed control environments.
Additional Resources
Take your learning beyond the classroom. Explore our site network for additional resources related to this course's subject matter.