Request Sponsorship Information
Fill out the form below to request more information.
Friday, August 20th, 2021
The Malware & Ransomware Solutions Forum, chaired by SANS Jake Williams, brings solution providers and security vendors together to present effective tools and techniques for defending against the latest malware and ransomware attacks. Sponsors have the unique opportunity to develop a compelling agenda and showcase their products and solutions to high level security practitioners and cybersecurity professionals. Speak directly to those who are tasked with preventing ransomware attacks for their organization in this virtual solutions forum.
Relevant Topics Include:
- Next-Gen Antivirus
- Application Whitelisting
- Anti-Ransomware
- Real-Time Sandboxes for Application Containers
- EDR/XDR
- Network Monitoring & Detecting Malware Command and Control (C2)
Sponsorship Overview
Platinum (SOLD OUT)
- 35 minute speaking session
- 400 opt-in leads with no cap
- Edited & full mp4 recording of the sessions
- Advertisement of sponsorship level in marketing
Silver
- Branding only
- 200 opt-in leads with no cap
- Advertisement of sponsorship level in marketing
About the Solutions Forum
As organizations continue to deal with emerging threats in the malware space, its easy for some to take a complacent view and say, Malware, havent we done this already? We've been dealing with this for decades. And while people who take this view aren't necessarily wrong, ransomware continues to be one of the most popular cyber attacks among organizations, with the most recent being the Colonial Pipeline incident.
With malware and ransomware becoming more sophisticated and threatening than ever before, its important for security teams to up their defense and strategies and stay ahead of these attacks. Simply put, ransomware is not going away.
Join this SANS lead forum as we explore various malware & ransomware topics through invited speakers while showcasing current capabilities available today. Presentations will focus on technical case-studies and thought leadership using specific examples relevant to the industry.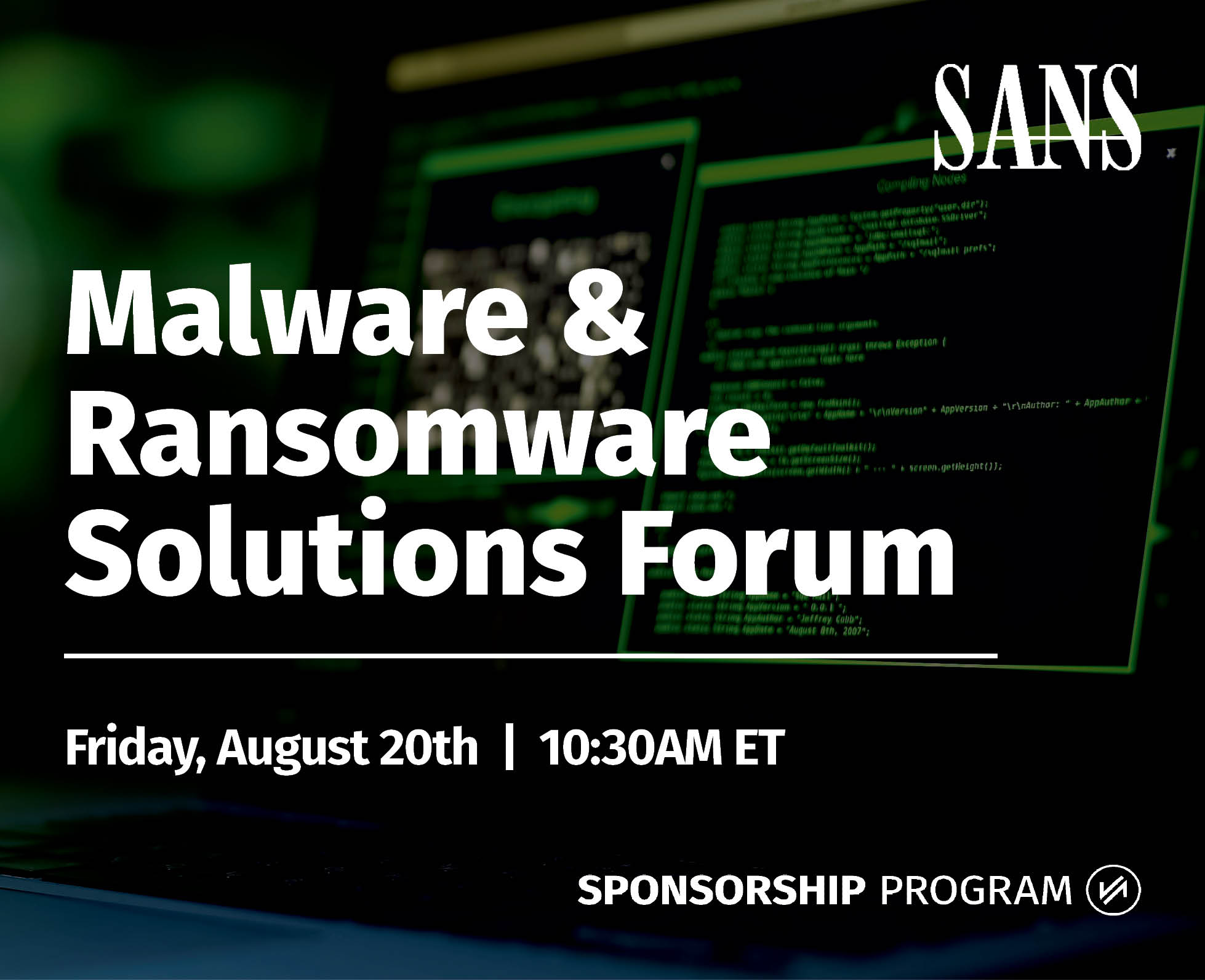 Attend the Solutions Forum
Interested in attending this virtual solutions forum? Register now and view the agenda.