Sponsorship Overview
The Zero Trust Architecture Solutions Forum, chaired by SANS Ismael Valenzuela, brings solution providers and security vendors together to present effective zero trust security techniques and solutions for maintaining secure and reliable operations in the face of determined threats. Sponsors have the unique opportunity to develop a compelling agenda and showcase their products and solutions to high level security practitioners and cybersecurity professionals. Speak directly to those who turning towards a zero trust security framework for their organization. Relevant Topics Include: - Why Perimeter Security Is Insufficient - What Zero Trust Architecture Means - Implementing Variable Access - Logging and Inspection-Network Agent-based Identity Controls
- 200 opt-in leads with no cap - Branding on-site and event webcast registration page - Personal chat workspace via Slack
- 200 opt-in leads with no cap - Branding on-site and event webcast registration page - Personal chat workspace via Slack
Request Sponsorship Information
Fill out the form below to request more information.
About the Solutions Forum
Security has always been one of the prime concerns for any growing business. In a world where technology is continually evolving, companies are constantly stumbling onto new vulnerabilities. One wrong move in the data management space and companies leave themselves vulnerable to shattering attacks. The increasingly multifaceted landscape means that more groups are turning towards a zero-trust security framework. This approach asks companies to take their security enforcement strategy to the next level and recognize that existing approaches don't offer enough defense.
The implementation of Zero Trust accomplishes several things such as decreasing your overall attack surface since smaller parts of resources are exposed to users for more limited use than previously; limits lateral movement or "leapfrogging" to other vulnerable infrastructures once one endpoint is breached; limit the use of stolen credentials and other purloined access, whether it was acquired by a direct hack on the company or via outside sources such as dark web breach caches; and seek to make the organization's crown jewels, your data, harder to breach so that hopefully attackers will give up and try someone else when they don't quickly achieve broader access from an initial hack.
Join this SANS lead forum as we explore various zero trust topics through invited speakers while showcasing current capabilities available today. Presentations will focus on technical case-studies and thought leadership using specific examples relevant to the industry.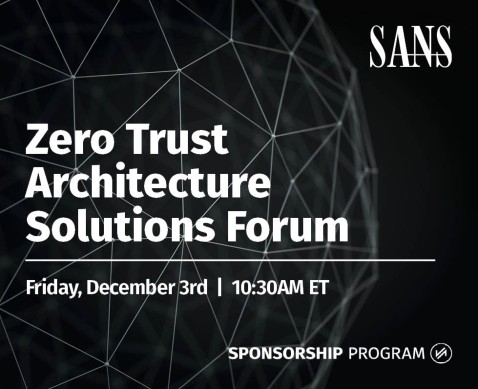 Attend the Solutions Forum
Interested in attending this virtual solutions forum? Register now and view the agenda.