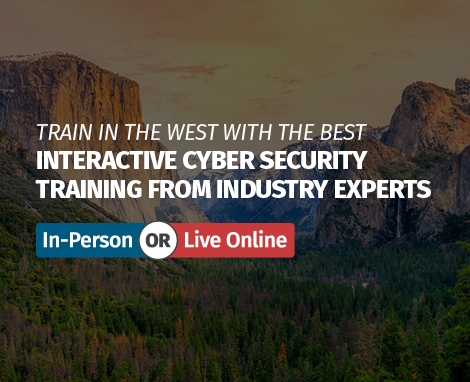 Your Goals | Your Schedule
Dive into immersive cyber security training with hands-on courses taught by industry experts, make new connections during our interactive events, and learn new skills to accelerate your career. Whether you're new to the cyber security industry or a seasoned professional looking to expand your existing skillset, SANS can help you achieve your training goals.
Did you know SANS offers you multiple ways to complete your training? Choose from interactive Live Online and In-Person training available in several time zones and select locations. Whichever format you choose, you will receive high-quality cybersecurity training you can use immediately to better secure your environment and advance your career. See below for upcoming events and register now.
Upcoming Live Training Events
Learn real-world cybersecurity skills directly from top industry experts during SANS Live Training events featuring practical courses with hands-on labs, plus cyber range challenges and networking opportunities.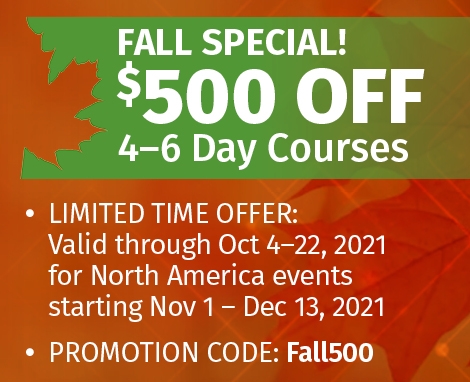 Join us during one of our final 2021 Live Training events in November or December and save $500 off 4-6 day courses!
Success in information security requires committing to a career of learning, from fundamentals to advanced techniques. To put you on this learning path, get top-tier training from industry leaders addressing today's cyber threats. Develop your skills now and advance your career!

Use code "Fall500" during registration.
Please note: This offer is only valid through October 22, 2021, and is available exclusively for 4-6 day SANS courses during 2021 Live Training events in North America that start between November 1 and December 13, 2021.
Featured Courses
Experience interactive, engaging cyber security courses with up-to-the-minute content taught by real-world practitioners and learn actionable information you can implement immediately.
View a SANS Live Online Demo
Are you curious to see how SANS Live Online works? SANS Live Online training events offer interactive courses taught by real-world practitioners, real-time support from GIAC-certified TAs, hands-on labs, an archive of course lectures uploaded to your account daily during the event, and four months of access to your course lectures after the event.
In this Live Online demonstration, you will walk through several lab environments, including labs run in a VM on your computer and remotely accessed labs. You will also see how you can interact with peers, TAs, and your instructor using Slack.
SANS courses are extremely valuable because of all the hands-on material and their connection to the real world.
SANS creates a one-of-a-kind learning experience providing world-class training and fascinating opportunities to network and gain new perspectives from your peers!
The instruction at SANS is top-notch. I have been to several SANS training courses and they never disappoint. The instructors bring real life experiences and show the students how the material can be applied.
SANS training keeps individuals up-to-date with relevant cyber security information. I can now apply the skills learned towards further maturing my program.
The labs are giving me a chance to see the course content first hand and interact with it. It's doing a good job of letting me play with it and really seeing how the tools and methodologies work.
SANS Live Training Features
Training on the cutting edge: All courses are designed to align with dominant security team roles, duties, and disciplines.
Learn from the best: SANS instructors are active security practitioners who bring their extensive knowledge and real-world experiences to the classroom.
GIAC Certification: Several certifications align with SANS training courses, validating student mastery for professional use in critical, specialized InfoSec domains, and job-specific roles.
A Superior Investment: Focused, immersion learning, plus opportunities to network with and learn from other professionals.
The SANS Promise: You will be able to apply the skills and techniques you've learned as soon as you return to work.