Technical training and certifications that translate to high-paying cybersecurity jobs
Launch your cybersecurity career and change your life forever. Earn up to three globally recognized GIAC Certifications in six months or less with 100% online training.
Change Your Life Forever
Start your application today. Come back to finish it later.
90%
of our graduates gained employment in cybersecurity within 6 months
500k+
job openings in cybersecurity are unfilled (Source: cyberseek.org)
$90k
average starting salary of our graduates
Study Paths
Launch your cyber career in 6 months with the Cyber Workforce Academy Maryland which is comprised of two study paths, each designed for different stages in your career.
Course Offerings
You will complete two core training courses and your choice of one elective course.




Core training modules:

You will be offered up to two courses, depending on your selected area of interest. Course offerings will vary based on assessed aptitude in your selected area of interest and career goals.

Pathways include:

Cloud, Audit & Management, Offensive Security, Defensive Security, Forensics, and Industrial Control Systems
The Immersion Academy Advantage
Free
Every student of our Immersion Academy program receives a full scholarship that covers the cost of all training, training material, mentorship, and exam attempts.
GIAC
Earn up to three professional cybersecurity certifications that employers recognize and respect.
Faculty
Learn the latest skills and techniques from the world's top cybersecurity practitioners. We'll also guide your career search and connect you to our global cybersecurity network.
Time
Training is 100% online, and is designed to fit into a busy work and life schedule and still be completed in six months.
3 Steps to Launch Your Cyber Career
Submit your application, then complete a SANS aptitude assessment measuring your foundational skills and aptitude for cybersecurity. If you perform well on the assessment, you will be invited to submit supporting documents and participate in an admission interview.
Start Application
Once accepted, develop practical, hands-on skills by attending world-class SANS online training courses along with technical mentorship. Up to three courses will be available to you along with corresponding GIAC certification exams.
Apply Now
During the program, our Career Services team works diligently to connect you with a variety of leading employers who are searching for the high-demand skills you are developing with training and validating with certifications.
Start the Process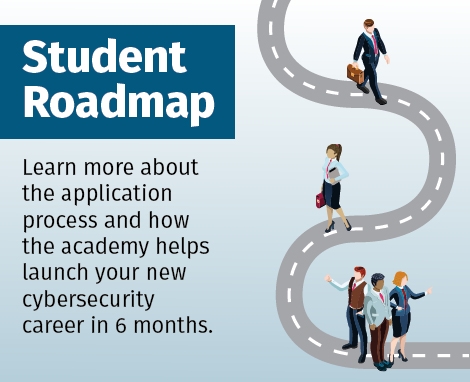 Step by Step Information on the Application Process
Learn more about the application process and how the academy helps launch your new cybersecurity career in six months. 
SANS Cyber Immersion Academy was the best way to accelerate my cyber career and to get my foot in the door. The resources provided and personnel, exceed my expectation. They were very professional and easy to work with.
SANS Academy allowed me to gain knowledge in a new career area I couldn't have afforded myself. Also, it's (SANS Cyber Academy) receptions with employers landed me my first job in cyber security.
The Cyber Workforce MD program gave me added clout of having sought after certifications that are highly respected in the industry. Also, they fulfill DoD benchmarks for highly desirable positions.
I can say with absolute confidence that I couldn't have made the career switch if I hadn't taking SANS courses. Taking the courses provided me the knowledge necessary to land a job in cybersecurity.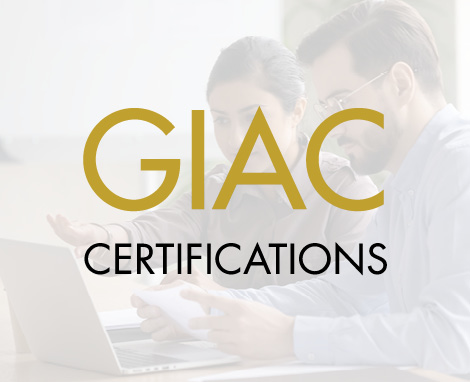 Earn Top Ranked Cybersecurity Certifications
Cybersecurity professionals ranked GIAC certifications as the most valued certifications when selecting job candidates for interviews. (Source: cio.org)
Students in our scholarship immersion programs can earn multiple GIAC certifications, including GIAC Security Essentials (GSEC) and GIAC Certified Incident Handler (GCIH), which were named among the Top Ten Cybersecurity Certifications by Datamation.