SEC642: Advanced Web App Penetration Testing, Ethical Hacking, and Exploitation Techniques
New
Sun, September 20 - Fri, September 25, 2020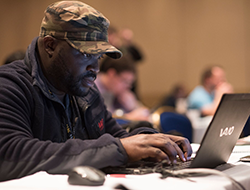 Can Your Web Apps Withstand the Onslaught of Modern Advanced Attack Techniques?
Modern web applications are growing more sophisticated and complex as they utilize exciting new technologies and support ever-more critical operations. Long gone are the days of basic HTML requests and responses. Even in the age of Web 2.0 and AJAX, the complexity of HTTP and modern web applications is progressing at breathtaking speed. With the demands of highly available web clusters and cloud deployments, web applications are looking to deliver more functionality in smaller packets at a decreased strain on backend infrastructure. Welcome to an era that includes tricked-out cryptography, WebSockets, HTTP/2, and a whole lot more. Are your web application assessment and penetration testing skills ready to evaluate these impressive new technologies and make them more secure?
Are You Ready To Put Your Web Apps To the Test with Cutting-Edge Skills?
This pen testing course is designed to teach you the advanced skills and techniques required to test modern web applications and next-generation technologies. The course uses a combination of lecture, real-world experiences, and hands-on exercises to teach you the techniques to test the security of tried-and-true internal enterprise web technologies, as well as cutting-edge Internet-facing applications. The final course day culminates in a Capture the Flag competition where you will apply the knowledge you acquired during the previous five days in a fun environment based on real-world technologies.
Hands-on Learning Of Advanced Web App Exploitation Skills
We begin by exploring advanced techniques and attacks to which all modern-day complex applications may be vulnerable. We'll learn about new web frameworks and web backends, then explore encryption as it relates to web applications, digging deep into practical cryptography used by the web, including techniques to identify the type of encryption in use within the application and methods for exploiting or abusing it. We'll look at alternative front ends to web applications and web services such as mobile applications, and examine new protocols such as HTTP/2 and WebSockets. The final portion of class will focus on how to identify and bypass web application firewalls, filtering, and other protection techniques.
You Will Learn:
How to discover and exploit vulnerabilities in modern web frameworks, technologies, and backends
Skills to test and exploit specific technologies such as HTTP/2, Web Sockets, and Node.js
How to evaluate and find vulnerabilities in the many uses of encryption within modern web applications
Skills to test and evaluate mobile backends and web services used in an enterprise
Methods to recognize and bypass custom developer, web framework, and Web Application Firewall defenses
Notice:
SEC642 students will receive licensing information in the SANS portal account that is linked to their registration. Please ensure that you can access the SANS portal account that is linked to your registration at the start of your course.
If you are registering another individual on behalf of your organization, you must register that individual using the email address that is linked to his or her SANS portal account. That will ensure that the individual can receive licensing information in his or her SANS portal account in order to be prepared with the proper equipment to complete the course (SEC642).
Course Syllabus
Additional Information
Laptop Requirements:
x64-compatible 2.0 GHz CPU minimum or higher
At least 60 GB of hard drive space
At least 8 GB of RAM
An Ethernet port or Ethernet adapter to plug into a private, in-class network.
Host Operating System: Latest version of Windows 10, macOS 10.15.x or later, or Linux that also can install and run VMware virtualization products described below. It is necessary to fully update your host operating system prior to the class to ensure you have the right drivers and patches installed to utilize the latest USB 3.0 devices. Those who use a Linux host must also be able to access exFAT partitions using the appropriate kernel or FUSE modules.
VMware: Download and install either VMware Workstation Pro 15.5.x, VMware Player 15.5.x or Fusion 11.5.x or higher versions before class. If you do not own a licensed copy of VMware Workstation or Fusion, you can download a free 30-day trial copy from VMware. VMware will send you a time-limited serial number if you register for the trial at their website.
Other virtualization software, such as VirtualBox and Hyper-V, are not appropriate because of compatibility and troubleshooting problems you might encounter during class.
VMware Workstation Pro and VMware Player on Windows 10 is not compatible with Windows 10 Credential Guard and Device Guard technologies. Please disable these capabilities for the duration of the class, if they're enabled on your system, by following instructions in this document.
IMPORTANT NOTE: While not usually necessary for this class, you may be required to disable your anti-virus tools temporarily for some exercises, so make sure you have the anti-virus administrator permissions to do so. DO NOT plan on just killing your anti-virus service or processes, because most anti-virus tools still function, even when their associated services and processes have been terminated. For many enterprise-managed clients, disabling your anti-virus tool may require a different password than the Administrator account password. Please bring that administrator password for your anti-virus tool.
During the hands-on exercises, you will be connecting to the classroom network. While contrary to exercise rules and SANS ethics policy, your laptop might be attacked. Do not have any sensitive data stored on the system. SANS is not responsible for your system if someone in the class attacks it in the workshop.
By bringing the right equipment and preparing in advance, you can maximize what you will see and learn, as well as have a lot of fun.
Your course media will now be delivered via download. The media files for class can be large, some in the 40 - 50 GB range. You need to allow plenty of time for the download to complete. Internet connections and speed vary greatly and are dependent on many different factors. Therefore, it is not possible to give an estimate of the length of time it will take to download your materials. Please start your course media downloads as you get the link. You will need your course media immediately on the first day of class. Waiting until the night before the class starts to begin your download has a high probability of failure.
SANS has begun providing printed materials in PDF form. Additionally, certain classes are using an electronic workbook in addition to the PDFs. The number of classes using eWorkbooks will grow quickly. In this new environment, we have found that a second monitor and/or a tablet device can be useful by keeping the class materials visible while the instructor is presenting or while you are working on lab exercises.
If you have additional questions about the laptop specifications, please contact laptop_prep@sans.org.
Web penetration testers
Red team members
Vulnerability assessment personnel
Network penetration testers
Security consultants
Developers
QA testers
System administrators
IT managers
System architects
This course assumes that you have a solid understanding of web penetration techniques and methodologies. You should be familiar with the HTTP protocol, HTML, and web applications. A minimum or one to two years of web penetration testing experience, successful completion of the GWAPT certification, or having attended the SEC542 course would fulfill these prerequisites.
Other Courses People Have Taken
Related Courses:
Courses that lead in to SEC642:
Courses or equivalent experiences that are prerequisites for SEC642:
Courses that are good follow-ups to SEC642:
A copy of the Samurai Web Testing Framework (SamuraiWTF), which includes some of the latest and greatest open-source penetration testing tools for web application testing
A six-course session booklet that includes course slides, student notes, and multiple hands-on exercises for each day
Perform advanced Local File Include (LFI) / Remote File Include (RFI), Blind SQL injection (SQLi), and Cross-Site Scripting (XSS) combined with Cross-Site Request Forger (XSRF) discovery and exploitation
Exploit advanced vulnerabilities common to most backend language like Mass Assignments, Type Juggling, and Object Serialization
Perform JavaScript-based injection against ExpressJS, Node.js, and NoSQL
Understand the special testing methods for content management systems such as SharePoint and WordPress
Identify and exploit encryption implementations within web applications and frameworks
Discover XML Entity and XPath vulnerabilities in SOAP or REST web services and other datastores
Use tools and techniques to work with and exploit HTTP/2 and Web Sockets
Identify and bypass Web Application Firewalls and application filtering techniques to exploit the system
"Best web app class ever!" - John Cartrett, Torchmark Corporations
"SEC642 helps sharpen the pen testing mindset and to be more creative when performing pen tests." - Jesper Pettersson, Klarna
"SEC642 is the perfect course for someone who has a background in web app pen testing, but wants to really gain advanced skills." - Matthew Sullivan, Webfilings
"I like this training because it is very hands on and not just focused on slides. Very helpful for the real world." - Zach Moreno, Chico Security
Author Statement
"As web applications and their mobile counterparts become more complex and hardened against attack, penetration testers need to continually update the techniques and tools they use to evaluate the security of these systems. This includes understanding how the various new technologies work, which tools work with cutting-edge technologies like HTTP/2 and NoSQL, how to perform special penetration tests like Web Application Firewall inspections, and how to perform custom exploitation to demonstrate maximum impact for the applications you test. This course is designed to expand past the methodology and the 'how' when we are presented with the challenges of web penetration testing, and dig into the more esoteric 'why' these techniques and tools work, so that you can adapt as needed in your assessments."
- Justin Searle
"SANS SEC642: the Advanced Web App Penetration Testing, Ethical Hacking, and Exploitation Techniques course picks up where others end. We explore modern applications, modern protocols, and modern attacks. We examine in detail the tools and techniques used to identify and exploit vulnerabilities in new ways. We truly take penetration testing of web applications to a whole new and more advanced level in this class. I have always found that giving back to the information security community has benefited my career more than anything else has. This is how we pay it forward. We hope that you enjoy this course as much as we did writing it!"
- Adrien de Beaupre