SEC660: Advanced Penetration Testing, Exploits, and Ethical Hacking
Waitlist
Mon, November 26 - Sat, December 1, 2012
The willingness from the instructors to help and answer questions in SEC660 is second to none!

SEC660 was exactly what I needed to get out of my comfort zone, and it showed me what I need to get to the next level.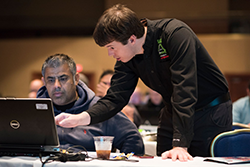 SANS SEC660: Advanced Penetration Testing, Exploits, and Ethical Hacking is designed as a logical progression point for those who have completed SANS SEC560 Network Penetration Testing and Ethical Hacking, or for those with existing penetration testing experience. Students with the prerequisite knowledge to take this course will walk through dozens of real world attacks used by the most seasoned penetration testers. The methodology of a given attack is discussed, followed by exercises in a real world lab environment to solidify advanced concepts and allow for the immediate application of techniques in the workplace. Each day includes a two-hour evening bootcamp to allow for additional mastery of the techniques discussed and even more hands-on exercises. A sample of topics covered include weaponizing Python for penetration testers, attacks against network access control (NAC) and VLAN manipulation, network device exploitation, breaking out of Linux and Windows restricted environments, IPv6, Linux privilege escalation and exploit-writing, testing cryptographic implementations, fuzzing, defeating modern OS controls such as ASLR and DEP, Return Oriented Programming (ROP), Windows exploit-writing, and much more!
It is well-known that attackers are becoming cleverer and their attacks more complex. In order to keep up with the latest attack methods, one must have a strong desire to learn, the support of others, and the opportunity to practice and build experience. SANS SEC660: Advanced Penetration Testing, Exploits, and Ethical Hacking engages attendees with in-depth knowledge of the most prominent and powerful attack vectors and an environment to perform these attacks in numerous hands-on scenarios. This course goes far beyond simple scanning for low-hanging fruit, and shows penetration testers how to model the abilities of an advanced attacker to find significant flaws in a target environment and demonstrate the business risk associated with these flaws.
SANS SEC660 Advanced Penetration Testing, Exploits, and Ethical Hacking starts off by introducing advanced penetration concepts, and an overview to help prepare students for what lies ahead. The focus of day one is on network attacks, an area often left untouched by testers. Topics include accessing, manipulating, and exploiting the network. Attacks are performed against NAC, VLANs, OSPF, 802.1X, CDP, IPv6, VOIP, SSL, ARP, SNMP, and others. Day two starts off with a technical module on performing penetration testing against various cryptographic implementations. The rest of the day is spent on network booting attacks, escaping Linux restricted environments such as chroot, and escaping Windows restricted desktop environments. Day three jumps into an introduction of Python for penetration testing, Scapy for packet crafting, product security testing, network and application fuzzing, and code coverage techniques. Days four and five are spent exploiting programs on the Linux and Windows operating systems. You will learn to identify privileged programs, redirect the execution of code, reverse-engineering programs to locate vulnerable code, obtain code execution for administrative shell access, and defeat modern operating system controls such as ASLR, canaries, and DEP using Return Oriented Programming (ROP) and other techniques. Local and remote exploits, as well as client-side exploitation techniques are covered. The final course day is dedicated to numerous penetration testing challenges requiring you to solve complex problems and capture flags.
Course Syllabus
Additional Information
You will use VMware to run multiple operating systems when performing class exercises. Linux VM's with all necessary tools will be provided on a DVD on the first day.
You must bring your own Virtual Machine image of Windows XP SP2 or XP SP3. This must be a base install with no updates applied. Windows 7 is also recommended, but not required.
Tools needed for Windows will be issued in class. Ensure that you have the administrative ability to disable all security software and protection, including antivirus and personal firewalls. You will not be able to complete the exercises without this level of control. Also ensure that you can install software that may be blocked by administrative or security controls due to their nature. You will be installing various debuggers and vulnerable applications onto the VM's.
You must have VMware Workstation installed on your system prior to class beginning. You need to use at least VMware Workstation Version 6 to support the VM's that will be distributed in class. If you do not own a licensed copy of VMware, you can download a free 30-day trial copy from www.vmware.com. VMware will send you a time-limited serial number if you register for the trial at their Web site. You may also use VMware Player; however, there are limitations such as the inability to take snapshots. If you choose to use VMware player, you must use at least version 2.5.1.
Attention Mac Users: VMware Fusion is the recommended product for SEC660 if you are using a Mac. You must be running OS X 10.6 "Snow Leopard" or newer. Other virtualization tools such as VirtualBox and Parallels are not recommended and may not work with all exercises. Please be prepared to map in function keys such as F7 and F9 through the Fusion application. It is highly recommended that you bring a USB Ethernet LAN adapter since you will not have the ability to natively boot your Mac using BackTrack. Please verify that you are able to use the external adapter with your Mac while having Backtrack running in a virtual machine.
Mandatory Laptop Hardware Requirements
PIII 1Ghz CPU Minimum / M Series 1.5 GHz or higher is recommended
DVD/CD Combo Drive
2 Gigabytes of RAM minimum, 3 Gigabytes or more is highly recommended
40 Gigabyte Hard Drive minimum (HARD DRIVE SIZE IS CRITICAL)
30 Gigabytes of Free Space on your Hard Drive
Download and install 7-Zip for free at: http://www.7-zip.org/
Bring your INSTALLATION CD-ROMS or DVDs to the course
Ensure that you have administrative access over your system
Verify that your processor architecture supports your VMware version. Do not wait until the day of class.
If you have additional questions about the laptop specifications, please contact laptop_prep@sans.org.
Network and Systems Penetration Testers - SEC660 gives penetration testers the training needed to perform advanced penetration testing against known or unknown applications, services, and network systems. SEC660 gives students the expertise to perform complex attacks and develop their own exploits for existing and new frameworks.
Incident Handlers - SEC660 gives incident handlers the knowledge needed to understand advanced threats. Often, a handler is tasked with determining the threat level associated with an attack. The ability to understand advanced attack techniques and analyze exploit code can help a handler identify, detect, respond to an incident.
Application Developers - SEC660 teaches developers the ramifications of poor coding. Often, a developer or code reviewer is required to clearly demonstrate the threat and impact of a coding error. SEC660 provides developers with the knowledge to create proof-of-concept exploit code and document their findings.
IDS Engineers - SEC660 teaches IDS professionals how to analyze exploit code and identify weaknesses. This knowledge can be used to write better IDS signatures and understand the impact of an alert.
This is a fast-paced, advanced course that requires a strong desire to learn advanced penetration testing and custom exploitation techniques. SANS courses such as SEC504: Hacker Techniques, Exploits, and Incident Handling, SEC560: Network Penetration Testing and Ethical Hacking, and SEC610: Reverse-Engineering Malware: Malware Analysis Tools and Techniques are recommended prior to or as a companion to taking this course. Experience with programming in any language is highly recommended. At a minimum, students are advised to read up on basic programming concepts. Python is the primary language used during class exercises, while programs written in C and C++ code are the primary languages being reversed and exploited. The basics of programming will not be covered in this course; however, there is an introductory module on Python. You should be well versed with the fundamentals of penetration testing prior to taking this course. Familiarity with Linux and Windows is mandatory. A solid understanding of TCP/IP and networking concepts is required. Please contact the author at stephen@deadlisting.com if you have any questions or concerns around pre-requisites.
Other Courses People Have Taken
This course is appropriate for alumni of the following course:
SEC560: Network Penetration Testing and Ethical Hacking
SEC504: Hacker Techniques, Exploits and Incident Handling
SEC617: Wireless Ethical Hacking, Penetration Testing, and Defenses
SEC542: Web App Penetration Testing and Ethical Hacking
FOR610: Reverse-Engineering Malware: Malware Analysis Tools and Techniques
FOR508: Computer Forensic Investigations and Incident Response
SEC580: Metasploit Kung Fu for Enterprise Pen Testing
SEC575: Mobile Device Security and Ethical Hacking
Great preparation for students planning on taking the following courses:
SEC710 Advanced Exploit Development
Author Statement
As a perpetual student of information security, I am excited to offer this course on advanced penetration testing. Often, when conducting an in-depth penetration test, we are faced with situations that require unique or complex solutions to successfully pull off an attack, mimicking the activities of increasingly sophisticated real-world attackers. Without the skills to do so, you may miss a major vulnerability or not properly assess its business impact. Target system personnel are relying on you to tell them whether or not an environment is secured. Attackers are almost always one step ahead and are relying on our nature to become complacent with controls we work so hard to deploy. This course was written to keep you from making mistakes others have made, teach you cutting edge tricks to thoroughly evaluate a target, and provide you with the skills to jump into exploit development. Contact me at stephen@deadlisting.com if you have any questions about the course!
- Stephen Sims