SEC501: Advanced Security Essentials - Enterprise Defender
Thu, December 12 - Tue, December 17, 2013
A must for cyber security professionals!

By far, this is the most interesting, informative, and immediately applicable course I've taken.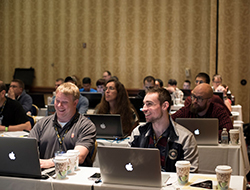 Cyber security continues to be a critical area for organizations and will continue to increase in importance as attacks become stealthier, have a greater financial impact on an organization, and cause reputational damage. While Security Essentials lays a solid foundation for the security to engage the battle.
A key theme is that prevention is ideal, but detection is a must. We need to be able to ensure that we constantly improve our security to prevent as many attacks as possible. This prevention/protection occurs on two fronts - externally and internally. Attacks will continue to pose a threat to an organization as data becomes more portable and networks continue to be porous. Therefore a key focus needs to be on data protection, securing our critical information no matter whether it resides on a server, in a robust network architecture, or on a portable device.
Despite an organization's best effort at preventing attacks and protecting its critical data, some attacks will still be successful. Therefore we need to be able to detect attacks in a timely fashion. This is accomplished by understanding the traffic that is flowing on your networks and looking for indication of an attack. It also includes performing penetration testing and vulnerability analysis against an organization to identify problems and issues before a compromise occurs.
Finally, once an attack is detected we must react to it in a timely fashion and perform forensics. By understanding how the attacker broke in, this can be fed back into more effective and robust preventive and detective measures, completing the security lifecycle.
Course Syllabus
Additional Information
A properly configured laptop is required to participate in this course. Students must have Administrator privileges and antivirus software is not recommended and may need to be disabled or uninstalled. If you have a production system already installed that you cannot lose data on, it is recommended to obtain a clean hard drive, replace it with the new drive.
Prior to the start of class, you must install the necessary software as described below. The following are minimal hardware requirements for your laptop:
DVD-RW drive
4 GB RAM (more memory is strongly recommended)
40GB of available disk space (more space is recommended)
4GB USB memory stick
Windows 7 32-bit virtual machine
Please note: Windows 7 32-bit is an explicit requirement for Sec501 and later versions of Windows operating systems will not work.
VMware
You will use VMware to simultaneously run multiple virtual machines when performing hands-on exercises. You must have VMware installed on your system. If you do not own VMware, you can download a free 30-day trial copy from the VMware website. If taking advantage of the trial offer, please make sure that the license will not expire before you complete the course. It is recommended that you use VMware Workstation.
SIFT (SANS Incident Forensic Toolkit)
In the labs we will utilize the SIFT Workstation to introduce the student to the SIFT Workstation and to teach hands-on response techniques. The SIFT Workstation was created and maintained by Rob Lee. Full instruction using the SIFT Workstation is accomplished in Forensics 508: Computer Forensic Investigations and Incident Response. Forensics 508 teaches how to respond to technically savvy criminals and challenging intrusion cases. You can download SIFT at: the SIFT Kit Download Page.
Since the native Windows compression utility is unable to extract the SIFT main image file, you will need to download a compression utility. You can download WinRAR from the WinRAR website. To begin the installation, double-click the executable file and accept the default settings. Note that WinZip will also work.
You will need to save the download to your local disk and use WinRAR to extract the files to the local disk and into the default path location. Once the Download is complete, launch VMware and find the folder SIFT Workstation v1.3. Within that directory you will find the Forensic Workstation .vmx file needed to launch SIFT. Open up the virtual image and download VMware Tools if prompted to.
Additional Tools You Will Receive
We will provide you with additional tools for completing hands-on exercises. Hardware requirements outlined above are meant to ensure that you have sufficient memory and disk space available to simultaneously run the SIFT Workstation virtual machine. The tools can also be downloaded from the Internet. For simplicity, you may want to create a folder on your desktop (e.g., 501 Day 4 Downloads) to use as a location for additional tools if you are downloading them from the Internet.
Final Checklist
We suggest going over the following checklist to make sure that your laptop is prepared for the course:
The laptop meets hardware requirements outlined in this note.
VMware Workstation and that the VMware license will not expire before the class (if using a trial copy).
You created a Windows 7 virtual machine image (no latest updates from Microsoft needed).
The Windows VMware machine runs using host-only networking mode.
If you have additional questions about the laptop specifications, please contact laptop_prep@sans.org.
Identify the threats against network infrastructures and build defensible networks that minimize the impact of attacks
Learn the tools that can be used to analyze a network to both prevent and detect the adversary
Decode and analyze packets using various tools to identify anomalies and improve network defenses
Understand how the adversary companies works and how to respond to attacks
Perform penetration testing against an organization to determine vulnerabilities and points of compromise
Understand the 6 steps in the incident handling process and be able to create and run an incident handling capability
Learn how to use various tools to identify and remediate malware across your organization
Create a data classification program and be able to deploy data loss prevention solutions at both a host and network level
Author Statement
It is always a thrill after I finish teaching SEC401 to see students leave with a fire in their eyes and an excitement about them. They walked into class feeling overwhelmed that security is a lost cause, but now they leave class understanding what they need to do and have a focus and drive to do the right thing to secure their organizations. However the next question we receive on a constant basis is, what course should I take next? How do I continue my journey? Well, it depends on what your focus area is. Do you want to get more into perimeter protection, IDS, operating system security, etc? The challenge is that many students have positions that do not allow them to focus on one area â they need to understand all of the key areas across security. What students are telling us is that they want a Security Essentials part 2 or a 500-level continuation of Security Essentials covering the next level of technical knowledge. In Security 501, SANS has decided to give students just what they have been asking for, and I am beyond thrilled with the results. We have identified core foundation areas that compliment SEC401 with no overlap and continue to build a solid security foundation for network practitioners.
This is illustrated by one student who after a recent class ran up to me, gave me a big hug (he was a retired football player, so I did not argue), and said, "SANS is awesome. I have been frustrated in my job for over a year and had lost hope that you really could secure an organization and that anything I did made a difference. Just as my light of hope was burning out, I decided to take the Security Essentials course, figuring it was a lost cause. After this class the fire is burning brighter than it ever was. I feel like a kid again and cannot wait to go back to my company and make a difference. However, I think my boss is scared because I called him eight times throughout the week, telling him all of the great information and practical knowledge I learned."
After teaching thousands of students, I am confident you will have similar results and be just as excited. However, just for reference, hugs are optional.
- Eric Cole