MGT415: A Practical Introduction to Cyber Security Risk Management
Wed, May 27 - Thu, May 28, 2020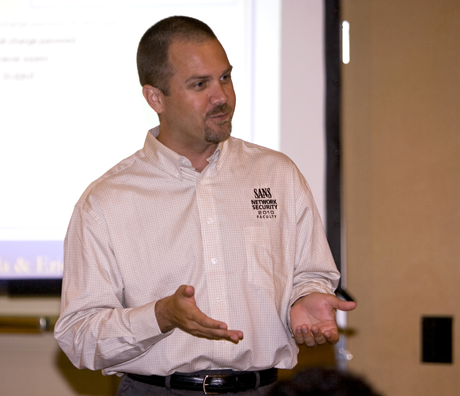 In this course students will learn the practical skills necessary to perform regular risk assessments for their organizations. The ability to perform risk management is crucial for organizations hoping to defend their systems. There are simply too many threats, too many potential vulnerabilities that could exist, and simply not enough resources to create an impregnable security infrastructure. Therefore every organization, whether they do so in an organized manner or not, will make priority decision on how best to defend their valuable data assets. Risk management should be the foundational tool used to facilitate thoughtful and purposeful defense strategies.
You Will Learn:
Students will learn step by step how to perform a risk assessment.
Students will learn how to map an organization's business requirements to implemented security controls.
Students will learn the elements of risk assessment and the data necessary for performing an effective risk assessment.
Students will learn about what in depth risk management models exist for implementing a deeper risk management program in their organization.
Course Syllabus
MGT415.1: A Practical Introduction to Assessing Cyber Security Risk
James Tarala
Wed May 27th, 2020
9:00 AM - 12:15 PM ET
1:30 PM - 5:00 PM ET
---
Topics
Understanding Risk
How to Perform a Simple Risk Assessment
Risk Assessment Case Study
Formal Risk Management Models & Tools
MGT415.2: A Practical Introduction to Managing Cyber Security Risk
James Tarala
Thu May 28th, 2020
9:00 AM - 12:15 PM ET
1:30 PM - 5:00 PM ET
---
Topics
Control Focused Risk Management
Event Focused Risk Management
Presenting Risk to Business Owners
Risk Remediation & Response
Tracking Long Term Risk
Additional Information
Students need to bring a computer to class with Microsoft Office 2010 (or later) installed on it. The ability to open Microsoft Excel files is a must. Students may choose to bring a computer with another spreadsheet program installed on it, however the tools provided in class have only been thoroughly tested with Microsoft Office products, and certain functionality in the tools will not work properly with other spreadsheet programs. Therefore, it is highly recommended that students bring a copy of Microsoft Office 2010 or later installed on their machine.
Also, students will need to download sample tools or resources as a part of the classroom activities. Internet access will be provided in the classroom to access these resources using a dedicated wireless network. Therefore, student laptops should come capable of accessing wireless networks and students should have the ability to configure all wireless network settings on their machine.
Our hope is that by following these simple instructions you will be able to make the most of your classroom experience.
If you have additional questions about the laptop specifications, please contact laptop_prep@sans.org.
Any security engineers, compliance directors, managers, auditors - basically any SANS alumni potentially.
Auditors
Directors of security compliance
Information assurance management
System administrators
A basic understanding of information security and information security management topics is helpful for students attending this class. However a strong background in any of these skills is not a pre-requisite for the class. In the class students will be taught a step by step approach for performing a risk assessment regardless of their technical information security or management background.
Other Courses People Have Taken
Electronic Courseware for learning how to perform risk management.
A unique course spreadsheet tool for performing risk management.
Open source tools for performing risk management.
MP3 audio files of the complete course lecture.
Perform a complete risk assessment.
Inventory an organization's most critical information assets.
Assign a data owner and custodian to an information asset.
Assign classification values to critical information assets.
Prioritize risk remediation efforts as a result of performing a risk assessment.
Evaluate risk management models for use in their own organization.
Lab 1 - Performing a Simple Risk Assessment
Lab 2 - Risk Assessment Case Study
Lab 3 - Formal Risk Assessment Tools
Lab 4 - Formal Risk Management Tools
Lab 5 - Log Parsing to Identify Risks
Lab 6 - Using a LiteGRC Risk Management Tool
"You come away with a framework for action that you can take back to help your organization to deal with risk." - James Voorhees, Sage Management
Author Statement
Most every time we talk with an organization, whether that be a private company or a government agency, we meet people who want to use risk assessment as a tool, but are not actually using it as they could. No organization has enough resources to do everything they would like to defend themselves. At some point a priority decision has to be made. We either make those decisions individually based on whatever need seems to be the most pressing in from of us today, or we take a methodical approach, getting as much input from the business as possible. Risk management is the tool we have available for taking the methodical path.
This course has been written with practicality and usability in mind. Risk models and learning ALE to pass a certification test is fine. But to defend our systems, we need practical skills in risk assessment. This course will teach students the hands on skills necessary to immediately start using risk assessment as a tool to defend their organization.
- James & Kelli Tarala