Live Training Modalities
SANS Live Training events are available Live Online or In-Person in select locations. Whichever training option you choose, you will receive high-quality cybersecurity training you can implement immediately.
In-Person Cyber Security Training
Experience SANS courses taught by world-renown faculty in select locations during SANS In-Person training events, featuring hands-on labs to practice your skills in a focused, immersive environment without distractions, plus opportunities to network with fellow cybersecurity professionals.
View In-Person Events
Live Online Cyber Security Training
Join us for interactive, live-stream courses taught by real-world practitioners during SANS Live Online training events, with real-time support from GIAC-certified TAs, hands-on labs, course lectures uploaded to your account daily during the event, and four months of access to your course recordings.
View Live Online Events
Featured Live Training Events
Acquire technical knowledge and essential concepts for SOC analysts and cyber defense team members during SANS Security Operations Center 2021. Live Online | EDT | Oct 4-9
View Live Online Courses
Experience interactive training taught directly by real-world practitioners and practice your skills with hands-on labs during SANS Dallas: Virtual Edition 2021. Live Online | Oct 11-16 | CDT
View Live Online Courses
Immerse yourself in high-quality cyber security training during SANS Orlando – Live Online 2021 featuring practical courses taught by industry experts. Live Online | Oct 18-23 | EDT
View Live Online Courses
Gain the skills needed to become a Cloud Security Ace! SANS Cloud & DevOps 2021 provides immersive training equipping you to defend against today's most dangerous threats. Live Online | PDT | Oct 18-23
View Live Online Courses
The ALL Digital Forensics, Threat Hunting & Incident Response Training Event! Learn from DFIR experts, practice your skills during DFIR NetWars, and win coinage during Coin Slayer! Live Online or in Miami, FL
View In-Person Courses
Discover the most effective steps to prevent cyber-attacks and detect adversaries with actionable techniques taught by top practitioners during SANS Rocky Mountain Fall. Live Online or in Denver, CO
View Available Courses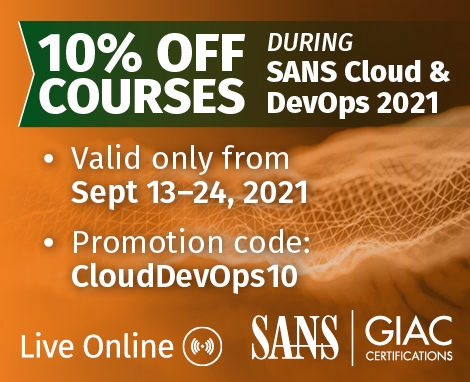 Live Training Special Offer
The future demands in-depth technical abilities coupled with security knowledge for each big cloud service provider, and we are here to help you get your hands dirty in cloud security training with re-deployable labs and a wealth of free training resources. Join us online in October for SANS Cloud & DevOps 2021 to experience interactive, immersion training that is immediately applicable.
Special Offer: Save 10% off courses during SANS Cloud & DevOps 2021 when you register and pay by September 24th!
Use code "CloudDevOps10" during registration.

View Event Details for Available Courses & Certifications

Please Note: This special offer only applies to the courses available during SANS Cloud & DevOps 2021, and is valid through September 24, 2021. This offer cannot be combined with any other offer or discount, including the SANS Voucher Program, beta discounts, or Early-Bird discounts.
What Students Say About Their SANS Training Experience
The real value of this training lies at the intersection of quality content and delivery by a subject-matter expert actively working in the field, making it incredibly relevant and immediately applicable to my job.
Having an SME instructor with tons of real-world experience makes the course material easy to digest, and the Live Online platform is the best platform I've experienced!
This *really* pulled a lot together for me, and its been hugely valuable - I know parts of this are going to impact my approach to my work from my first day back.
Everything from the instructor to the platform to the labs & materials were great. It all fit together and made this Live Online learning process go smooth. GoToTraining & Slack worked great! I wouldn't change a thing.
SANS training keeps individuals up-to-date with relevant cyber security information. I can now apply the skills learned towards further maturing my program.
The best part of SANS training is the absolute knowledge of the instructors. They bring real-world examples to the forefront and have their thumb on the pulse of current tactics used by attackers.
SANS training is very valuable because it focuses on what really matters and provides practical and easy ways to improve your security posture.
The labs are giving me a chance to see the course content first hand and interact with it. It's doing a good job of letting me play with it and really seeing how the tools and methodologies work.
SANS Stay Sharp
Build specific skills you can apply the same week you take your training. SANS Stay Sharp offers bite-sized 1-3 day Live Training courses taught by real-world practitioners focused on teaching practical, must-have skills you can use immediately. Whether you are new to the industry looking for a place to start or are a seasoned professional looking to sharpen particular skills, SANS Stay Sharp can help you achieve your goal.
SANS Summits
Elevate your knowledge, skills, and industry connections at an upcoming SANS Summit. Summits bring together cyber security practitioners and leading experts to share and discuss case studies, lessons learned, new tools, and innovative strategies to improve cyber security and overcome challenges in a particular focus area or industry. Enhance your experience with a closely aligned Live Training course offered before or after each Summit.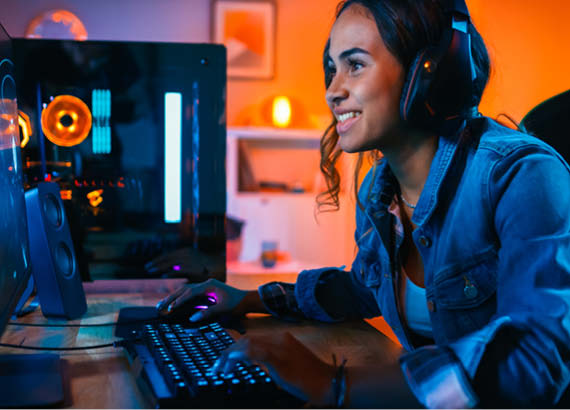 SANS Cyber Ranges
SANS Cyber Ranges offer a comprehensive suite of hands-on ranges with industry-leading interactive learning scenarios, including NetWars Tournaments and Continuous with cutting-edge cyber challenges within an integrated storyline.

Several Live Training events feature complimentary registration for NetWars Tournaments, allowing you to develop and practice real-world skills to be prepared to defend your environment. Explore our NetWars options, and view the schedule of upcoming tournaments.
Free SANS Resources
Learn about SANS webcasts, view free course demos, and read our catalog for information on new courses and upcoming training events.
SANS Information Security Webcasts are live web broadcasts combining knowledgeable speakers with presentation slides. View available webcasts and filter by topic area, including Cloud Security, Cyber Defense Essentials, Digital Forensics and Incident Response, Security Management, Penetration Testing and Ethical Hacking, Industrial Control Systems Security, and more!
View SANS Webcasts
Not sure which course to take? Experience SANS Cyber Security Training through our free course demos available for more than 45 SANS courses. See our top SANS Instructors in action, evaluate course subject matter and difficulty level. Register for your course from within the demo, or navigate to your preferred course page to learn more, search training options, and register.
See Course Previews
From introductory concepts to the most advanced technical skills, SANS faculty and authors have developed highly relevant, practical, hands-on courses related to Cloud Security, Offensive and Blue Team Operations, Cyber Defense, and much more. In this catalog, you'll find detailed information on over 70 courses and 40+ certifications, plus a look at our programs and upcoming events.
Read the Catalog