Ugh, 2020; amirite?! It's been a challenging and discouraging year in so many ways, but challenges often create opportunities. If your 2021 plans include doubling down on your training goals, learning new cybersecurity skills, leveling up in your career, and earning CPEs, without spending money or leaving your quarantine bubble, have we got some GOOD NEWS for you.

We're opening up SANS Virtual Summits to the global community in 2021!

The very best part about SANS Summits going virtual in 2020 has been bringing even more of the community together from across the world — over 40,000 of you! We look forward to continuing to offer world-class content and actionable information that will leave you walking away with a fresh perspective and new tools that you can immediately leverage in your work to protect your organization from ever-evolving threats.
Registration now open for:

Pen Test HackFest Summit | Nov 15-16
Cyber Threat Intelligence Summit | Jan 27-28

*Virtual Summits listed here are free for the community to attend. Please note: other specialty Summit events, including CyberThreat, may charge a fee.

Attend one (or all!) of our FREE virtual Summits to enjoy:
In-depth Talks and Panel Discussions - The industry's top practitioners share their latest cyber security research, proven techniques, solutions, tools, lessons-learned, and innovative strategies. You'll have a number of talks to choose from, plus lots of new virtual event features that will have you schooled up for the year and planning for the rest of 2021 before the week is out.

Interactive Workshops - Workshops provide you the opportunity to walk though realistic scenarios with your peers and generate action plans. Workshops are led by experts and use case studies to help attendees examine a scenario and make decisions based on the information provided.
Exclusive Networking Opportunities - Connect with your community, industry experts, and SANS Instructors via virtual chat rooms. Share ideas, success stories, and lessons learned and get the perspective of other attendees who are facing the same challenges you are. Attendees tell us time and again that one of the greatest takeaways from a SANS Summit is the many industry connections they forge or deepen during their time with us.

Attend Live and Earn CPE Credits - Not only does your participation help you meet the criteria to renew your certifications, but you'll also be taking advantage of free learning opportunities that help you stay ahead of the curve and contribute to a safer community.
What Attendees Say About Their Virtual Summit Experience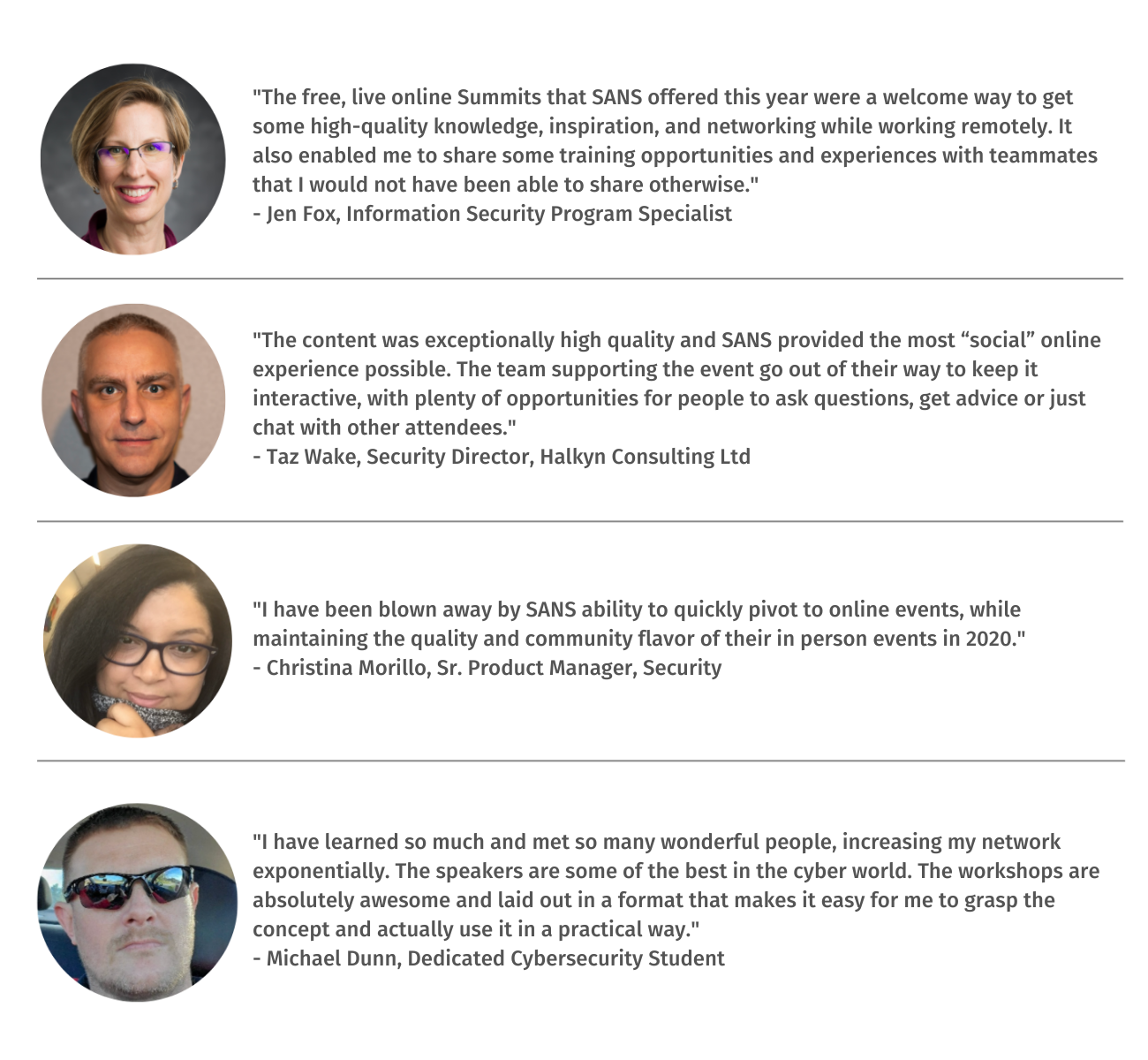 Interested in a Summit, but know you won't be able to attend?
We understand — these are busy times. That doesn't mean you have to miss out. Register and you'll be given access to that event's Summit Access Page. Registrants receive first access to Summit presentations and recordings via this Summit Access Page. Or — even better, if your other plans fall through or you have the time to pop in for a live talk or two — your Summit Access Page is how you join the event. Don't miss out, get registered now.
*At this time, we are not able to issue CPEs to those that view the Summit recording.

Friends Don't Let Friends Miss a Free Summit!
If you have a friend or colleague that you know would be interested in attending SANS Summits, please pass along this good news!
Speak at a SANS Summit
Speaking at a SANS Summit gives you the opportunity to engage with thousands of cybersecurity professionals, to share your expertise, and expand your network. If you have substantive and original content to share with the community, we encourage you to submit a talk proposal.
View Current Calls for Presentations (CFPs)
Additional Resources
We offer mentoring at every stage of the process, even if you're just thinking about submitting! Contact us at SummitSpeakers@sans.org.
Bundle Your Summit Experience with a Course to Expand Your Information Security Expertise
Surrounding each Summit, we've curated a selection of closely aligned top SANS Live Online hands-on courses, taught by world-class instructors, to help you enhance your knowledge base, add to your toolkit, and take your career to the next level.
We're looking forward to seeing you Live Online in 2021!