The SANS Security Awareness Professional (SSAP) is the industry standard in demonstrating expertise in managing human risk, with over 1,000 professionals holding the SSAP. Based on the SANS MGT433 Managing Human Risk course, SSAP holders have expertise in not only engaging, training, and securing an organization's workforce but aligning those efforts with their security team and the fundamentals of risk management.
As announced late last year, the MGT433 course has been expanded to three days. This is a reflection of how much the field of Security Awareness has matured and is indicative of our community's movement toward the goal of better managing human risk. With the expansion of the curriculum in this area comes a small but significant update to the SSAP digital credential.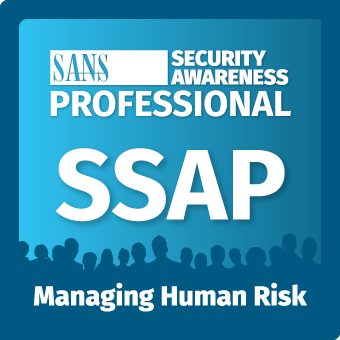 Of the many credentials available to cybersecurity practitioners, the SSAP is the most human-centric. Security Awareness teams deal less in ones and zeros and more in attitudes and behaviors. The silhouetted team on the badge and the words "Managing Human Risk" better convey this unique connection with cybersecurity while highlighting our overall purpose. We also chose to better highlight the professional nature of this credential as it indicates how the role of the Security Awareness Practitioner has evolved over the years and the reputation this position has earned around the world.
We feel these changes far better reflect the nature and the expertise of those holding the SSAP credential as well as the goals of our community. The SSAP credential itself has not changed, only the appearance of the Digital Badge. This change is retroactive and applies to not only all future SSAP holders, but to current holders, regardless of when the credential was earned.
This change would not have been possible without the continued contributions of everyone in the security awareness community dedicated to managing human risk. Congratulations to all current and future SSAP credential holders. I look forward to seeing the updated badge on your professional profiles soon!
Note: if you do not see the changes noted here reflected in your digital credential, log in to your Credly account to receive the update.