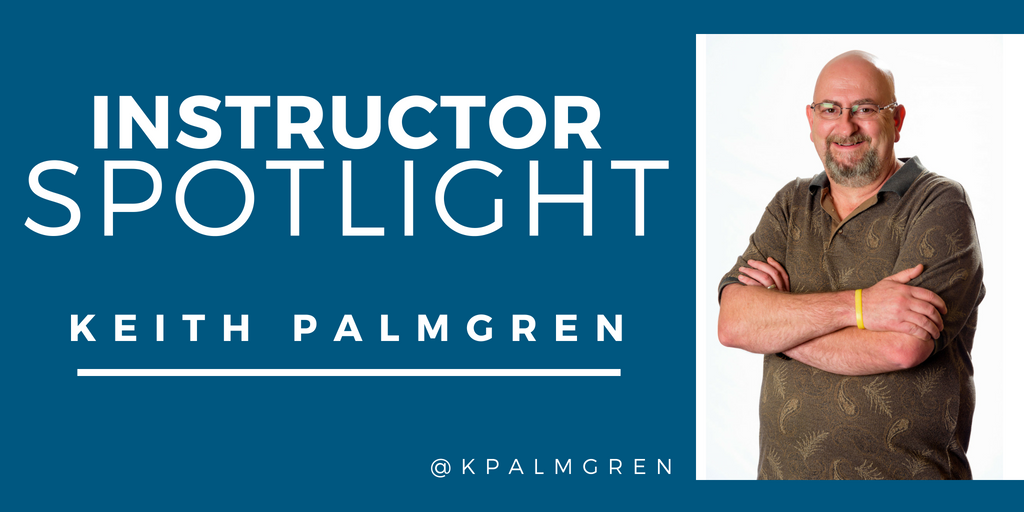 Meet Keith Palmgren. Keith is a Cybersecurity professional with over 35 years of experience specializing in the IT Security field. He is a SANS Senior Instructor and the author of SANS SEC301: Introduction to Cyber Security.
During his career, Keith has authored 23 training courses. The American Council on Education certified seven of those courses as eligible for college credit.
Keith currently holds eleven computer security certifications (CISSP, GSEC, GCIH, GCED, GISF, GSLC, CEH, Security+, Network+, A+, CTT+).
SANS: What made you choose to work in tech/security?
Keith Palmgren: I didn't choose tech or security. I was assigned to the industry. When I joined the U.S. Air Force in January 1985 they assigned me to managing and securing crypto keys and codes. While stationed at Hickam AFB in Hawaii and working in the Headquarters Pacific Air Forces crypto shop, I opened a box one day that had just arrived. I told the Chief Master Seargeant, " I think this is a computer or something". He told me to figure out how to make it do something useful. I opened the manual for the thing and the rest is history. I was 25 at the time and had never touched a computer. I also later worked in the computer security office. This was a brand-new program the Air Force had just started by opening a three-person shop in seven locations around the world. For a while, I was one of those people in 1988 and 1989. I quickly figured out that while I did not pick this field, I really enjoyed it. Since the Air Force was one of the first organizations to create a computer security program, and I worked in it, I guess you could say I witnessed and was part of the dawn of the cybersecurity industry. I had never thought of it that way before now.
SANS: Tell us an interesting fact about yourself and your connection to the technology world.
Keith Palmgren: One fact that many are surprised to learn about me is that I worked in a prison for several years. Specifically, I was a Response Officer — meaning that if a Floor Officer hit their panic button I was one of the officers who responded. I was also a member of the SWAT team. In the years since, I have seen some really bad physical security designs created by some really sharp cybersecurity people. The two disciplines require a little different way of looking at the world around you. I have often felt that watching over a thousand men try every trick in the book to defeat physical security gave me a rather unique perspective on physical security that many in cybersecurity lack.
SANS: What was your first SANS course?
Keith Palmgren: I took SEC504 with Ed Skodis in early 2010 and SEC401 with Dr. Eric Cole in late 2010. During the SEC401 course, I spoke to Eric about teaching for SANS and, indeed, taught my first course for SANS the following March.
SANS: What course is on your wish list to take as a student and/or to teach as an instructor?
Keith Palmgren: I would really like take Micah Hoffman's new SEC487: Open-Source Intelligence Gathering and Analysis class. Of course, then I would like to teach it! That is one of the most fascinating fields in cyber as far as I am concerned. Next would be LEG523 - Law of Data Security and Investigation; I honestly believe that should be required training for everyone in Cyber Security. I also think SEC530 and SEC566 would be great. Of course, I can't really name a SANS course I would not want to take.
SANS: What song is missing from the NetWars playlist? What would you add and why?
Keith Palmgren: I have always thought they should play Mac Davis, "Oh Lord It's Hard to Be Humble" for the winners.
SANS: What SANS event are you looking forward to most this year?
Keith Palmgren: Each and every one. I really do enjoy teaching for SANS so much. The people I get to work with are so amazing, and I really do look forward to every conference. And by the way, when I mention the amazing people I get to work with, I don't just mean the instructors (though they are awesome, of course). I'm also talking about all the people who put the conference on and truly make it happen. Conference planning and management, the AV team, Simulcast, LODS, and the list keeps going. (I know I left some groups off the list that deserve to be there.) Without all of those incredibly talented and dedicated people, instructors would not matter because we would not have a classroom to teach in.
SANS: How has the cybersecurity industry changed in the past five years?
Keith Palmgren: Acceleration. While I could point to a dozen different technology changes over the last five years, change really isn't new. Cybersecurity has been evolving since I first got involved with it over 30 years ago. What is changing is the pace of that change. The change is accelerating at an unbelievable rate. If you extrapolate that acceleration over the next 10 to 20 years, I honestly don't know how cybersecurity professionals will be able to keep pace.
SANS: How do you stay up-to-date with the latest cybersecurity information? Social media influencers, hashtags, blogs? Give examples.
Keith Palmgren: newsnow.co.uk, then click "Technology" and "Security"; http://www.newsnow.co.uk/h/Technology/Security; and Krebsonsecurity.com. I also follow many SANS instructors on Twitter!
SANS: Advice for someone taking a SANS course for the first time? Attending their first event?
Keith Palmgren: I will give the same answer I always give in my SEC301 class, since almost every student there is at their first event. Show up with a laptop configured to the requirements of the course. Attend every SANS@Night talk you can. Network with other students every minute you are not in class. Get plenty of rest at night so you are ready for each intense day in the class. Ask as many questions as you need to — DO NOT be shy. Read the course books. Have fun!
SANS: What advice do you have for students pursuing a career in cybersecurity?
Keith Palmgren: Be prepared to continually learn. The cybersecurity industry changes so fast, it is a challenge to keep current. And it has been said that "In security, the most dangerous thing in the world is what you think you know," because when you think you know, you do not challenge that knowledge. If you do not strive to keep up, then you begin implementing yesterday's solutions to solve tomorrow's problems. That simply does not work. At that point, you are irrelevant.
SANS: What was your first piece of technology as a child? Why was it important at that time?
Keith Palmgren: Ha! I grew up working in my dad's mechanic shop. So the first piece of "technology" I had as a child was a socket wrench. Why was it important? Work ethic. Before I even went to kindergarten, I could fetch my dad a 9/16-inch end-wrench or a 5/8-inch 1/2-inch-drive socket (no, that is not a typo). At no time growing up did I ever receive an allowance, I received a paycheck for the hours I worked. And my dad never bought any of us a car (I was the youngest of five boys), we had to buy our own. (That didn't stop him from taking our keys when we messed up, of course). I had no idea what was happening at the time, but dad taught my brothers and I a work ethic that has served each of us our whole lives. That work ethic can be summed up simply: Do the job. Do it right the first time. If you make a mistake, own up to it and fix it. Make sure the customer leaves happier than when they arrived.
SANS: If you could write your dream course, what would it be about?
Keith Palmgren: The title would be: "The History of the Great Cyber World War — How the Good Guys Won." I hope to start writing it any day now, but we have to win it first.
To learn more about Keith Palmgren and where you can take his next course, visit his SANS bio page: Keith Palmgren, Senior Instructor
Catch him on Twitter @kpalmgren