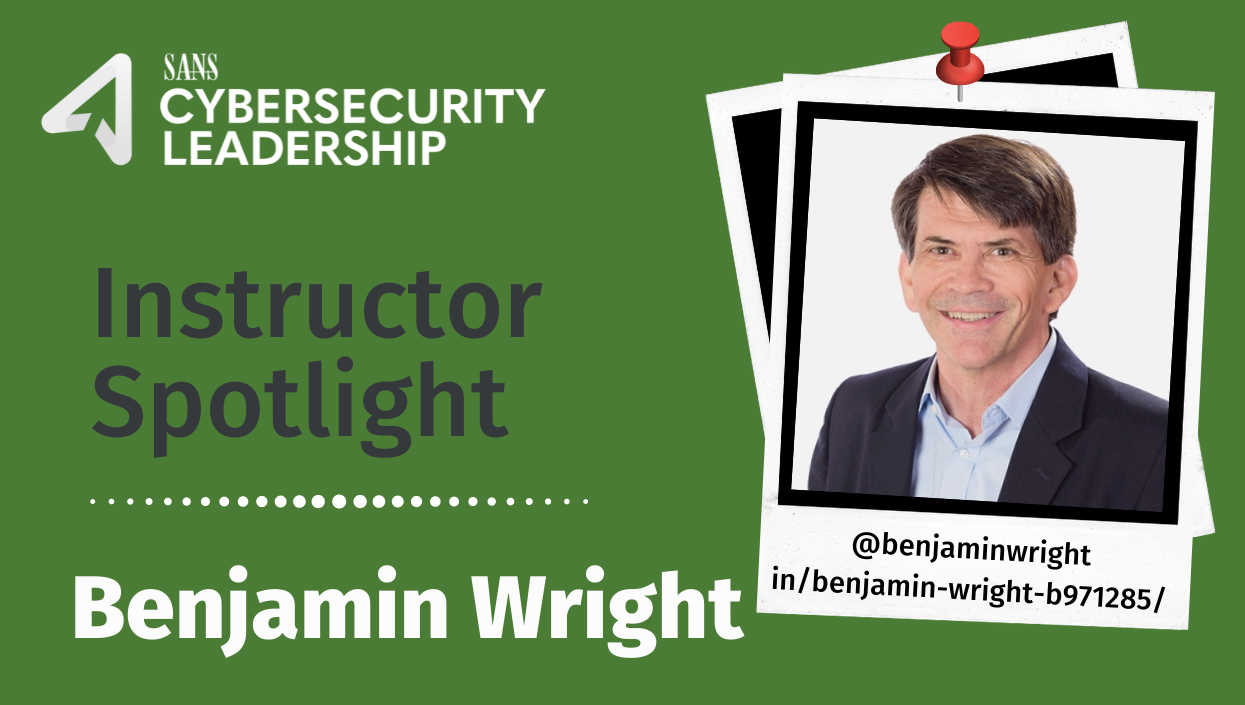 SANS: As an instructor, what is your teaching philosophy? Tell students what defines you as an instructor. What makes you unique to teach this class?
Benjamin Wright: I try to be extremely practical, not a professor pontificating esoteric theories. Instead, I try to provide students with the tools and mindset to address the real-world challenges they face as they help their clients and employers manage cyber law risk.

SANS: Why did you decide to be in this field? Tell students why you chose this career.
Benjamin Wright: As a young lawyer I was fascinated with how law, society, and politics would react to the digital age. I started working on the law of electronic commerce, and then expanded into to the law of data security and investigations.

SANS: What made you decide to become a SANS instructor? Tell your students why you chose SANS.
Benjamin Wright: Before starting to teach at SANS in 2003, I had a lot of experience with technology law, but my experience with cybersecurity and forensic investigations was limited. At the time, very few lawyers had much experience with those topics. SANS gave me an opportunity to study the topics, develop ideas, and then refine those ideas in collaboration with the knowledgeable students SANS brought into my classroom.

SANS: Why do you enjoy teaching this topic? Tell students what makes you the best teacher on this subject.
Benjamin Wright: SANS attracts the smartest students from all over the world. They challenge me. They teach me things I don't know. The process of teaching this course at SANS over the years has made me a much better cyber lawyer. Cyber is a leading-edge field of law. It requires me to develop fresh, original ideas and solutions. The idea I come up with the first time is not always the perfect one. But then I teach that idea, and the students help me evaluate it and improve on it.

SANS: In your opinion, what are the biggest challenges your students might face when learning about this topic, and how do you as an expert address those challenges in a way that helps students in their day-to-day careers?
Benjamin Wright: Cyber law is full of nuances and opportunities that surprise lawyers and non-lawyers alike. Cyber law is commonly misunderstood. Many students have to discard old assumptions and change the way they think about the topic.

SANS: Can you share a life experience outside of the classroom that shows your expertise in the subject you teach? Why are you uniquely qualified to teach this course?
Benjamin Wright: As an adviser in September 2003 to the government of Sri Lanka on the law and policy of e-signatures, ecommerce, and public key infrastructure, I spent three weeks there interviewing experts and officials, drafting legislation, and delivering analysis and recommendations in a detailed report. Then I presented the results to the government and private sector. The project, which was funded by the U.S. Agency for International Development and sponsored under The Competitiveness Initiative in Sri Lanka, contributed to the adoption of national legislation in October 2005.

SANS: What has been the highlight of your career so far? Speak about an experience or experiences that validated your career choice as the right one.
Benjamin Wright: I offered some uncommon advice to LabMD in the infamous LabMD cyber-attack that ultimately helped steer the company toward its landmark 2018 legal victory over the Federal Trade Commission. I'm featured in a book about the case called The Devil Inside the Beltway.

SANS: In addition to working as a SANS instructor and working in the field, what other work do you do in the professional community:
Benjamin Wright: I'm a mentor for law students at the Dallas School of Law at the University of North Texas.

SANS: What are your interests or hobbies? Tell students what interests you have, inside or outside the industry.
Benjamin Wright: I love to jog, hike, wade, spelunk, and bicycle outdoors. I can commonly be found slowly walking barefoot up and down a creek somewhere, inspecting every tadpole, every blossom, and every rock formation!

SANS: How do you stay up-to-date with the latest cybersecurity information such as social media influencers, hash tags, blogs, etc.?
Benjamin Wright: For me, the best source of information is the Wall Street Journal. That newspaper digs into the big topics of law, business, and government better than any other source. The second-best sources are the students who take my SANS course. They constantly teach me new cases, stories, and practice tips. Students often keep communicating with me long after the course is finished.

SANS: Do you have advice for someone taking a SANS course for the first time? Attending their first event?
Benjamin Wright: Engage with the material, the instructors, and your fellow students. Some students come just to satisfy their boss and pass the GIAC certification exam. But SANS gives students the opportunity to catapult themselves to a new level of professional competence.

SANS: What advice do you have for students pursuing a career in cybersecurity?
Benjamin Wright: Understand the big picture beyond just the technical details. Understand the role that cybersecurity plays in society…and the making of history. That understanding helps you make better decisions on a day-by-day basis.

SANS: If you could write your dream course, what would it be about?
Benjamin Wright: I already did! Check out LEG523: Law of Data Security and Investigations

SANS: How has security changed in the legal technology industry in the past five years?
Benjamin Wright: Governments and other authorities are imposing vague, sweeping, and confusing rules such as the General Data Protection Regulation (GDPR) and the California Consumer Privacy Act (CCPA). And they are doing this as the world faces epidemics such as ransomware and COVID-19!