How do you gain the skills, experience, and knowledge to be a successful cybersecurity leader?
A first step is understanding the broad spectrum of topics that you, as a security manager, leader, or CISO, should have in your tool belt. More specifically, you need to understand the five topics in your Cybersecurity Leadership Roadmap: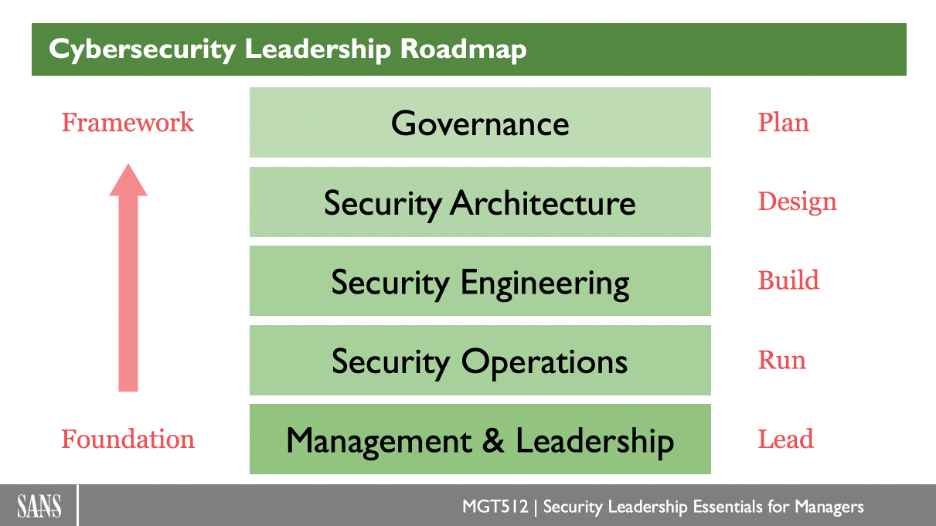 Governance – tools to plan your program and strategy
Security Architecture – knowledge to design your security capabilities
Security Engineering – skills to build your security capabilities
Security Operations – discipline to run operations and maintain situational awareness
Management & Leadership – ability to lead the team, process, and culture
As a manager you want broad experience across this range of topics because it helps you:
Understand what other peer teams are trying to accomplish
Prepare to lead one of those teams in the future
Gain the respect of your technical teams and guide them effectively
Accept new leadership responsibility that may be thrust upon you
Find a new job and take the next step in your career
To bring make these topics more tangible MGT512 makes extensive use of the Cyber42 Security Leadership Simulation game. Acting as the head of security for a fictional company, you implement initiatives and respond to events as they arise. The class includes the following activities where you work to build security capabilities and improve security culture:
23 Cyber42 activities
1 Cyber42 company overview
4 Cyber42 Initiatives
18 Cyber42 Events
Each section of the course is built around one of the topics from the Cybersecurity Leadership Roadmap.
MGT512.1: Building Your Security Program
Using control, program, and risk frameworks to build your program
Understanding risk, becoming calibrated, and managing information risk
Crafting effective security policy
Defining roles & responsibilities and reporting relationships
MGT512.2: Technical Security Architecture
Using security architecture models, principles, and frameworks
Understanding network security controls
Implementing host security controls
Using cloud security reference architectures and controls
Understanding Zero Trust principles
MGT512.3: Security Engineering
Understanding cryptography and encryption
Leveraging privacy requirements
Building application security capabilities
Automating security with DevSecOps and Infrastructure as Code (IaC)
MGT512.4: Security Management & Leadership
Building a vulnerability management program
Building a security awareness program
Negotiating effectively
Analyzing vendor solutions
Managing projects and leading teams
MGT512.5: Detecting & Responding to Attacks
Deploying a SIEM
Building a Security Operations Center (SOC)
Handling an incident
Understanding contingency planning and physical security
Interested in Certification?
The GIAC Security Leadership (GSLC) certification validates a practitioner's understanding of governance and technical controls focused on protecting, detecting, and responding to security issues. GSLC certification holders have demonstrated knowledge of data, network, host, application, and user controls along with key management topics that address the overall security lifecycle.

Cryptography concepts & applications for managers, networking concepts & monitoring for managers
Managing a security operations center, application security, negotiations and vendors, and program structure
Managing security architecture, security awareness, security policy, and system security
Risk management and security frameworks, vulnerability management, incident response and business continuity
Earn a Challenge Coin
Hundreds of SANS Institute students have stepped up to the challenge and conquered. They've mastered the concepts and skills, beat out their classmates, and proven their prowess. These are the elite, the recipients of a SANS Challenge Coin, an award given to a select portion of the thousands of students that have taken any of the SANS courses. Students of MGT512 Live Online or In-Person courses can earn a challenge coin as well. Learn more about SANS Challenge Coins here.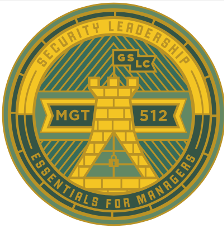 To learn more about the course and see a schedule of upcoming classes visit sans.org/mgt512.

About the Author
Frank is the Founder of ThinkSec, a security consulting and CISO advisory firm, as well as a SANS Fellow and lead for both the SANS Cybersecurity Leadership and SANS Cloud Security curricula, overseeing two dozen SANS courses in the two fastest growing curricula. Previously, as CISO at the SANS Institute, Frank led the information risk function for the most trusted source of computer security training and certification in the world. Frank is also the author and instructor of MGT512: Security Leadership Essentials for Managers, MGT514: Security Strategic Planning, Policy, and Leadership, and co-author of SEC540: Cloud Security and DevSecOps Automation. Read Frank's full profile here.