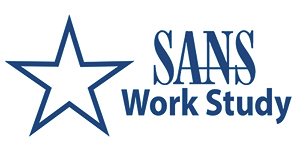 ---
The Work Study Program is popular and competitive method of SANS training which allows a selected applicant the opportunity to attend a live training event as a facilitator at a highly discounted tuition rate.
A facilitator is a SANS ambassador who assists conference staff and instructors with the following tasks:
Conference set-up and break-down
Registration
Audio visual
Signage
Marketing
Evaluation Processing
Courseware preparation and distribution
Classroom monitoring
Evening session monitoring and evaluation
Facilitators are utilized ONLY at the following types of live training events:
National - Network Security, SANSFIRE, Cyber Defense Initiative, SANS-Orlando, etc.
Regional - Security East, Security West, Rocky Mountain, London, Sydney, Calgary, Seattle, San Antonio, Chicago, etc.
Summit - ICS/SCADA Security, Cyber Threat Intelligence, Threat Hunting & Incident Response, SOC, DFIR, Security Leadership, Security Awareness, Pen Test Hackfest, Healthcare Cybersecurity, etc.
Community SANS in North America - Dallas, Vancouver, Portland, Ottawa, Chicago, Miami, Toronto, Des Moines, Boston, etc.
Advantages of the SANS Work Study Program include:
Attend and participate in a 4-6 day course
Receive related courseware materials
Work with Certified Instructors and SANS Staff
Attend applicable Vendor Lunch & Learns, SANS@Night, and other Special Events
Opportunities to network with security professionals
Free corresponding GIAC certification exam attempt [if available], when lodging onsite at the host hotel
Request early access to online OnDemand integrated slides and notes [if available]
SANS facilitators are cheerful, friendly, and ever-ready professionals who are selected to assist SANS staff and instructors in conducting a positive learning environment.
---
Work Study FAQ
With the understanding that you will need time to make your plans to attend a conference, SANS will notify applicants by email four to six weeks prior to the event. Selection is dependent on course enrollment.

Facilitators are expected to arrive one day prior to the start of their course to aid in event set up and courseware preparation. Many conferences offer pre or post 1-2-day courses to the 5-6-day courses. Facilitators work long days sometimes up to 12 hours. Daily dismissal will by the instructor and the onsite manager.

The Work Study tuition fee is US$1,100 (or EUR1,001 depending on the event location). Should you be selected to facilitate a Summit presentation, the fee is $183 or 164€ per day (from $150-$900 for job-based courses). International Tax/VAT will apply for certain events. In exchange for the Work Study services, the tuition fee includes course books and classroom instruction; the opportunity to work with team members from all over the world; attendance to SANS@Night events, BoFs, special events, Lunch & Learns, and Vendor Expo - the full SANS Conference experience!

The fee also includes mp3 Self Study files. Should the selected course offer the OnDemand delivery option for the job-based course, facilitators can receive early access to the online course. Visit the OnDemand Library to view the available courses.

The tuition fee does not include the featured manuals, routers, and toolkits associated with the Forensic and Wireless courses or NetWars Continuous.

If an accepted facilitator withdraws and not attend the event, a 10% processing fee may be assessed.

---

Cost

Work Study Program Facilitator Fee:

$1,100 US, Canada, and Asia Pacific
1,001€ Europe, plus VAT
$1,100 Australia, plus Tax

Summit Series Facilitator Fee:

$183US or 164€ plus VAT per day for 1-3 day courses; $1,100 for 4-6 day courses

The cost of toolkits are included in the work study fee.

NetWars Continuous, travel, lodging, and meals are not included in the work study fee.

Courseware materials are not shipped. They are distributed onsite.

NOTE:

Payment from a Voucher account is not an acceptable form of payment.
GIAC Candidates attempting the GSE will not be authorized to facilitate at the same event.

---

Guidelines Manual

SANS facilitators, fully accept the responsibility of fulfilling all Work Study Program requirements and duties as outlined in the Work Study Guidelines Manual.

---

Program Overview

Facilitators arrive between 6:30-9:00am for national/regional/summit events; or at 4:00pm for Community SANS events one (1) day prior to the start of their class to assist with set up. Facilitators function as part of the onsite staff and work long hours each day which may include room monitoring for SANS@Night courses and other evening presentations conducted at the event.

Facilitators will serve as a room monitor for the track they have been selected to participate. Courses are assigned based on availability and as indicated on the contract. As a room monitor, facilitators have four major duties:

Instructor Assistant - Room monitors are to be available 15 minute prior to the start of the course, and 15 minutes at the end of the course. This time is use for in distribution of materials and instructor/conference notes, and to be a point of contact for the instructor.
Checking Badges - This is a very important task for room monitors in allowing only course attendees and SANS staff entrance into the classroom. This will also ensure that the attendee is in the right place, and if not, redirection will help them get to the right room or to a SANS Staff member to answer question you cannot.
Serving as a point of contact for their classroom. Room monitors are to promptly notify the Onsite Manager should any issues arise in their classroom. (I.E. Changes in room lighting or room temperature; Audio Visual (AV) equipment failure).
Processing of Course Evaluations - Daily evaluations are distributed during the afternoon break, collected, compiled at the end of each day.

Team Leaders: A facilitator may be selected serve as a team leader for Courseware, Evaluations, Signage, and Marketing. To optimize the SANS experience, a facilitator may be selected to serve in one of these leadership positions.

Facilitators will sign in and be dismissed daily by the course instructor and the conference manager. On the last day of class, the facilitators will be excused from the event only after evaluations have been processed and pack-up is complete.

---

Qualification

Leadership

Displays a cooperative, professional demeanor
Able to direct others; works well with others, and is eager to serve
Is pro-active in anticipating classroom needs
Ambassador for SANS

Performance

Able to follow instructor directions
Dependable
Actively and willingly participates in class without being disruptive
Conscientious in securing instructor equipment and classroom by checking badges
Thorough distribution, collection, and processing of daily evaluations

NOTE: This is general information. Both SANS staff and facilitators will make adjustments to suit the demands of each individual event. Onsite training is conducted for a complete understanding of facilitator duties.

---

Application

All applications to the SANS Work Study Program are reviewed. A facilitator is selected based on the specific need at the training event. Selection is based on the following:

Course(s) indicated on choice list
Course enrollment
Date of Application
GIAC Certification - number of certificates held or membership on the Advisory Board
SANS Mentor
Previous performance rating
Recommendation from SANS staff or instructor
New applicants to the Work Study Program or to shadow a experienced facilitator

When applying for a specific event, be sure to review the event's Registration Info due date prior to submission, as late or incomplete applications may not be accepted.

CLICK HERE to Apply Now (Login Required)

---

GIAC Certification

A GIAC Certification exam attempt is not available for every course.

There is a cost to add the exam attempt when taken in conjunction with conference training. Confirmed reservations at the conference-hosted hotel will result in the addition of the corresponding GIAC certification to facilitator's conference registration. The hotel's reservation confirmation will ensure that the exam attempt can be added free of charge. Local residents or facilitators lodging with family or friends can also receive the exam inclusive on the registration invoice. Should the facilitator decide to lodge at a different location, the cost of the exam attempt will apply.

The exam attempt will be available to practice and to schedule proctoring 7-days following the event. Access is for 120 days/4 months before expiration. All GIAC Certification deadlines are displayed in Universal Time (UTC), also known as Greenwich Mean Time (GMT). Extension charge will apply.

Monthly exam extensions are available for purchase should you wish to lengthen your access period beyond the standard deadline.

---

OnDemand

The OnDemand online training tool is not available for every course.

The OnDemand online training tool enables the facilitator to hone their knowledge of each learning objective and to fully prepare for the GIAC exams.

As a learning tool - in providing information to better assist the instructor and the students
As a support tool - should event duties temporarily take the facilitator out of the classroom environment, they will already have seen most of the material prior to the class

It is also our hope that a positive learning experience is gained through OnDemand to allow the sharing of the experience with other students at conference. For more information regarding OnDemand, visit: About SANS OnDemand

A facilitator can request early access to their OnDemand Bundle online course pre-event. 24-48 hours after Work Study payment is confirmed. To check if the job-based [4-6 day] course the facilitator is accepted to facilitate can be included in the registration, visit SANS OnDemand library.

Access is for 120 days/4 months before expiration. OnDemand deadlines are displayed in Universal Time (UTC), also known as Greenwich Mean Time (GMT). Extension charge will apply.

OnDemand will include web-based courseware; course lectures and assessment tests presented one learning objective at a time, email access to our virtual mentor, and complimentary Self Study audio files. (Available in .mp3 or .mp4 format of a pre-recorded live session) Some of our technical courses also include hands-on exercises and labs.

DISCLAIMER:

Accepted Work Study Program facilitators understand that the courseware, OnDemand training, and certification co-relate and are not interchangeable.
Accepted Work Study Program facilitators understand that SANS training materials are periodically updated.
In order to provide facilitators with access to the OnDemand bundle prior to the training event, we risk the chance that the course material presented in OnDemand may not match exactly with what will be taught at the training event. The possible differences in course material between your OnDemand course and what will be presented at the training event cannot be pre-identified as some of our courses undergo extensive updates during an update cycle and some do not.
The updated online version of the course is not released to the public until 7 days after the training event, when non-facilitators would receive their bundle access. Facilitators will not receive access to these course updates that are released in OnDemand. The timestamp of your "pre-access" locks you into the earlier version of the course.
Although the OnDemand bundle is provided to facilitators at no extra charge, the bundles are not available for all SANS Courses.
The length of access to the OnDemand bundle is 4 months. Your OnDemand bundle access period begins the moment it issued to your SANS account. Monthly OnDemand extensions are available for purchase should you wish to lengthen your access period beyond the standard deadline.

---

Testimonials

"SANS training is known as the best of the best. The opportunity to be part of a delivery team is awesome!"
- John E. Fiess, Institute for Defense Analyses

"I have been a volunteer and am not afraid to work hard to be sure students have what they need to succeed."
- Ryan Jarosek, VPI

"I am new to the information security industry and this experience has given me the best possible way to enter the field with awesome people backing me up from SANS. I would recommend the Work Study Program to a friend because you obtain real world and hands-on experience that you cannot get anywhere else."
- Desi Beam, University of Phoenix

"SANS is an excellent organization. We were charged with being an extension of SANS staff, a task which I fully embraced, and it felt good to be a part of something larger, something that represented excellence. I was actually able to help a few students, and they were grateful. Of course, I made some great networking contacts, too."
- Ken Evans, HFHS

"I truly enjoyed getting to work with the SANS group. It was great to have the opportunity to network with intelligent individuals with diverse skillsets. The training was fantastic, as is expected from a SANS course, and the work-study program was very convenient for me. I appreciate all the hard work the SANS staff put into the event."
- Jared Henderson, Blue Cross/Blue Shield

"The whole SANS facilitator staff and management was very friendly and helpful."
- Oliver Brown, CC Labs, Inc.

"The opportunity to spend time with other facilitators was a very positive aspect of the Work Study Program for me. I felt that this allowed me to get more benefit from the conference proceedings, as I was able to participate in an event that I may have not otherwise attended."
- Brad Wilkerson, Eastern Michigan University

"I love SANS training and after facilitating I love it even more. There is no other training company that has the clout and caliber of instructors as SANS. I am addicted to SANS training."
- Tyler Robinson, Computer Impressions

"Any student who has not been part of SANS in the presentation and running of the conferences misses out on so much "meat" that is left on the table by the people who come to grab a class and play."
- Larry Coleman, United Guaranty-AIG

"The information provided through SANS training is invaluable. The program is an excellent method for people to train from the global leader in infosec training."
- Scott Martin, Spikes, Inc.

"The positive aspect of my Work Study experience was having the opportunity to meet like-minded professionals. I gained appreciation of what is required to put a SANS conference together."
- Jordan Dixon, Dixon IT Consulting. LLC

"The course itself was great and definitely better than other cyber security courses I have taken from other vendors. The SANS experience is unlike anything else on the market."
- Nabil Rasool, Castalia

---

Contact

Email: workstudy@sans.org