Free Upcoming Live Online Workshops
In these workshops you will:
Learn Hands-on Skills that you can use immediately
Go In-Depth into the latest technology
Interact with other attendees
Get access to SANS top Instructors
Experience the SANS Live Online platform
The upcoming workshops are listed out below and will feature the live stream instruction, subject matter expert support, immersive hands on labs and student to student interactive Slack channel benefits that you would get in a Live Online environment. We recommend bookmarking this page and checking back frequently, as we'll be adding more in the days and weeks to come.

Due to the nature of these workshops, many have a capacity limit and will not be made available for archive. To help us offer this opportunity to as many people as possible, we are asking that you please only register if you plan to attend live.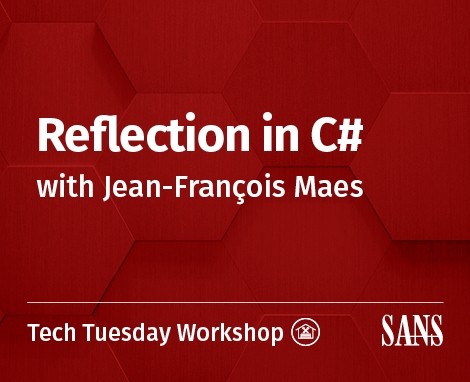 October 5th at 1:00 PM EDT (17:00 UTC)
Duration: 2 Hours
During your infosec career you have probably come across the term "reflection" at one point or another. "reflective dll injection", "reflective loading", in this workshop you will learn how to leverage the power of C# and it's built in reflection capabilities!
Upcoming Tech Tuesday Workshops
Workshops take place in SANS Live Online virtual environment. Please click through to registration for more information including prerequisites and systems requirements.
| Workshop | Presenter(s) | Date/Time | Description |
| --- | --- | --- | --- |
| Reflection in C# | Jean-François Maes | Oct | In this workshop you will learn how to leverage the power of C# and it's built in reflection capabilities. You will create a loader with basic functionality then keep expanding upon it for multiple iterations. In the end, you will have learned how to create a full-fledged loader that can fetch and load multiple programs, handle unexpected error 404's and more! |
| Cloud Security Monitoring and Threat Detection Workshop | Shaun McCullough and Ryan Nicholson | TBD | details t/k |
Details and registration for future workshops will be added as they become available.