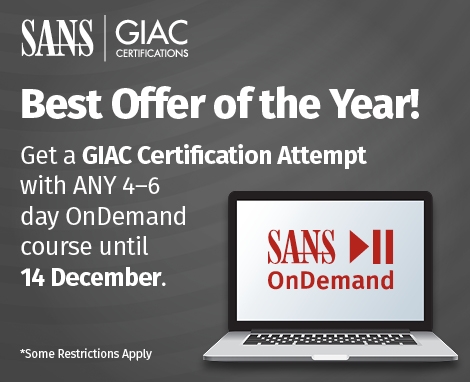 Special Offers Available Now with SANS OnDemand Cybersecurity Training – Register Today!
Learn from the best, study at your own pace, and avoid travel with SANS OnDemand cybersecurity training. Plus, for a limited time, you'll be able to collect a special offer with ANY 4-6 day OnDemand course purchase! Use the following discount code at checkout to receive a GIAC certification attempt: CERTIFYGIAC
Offer starts 3 November 2022 and ends 14 December 2022. See full Terms and Conditions below.
Terms & Conditions
Promotional offer valid on the purchase of any OnDemand long course, lasting between four (4) and six (6) days in length, purchased between November 3, 2022, at 12:00 am ET and December 14, 2022 at 11:59 pm ET. Payment must be received by the offer expiration date to participate. GIAC Certification Attempt offers are available to students in eligible countries in the Asia Pacific region. This offer cannot be combined with any other offer or discount, including SANS Voucher Program.
Promotional offer cannot retroactively be applied to prior, open course registrations nor applied when courses are incorporated into certain larger SANS-related special programs, including the graduate program of the SANS Technology Institute. SANS course offerings are subject to change at any time, please refer back to SANS.org for up-to-date course information. SANS shall not be held liable for students who elect marketing promotions, including this promotional offer, or discounts that are not consistent with their employer's Standards of Conduct and/or procurement standards. SANS reserves the right to cancel this offer at any time or substitute this offer for an alternative product, service or cash award of approximately equivalent retail value.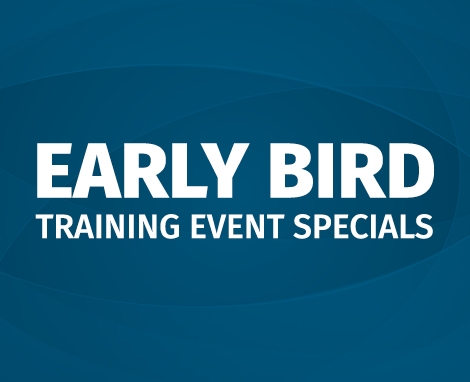 Did you know you can use an Early-Bird discount code for SANS Live Training?
Did you know you can use an Early-Bird discount code for SANS Live Training? If you are looking to take training with SANS in 2023 then we wanted to point out that if you book your Live class more than 6 weeks out, you are able to use our Early Bird Discount code during registration. Simply use the promotion code listed at the top of the event page when registering and the Early Bird discount will be applied automatically.
"GIAC certifications and SANS training opened my eyes to the amazing depth that exists in information security, exposing layers of challenges I did not even know existed. I now know enough to know that I don't know enough, but with passion and a path, I can contribute to being part of the solution."
"I'd recommend OnDemand as a good learning experience; you can train when you have free time. The instructor was able to relate real life scenarios and the quizzes help with self assessment."
"SANS training is hands-on, deals with real-time scenarios, and is highly applicable to the security environment in my workplace. Great trainers and training!"