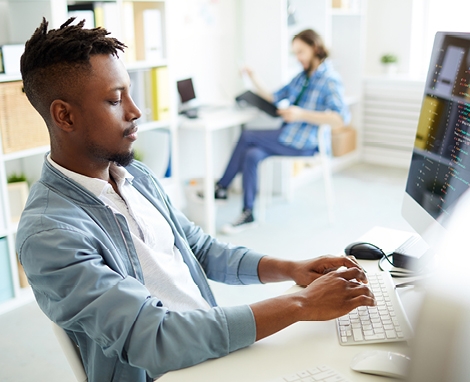 Apply for the 2021 Diversity Academy Now
SANS and Cyversity are excited to announce the Cyber Diversity Academy. The CDA is a 100% scholarship-based diversity, equity, and inclusion program. This four-to-six-month accelerated, immersive cybersecurity training program provides eligible candidates with advanced technical training, industry-recognized GIAC certifications, and hands-on cyber defense and incident handling skills sought by employers.
If you have a passion for cybersecurity and meet the requirements below, please consider applying to the Cyber Diversity Academy.
Eligibility Requirements
DCA is an all-inclusive program focused on women and minorities of Black, Latinx, Native American, Native Hawaiian, Asian Pacific, Asian Indian, or sub-Saharan backgrounds that are career changers, with a high aptitude and passion for cybersecurity and meet the following eligibility requirements:
Seniors in college; preferably (not required) pursuing a degree in a Computer/IT-related field or technical STEM discipline.
College graduates and career changers currently not working in the information security field or with prior work experience from the information security field.
Priority will be given to career changers that are not currently working in an information technology (IT) related field.
Must be a U.S. citizen or a permanent legal resident (Green card holder) with work authorization and currently residing in the U.S.
Note: Transitioning military service members, active members of the reserves forces, US Coast Guard members, and military veterans are encouraged to apply to the VetSuccess Immersion Academy instead. Applicants must be within six months of separation or less than ten years out of the service.
2021 Diversity Cyber Academy Timeline
Applications open: February 1, 2021
Deadline to apply: May 28, 2021

Due to the high volume of applicants, Applications will close at 12:00pm ET on May 27, 2021.        Those who have already submitted an application will still be considered.

Training begins: July 2021
Graduation: December 2021
Course Set Up
All DCA students will begin their Academy program by taking SEC401 through SANS OnDemand. The course and GSEC certification exam must be completed in eight weeks. Students who successfully pass the certification exam move on to SEC504 via SANS OnDemand and will have eight weeks to complete the OnDemand course and GCIH certification exam. Students who choose to pursue a third course and certification will have eight weeks to complete the OnDemand course and successfully pass the certification attempt.
Curriculum
Candidates meeting the Academy requirements may submit an application and proceed to complete an online assessment. Based on the results, applicants may be invited to submit additional documentation to complete their application and may advance to the next step for a personal interview. The Admission Committee will determine which candidates are accepted and will notify them of next steps.
Students will complete up to three SANS courses online (two core courses and one elective) and industry-leading certifications).
Required Courses and Certifications
Time Commitment for Students
The CDA is a fast-track, intensive program, and students are expected to complete all coursework and certifications in 6 months depending on the academy schedule. On average, it takes most SANS students 100 hours to prepare for one GIAC certification attempt.
All courses are taken online via SANS OnDemand and are self-paced. Students are required to complete each course and certification in eight weeks depending on the particular academy's schedule.
The CDA will take 6 months to complete.