SEC560: Network Penetration Testing and Ethical Hacking
Sun, October 14 - Fri, October 19, 2012
SEC560 provides extremely useful hands-on experience and tools that could help during penetration testing assignments.

As someone new to offense, SEC560 is an amazing introduction to the tactics and capabilities of an attacker.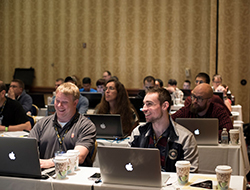 As cyber attacks increase, so does the demand for information security professionals who possess true network penetration testing and ethical hacking skills. There are several ethical hacking courses that claim to teach these skills, but few actually do. SANS SEC560: Network Penetration Testing and Ethical Hacking truly prepares you to conduct successful penetration testing and ethical hacking projects. The course starts with proper planning, scoping and recon, and then dives deep into scanning, target exploitation, password attacks, and wireless and web apps with detailed hands-on exercises and practical tips for doing the job safely and effectively. You will finish up with an intensive, hands-on Capture the Flag exercise in which you'll conduct a penetration test against a sample target organization, demonstrating the knowledge you mastered in this course.
Equipping Security Organizations with Advanced Penetration Testing and Ethical Hacking Know-How
Security vulnerabilities, such as weak configurations, unpatched systems, and botched architectures, continue to plague organizations. Enterprises need people who can find these flaws in a professional manner to help eradicate them from our infrastructures. Lots of people claim to have penetration testing, ethical hacking, and security assessment skills, but precious few can apply these skills in a methodical regimen of professional testing to help make an organization more secure. This class covers the ingredients for successful network penetration testing to help attendees improve their enterprise's security stance.
We address detailed pre-test planning, including setting up an effective penetration testing infrastructure and establishing ground rules with the target organization to avoid surprises and misunderstanding. Then, we discuss a time-tested methodology for penetration and ethical hacking across the network, evaluating the security of network services and the operating systems behind them.
Attendees will learn how to perform detailed reconnaissance, learning about a target's infrastructure by mining blogs, search engines, and social networking sites. We'll then turn our attention to scanning, experimenting with numerous tools in hands-on exercises. Our exploitation phase will include the use of exploitation frameworks, stand-alone exploits, and other valuable tactics, all with hands-on exercises in our lab environment. The class also discusses how to prepare a final report, tailored to maximize the value of the test from both a management and technical perspective. The final portion of the class includes a comprehensive hands-on exercise, conducting a penetration test against a hypothetical target organization, following all of the steps.
The course also describes the limitations of penetration testing techniques and other practices that can be used to augment penetration testing to find vulnerabilities in architecture, policies, and processes. We also address how penetration testing should be integrated as a piece of a comprehensive enterprise information security program.
Course Syllabus
Additional Information
"Ed Skoudis is the best teacher I've ever had. He is 100% competent and professional."
-Petra Klein, FRA
IMPORTANT - BRING YOUR OWN LAPTOP WITH WINDOWS
To get the most value out of the course, students are required to bring their own laptop so that they can connect directly to the workshop network that we will create. It is the students' responsibility to make sure that the system is properly configured with all drivers necessary to connect to an Ethernet network.
Some of the course exercises are based on Windows, while others focus on Linux. VMware Player or VMware Workstation is required for the class. If you plan to use a Macintosh, please make sure you bring VMware Fusion, along with a Windows guest virtual machine.
Windows
You are required to bring Windows 7 (Professional or Ultimate), Windows Vista (Business or Ultimate), Windows XP Pro, or Windows 2003 or 2008 Server, either a real system or a virtual machine. Windows 7 Home, Windows Vista Home, Windows XP Home, and Windows 2000 (all versions) will NOT work for the class as they do not include all of the built-in capabilities we need for comprehensive analysis of the system.
The course includes a VMware image file of a guest Linux system that is larger than 2 GB. Therefore, you need a file system with the ability to read and write files that are larger than 2 GB, such as NTFS on a Windows machine.
IMPORTANT NOTE:You will also be required to disable your anti-virus tools temporarily for some exercises, so make sure you have the anti-virus administrator permissions to do so. DO NOT plan on just killing your anti-virus service or processes because most anti-virus tools still function even when their associated services and processes have been terminated. For many enterprise-managed clients, disabling your anti-virus tool may require a different password than the Administrator account password. Please bring that administrator password for your anti-virus tool.
Enterprise VPN clients may interfere with the network configuration required to participate in the class. If your system has an enterprise VPN client installed, you may need to uninstall it for the exercises in class.
VMware
You will use VMware to run Windows and Linux operating systems simultaneously when performing exercises in class. You must have either the free VMware Player 3 or later or the commercial VMware Workstation 6 or later installed on your system prior to coming to class. You can download VMware Player for free here.
Alternatively, if you want a more flexible and configurable tool, you can download a free 30-day trial copy of VMware Workstation here. VMware will send you a time- limited license number for VMware Workstation if you register for the trial at their Web site. No license number is required for VMware Player.
We will give you a DVD full of attack tools to experiment with during the class and take home for later analysis. We will also provide a Linux image with all of our tools pre-installed that runs within VMware Player or VMware Workstation.
Linux
You do not need to bring a Linux system if you plan to use our Linux image in VMware. However, you are required to bring VMware Workstation or VMware Player. The class does not support VirtualPC or other non-VMware virtualization products.
Mandatory Laptop Hardware Requirements
x86- or x64-compatible 1.5 GHz CPU Minimum or higher
DVD Drive (not a CD drive)
2 GigaByte RAM minimum with 4 GB or higher recommended
Ethernet adapter (A wired connection is required in class. If your laptop supports only wireless, please make sure to bring an Ethernet adapter with you.)
5 GigaByte available hard drive space
Any Service Pack level is acceptable for Windows XP Pro, 2003, Vista, or Win7
During the workshop, you will be connecting to one of the most hostile networks on planet Earth! Your laptop might be attacked. Do not have any sensitive data stored on the system. SANS is not responsible for your system if someone in the class attacks it in the workshop.
By bringing the right equipment and preparing in advance, you can maximize what you'll see and learn as well as have a lot of fun.
If you have additional questions about the laptop specifications, please contact laptop_prep@sans.org.
SANS Security 560 is one of the most technically rigorous courses offered by the SANS Institute. Attendees are expected to have a working knowledge of TCP/IP, cryptographic routines such as DES, AES, and MD5, and the Windows and Linux command lines before they step into class. Although SANS Security 401: Security Essentials and then next SANS Security 504: Hacker Techniques, Exploits, and Incident Handling are not pre-requisites for 560, these courses cover the groundwork that all 560 attendees are expected to know. While 560 is technically in-depth, it is important to note that programming knowledge is NOT required for the course. For more information on the differences between SEC560 and SEC504 see the SEC560 and SEC504 FAQS.
Network Penetration Testing and Ethical Hacking vs. CEH (Certified Ethical Hacker)
Why Choose Our Course?
This SANS course differs from other penetration testing and ethical hacking courses in several important ways:
We get deep into the tools arsenal with numerous hands-on exercises that show subtle, less-well-known, and undocumented features that are incredibly useful for professional penetration testers and ethical hackers.
The course discusses how the tools interrelate with each other in an overall testing process. Rather than just throwing up a bunch of tools and playing with them, we analyze how to leverage information from one tool to get the most bang out of the next tool.
We focus on the workflow of professional penetration testers and ethical hackers, proceeding step-by-step discussing the most effective means for conducting projects.
The sessions address common pitfalls that arise in penetration tests and ethical hacking projects, providing real-world strategies and tactics for avoiding these problems to maximize the quality of test results.
We cover several timesaving tactics based on years of in-the-trenches experience from real penetration testers and ethical hackers, actions that might take hours or days unless you know the little secrets we'll cover that will let you surmount a problem in minutes.
The course stresses the mind-set of successful penetration testers and ethical hackers, which involves balancing the often contravening forces of creative "outside-the-box" thinking, methodical trouble-shooting, carefully weighing risks, following a time-tested process, painstakingly documenting results, and creating a high quality final report that achieves management and technical buy-in.
We also analyze how penetration testing and ethical hacking should fit into a comprehensive enterprise information security program.
Includes access to the Virtual Training Lab
Author Statement
Successful penetration testers don't just throw a bunch of hacks against an organization and regurgitate the output of their tools. Instead, they need to understand how these tools work indepth, and conduct their test in a careful, professional manner. This course explains the inner workings of numerous tools and their use in effective network penetration testing and ethical hacking projects. When teaching the class, I particularly enjoy the numerous hands-on exercises culminated with a final pen-testing extravaganza lab.
- Ed Skoudis