SEC401: Security Essentials Bootcamp Style (In French)
Mon, November 13 - Sat, November 18, 2017
SEC401 provides an excellent overview of security fundamentals delivered by experienced industry professionals.

Very well rounded. Great that he(the instructor)was able to bring real world examples to class. Made the class flow smoothly.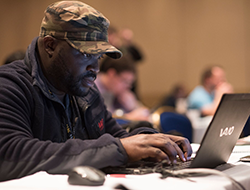 (Cette formation sera dispensée en français et les supports de cours seront en anglais)
Découvrez les mesures les plus efficaces pour prévenir et détecter les cyber-attaques avec la mise en œuvre de contrôles de sécurité applicables immédiatement à votre retour au bureau. Apprenez de nouvelles techniques et méthodes de protection utilisées par de nombreux experts en sécurité afin de protéger votre environnement contre les menaces les plus récentes.
Est-ce que la formation SEC 401 : Security Essentials Bootcamp Style est adaptée à vos besoins ?
Prenez quelques instants et posez-vous les questions suivantes :
Connaissez-vous la raison qui fait que certaines entreprises sont victimes d'une cyber-attaque alors que d'autres semblent être épargnées ?
Si plusieurs systèmes informatiques de votre environnement étaient compromis, seriez-vous capable de les identifier dans un délai de temps raisonnable ?
Connaissez-vous l'efficacité et les limites de chaque équipement de sécurité installé dans votre système d'information et êtes-vous sûrs que ces équipements ont été correctement configurés ?
Avez-vous défini et mis en place des métriques de sécurité adaptées et compréhensibles par votre management, afin de faciliter la gouvernance adéquate de la sécurité au sein de votre entreprise ?
Si certaines questions vous paraissent être sans réponse, alors la formation SEC401 vous permettra de développer vos connaissances, vos compétences et d'identifier les meilleures pratiques de l'industrie au travers d'une formation intensive, conçue sous forme de « bootcamp » et renforcée par des exercices pratiques.
Vous serez amené à :
Développer des métriques de sécurité efficaces afin de définir des actions de sécurité pragmatiques pouvant (i) être mises en œuvre par les équipes informatiques, (ii) validées par les équipes d'audit et (iii) comprises par le management.
Analyser et évaluer les risques de sécurité pesant sur votre système d'information afin de faciliter la création d'un schéma directeur de sécurité se concentrant sur les zones les plus à risque de votre environnement,
Tirer parti des meilleures pratiques de l'industrie qui vous aideront à vous concentrer sur les problèmes de sécurité prioritaires pour votre entreprise et à mettre en place les solutions les plus appropriées et efficaces.
Comprendre pourquoi certaines entreprises survivent à une cyber-attaque alors que d'autres sont fortement impactées, et surtout comment ne pas vous retrouvez du côté des victimes.
Appréhender les fondamentaux de la sécurité des systèmes d'information pour créer une stratégie de sécurité ancrée sur les principes de PRÉVENTION-DÉTECTION-RÉPONSE.
Élaborer un plan d'actions de sécurité afin de corriger les faiblesses de sécurité actuelles et futures.
SEC401 : La formation Security Essentials Bootcamp Style a été spécialement conçue afin de vous donner les connaissances et les compétences essentielles pour la sécurisation de vos actifs informationnels les plus critiques. Notre formation vous apprendra à prévenir les problèmes de sécurité avant que ceux-ci ne fassent les gros titres de la presse.
Notice:
This course prepares you for the GSEC certification that meets the requirement of the DoD 8570 IAT Level 2.
Notice:
Please plan to arrive early on Day 1 (8:30AM-Local Time) for lab preparation and set-up. The additional time is needed as the labs require the installation of both a Linux and Windows Virtual Machine (VM) and extensive copying of files in order to run and complete the labs successfully. The Instructor will be available to assist students with lab prep and set-up from 8:30AM-9:00AM. Class lecture will start at 9AM. (Excludes vLive and Mentor)
Course Content Overlap Notice:
Please note that some course material for SEC401 and MGT512 may overlap. We recommend SEC401 for those interested in a more technical course of study, and MGT512 for those primarily interested in a leadership-oriented but less technical learning experience.
Course Syllabus
Additional Information
To give you an idea of the effectiveness of the course, here is what a few former students have said about it:
"SEC401 provides an excellent overview of security fundamentals delivered by experienced industry professionals." - Jathan Watso, Department of Finance
"Excellent material for security professionals wanting a deeper level of knowledge on how to implement security policies, procedures, and defensive mechanisms in an org." - Brandon Smit, Dynetics
"SEC401 took what I thought I knew and truly explained everything to me. Now, I also UNDERSTAND the security essentials fundamentals and how/why we apply them. Loved the training, cannot wait to come back for more." - Nicholas Blanton, ManTech International
Security 401: Security Essentials Bootcamp Style consists of course instructions and hands-on sessions. To reinforce the skills covered in class and gain experience with the tools needed to implement effective security, there are hands-on labs every day. These lab sessions are designed to enable students to use the knowledge gained throughout the course in an instructor-led environment. Students will have the opportunity to install, configure, and utilize the tools and techniques that they have learned. In class, you will receive a USB drive with 2 virtual machines, but it is critical that you have a properly configured system prior to class.
IMPORTANT: You can use any 64-bit version of Windows, Mac OSX, or Linux as your core operating system that also can install and run VMware virtualization products. You also must have a minimum of 8 GB of RAM or higher for the VM's to function properly in the class. A VMware product must also be installed prior to coming to class. Verify that under BIOS, Virtual Support is ENABLED.
Mandatory System Requirements
System running Windows 64-bit version
At least 8 GB RAM
50 GB of available disk space (more space is recommended)
Administrator access to the operating system and all security software installed.
Anti-virus software will need to be disabled in order to install some of the tools.
An available USB port.
Machines should NOT contain any personal or company data.
Verify that under BIOS, Virtual Support is ENABLED.
Mandatory Downloads prior to coming to class:
It is critical that your CPU and operating system support 64-bit so that our 64-bit guest virtual machine will run on your laptop. VMware provides a free tool for Windows and Linux that will detect whether or not your host supports 64-bit guest virtual machines. For further troubleshooting, this article also provides good instructions for Windows users to determine more about the CPU and OS capabilities. For Macs, please use this support page from Apple to determine 64-bit capability.
Please download and install VMware Workstation 11, VMware Fusion 7, or VMware Player 7 or higher versions on your system prior to class beginning. If you do not own a licensed copy of VMware Workstation or Fusion, you can download a free 30-day trial copy from VMware. VMware will send you a time-limited serial number if you register for the trial at their website.
SEC401 Checklist
I have confirmed that:
The system is running a 64-bit operating system
I have administrator access to the operating system
Anti-virus is disabled
The system includes a working USB port
I downloaded and installed the VMWare Player
If you have additional questions about the laptop specifications, please contact laptop_prep@sans.org.
Anyone who works in security, is interested in security, or has to understand security should take this course, including:
Security professionals who want to fill the gaps in their understanding of technical information security
Managers who want to understand information security beyond simple terminology and concepts
Operations personnel who do not have security as their primary job function but need an understanding of security to be effective
IT engineers and supervisors who need to know how to build a defensible network against attacks
Administrators responsible for building and maintaining systems that are being targeted by attackers
Forensic analysts, penetration testers, and auditors who need a solid foundation of security principles so they can be as effective as possible at their jobs
Anyone new to information security with some background in information systems and networking.
SEC401 Security Essentials Bootcamp Style covers all of the core areas of security and assumes a basic understanding of technology, networks, and security. For those who are brand new to the field with no background knowledge, SEC301: Intro to Information Security would be the recommended starting point. While SEC301 is not a prerequisite, it will provide the introductory knowledge that will help maximize the experience with SEC401.
Other Courses People Have Taken
Other Courses People Have Taken
For those who are more advanced, SEC501: Enterprise Defender might be the more appropriate course to take.
Course books with labs
USB
Windows 10 license
TCP/IP reference guide
MP3 audio files of the complete course lecture
Apply what you learned directly to your job when you go back to work
Design and build a network architecture using VLANs, NAC, and 802.1x based on advanced persistent threat indicators of compromise
Run Windows command line tools to analyze the system looking for high-risk items
Run Linux command line tools (ps, ls, netstat, etc.) and basic scripting to automate the running of programs to perform continuous monitoring of various tools
Install VMWare and create virtual machines to create a virtual lab to test and evaluate tools/security of systems
Create an effective policy that can be enforced within an organization and design a checklist to validate security and create metrics to tie into training and awareness
Identify visible weaknesses of a system using various tools and, once vulnerabilities are discovered, cover ways to configure the system to be more secure
Build a network visibility map that can be used for hardening of a network - validating the attack surface and covering ways to reduce that surface by hardening and patching
Sniff open protocols like telnet and ftp and determine the content, passwords, and vulnerabilities using WireShark.
SEC401 is an interactive hands-on training course. The following are some of the lab activities that students will carry out:
Setup of virtual lab environment
Windows/Linux tutorial
TCP dump analysis
WireShark decoding of VoIP traffic
Password cracking
Host-based discovery with Dumpsec
Hashing to preserve digital evidence
Analyzing networks with hping and nmap
Event correlation with Splunk
Use of steganography tools
Securing a Windows system with MBSA and SCA
Author Statement
"One of the things I love to hear from students after teaching Security 401 is 'I have worked in security for many years and after taking this course I realized how much I did not know.' With the latest version of Security Essentials and the Bootcamp, we have really captured the critical aspects of security and enhanced those topics with examples to drive home the key points. After you have attended Security 401, I am confident you will walk away with solutions to problems you have had for a while, plus solutions to problems you did not even know you had."
- Eric Cole