SEC503: Intrusion Detection In-Depth
Waitlist
Mon, November 26 - Sat, December 1, 2012
This course provides a good basis of knowledge and presents important tools which will be at the core of any intrusion analysis.

The concepts learned in 503 helped me bridge a gap in knowledge of what we need to better protect our organization.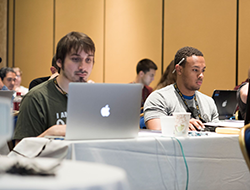 Learn practical hands-on intrusion detection and traffic analysis from top practitioners/authors in the field. This challenging track methodically progresses from understanding the theory of TCP/IP, examining packets, using Snort to analyze traffic, becoming familiar with the tools and techniques for traffic and intrusion analysis, to reinforcing what you've learned with a hands-on challenge of investigating an incident. Students should be able to "hit the ground running" once returning to a live environment where traffic analysis it required.
This is a fast-paced course, and students are expected to have a basic working knowledge of TCP/IP in order to fully understand the topics that will be discussed. Although others may benefit from this course, it is most appropriate for students who are or who will become intrusion detection/prevention analysts. Students generally range from novices with some TCP/IP background all the way to seasoned analysts. The challenging hands-on exercises are specially designed to be valuable for all experience levels. We strongly recommend that you spend some time getting familiar with tcpdump before coming to class.
TCP/IP
Tcpdump Overview and TCP/IP concepts
ICMP
Fragmentation
Stimulus - Response
Microsoft Protocols
Domain Name System (DNS)
IPv6
Hands-On tcpdump Analysis
Mechanics of running tcpdump
General network traffic analysis
Hands-On Snort Usage
Various modes of running Snort
Writing Snort rules
Intrusion Analysis
Intrusion Detection Architecture
Intrusion Detection/Prevention Analysis
Course Syllabus
Additional Information
For Security 503: Intrusion Detection In-Depth you will need to install the required software on your laptop for the hands-on exercises that will be done in class. A Linux VMware image is supplied for class exercises. Familiarity and comfort with entering commands via the command line will facilitate your experience with the hands-on exercises.
Before coming to the course, you will need to perform the following actions:
Review the following laptop requirements to make sure your laptop is suitable for the course.
Download and install the free VMware player for Windows or Linux (RPM or tarball) from the VMware site or VMware Fusion for Mac or have your own copy of the VMware workstation preinstalled (version 5.5x minimum or 6.x for Vista).
Note: The VMware image supplied for the course is used to do all of the Security 503 exercises. The VMware image CD will be supplied during the course.
Mandatory Laptop Hardware Requirements:
x-86 compatible 1.5 Ghz CPU Minimum or higher is preferred for better performance
DVD Drive (not CDROM Drive)
1 GB RAM minimum or higher (2 GB preferred)
Ethernet adapter (optional)
512 MB RAM to VMware, 1 GB recommended
12 Gigabyte available hard drive space
Windows XP/Vista/7, Mac OS X, and Linux any types
Any Service Pack level is acceptable for your Windows XP/Vista/Win 7
Windows and Linux software will require an unzip utility for VMware image
Required Software: VMware player or workstation for Windows or Linux or VMware Fusion for Mac OS X
If you have additional questions about the laptop specifications, please contact laptop_prep@sans.org.
Intrusion detection analysts (all levels)
Network engineers
System, security, and network administrators
Hands-on security managers
Author Statement
When I was invited to be a member of a computer incident response team in the late 1990's (just after Al Gore invented the Internet), there was no formal cybersecurity training available. Consequently, I learned on the job and made my share, and then some, of mistakes. I was so naive that I tried to report an attack on our network by a host with an IP address in the 192.168 reserved private network, available for use by anyone. Needless to say, I got a very embarrassing enlightenment when someone clued me in.
With the benefit of experience and the passage of time, there are many lessons to be shared with you. This knowledge affords you the opportunity to learn and practice in the classroom to prepare you for the fast-paced always-interesting job of intrusion detection analysts.
- Judy Novak