ICS456: Essentials for NERC Critical Infrastructure Protection
Mon, July 10 - Fri, July 14, 2017
As my first SANS training course I was very impressed with the relevance and quality of the training.

Excellent course! Long overdue for our industry. Providing real strategies to tackle hurdles of CIP. Highly recommended for all that deal with CIP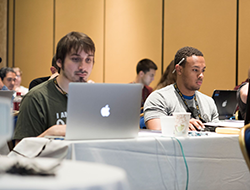 The Essentials for NERC Critical Infrastructure Protection 5-day course empowers students with knowledge of the "what" and the "how" of the version 5/6 standards. The course addresses the role of FERC, NERC and the Regional Entities, provides multiple approaches for identifying and categorizing BES Cyber Systems and helps asset owners determine the requirements applicable to specific implementations. Additionally, the course covers implementation strategies for the version 5/6 requirements with a balanced practitioner approach to both cybersecurity benefits, as well as regulatory compliance.
Our 25 hands-on labs range from securing workstations to digital forensics and lock picking.
Course Syllabus
Additional Information
"This is best-in-class NERC CIP training. The courseware provides valuable compliance approaches and software tools for peer collaboration to build consent on implementation." - Jeff Mantong, WAPA
"An excellent course that identifies CIP implementation through audit response." - Kevin Money, Iroquois Gas
"Best CIP training I've ever had in all my years of the CIP program." - Michael Veillon, Cleco
"Great class. I would like to send my entire staff." - Erik Weinmeister, Nebraska Public Power District
"Valuable information in a classroom setting you can't get anywhere else." - Tiffany Applegate, Western Area Power Administration (WAPA)
"Excellent information - very helpful to our program." - Melanie Thigpen, GE
"This is a course that has been needed for a long time." - Mike Weld, Burns & McDonnell
NOTE: It is critical that students have administrator access to the operating system and all security software installed. Changes may need to be made to personal firewalls and other host-based software in order for the labs to work.
64-bit processor with 64-bit operating system
VT or other 64-bit virtualization settings enabled in your BIOS to run 64-bit VMs
At least eight (8) GB of RAM
At least fifty (50) GB of free hard drive space
At least one USB port
VMware Player 12, VMware Workstation 12, or VWware Fusion 8 installed BEFORE class. Other virtualization software such as Parallels or VirtualBox may work if the attendee is familiar with its functionality, however VMware should be pre-installed as a backup just in case
Access to an account with administrative permissions and the ability to disable all security software on their laptop such as Antivirus and/or firewalls if needed for the class
If you are using Linux for your host machine, you will need ExFAT drivers installed for the USB drive
If you have additional questions about the laptop specifications, please contact laptop_prep@sans.org.
Individuals with CIP responsibilities in the following areas:
IT and OT (ICS) cybersecurity
Field support personnel
Security operations
Incident response
Compliance staff
Team leaders
Governance
Vendors / Integrators
Auditors
"The lecturers have an intimate knowledge of cybersecurity and the CIP standards and are able to answer the questions posed by students, including the highly technical and detail-oriented." - Aaron Clark-Ginsberg, U.S. Department of Homeland Security Cybersecurity Postdoctoral Scholar at Stanford. Read the full review at EnergyCentral.com.
Author Statement
The SANS ICS456: NERC Critical Infrastructure Protection Essentials course was developed by SANS ICS team members with extensive electric industry experience including former Registered Entity Primary Contacts, a former NERC officer, and a Co-Chair of the NERC CIP Interpretation Drafting Team. Together the authors bring real-world, practitioner experience gained from developing and maintaining NERC CIP and NERC 693 compliance programs and actively participating in the standards development process.