MGT514: IT Security Strategic Planning, Policy and Leadership
Sun, August 24 - Thu, August 28, 2014
Really good case studies and examples which prompted useful class discussion -this helps to --- understanding.

As I progress in my career within cybersecurity I find that courses such as MGT 514 will allow me to plan and lead organizations forward.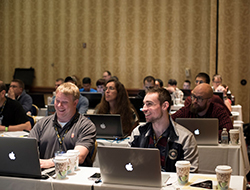 Mastering the Strategic Planning Process
Strategic planning is hard for people in IT and IT Security because we spend so much time responding and reacting. Some of us have been exposed to a SWOT or something similar in an MBA course, but we almost never get to practice until we get promoted to a senior position, and then we are not equipped with the skills we need to run with the pack.
In this course you will learn the entire strategic planning process: what it is and how to do it; what lends itself to virtual teams; and what needs to be done face to face. We will practice building those skills in class. Topics covered in depth include how to plan the plan, horizon analysis, visioning, environmental scans (SWOT, PEST, Porter's etc.), historical analysis, mission, vision, and value statements. We will also discuss the planning process core, candidate initiatives, the prioritization process, resource and IT change management in planning, how to build the roadmap, setting up assessments, and revising the plan.
We will see examples and hear stories from businesses, especially IT and security oriented businesses, and then work together on labs. Business needs change, the environment changes, new risks are always on the horizon, and critical systems are continually exposed to new vulnerabilities. Strategic planning is a never-ending process. The planning section is hands-on and there is exercise-intensive work on writing, implementing, and assessing strategic plans.
Creating Effective Information Security Policy
Policy is a manager's opportunity to express expectations for the workforce, to set the boundaries of acceptable behavior and empower people to do what they ought to be doing. It is easy to get wrong. Have you ever seen a policy and your response was, "No way, I am not going to do that?" Policy must be aligned with an organization's culture. We will break down the steps to policy development so that you have the ability to develop and assess policy successfully.
Developing Management and Leadership Skills
The third focus of the course is on management and leadership competencies. Leadership is a capability that must be learned, exercised and developed to better ensure organizational success. Strong leadership is brought about primarily through selfless devotion to the organization and staff, tireless effort in setting the example, and the vision to see and effectively use available resources toward the end goal. However, leaders and followers influence each other toward the goal; it is a two-way street where all parties perform their functions to reach a common objective.
Effective leadership entails persuading team members to accomplish their objectives while removing obstacles and maintaining the well-being of the team in support of the organization's mission. Grooming effective leaders is critical to all types of organizations, as the most effective teams are cohesive units that work together toward common goals with camaraderie and a can-do spirit!
Leadership tends to be a bit "squishy" and courses covering the topic are often based upon the opinions of people who were successful in the marketplace. However, success can be as much a factor of luck as skill, so we base this part of the course on five decades of the research of social scientists and their experiments going as far back as Maslow and on research as current as Sunstein and Thaler. We discuss leadership skills that apply to commercial business, non-profit, for-profit, or other organizations. This course is designed to develop existing and new supervisors and managers who aspire to go beyond being the boss. It will help you build leadership skills to enhance the organization's climate and team-building skills to support the organization's mission, its growth in productivity, workplace attitude/satisfaction, and staff and customer relationships.
Course Syllabus
Additional Information
Pencil and paper would suffice for the labs, but we recommend a laptop with a word processor.
If you have additional questions about the laptop specifications, please contact laptop_prep@sans.org.
This course is designed and taught for existing, recently appointed, and aspiring IT and IT Security managers and supervisors who desire to enhance their leadership and governance skills to develop their staff into a more productive and cohesive team.
Calculate the half life of information
Establish a strategic planning horizon appropriate for your organization
Conduct any of the well known environmental scans ( SWOT, Porters 5, Pest and many others )
Facilitate out of the box thinking (brainstorming, reverse brainstorming, synergetics)
Select between candidate initiatives and preform √ʬ¬back of the envelope√ʬ¬ planning
Understand how policy is used and when it is needed or not needed
Manage the policy creation process
Develop policy for difficult topics such as social media
Evaluate policy using using the SMART methodology
Understand the use of leadership competencies in developing leadership skills
Select a few competencies to work on to further your effectiveness
Author Statement
This is the course I wish I had taken 30 years ago. Colleagues, it doesn't make sense to wait till you are in a management position to focus on your governance, management, and leadership skills. If one can improve by one or two percent each year, it is a major achievement. Leadership is a race of endurance, not a sprint; start early and be persistent. This course will set you on the path. It is a solid blend of tons of research as well as personal experience from a number of leaders in information security. I had read about SWOTs for years, but was shocked by how difficult it was to create a strategic plan and get it approved. Some executives or auditors would say it doesn't look out far enough, others would say it isn't realistic to look out so far, some would say you are too bold, others you are too tame. One strategic plan I did the heavy lift on went through 18 revisions and still had only mixed approval. I was reading everything I could on planning and looking at published plans, and finally I saw the key - "plan the plan." It is the same basic notion as "plan the dive, dive the plan." Since senior management generally signs off on policy, you want to write balanced, defendable policy that gets approved the first time. The goal of both the planning and policy sections is simple: to give you the tools to create repeatable, successful products. The final section will help you build management and leadership skills to enhance the organization's climate as well as team-building skills to support the organization's mission and its growth in productivity.
- Stephen Northcutt