SEC575: Mobile Device Security and Ethical Hacking
Sold Out
Mon, October 15 - Sat, October 20, 2012
Mobile is what Windows was in the 90s--security and privacy are ignored in favor of functionality. SEC575 is fantastic for learning about what is vulnerable and how to exploit it. Plus, the course includes a Capture-The-Flag challenge using NetWars!

The explanations of the concepts behind the tools are great! SEC575 provides both the process and application of tools--not just a ton of tools and information.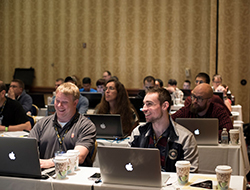 Mobile phones and tablets have become essential to enterprise and government networks, from small organizations to Fortune 500 companies and large-scale agencies. Often, mobile phone deployments grow organically, adopted by multitudes of end-users for convenient email access as well as managers and executives who need access to sensitive organizational resources from their favored personal mobile devices. In other cases, mobile phones and tablets have become critical systems for a wide variety of production applications from ERP to project management. With increased reliance on these devices, organizations are quickly recognizing that mobile phones and tablets need greater security implementations than a simple screen protector and clever password.
The security risks of mobile phone and tablet device use in the workplace
Whether the device is an Apple iPhone or iPad, a Windows Phone, an Android or BlackBerry phone or tablet, the ubiquitous mobile device has become a hugely attractive and vulnerable target for nefarious attackers. The use of mobile devices introduces a vast array of new risks to organizations, including:
distributed sensitive data storage and access mechanisms
lack of consistent patch management and firmware updates
the high probability of device loss or theft, and more.
Mobile code and apps are also introducing new avenues for malware and data leakage, exposing critical enterprise secrets, intellectual property, and personally identifiable information assets to attackers. To further complicate matters, today there simply are not enough people with the security skills needed to manage mobile phone and tablet deployments.
From mobile device security policy development, to design and deployment, and more
This course was designed to help organizations struggling with mobile device security by equipping personnel with the skills needed to design, deploy, operate, and assess a well-managed secure mobile environment. From practical policy development to network architecture design and deployment, and mobile code analysis to penetration testing and ethical hacking, this course will help you build the critical skills necessary to support the secure deployment and use of mobile phones and tablets in your organization.
You will gain hands-on experience in designing a secure mobile phone network for local and remote users and learn how to make critical decisions to support devices effectively and securely. You will also be able to analyze and evaluate mobile software threats, and learn how attackers exploit mobile phone weaknesses so you can test the security of your own deployment. With these skills, you will be a valued mobile device security analyst, fully able to guide your organization through the challenges of securely deploying mobile devices.
Evaluating Mobile Device Management (MDM) systems for your organization
Mobile device encryption systems: Benefits and weaknesses
Secure remote access solutions: Architecture and operations for mobile environments
Getting to the heart of the system: Unlocking, rooting, and jailbreaking mobile phones and tablets to conduct in-depth analysis of software running on the devices
Analyzing systems for information leakage: Extracting sensitive data from Apple iOS and Android file systems
App analysis: Identifying data leakage exposure and other vulnerabilities in mobile apps
Mobile device malware: Reverse engineering mobile code and applications to identify malware and potential vulnerabilities
Surveying your attack surface: Fingerprinting mobile devices inside your organization
Applying powerful attack techniques that are shockingly effective: Impersonating secure WiFi networks for credential harvesting in mobile penetration tests, audits, and vulnerability assessments
Credential harvesting: Stealing usernames and passwords from BlackBerry phones
Analyzing and attacking popular mobile device protocols: Weaknesses in FaceTime and other mobile phone apps and protocols
Course Syllabus
Additional Information
Throughout the course, students will participate in hands-on lab exercises. Students must bring their own laptops to class that meet the requirements described below.
Windows
Students must bring a Windows 7, Windows Vista, or Windows XP laptop to class, preferably running natively on the system hardware. It is possible to complete the lab exercises using a virtualized Windows installation, however, this will result in reduced performance when running device emulators within the virtualized Windows host. If you are a Windows XP user, make sure you also have the .NET 3.5 framework installed, which can be downloaded from http://www.microsoft.com/en-us/download/details.aspx?id=21 .
Administrative Windows Access
For several tools utilized in the course, students will be required to perform actions with administrative privileges. Students must have administrative access on their Windows host, including the ability to unload or disable security software such as anti-virus or firewall agents as necessary for the completion of lab exercises.
VMware
Students will use a virtualized MobiSec Linux VMware guest for several lab exercises. VMware Workstation or VMware Player is recommended. Note that there is no cost associated with the use of VMware Player, which can be downloaded from the VMware website.
While some students successfully use VMware Fusion for the exercises, the relative instability of VMware Fusion may introduce delays in exercise preparation, preventing the timely completion of lab exercises. VirtualBox and other virtualization tools are not supported at this time.
Hardware Requirements
Several of the software components used in the course are hardware intensive, requiring more system resources than what might be required otherwise for day-to-day use of a system. Please ensure your laptop meets the following minimum hardware requirements:
Minimum 2 GB RAM, 4 GB recommended
Ethernet (RJ45) network interface; students will not be able to complete lab exercises with systems that only have a wireless card, such as the Mac Book Air
1.5 GHz processor minimum
30 GB free hard disk space
DVD drive (not a CD drive)
Minimum screen resolution 1024x768, larger screen resolution will reduce scrolling in for several applications and a more pleasant end-user experience
If you have additional questions about the laptop specifications, please contact laptop_prep@sans.org.
Security personnel whose job involves assessing, deploying, or securing mobile phones and tablets
Network and system administrators supporting mobile phones and tablets
Penetration testers
Ethical hackers
Auditors who need to build deeper technical skills
Author Statement
I'm not sure exactly when it started, but laptops and PCs are quickly becoming legacy computing devices, replaced with mobile phones and tablets at an ever increasing rate. Just when I thought we were getting a much better handle on the security of Windows, Mac, and other Unix systems, there is an explosion of new devices joining our networks. Mobile device adoption has been so rapid that we're suddenly back in the wild west. Many organizations just don't have the policies, procedures, technical infrastructure, and skilled personnel needed to deal with these new technologies and devices. The devices themselves simply do not have the same security controls that we rely on in modern, secure enterprise and government networks.
Even with their weaknesses, mobile phones are here to stay, and we are being called on to support them. Some organizations try to drag their feet on allowing mobile phones, but that ultimately contributes to the problem. If we don't address security, the threats continue to grow uncontrolled and unmonitored. Mobile tablets only exacerbate the problem.
To address these concerns, this course will give you the blueprint, technical frameworks, and hard-core analysis skills needed to address these challenges head-on so that your organization's personnel can use their mobile devices more securely. Using the skills shared in this course, you'll have the knowledge to securely deploy, manage, and monitor mobile phones and tablets inside your organization through effective policy and careful network deployment and monitoring. You'll also build essential skills in analyzing the risks of data leakage in mobile code and the applications your end-users want to run from app stores, and we'll show you how to ethically hack your networks to identify the real threat and exposure of mobile phone weaknesses.
I created this course to help people build their skills in all these areas, focusing on the topics and concepts that are most important and immediately useful. Every organization needs security professionals with the skills required to secure mobile phone and tablet environments. By taking this course, you'll become an even more valued part of your organization, you'll be prepared to lead your organization's efforts to securely embrace the new world of mobile devices... and we'll have lots of geeky fun in the process.
-- Joshua Wright