SEC530: Defensible Security Architecture
New
Mon, January 14 - Sat, January 19, 2019
This training showed how overall security posture of an organization can be improved. It helps connect the dots between different areas within security infrastructure.

This course truly deserves a 5 of 5 excellent rating. I really can't express how impressed I am with my first SANS course!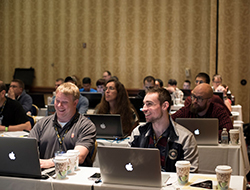 SEC530: Defensible Security Architecture is designed to help students build and maintain a truly defensible security architecture. "The perimeter is dead" is a favorite saying in this age of mobile, cloud, and the Internet of Things, and we are indeed living in new a world of "de-perimeterization" where the old boundaries of "inside" and "outside" or "trusted" and "untrusted" no longer apply.
This changing landscape requires a change in mindset, as well as a repurposing of many devices. Where does it leave our classic perimeter devices such as firewalls? What are the ramifications of the "encrypt everything" mindset for devices such as Network Intrusion Detection Systems?
In this course, students will learn the fundamentals of up-to-date defensible security architecture. There will be a heavy focus on leveraging current infrastructure (and investment), including switches, routers, and firewalls. Students will learn how to reconfigure these devices to better prevent the threat landscape they face today. The course will also suggest newer technologies that will aid in building a robust security infrastructure.
While this is not a monitoring course, this course will dovetail nicely with continuous security monitoring, ensuring that security architecture not only supports prevention, but also provides the critical logs that can be fed into a Security Information and Event Management (SIEM) system in a Security Operations Center.
Hands-on labs will reinforce key points in the course and provide actionable skills that students will be able to leverage as soon as they return to work.
You Will Learn To:
Analyze a security architecture for deficiencies
Apply the principles learned in the course to design a defensible security architecture
Maximize the current investment by reconfiguring existing equipment to become more defensible
Configure computer systems and network components to support proper logging and continuous monitoring
Improve both preventive and detective capabilities
Improve the security of devices from layer 1 (physical) through layer 7 (application)
Course Syllabus
Additional Information
!! IMPORTANT - BRING YOUR OWN LAPTOP CONFIGURED USING THESE DIRECTIONS !!
A properly configured system is required for each student participating in this course. Before coming to class, carefully read and follow these instructions exactly.
You can use any 64-bit version of Windows, Mac OSX, or Linux as your core operating system that also can install and run VMware virtualization products. You also must have 8 GB of RAM or higher for the VM to function properly in the class.
It is critical that your CPU and operating system support 64-bit so that our 64-bit guest virtual machine will run on your laptop.
In addition to having 64-bit capable hardware, AMD-V, Intel VT-x, or the equivalent must be enabled in BIOS/UEFI.
Please download and install VMware Workstation 11, VMware Fusion 7, or VMware Workstation Player 7 or higher versions on your system prior to the beginning of the class. If you do not own a licensed copy of VMware Workstation or Fusion, you can download a free 30-day trial copy from VMware. VMware will send you a time-limited serial number if you register for the trial on its website.
MANDATORY SEC530 SYSTEM REQUIREMENTS:
CPU: 64-bit 2.0+ GHz processor or higher-based system is mandatory for this class (Important - Please Read: a 64-bit system processor is mandatory)
BIOS/UEFI: VT-x, AMD-V, or the equivalent must be enabled in the BIOS/UEFI
RAM: 8 GB (gigabytes) of RAM or higher is mandatory for this class (Important - Please Read: 8 GB of RAM or higher is mandatory)
Wireless Ethernet 802.11 B/G/N/AC
USB 3.0 Ports Highly Recommended
Disk: 25 Gigabytes of free disk space
Administrative access to disable any host-based firewall
VMware Workstation 11, Workstation Player 7, or Fusion 7 (or newer)
A Linux virtual machine will be provided in class
If you have additional questions about the laptop specifications, please contact laptop_prep@sans.org.
Security Architects
Network Engineers
Network Architects
Security Analysts
Senior Security Engineers
System Administrators
Technical Security Managers
CND Analysts
Security Monitoring Specialists
Cyber Threat Investigators
Basic understanding of network protocols and devices.
Experience with Linux from the command line.
Intro and walkthrough videos of most labs
A Linux VM loaded with tons of tools and other resources
A 32GB USB 3.0 stick that includes the above and more
Analyze a security architecture for deficiencies
Apply the principles learned in the course to design a defensible security architecture
Determine appropriate security monitoring needs for organizations of all sizes
Maximize existing investment in security architecture by reconfiguring existing assets
Determine capabilities required to support continuous monitoring of key Critical Security Controls
Configure appropriate logging and monitoring to support a Security Operations Center and continuous monitoring program
While the above list briefly outlines the knowledge and skills you will learn, it barely scratches the surface of what this course has to offer. Hands-on labs throughout the course will reinforce key concepts and principles, as well as teach you how to use key scripting tools.
When your SEC530 training journey is complete, and your skills are enhanced and honed, it will be time to go back to work and deliver on the SANS promise that you'll be able to apply what you learned in this course the day you return to the office.
Author Statement
"In our many years of experience assessing the security posture of organizations, responding to incidents, and ramping up security operations, we've seen the futility of trying to monitor and defend against modern adversaries when the architecture in place has not been designed with security in mind. Likewise, we've continually seen that organizations that suffer massive breaches and business disruption often focused their emphasis prior to the breach on perimeter protection and prevention mechanisms, but lacked defensible security architecture.
"We've designed this course to address this gap. In six days filled with case studies, winning techniques, instructor-led demos, and plenty of hands-on labs (including a NetWars-based Defend-the-Flag challenge), students will learn how to design, build, and harden networks, infrastructure, and applications that can truly be called 'defensible.'
"As practitioners, we know that theory is not enough, so we've made sure that this class is focused on real-world implementations of network-centric, data-centric, and zero-trust security architecture mapped to best practices and standards, but also based on our many years of experience on what works and what doesn't. You'll find that this makes the content appropriate and relevant for the reality of a wide variety of organizations and roles."
- Justin Henderson and Ismael Valenzuela