Our third annual Cyber Solutions Fest takes place October 13 and 14, and the fact that this virtual event is free is only the tip of the iceberg when it comes to reasons that you'll want to have this event on your calendar. In case you need more reasons, how does our top five sound to you? Read on!
1. Created and Led by Top SANS Instructors
This year we are eager for SANS Instructors Jake Williams, Chris Crowley, Dave Shackleford, and Matt Bromiley leading our four topic tracks. These track chairs have had their hands in the middle of the content being shared and have ensured that presentations will focus on actionable suggestions and solutions for you to take back to your company. During these two days, you'll learn about innovative solutions for real-world problems that you're likely to run into at your organization.

2. Cutting Edge Solutions to Solve your Cyber Challenges
Cyber Solutions Fest is unique from any other SANS event because you'll have access to over 40 well-respected cyber security solution providers that have the latest products available. During these thought-provoking sessions, you'll listen to real-world case studies and dive headfirst into demos that'll be sure to give you ideas for how to reevaluate and improve your security program. Even if you don't find a solution that fits your needs, this event is the ideal place to share your thoughts with not only solutions vendors but also your professional peers. Who knows, you might even potentially plant the seed for the next new solution.
3. Two Fascinating Keynotes
This year's event features two keynote sessions that are sure to take you to the edge of your seat.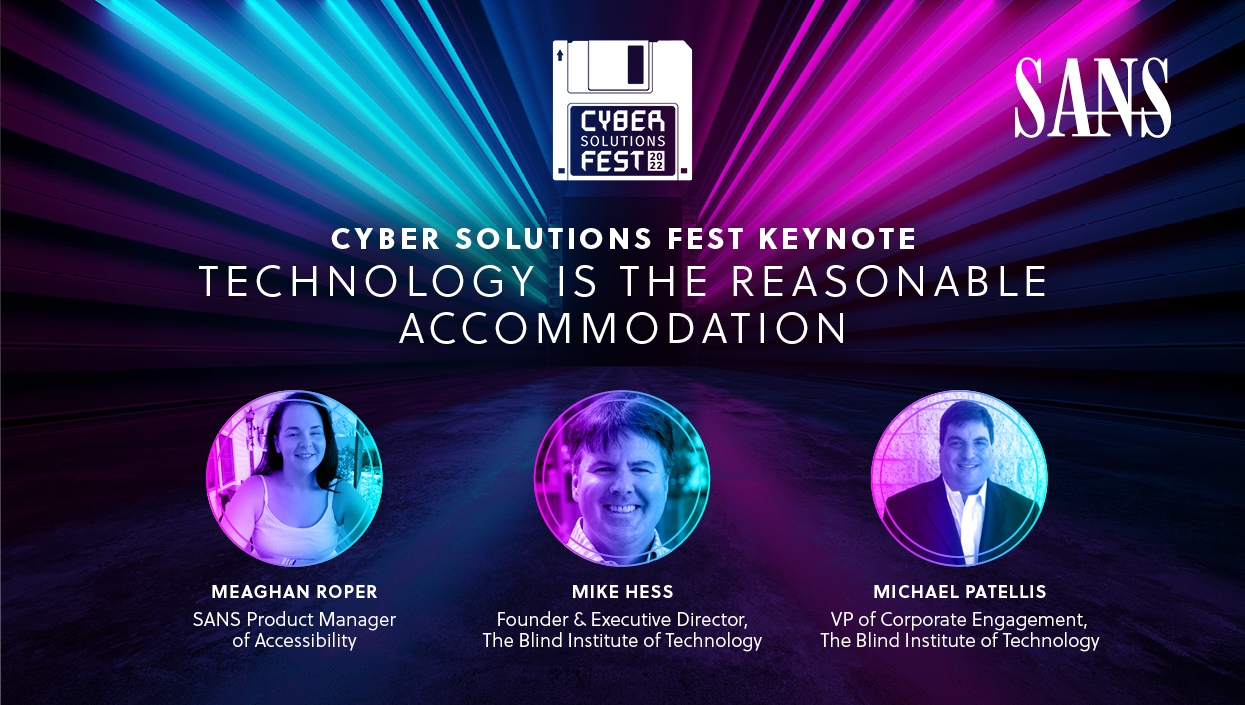 Day 1 | Technology is the Reasonable Accommodation | 12:00 pm EDT
Join us for this one-of-a-kind keynote session, in which Mike Hess and Michael Patellis from the Blind Institute of Technology (BIT) as well as Meaghan Roper from SANS will be discussing the life-changing career opportunities that are available for blind/visually impaired (BVI) and other professionals with disabilities (PWD).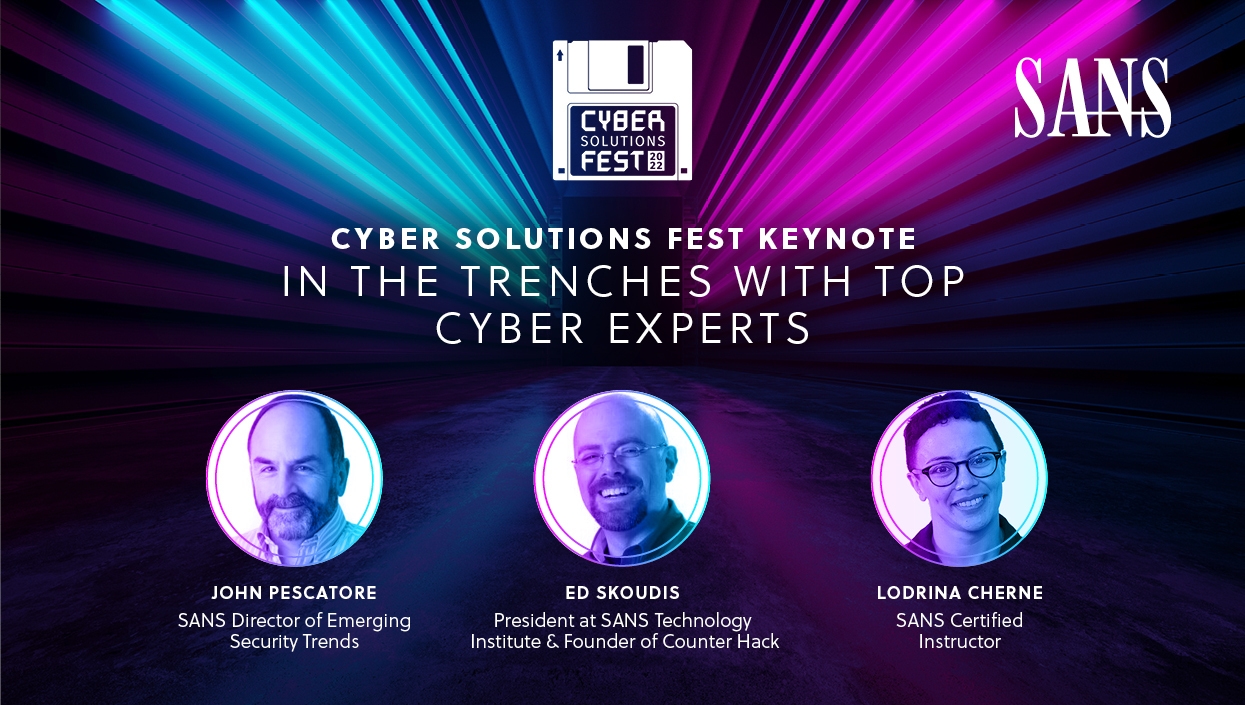 Day 2 | In the Trenches with Top Cyber Experts | 12:00 pm EDT
During our day two keynote, SANS Director of Emerging Security Trends John Pescatore will be sitting down with SANS instructors and leaders in the cybersecurity community to share experiences with top-level matters where these experts were sought out to assist with security incidents or other critical business areas. Join this fascinating discussion where panelists will dive into some never discussed breaches and stories of their experiences in the cyber trenches.
4. Up to 12 CPE Credits
Attending Cyber Solutions Fest has long-term benefits that can help you on your cyber security journey. At SANS, we strive to provide you with valuable education and resources so you can continue growing in your professional career. By attending this one-of-a-kind event, not only will you walk away with knowledgeable information, but you'll also earn 6 CPE for attending each day. That's up to 12 CPE credits to put toward renewing your certifications.
5. A Virtual Stage for Talents
In addition to all the skill and career-progression goodness that you will take away from this event, we'll be dedicating some time to having fun, too. If you've been itching for performing karaoke or have a hidden talent you've been dying to show off, you'll have your chance at Cyber Solutions Fest 2022. With a talent show open to all for participation, not only can you feel that rush of endorphins that comes with a live performance, but hey, you'll get the chance to win prizes, too!
Don't delay, register now to join us.