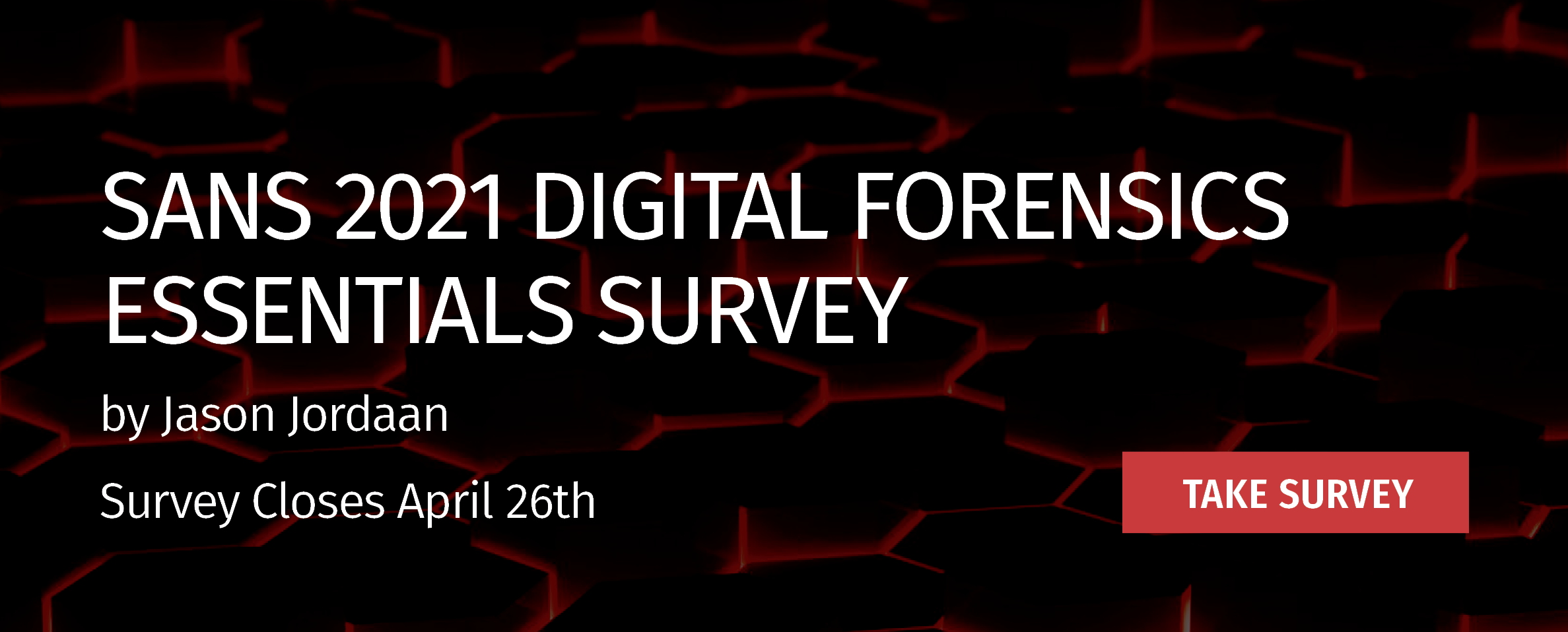 Seeking Survey Takers! 2021 SANS Digital Forensics Survey: Digital Forensics Essentials and Why Foundations Matter
Be a part of the solution – take the survey!


SANS is now seeking survey-takers to participate in this year's 2021 SANS Digital Forensics Survey, written by SANS forensic expert Jason Jordaan. This survey will close on April 26th, 2021.
Take the survey: https://survey.sans.org/jfe/form/SV_czKimbfXMVkUQdM 
About the Survey
All professions and all skills are built on foundational knowledge, and digital forensics is no different. Digital forensics is a discipline that intersects various domains, including forensic science, investigations, law, intelligence and cybersecurity. Each of these domains has various outcomes in mind when it comes to digital forensics, and with the often urgent need to upskill practitioners in all of these domains, a lot of focus has been on teaching people how to do digital forensics.
The focus has been often on just "getting the job done" and not always building the foundational knowledge. While certainly understandable, this is like building a house on sand: You can have the most impressive house, but because the foundation is unstable, one adverse event can bring the whole house tumbling down. To ensure that our digital forensics work is strong and reliable, like a house built on a solid foundation, we need to make certain that our digital forensics foundations are solid.
The goal of this survey is to understand how important digital forensic practitioners consider foundational digital forensics skills and knowledge, and how they feel these skills can enhance and support their other digital forensics skills and knowledge.
Enter to win a $250 Amazon Gift Card
At the end of the survey, you will have the opportunity to enter a contest for a $250 Amazon gift card by providing your contact information. Providing your contact information is completely optional, and that information will not be shared outside the SANS Analyst Program.
About the Survey Author
Jason is a principal forensic analyst at DFIRLABS, an independent digital forensics and incident response laboratory. Beyond being a Certified Instructor for SANS, where he teaches FOR500: Windows Forensic Analysis, Jason also teaches digital forensics and incident response at Rhodes University and serves on the Advisory Board for the Department of Computer Science at the University of Pretoria. He is also an active researcher and writer and has published in several textbooks and academic journals. In addition, he remains active in the law enforcement community by mentoring officers in the Asia Pacific region and Europe.