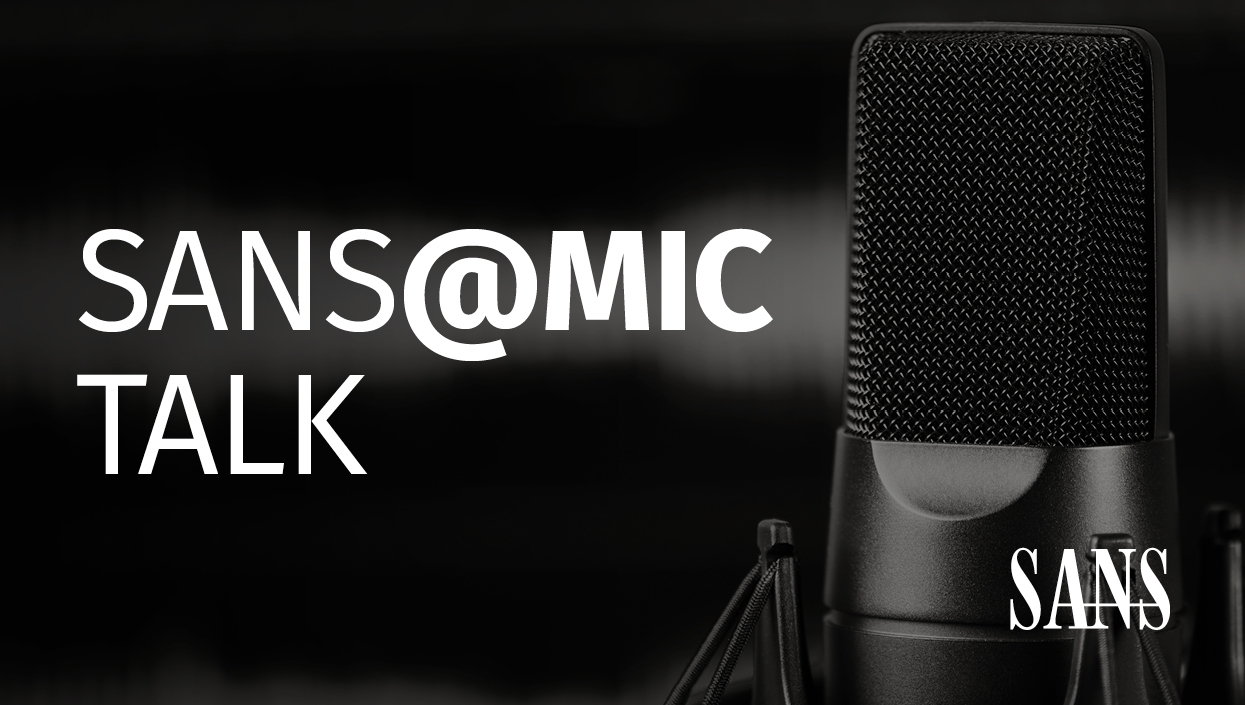 SANS@MIC talks are special, bonus sessions open to everyone and focused on the hottest topics in cybersecurity. Here is a list of upcoming and archived talks in the series.
Upcoming Talks
Binary and Patch Diffing for Bug Hunting and Weaponization

December 2, 2020 at 8:00 PM EST (2020-12-03 01:00:00 UTC)
Steve Sims
Learn More and Register
Cybersecurity for the Healthcare Industry
December 8, 2020 at 7:30 PM CST (2020-12-09 01:30:00 UTC)
TBD
Learn More and Register
Winning in the Dark - Defending Serverless Infrastructure in the Cloud
December 9, 2020 at 9:00 PM EST (2020-12-10 05:00:00 UTC)
Eric Johnson
Learn More and Register
It's Been A Hard Year - 2020 Security Operations Center (SOC) Survey
December 15, 2020 at 7:30 PM EST (2020-12-16 00:30:00 UTC)
Chris Crowley
Learn More and Register
---
Past Talks
Leveraging Telegram for OSINT Purposes
Nico Dekens
View Here
Large Scale Honeypotting: The SANS Internet Storm Center 
Dr. Johannes Ullrich
View Here
Remote Forensic Investigations in the Context of COVID-19
Xavier Mertens
View Here
10 Visibility Gaps Every CISO Must Fill
Russell Eubanks
View Here
No SQL Injection in MongoDB applications
Adrien de Beaupre
View Here
Get Involved! Use Your OSINT Powers for Good!
Jeff Lomas
View Here
smbtimeline - An automated timeline for SMB Traffic
Olaf Schwarz
View Here
Git'ing Users for OSINT: Analysis of All GitHub Users
Micah Hoffman
View Here
Course Preview: Successful Infosec Consulting, Getting Clients Deep Dive
Ted Demopoulos
View Here
Checkm8, Checkra1n and the new "golden age" for iOS Forensics
Mattia Epifani
View Here
The 14 Absolute Truths of Security
Keith Palmgren
View Here
Defending Lift and Shift Cloud Applications
Ryan Nicholson
View Here
#LevelUpLabs
Mathias Fuchs
View Here
SEC510: Multicloud Security Assessment and Defense
Eric Johnson, Brandon Evans
View Here
Threat Hunting via DNS
Eric Conrad
View Here
No SQL Injection in MongoDB Applications
Adrien de Beaupre
View Here
Infrastructure as Code is REAL: Using the Cloud to Provision Infrastructure with Software
Shaun McCullough
View Here
Hacking the SRUM and Other Devious New Ways to Interrogate Windows
Alissa Torres
View Here
Course Preview: Successful Infosec Consulting, Getting Clients Deep Dive
Ted Demopoulos
View Here
Maldocs: A bit of blue, a bit of red
Didier Stevens
View Here
Catch and release: Phishing techniques for the good guys
Jan Kopriva
View Here
A walk through logs hell
Xavier Mertens
View Here
Arcane web and mobile application vulnerabilities
Bojan Zdrnja
View Here
Shellcode Analysis 101
Jim Clausing
View Here
CYA by Using CIA -- Correctly For a Change
Keith Palmgren
View Here