Organizations and enterprises of all sizes are migrating to the cloud at a record pace. This comes with a need to rapidly understand unique threats and develop corresponding cloud security skills. Needless to say, there is often a big gap.
I am so excited to announce that, to help bridge that gap, we have launched the SANS Cloud Ace Podcast, which I have the honor of hosting for Season 1. I will be joined by some of the top cloud security professionals in the world as we navigate through the storm and discover practical ways to protect the cloud environments on which our organizations depend.
The podcast aims to provide educational, in-depth discussions with the experts about AppSec, Penetration Testing, Monitoring, Threat Detection, DevSecOps Automation, and anything else that would happen in the cloud. We will also cover how these practices are performed differently than they are with on-premises infrastructure, so we hope this podcast will be valuable for professionals across all fields of cybersecurity.
We invite listeners with all levels of experience, but we definitely focus on the folks that are new to the cloud because, hey, that's basically everyone! If you want to learn from cloud experts on their journey and chart your own flight plan, this podcast is for you.
Series Details
Today's launch includes three full-length episodes:
Episode 01: Navigating the Cloud Security Journey for Individual Contributors and Business Leaders - Frank Kim, the Lead for the SANS Cloud Security and Security Leadership curricula, joins us to discuss how these areas intersect, the role cloud technologies and vendors play in the People, Process, and Technology Framework, why developers who introduce security flaws today can become the security experts of the future, and the importance of staying curious about cloud trends like multicloud and DevOps.
Episode 02: Remapping Mental Models in IT, Security, and Compliance for the Cloud - Dr. Anton Chuvakin and I discuss why some organizations desperately try to follow the on-premises blueprint when securing the cloud, how to prevent Compliance from getting in the way of the evolution of IT Security, and what Anton is doing at Google Cloud to deal with the Shared Responsibility Model breaking in the real world.
Episode 03: Cloud Identity and Access Management Expert Panel - This episode features a panel of three of the top Cloud Identity and Access Management (IAM) experts in the world. Kat Traxler, Karl Fosaaen, and Kyler Middleton are incredibly knowledgeable about how IAM works in all three cloud providers, but Kyler specializes in AWS, Karl spends most of his time with Azure, and Kat is our resident GCP guru. Each panelist will represent their primary cloud's strengths and weaknesses. Which provider will come out on top? Will any cloud provider leave this conversation unscathed? Let's find out together in this episode's discussion.
We will be releasing new episodes weekly. The first season of Cloud Ace will consist of 12 episodes, featuring experts such as Lysandra Capella, Jabez Abraham, Josh Makinen, John Alves, Aaron Hutson, Stacy Dunn, and more.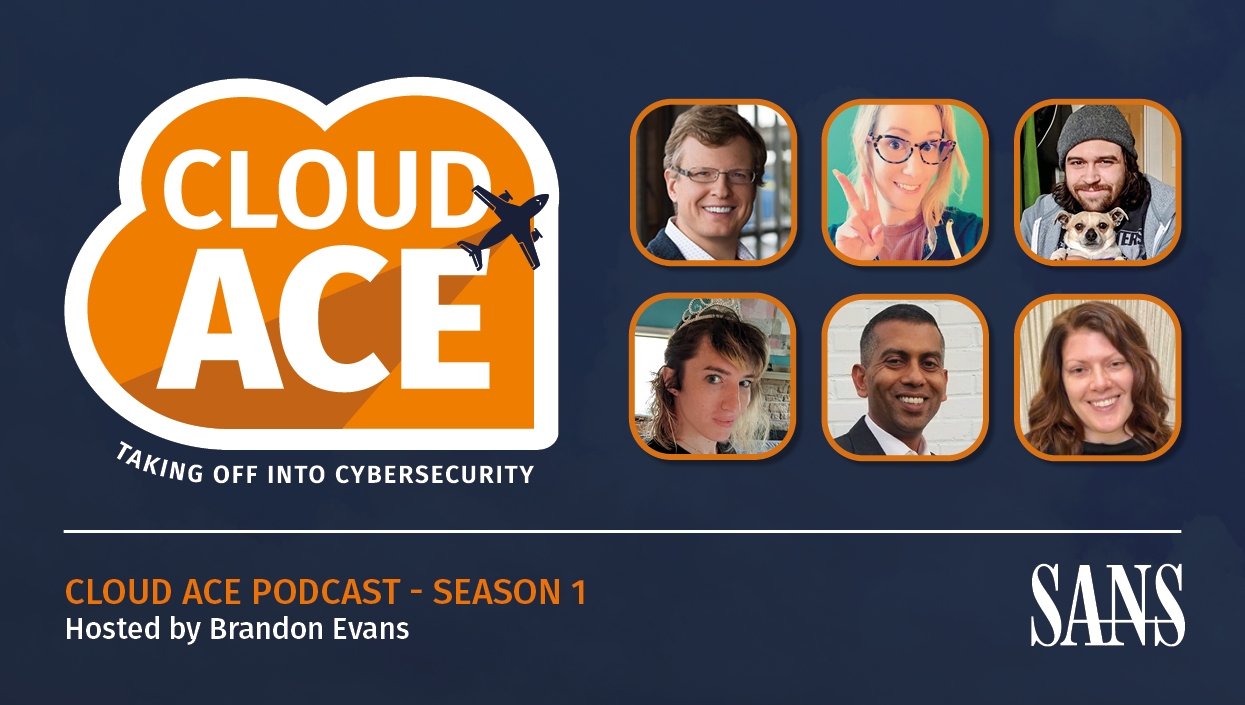 Whether you are a student, cloud security professional, cybersecurity manager, engineer, architect, director, DevSecOps professional, or a professional of any sort who needs to understand cloud security, we know you will enjoy SANS Cloud Ace. You can tune into the podcast today on Apple Podcasts, Spotify, Google Podcast, or wherever you listen to podcasts. If you find value from Cloud Ace, I humbly request that you:
Follow Show Cloud Ace on Apple Podcast
Leave an honest rating and review on Apple Podcasts
Share the podcast on LinkedIn or Twitter using the hashtag #CloudAcePodcast
To learn more, visit https://www.sans.org/podcasts/cloud-ace