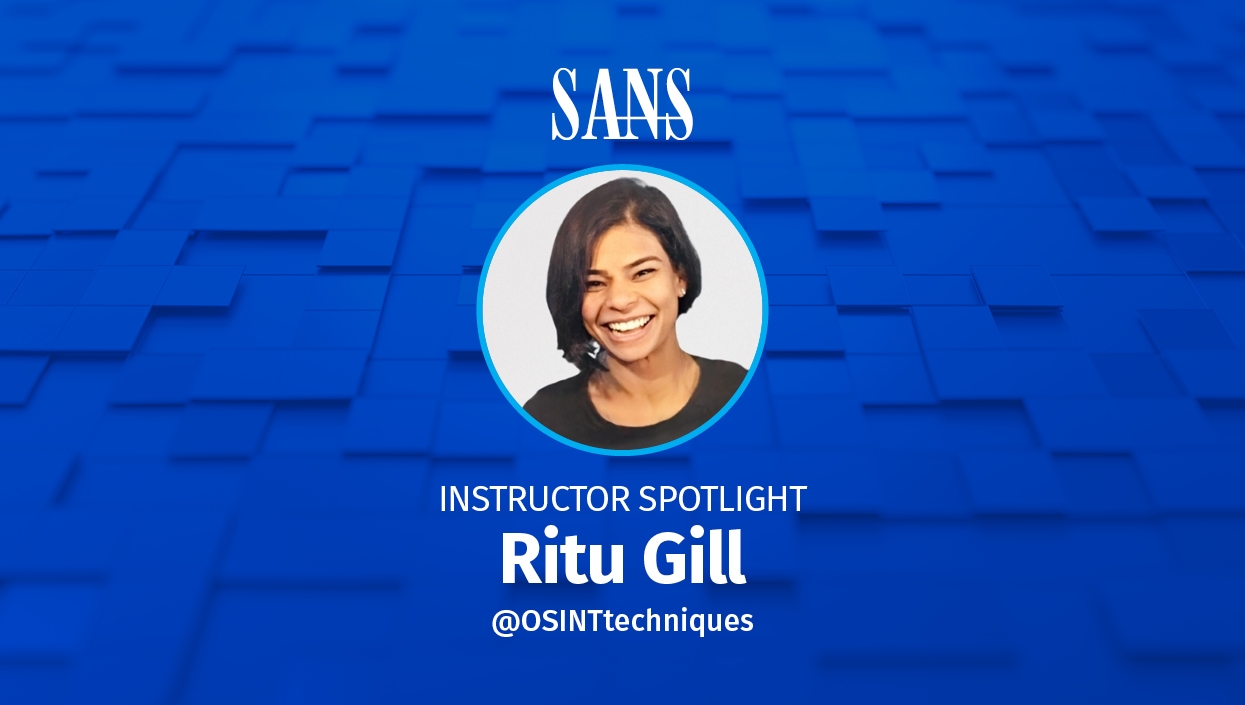 Ritu Gill is an Intelligence Analyst with 15 years of experience working with Canadian law enforcement, 12 of those years were with the Royal Canadian Mounted Police (RCMP). During her tenure with the RCMP, she traveled overseas to Bangladesh and India to train law enforcement officers in the use of the internet as an investigative tool.
What made you choose to work in security?
I completed my Bachelor of Arts Degree in Criminology in 2007, only months after I started my career in law enforcement. I worked my way up doing research and then analytical and investigative work around online investigations. Later on, I got involved in OSINT Curious as an Advisory member which is a non-profit organization that seeks to help others advance their open-source intelligence (OSINT) skill set.
What was your first SANS course and GIAC certification (if applicable)? 
SEC487 Open-Source Intelligence Gathering and Analysis :)
What courses do you teach? 
I'm currently working towards an instructor in the development program for SANS SEC487 Open-Source Intelligence Gathering and Analysis. I'm excited for this opportunity, I enjoy working with SANS staff as they have drive, and passion and I love that because it's contagious.
Why do you teach, research, and practice information security?
I'm very passionate about OSINT and that keeps me wanting to learn more and therefore share more with others. The beauty of open source is just that! It is open-source (publicly available) information. 
I enjoy teaching because I learn a lot from my students. The questions they ask always get me thinking of the different ways that OSINT is used in other professions. 
I try my best to give back the OSINT community, I often post related content on my Twitter account: OSINTTechniques
What tips can you provide newcomers to cybersecurity and defense?
Generally, say "yes" more than you say "no". What I mean by this is when you're starting up, you need different experiences so if have the opportunity to take on a task that is different from what you usually work on, don't be afraid to say yes! It'll give you the opportunity to gain experience which i think is important for growth.
Who has influenced your information security career?
I am truly inspired by these three:


What do you want people to know about you?
People want to know how I have used OSINT for work. Providing real use cases helps put things in perspective and understand how and why an OSINT technique is useful to investigations.
Favorite quotes, songs, or books?
I'm Canadian🇨🇦 so I spell favourite with a "u". 
Favourite quote: "The trouble with the rat race is that even if you win, you're still a rat." This means I believe it's always important to strive for a work-life balance - it's good for your well-being.
Tell us about things you enjoy that people may not expect.
Camping. People think I only would go glamping (glorious camping) but I prefer tenting, I grew up tenting with the fam jam.
Read Ritu's full bio here.