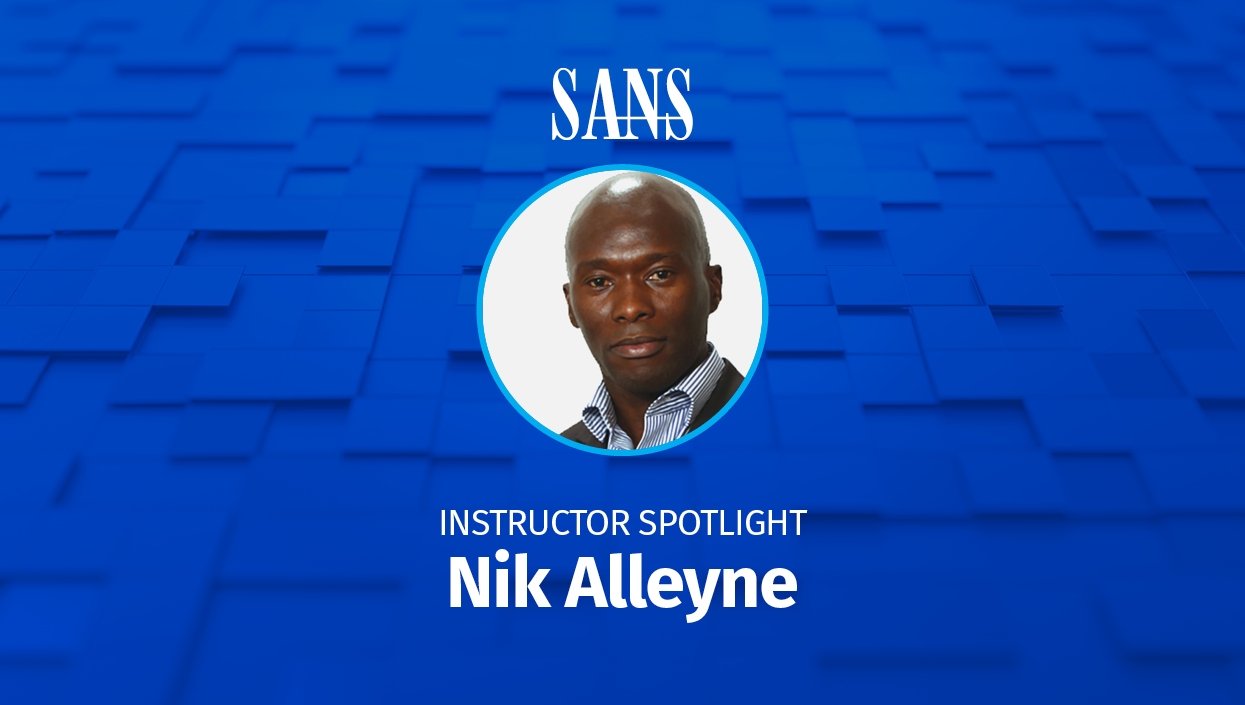 Nik Alleyne is a SANS Certified Instructor with over 20 years in IT, with the last 10 years being more focused in cybersecurity. He is currently the Director of Business Development for a Managed Security Services Provider (MSSP), where he is responsible for leading multiple teams supporting various security technologies including IDS/IPS, Anti-Malware tools, proxies, firewalls, SIEM, Cloud, and WAF. Nik teaches both SEC503: Intrusion Detection In-Depth and SEC504: Hacker Tools, Techniques, Exploits, and Incident Handling for SANS and is a published author of two books Hack and Detect and Mastering TShark Network Forensics.
What made you choose to work in security? 
My choice of work in security was less accidental than my overall work in technology. I never wanted to work in technology. However, once I recognized I was somewhat good at it, I decided to stick with it. Sticking with technology allowed me to eventually gravitate to security. My focus on security simply started from the need to secure my employer's infrastructure, considering what I was learning and reading about various compromises around the world
What was your first SANS course and GIAC certification (if applicable)? 
SEC503: Intrusion Detection In-Depth with Mike Poor and Judy Novak. Loved it then and love it even more now!
What courses do you teach? 
Currently SEC503: Intrusion Detection In-Depth and SEC504: Hacker Tools, Techniques, Exploits, and Incident Handling
Why do you teach, research, and practice information security? 
Simple! I love learning and sharing knowledge. It is that simple. It is this love for learning and sharing knowledge that resulted in my blog at www.securitynik.com, eventual teaching for SANS and my two books Hack & Detect and Mastering TShark Network Forensics.
What tips can you provide newcomers to cybersecurity and defense? 
Develop a passion for what you are doing. If you don't love it, don't do it. You do want to have to go to work doing something you do not love.
Additionally, once you are in the field, always keep finding ways to expand your knowledge and grow your brand. If you don't look to expand your knowledge, you will become a dinosaur. Meaning you will become extinct.
Who has influenced your information security career?
Easy! Roderick Harry, my first manager, mentor, and now my big brother and friend. Above I mentioned I never wanted to be in technology. He is the person that saw in me, what I never saw in myself as it related to technology and constantly urged me to understudy him. After saying no multiple times, I ultimately said yes. The rest as they say is history.
The second person is Dragana Vranic, my manager and Vice President of Managed Security Services at Sirius (A CDW Company). She was one of the persons that interviewed and ultimately hired me at the entry level role. It was under her leadership and mentorship that I was able to grow from that entry-level role to Consultant -> Manager Cyber Security -> Senior Manager Cyber Security and now Director of Business Development. While these two have influenced my technology/security career, there are a few others too who have played other meaningful roles. Big shout out to my aunt Vashti Green for teaching me early the importance of a good education. Education is not just learning but education being learning and applying your knowledge properly.

What do you want people to know about you?
I'm easygoing! Love learning, expanding, and sharing my knowledge, meeting new people and without a doubt love my Guinness!
Favorite quotes, songs, or books? 
I have two favourite quotes, one from the personal and the other from business perspective. From the personal, my favourite quote is "Even a genius ask questions" by 2Pac. From the business perspective, "Culture eats strategy for breakfast" attributed to Peter Drucker

One of my favourite books is The Phoenix Project. This book helped me to further understand the importance of looking at security from a risk management perspective. Many times security folks want to shutdown access or pull the plug on an unpatched system without understanding the risk the vulnerability or threat poses, or even its impact to the business environment. Another is Paid to Think. The title says it all.

Two of my favourite songs are War and Redemption Song by Bob Marley.
Tell us about things you enjoy that people may not expect. 
Just like to relax and take it ez. Most people are surprised when I say I am more of an introvert than an extrovert. I Love learning as much as possible. Here is a link to learn more about me. How to become a cyber security expert.
Read Nik's full bio here.