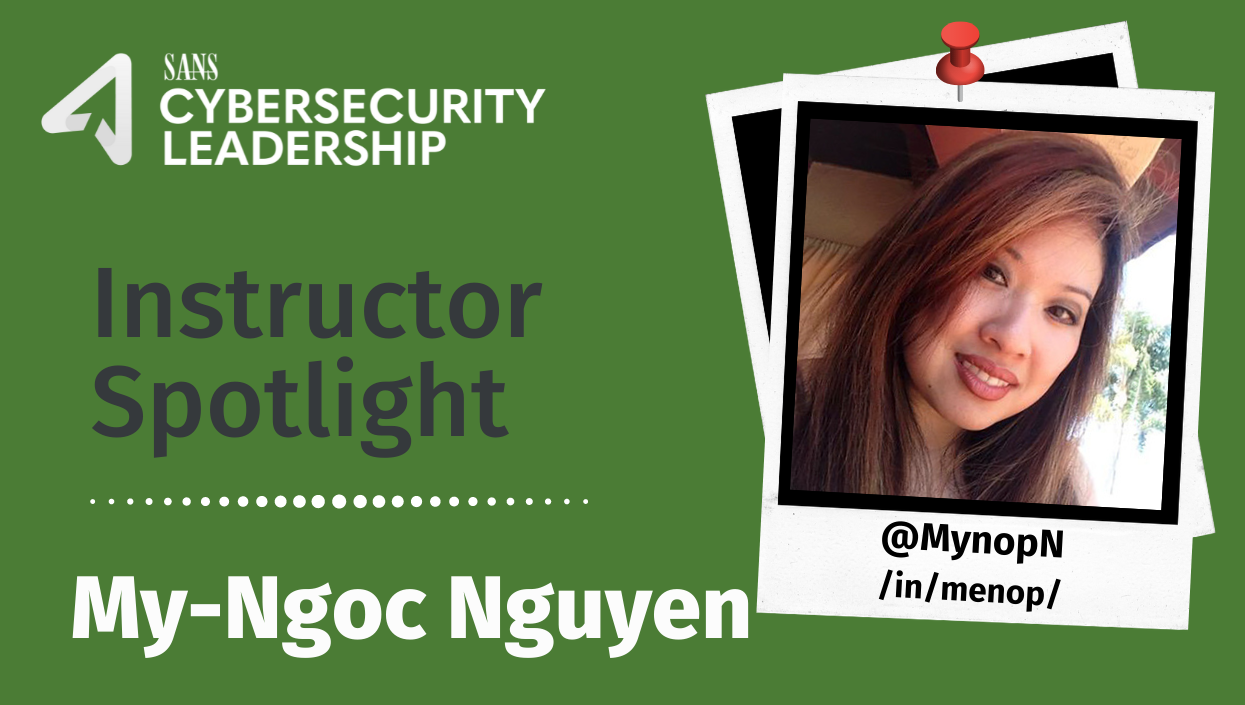 SANS: What made you choose to work in security?
I was fortunate to "fall" into the cyber security field and grew a passion for the multi-facets of a business and organization that it brings. Cyber security touches so many aspects of the business (people, policies, governance, risk, processes, AND technology). In the early years of my career, I found the cyber security tasks and projects that I was working on were provocative and exciting. I was doing investigation, briefing senior management, working with law enforcement and counterintelligence, incident handling, company-wide presentation, and setting policies for the whole company. It was intriguing. This later grew into a passion, mainly, because I saw how impactful my work was and the positive difference I was making. In addition, the need for me to keep on top of so many things like current and emerging technologies, regulations, and best practices kept the work challenging and interesting. So, I chose to stay in cyber security because of the impact I see that I make as well as the fact that I'm always needing to learn, keep learning, and growing.
SANS: What was your first SANS course and GIAC Certification (if applicable)?
My first SANS course was SEC401: SANS Security Essentials. I didn't get the cert for that until later. My first certification was the GCIH: GIAC Incident Handler, which I achieved after taking SEC504, as my second SANS course.
SANS: What courses do you teach / author?
I mainly teach MGT512: Security Leadership Essentials for Managers; however, I do teach SEC301: Introduction to Cyber Security from time to time, as well as other courses.
SANS: Why do you teach, research and practice information security?
I had always wanted to instruct or teach in some form to impart and share knowledge. There's a saying "Knowledge is power."; however, there's a better saying that I believe in more "Shared knowledge is power." I want to be part of the sharing. I have a passion in being able to learn and know something that is considered, by most, complex; then, getting others to grasp it through my guidance and teachings. I initially thought I would teach or tutor in math (like calculus) part-time because I didn't have the foresight at that time to know the possibilities of me achieving the role of a SANS instructor. Becoming a SANS Certified instructor is a stripe of honor backed up by hard work and continuous self-growth and development. I walk around with such self-pride knowing that I am a SANS instructor along with other roles I take on in my life.
SANS: What tips can you provide newcomers to cyber security and defense?
Welcome to an area of great breadth and depth. Cyber security covers so many areas with moving parts; yet, foundationally, things stay the same despite the changing landscape of things (emerging threats and technologies, changes in IT environments and laws/regulations, etc). You can stay on the surface and keep on top of the wide ground that this field must cover; however, you must stay sharp on the foundation; OR you can pick an area (e.g. cloud, application, threat Intel, pen testing) to deep-dive into and become an expert in it. Be open to learn and try to see things in all perspectives. To defend effectively, you must not only understand the offense and how they attack, but also the components (e.g. operations, processes, policies, people) of the business and the mission you're protecting.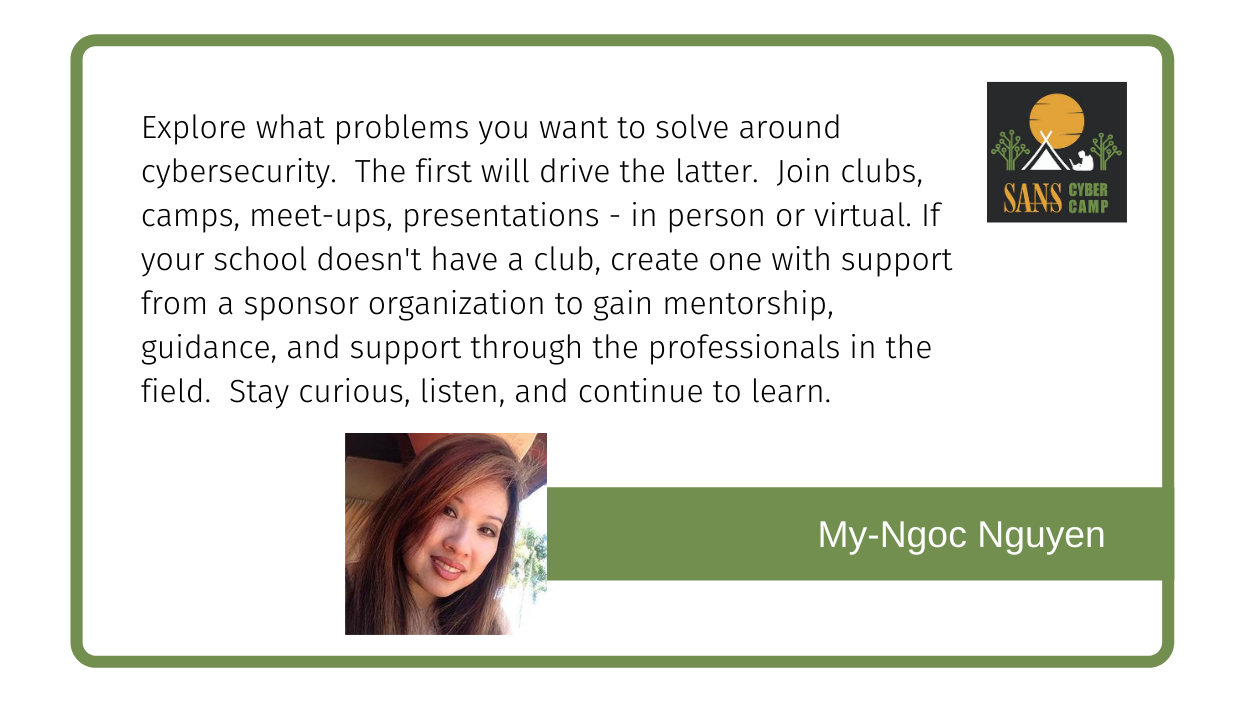 SANS: Who has influenced your information security career?
There are many people (like Karl Moore, Alan Blackston, Ed Skoudis, and more) who had a role in influencing my career in cyber security and others in my management/leadership career. To start with and name the first few, I thank Karl Moore for getting me into Cyber Security. I was working for a large government contractor at the time, Karl Moore was my supervisor when I initially joined the firm as an entry-level project manager. Months later, Karl transferred to cyber security and offered a couple of cyber security assignments to me while I was acclimating to new bosses and org changes. Karl also introduced me to SANS. Unfortunately, Karl is no longer with us. In fond memory of him, I thank him. Alan was the federal oversight of the cyber security office. He influenced my quick promotions, first to assistant program manager and then program manager; all within 1 year. Ed Skoudis was my SANS instructor for my 2nd SANS class, SEC504. He made such an impact of me with his presentation skills, knowledge, energy, and passion of the topic. This further influenced my path into my career.
SANS: What do you want people to know about you?
I have many facets about me; with many facets come many imperfections. I am human and continue to hone my skills and "sand down" my imperfections. For example….Born and raised in Albuquerque, NM with Vietnamese being the primary language spoken to me (learning English from watching TV and Mr. Rogers), I've picked up, at young age, something I call Menopisms. You see, not only did I pick up and learn New Mexican sayings/phrases/idioms, but also American and Vietnamese. Menopisms is my flaws of blending English words with Vietnamese words or taking sayings and jumbling the words. For example, I had once said to my CIO  "I blow off my foot." Later embarrassed, I clicked (the ah-huh) thinking of the puzzling look he gave me because I had intended to say "I shoot myself in the foot." Unfortunately, despite having four intelligent sisters who try to tease this out of me, I still have Menopisms.
SANS: Favorite quotes?
I have many favorite quotes. Here are some:
"My mission in life is not merely to survive, but to thrive; and to do so with some passion, some compassion, some humor, and some style." - Maya Angelou
"If you're not growing, you're dying" – Tony Robbins
"Power comes not from knowledge kept, but from knowledge shared." - Bill Gates
"All you need is the plan, the road map, and the courage to press on to your destination." – Earl Nightingale
SANS: Tell us about things you enjoy that people may not expect.
Not sure what people may not expect from me….like would they not expect that I like to dance, I like to cook, I like to karaoke, I like to play board games, and I like to play cooking craze on my phone. I think one thing I've seen people be surprised about me is I used to LOVE country music as a kid. I remember those country songs, that I would sing, listen to, memorize, and enjoy as a teenager.

Read My-Ngoc's full bio here.