Government entities and security practitioners in this field today are challenged more than ever to effectively defend their organizations. While adversaries seem to be continuously attacking with increasingly sophisticated tactics, they aren't the only ones who have made advancements in technology capabilities.
Don't be kept in the dark; join us as we shine a light on concepts and technologies to help defend against adversaries of all kinds. Register now for our Government Security Solutions Forum, in partnership with Carahsoft, coming up on Thursday, July 21 at 10:00am ET.
The full-day virtual event, chaired by SANS Certified Instructor Matt Bromiley, will feature high-profile government speakers and many familiar SANS faculty faces talking about numerous federal topics from digital forensics and incident response to zero-trust, vulnerability management, and cyber defense.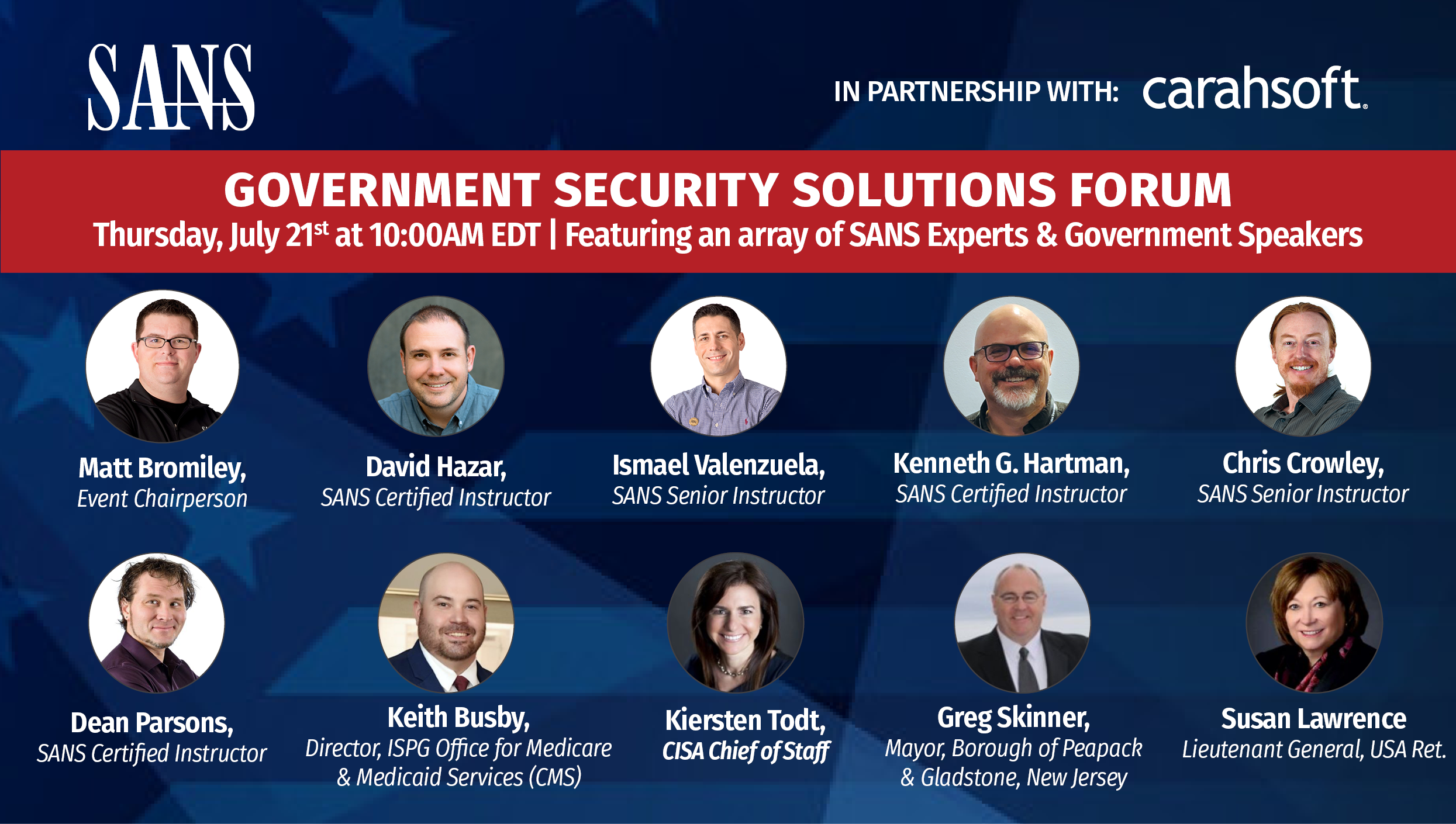 Speaker Highlights
Check out our lineup of incredible government and expert speakers:
Invited government speakers
Susan Lawrence, Lieutenant General USA, Ret.
Kiersten Todt, CISA Chief of Staff
Greg Skinner, Mayor, Borough of Peapack & Gladstone, New Jersey
Keith Busby, Director, Division of Security & Privacy Compliance Information Security & Privacy Group (ISPG) Office of Information Technology (OIT) Centers for Medicare and Medicaid Services (CMS)
SANS instructors
Matt Bromiley, David Hazar, Ismael Valenzuela, Kenneth G. Hartman, Christopher Crowley & Dean Parsons
10+ In-Depth Sessions
To start…
After SANS's Matt Bromiley and Carahsoft's Brian O'Donnell kick off the day, Keith Busby of the Centers for Medicare and Medicaid Services tackles the hot topic, zero trust, but from a compliance and health care services lens. Zero Trust makes an appearance later in the program as well, with a 12:15 pm ET panel moderated by SANS's Ismael Valenzuela.
Keep it going…
But before Ismael's panel, you won't want to miss CISA Chief of Staff Kiersten Todt's talk about building America's bench of cyber defenders. Another talk you won't want to miss is at 2:30 pm ET, when Gregory J. Skinner, Mayor of the Borough of Peapack & Gladstone, New Jersey, takes the mic to discuss cyber security issues facing small town America.
Close it out…
What better way to close out the day than with a session that zeroes in on Industrial Control Systems (ICS) security? Subject matter expert and SANS Certified Instructor Dean Parsons discusses the top active cyber defense approaches enabling the future protection of critical infrastructure. And, lest I forget to mention, Dean's taking questions!
View the full agenda and register to join us online for this free event.