The SANS mission is to empower current and future cybersecurity practitioners through training, education, and skills validation to create a safer global community. Couple this with the vast shortage of cybersecurity professionals worldwide, and SANS was motivated to introduce the first-ever SANS Cyber Camp for Teens, August 11-12, 2020. In conjunction with the event, several SANS instructors have provided advice for teens who want to position themselves for a successful career in cybersecurity.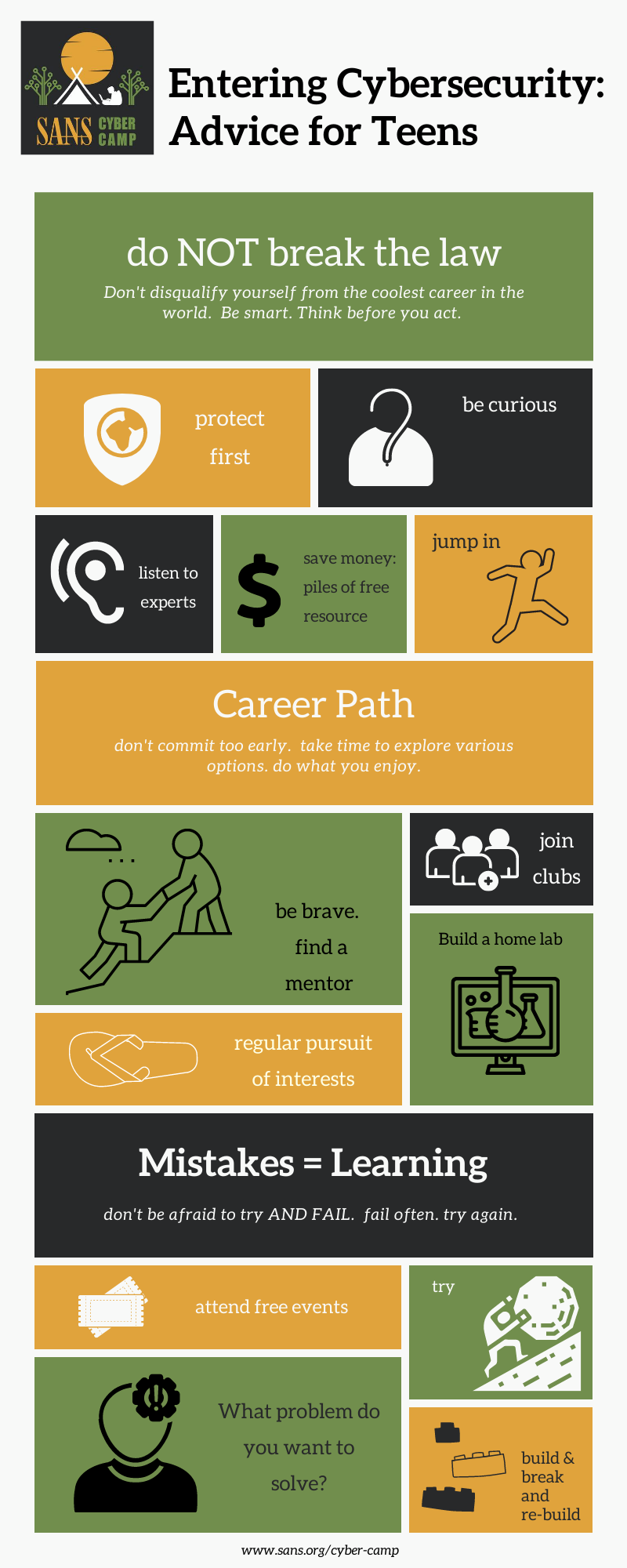 One of the most critical aspects of entering into a professional career in cybersecurity is to have a clean record. However tempting it may be to hack something, don't be a punk. It may seem fun now, but you'll be throwing away amazing opportunities and significant, legitimate income in your future. With so many social media apps, it's also tough not to want to dive in and share thoughts, comments, and feelings. The hard part is remembering that anything you say and do can be used against you or your family in the wrong hands. You can't always take back what you say, do, or share. Think first. Be safe.
LEARN, PLAY, BREAK

The most common piece of advice from our instructors is simple to take time to learn hands-on, engage with technology, break it, and rebuild it. Build your own home lab. Be curious and don't be afraid to make mistakes.
"The more mistakes you make, the more you are learning. The more you learn how technology works, the better at cybersecurity you become." - Lance Spitzner, SANS Senior Instructor


"Save money by learning how to build your own stuff, like your own computer, and then mess with it so much that you break it! Then fix it. Break it again. Repeat that over and over again. – Jorge Orchilles, SANS Certified Instructor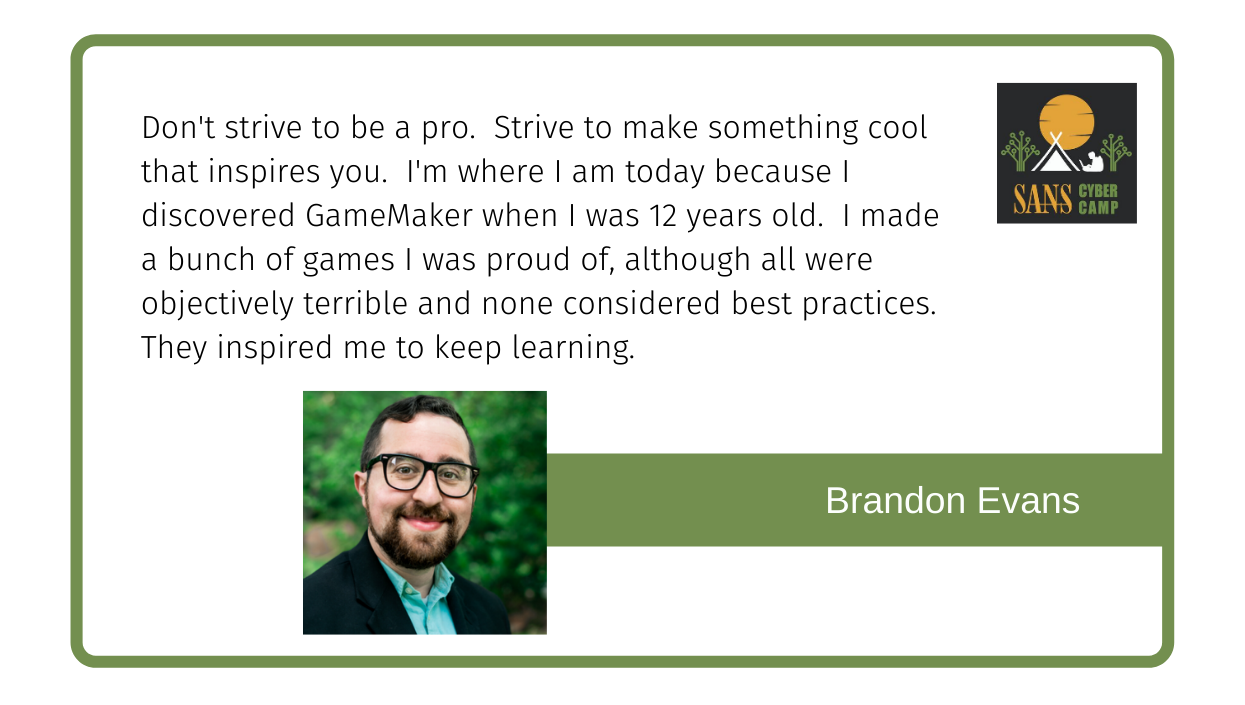 In the words of John TerBush, SANS Associate Instructor, "If you want to physically protect a building, you need to understand access points such as doors, windows, and structural weaknesses. For information security, we are talking about knowing the basics of computer networking. Understanding how computers function and communicate is the first step in defending them from attack."
USE FREE RESOURCES
The number of resources is endless and *so many* of them are FREE – from YouTube, to virtual summits and conferences, to Linux, evaluation versions of Windows Server, Python, PowerShell, Wireshark and more. There are no age limits. Scholarships and community programs for teens, females, vets, and more are available.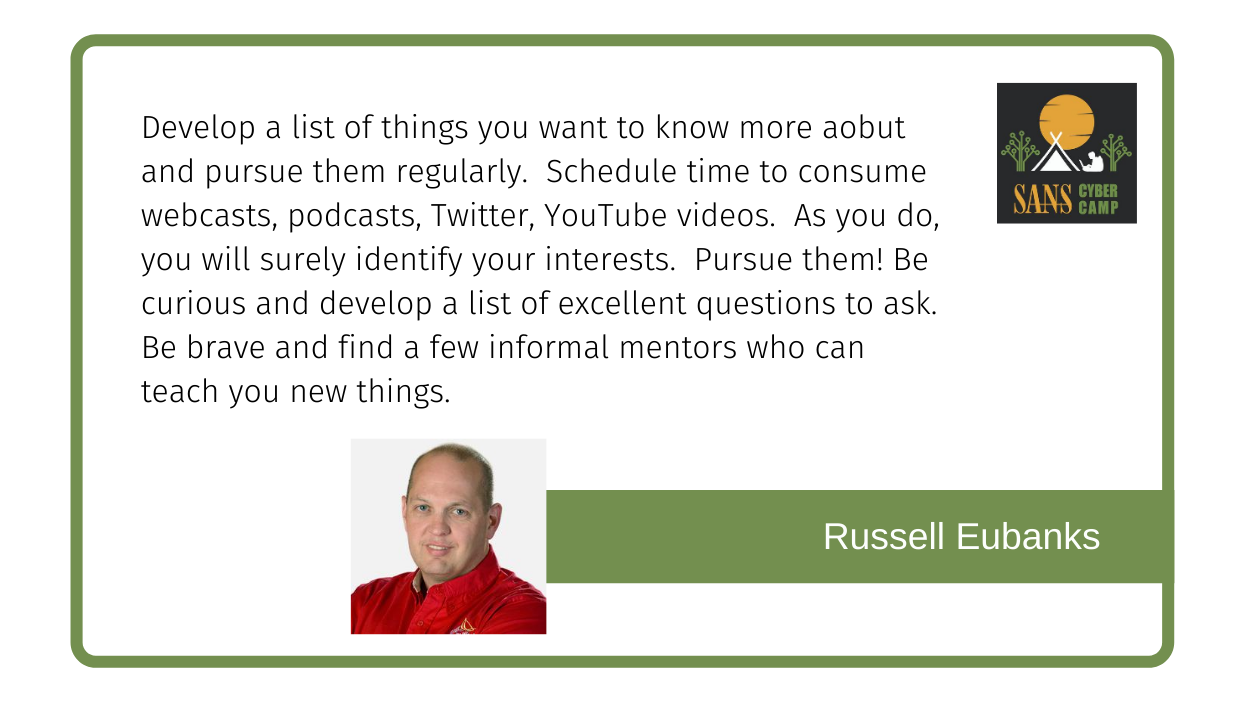 FIND A MENTOR
"Join clubs, camps, meet-ups, and presentations around cybersecurity. If there's no club at your school, create one by first gaining sponsorship from a professional organization like InfraGard, Cyber Fraud Task Force, SANS, ISSA, etc. Then partner with these professional chapters to gain mentorship, guidance, and support through their membership of professionals." -My-Ngoc Nguyen, SANS Certified Instructor
"Seek out mentors who will care about you and share insights" – G Mark Hardy, SANS Principal Instructor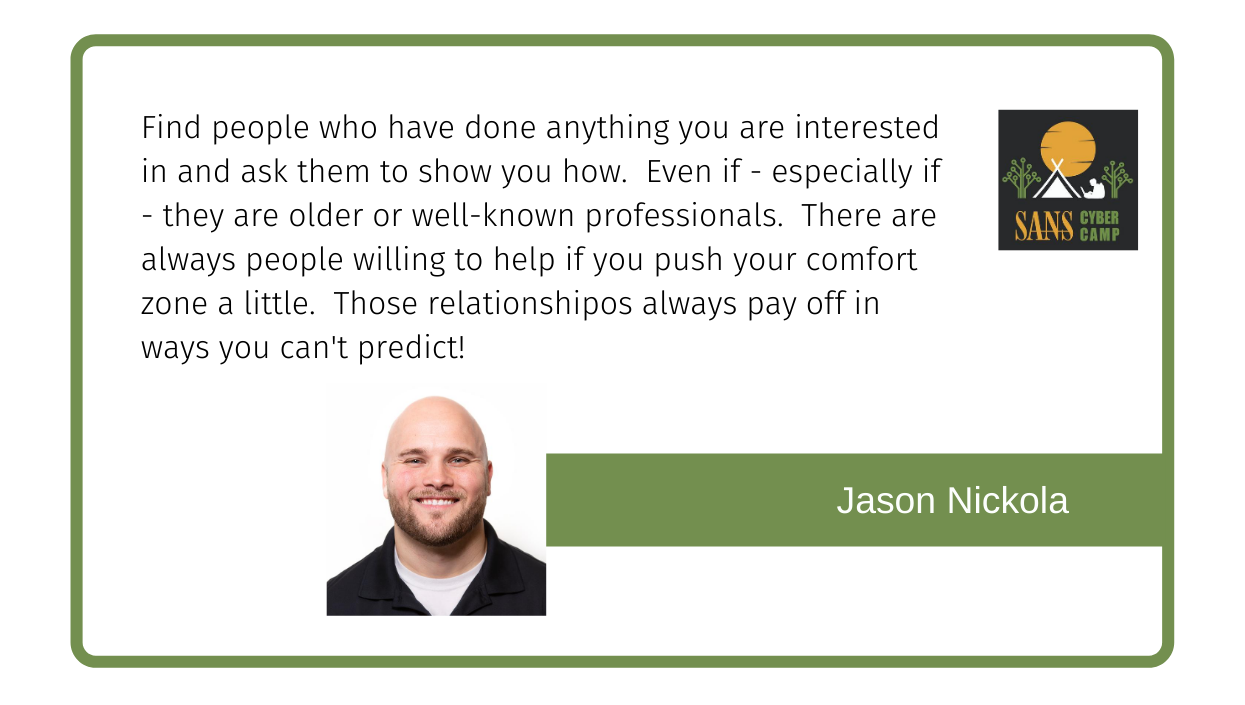 BE CURIOUS AND TAKE YOUR TIME

"Pick something you already enjoy doing and then learn all about that, especially how it works under the hood. Go beneath the surface and ask WHY? As you learn more theory, you'll be in a better position to map that theory onto tools and operating systems with which you've already had hands-on experience." - Jason Fossen, SANS Fellow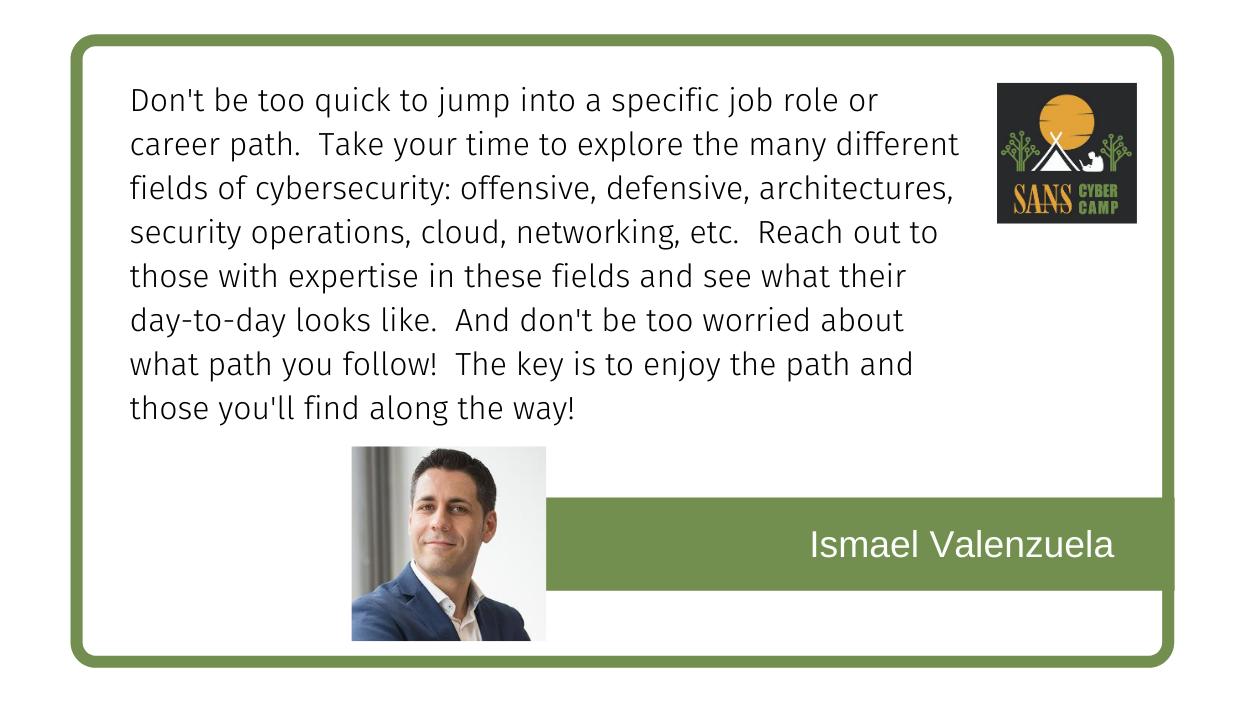 There are many avenues to explore within the overarching, broad topic of cybersecurity. You may find that hands-on technical work is not your path, but the passion for the industry remains. Know that there are a plethora of options, regardless of skill set and area of interest, that need to be filled by capable professionals.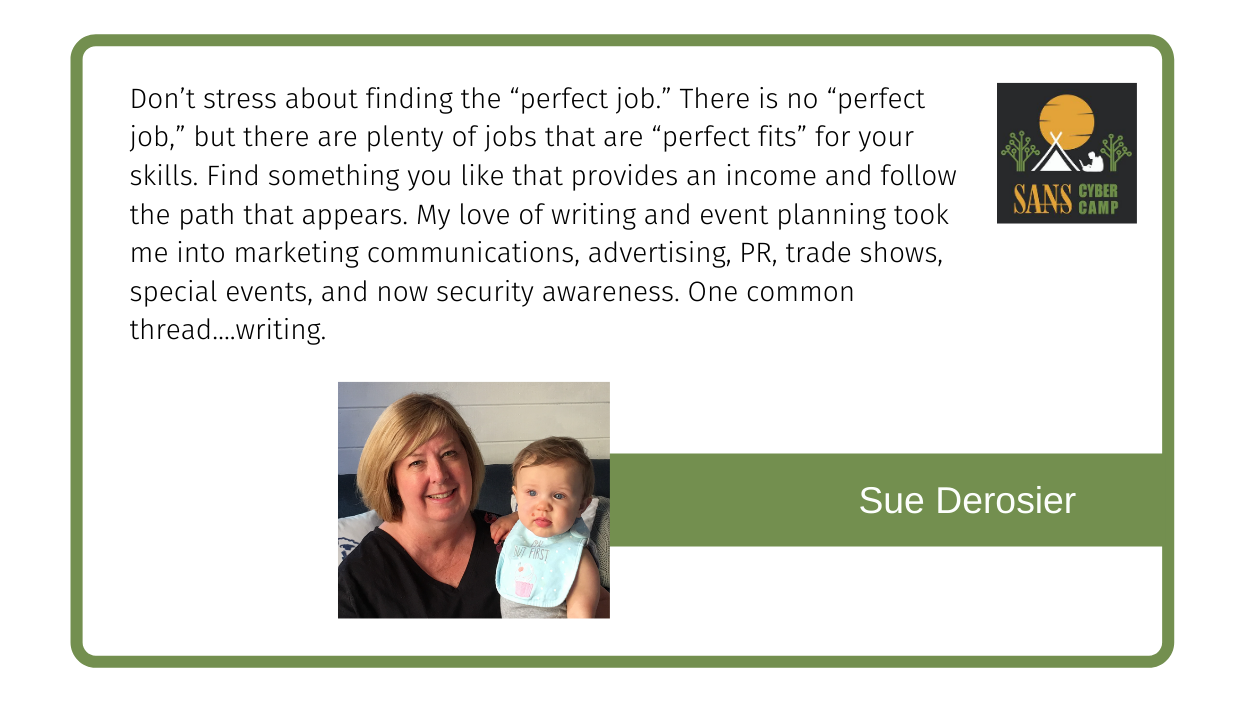 RESOURCES FOR TEENS
Cybersecurity is a growing field with a smaller and smaller number of skilled professionals available to fill the open job roles. There are many avenues to take and a slew of resources, organizations, and professionals who want to help. With this in mind, here are a few resources from SANS Institute to support youth interested in entering the cybersecurity field.
Cyber FastTrack: 18 years or older, US Citizen or Permanent Residents, participating in a 2-day Capture the Flag event to earn a $22,000 scholarship with SANS Technology Institute
Cyber Discovery: 13-18 year olds living in the UK playing a vast online training game to become the next generation of cybersecurity leaders.
10 Coolest Jobs in Cybersecurity downloadable poster
Thank you to the SANS instructors who provided content for this blog: Brandon Evans, Jorge Orchilles, Russell Eubanks, Jeff McJunkin, Jason Nickola, G. Mark Hardy, Lance Spitzner, Adrien de Beaupre, Bryce Galbraith, My-Ngoc Nguyen, John TerBush, Doc Blackburn, Ismael Valenzuela, Scott Lynch, Jason Fossen, and Sue Derosier.

The SANS Institute is the most trusted and by far the largest source for information security training and security certification in the world. The SANS mission is to teach individuals the essential skills and techniques needed to protect and secure an organization's critical information and business systems.