PART III
Gap Analysis
This is Part II of a 3-part blog series based on MGT514: Security Strategy, Policy, and Leadership.
Read Part I here. Read Part II here.
Now that we have industry standard frameworks to follow, we can focus on getting Rekt Casino secure and operational.
At this point, we have enough information that can be used to establish a strategic plan for security. We'll now develop the road map to becoming more secure.
We'll take the data from our postmortem, SWOT Analysis, and PEST Analysis and create a Gap Analysis.
The Gap Analysis is comprised of determining the current state, the desired future state, and changes or initiatives needed to get to the future state.
A Gap Analysis for Rekt Casino would look similar to this: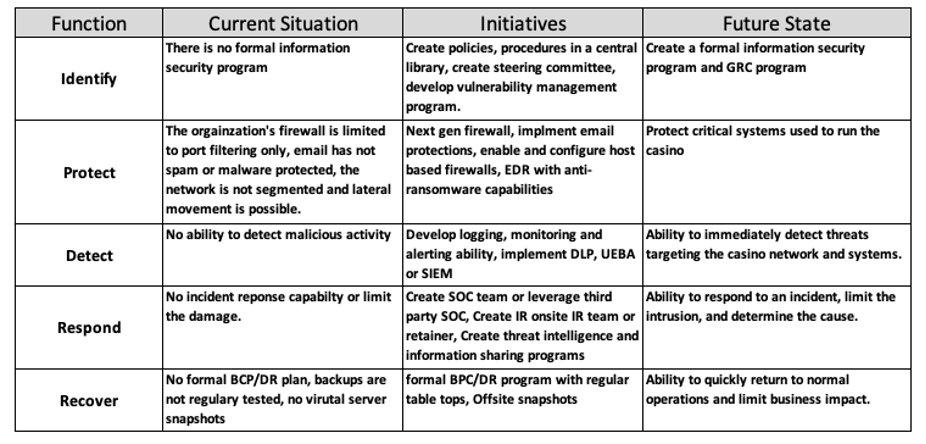 Figure 9: Gap Analysis
The Gap Analysis approach is to first define the current state, then define the future state of where you would like to go. You then come back to the center of that chart and decide what those initiatives should be.
As you can see from the above Gap Analysis, Rekt has a lot of changes to make to become secure. Also notice that in the left-hand column, we focused specifically on the activities in the NIST CSF.
Decision Matrix Analysis
We now know what needs to be done to become more secure, but where do we start?
That's where we'll use a Decision Matrix Analysis to inform how to best approach these new Initiatives.
A Decision Matrix Analysis allows you to rank multiple factors to inform the best decision. For Rekt Casino we will be using the following key factors:
Cost: What is the required investment
Ability to execute: Does Rekt Casino have the capabilities to execute on it, hire someone, or involve a vendor.
Stakeholder Support: Does the organizational leadership support your initiatives?
Threat Defense: How does it protect against threats, how effective is it, and does it overlap with other security measures.
We will rank each of these factors from 0-5. The lower the number, the least desirable that factor is.
The resulting Decision Matrix Analysis could look similar to this: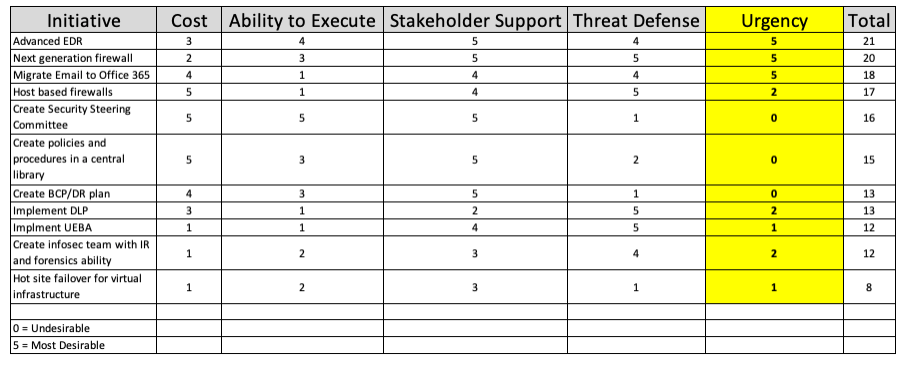 Figure 10: Decision Matrix Analysis
I'll explain some examples the above Decision Matrix Analysis.
Starting with Advanced EDR:
Cost is a 3 which means that the cost isn't too expensive, but it's not cheap either.
Ability to Execute is a 4 which means that Rekt Casino has the ability to roll out a new endpoint protection product.
Stakeholder Support is a 5 which means the business leaders fully support this initiative.
Threat Defense is a 4 which means that the new endpoint product will provide a high level of protection.
Let's skip down to Host based firewalls:
Cost is a 5 because there is little cost involved with obtaining host-based firewalls. Rekt Casino is a Windows environment and host-based firewalls are part of the operating system.
Ability to Execute is a 1. This means that rolling out host-based firewalls is a difficult process. You need to know which systems are allowed to communicate and on which ports. This will take some time to research, document, and implement. If you roll out host-based firewalls out all at once, there is a high risk you will break something on the network.
Stakeholder Support is a 4. The business leaders are bought in on this initiative.
Threat Defense is a 5. Implementing host-based firewalls is one of the best controls you can implement on your network. Host-based firewalls prevent access and disrupt lateral movement by attackers.
You'll notice I've added a 5th column called Urgency. This isn't a column that would normally be present, but in a post-breach scenario there may be a need for immediate technical controls to secure the environment before recovery can begin.
In this scenario the urgent need for Advanced EDR is a 5, because getting it soon is most desirable. The urgent need for host-based firewalls is a 2, because there's not an immediate need for that during the recovery process. Host-based firewalls can be implemented later down the road.
To determine which initiatives to start with, we'll sort the totals from highest to lowest in the far-right side column.
The Decision Matrix Analysis dictates we should proceed in the following order:
Advanced EDR
Next generation firewall
Migrate Email to Office 365
Host based firewalls
Create Security Steering Committee
Create policies and procedures in a central library
Create BCP/DR plan
Implement DLP
Implement EUBA
Create infosec team with IR and forensics ability
Hot site failover for virtual infrastructure
If you look at the implementation order, you might be wondering why creating a steering committee, policies and procedures come before DLP (Data Loss Prevention) and UEBA (User and Entity Behavior Analytics).
The reason for that is, part of the policy and procedure process will be data classification and data access permissions. You need to define those to implement DLP correctly.
You also need that before UEBA because part of what UEBA does in the first stage of deployment is establish a baseline of what normal activity looks like. If you don't have the appropriate baseline permissions, you can't effectively determine what normal behavior looks like.
Stakeholder Management
Now that the initiatives and order of implementation have been established, you need to think about stakeholder management. All of these initiatives are going to affect a wide range of stakeholders.
It's important to manage the expectations of stakeholders because they hold key information for your initiatives. Stakeholders can influence the organizational perspective, support you, or block you. Many strategic initiatives have failed due to poor stakeholder management.
We'll approach stake holder management using two tools, a SIPOC Matrix, and a Power/Interest Grid. SIPOC stands for Suppliers, Inputs, Processes, Outputs, and Customers.

Figure 11: Blank SIPOC Matrix
We will use the SIPOC Matrix above to determine who the stakeholders are for the Advanced EDR initiative: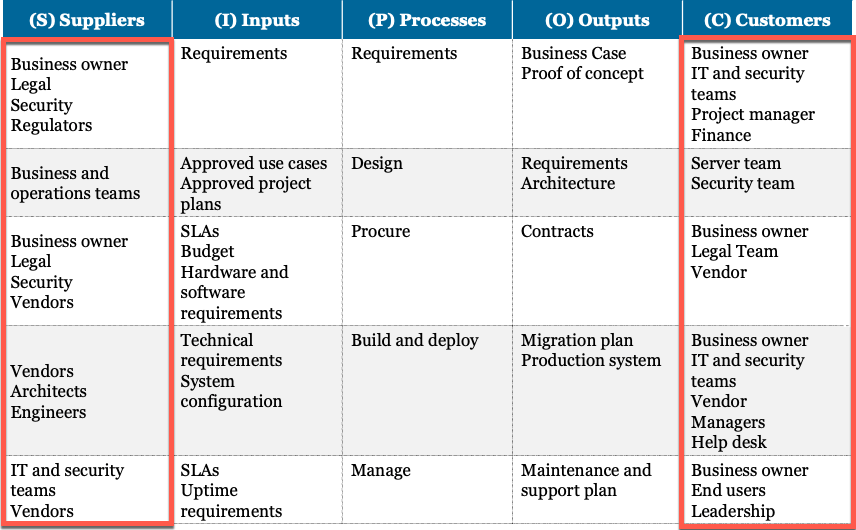 Figure 12: Completed SIPOC Matrix
To complete the SIPOC Matrix we'll start with the Processes column. This will be the processes required to deploy the Advanced EDR solution.
The next column to complete is the Outputs column. The outputs are the results of the processes.
We'll then fill in the Customers column. The customers are the recipients of the outputs. The customers are regarded as stakeholders.
Now we'll proceed to the Inputs column. The inputs are needed to make the processes work.
The last column to address is the Suppliers column. The suppliers provide the inputs and are regarded as stakeholders.
The stakeholders are now identified by the two columns highlighted in red.
We'll now map the stakeholders by title in a Power/Interest Grid: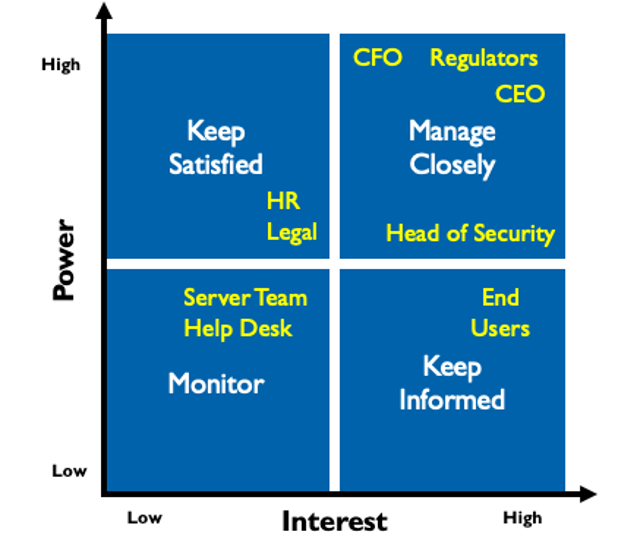 Figure 13: Power/Interest Grid
The left-hand side is the amount of power the stakeholder has. The bottom is amount of interest the stakeholder has.
Lower power and interest: The server team and help desk. The server team will build out the virtual infrastructure and the help desk team will respond to support requests. We'll monitor those two teams for any issues that arise.
Lower power and high interest: The end users have lower power over the initiative, but a high interest since it will directly affect the systems they work on every day. We'll keep the end users informed of the progress and provide training on the new solution.
High power and low interest: HR and Legal have a high degree of power over this initiative due to the new solution protecting confidential data and the logs could be used in internal investigations. We'll attend to their needs during the migration to the new solution.
High power and high interest: The CFO, regulators, and head of security have a high degree of interest and power over this initiative. The CFO is concerned over the investment, the regulators want to make sure the solution meets their requirements, the CEO doesn't want another breach, and the head of security, new to the job, is trying to win organizational trust.

We'll manage each of these stakeholders closely, check in frequently, and provide regular updates on the progress of the initiative.
This is a high-level approach to building an information security program in a post-breach scenario. This approach includes the basic steps for building a mature information security program.
SANS MGT514: Security Strategic Planning, Policy, and Leadership goes more in depth how to align your information security program with the goals of the organization and bridge the gap between the technical and business objectives.
This is not a one-size-fits all approach. Depending on the industry you are in the approach needs to be tailored and have the appropriate context applied.
This post is based on a post-breach scenario of an organization that had little in place to start with. If you aren't in a similar scenario, this approach can be used to improve your existing information security program.
This is Part II of a 3-part blog series based on MGT514: Security Strategy, Policy, and Leadership.
Read Part I here. Read Part II here.
About the Author
Joe Sullivan has over 20 years of experience in information security. Joe is Principal Consultant at Rural Sourcing in Oklahoma City where he manages and develops the security consulting services and the teams that provide them. Over his career Joe has worked in incident response, penetration testing, systems administration, network architecture, forensics, and is a private investigator specializing in computer crime investigations. Joe teaches MGT514: Security Strategic Planning, Policy, and Leadership.