In a world learning to live with COVID-19, how we live and work has fundamentally changed. Organizations that adopted remote and hybrid business models as short-term Band-Aids in response to the pandemic are now embracing these permanently and adopting cloud technologies to better share information across an increasingly distributed workforce to improve operational efficiency.
The cloud is no longer the vast unknown it was once made out to be. Modern cloud services are highly secure, reliable, and cost-effective. They help companies of all sizes compete in the global market alongside industry giants, and they've already earned the trust of many tech-savvy teams. With profit margins on the line, even those hesitant about committing to cloud-computing solutions should consider the benefits:
Increased Security: Data security is a significant concern for businesses today. Data breaches and other cybercrimes can devastate a company's revenue, customer loyalty, and brand positioning. Cloud vendors provide advanced security features like authentication, access management, and data encryption to ensure sensitive data in the cloud is securely handled and stored. A cloud host's full-time job is to monitor security carefully. This is significantly more efficient than an in-house system where an organization must divide efforts between a myriad of IT concerns, with security being only one of them.


Flexibility & Scalability: When current IT solutions force you to pay too much attention to data-storage issues, other areas like customer satisfaction and goal-setting can suffer. By relying on an outside organization to take care of all IT hosting and infrastructure, more time can be devoted to the aspects of business that directly affect the bottom line. The cloud offers more flexibility and scalability than hosting on a local server. As a business evolves, cloud-based services can be updated to instantly meet emerging needs versus a rather costly update to IT infrastructure. This improved freedom can make a significant difference to the overall efficiency of any organization.


Cost Savings: Many organizations are concerned about the initial cost of implementing a cloud-based server, but reports show that most businesses reduce expenses by utilizing cloud solutions. Efficient access to company data saves time and money in many project startups, especially in remote and hybrid work environments. Most cloud-computing services are also pay-as-you-go, meaning you don't pay for features your organization doesn't need or use but they remain available should the need for them arise as the business evolves. The pay-as-you-go system also applies to the data storage space required to service stakeholders and clients, which means unlimited access to as much space as the organization needs and transparent cost levels as data needs increase. Together, these factors result in lower costs and high returns.
Join the SANS Institute at the 2022 Cloud Security Exchange as we bring together technical security leaders from Google Cloud Platform (GCP) and Microsoft Azure in one forum to share their perspectives on building cloud security programs and best practices on crucial security pillars. Independent technical experts from SANS Institute will be paired with these cloud security provider leaders to share solutions to organizations' problems in the increasingly multi-cloud environment.
Please register today to join us Live Online Thursday, Aug 25th at 11:00 am EDT: https://www.sans.org/webcasts/sans-2022-cloud-security-exchange/ This event will be simultaneously live streamed in Portuguese, and Spanish. Also, Japanese will be available in OnDemand format. Can't join us live? We've got you covered, register now and you will be notified when the OnDemand recording will be available for you to revisit as your schedule permits, including all the languages!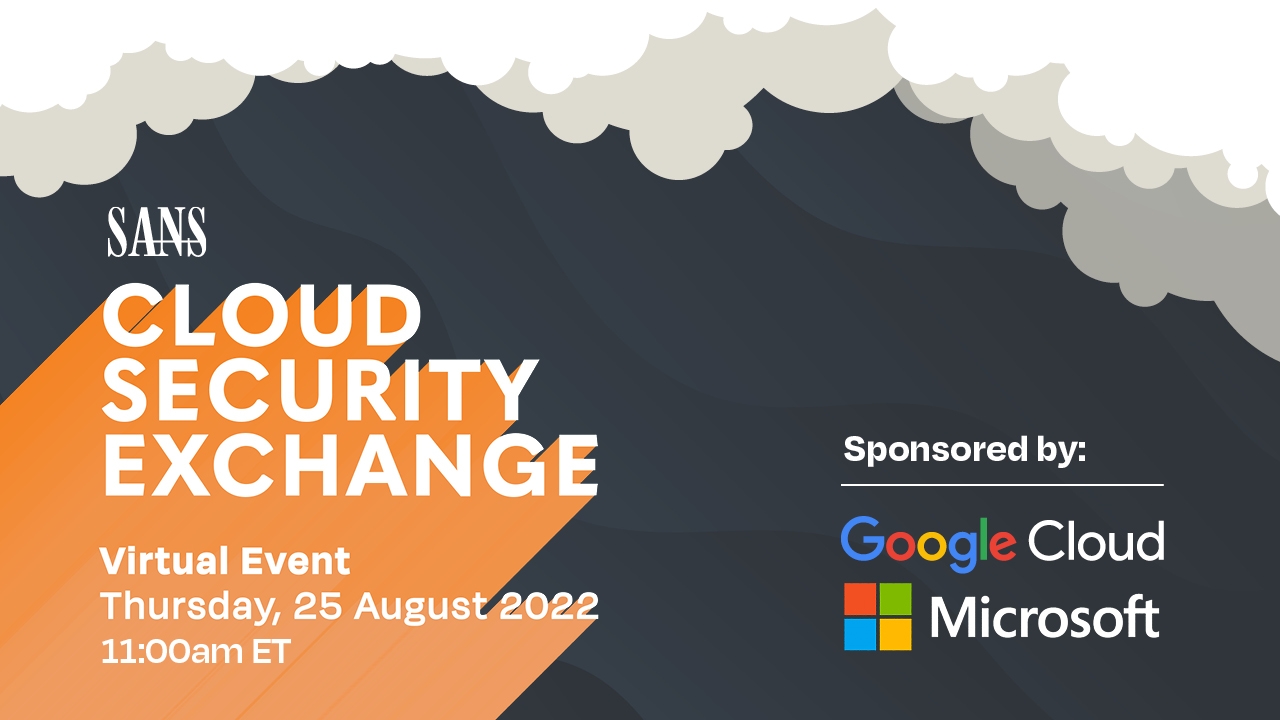 About the Author
Frank Kim is hosting the 2022 Cloud Security Exchange. He is the Founder of ThinkSec, a security consulting and CISO advisory firm, as well as a SANS Fellow and lead for both the SANS Cybersecurity Leadership and SANS Cloud Security curricula, overseeing two dozen SANS courses in the two fastest growing curricula. Previously, as CISO at the SANS Institute, Frank led the information risk function for the most trusted source of computer security training and certification in the world. Frank is also the author and instructor of MGT512: Security Leadership Essentials for Managers, MGT514: Security Strategic Planning, Policy, and Leadership, and co-author of SEC540: Cloud Security and DevSecOps Automation. Learn more about Frank here.