On August 4 & 5, thousands from around the globe tuned in for the SANS Security Awareness Summit. Industry's top practitioners and leading experts from near and far shared their latest security awareness research, solutions, tools, and case studies. It was a great opportunity for cybersecurity professionals and those new to the field.
We invited Ashton Rodenhiser of Mind's Eye Creative to create graphic recordings of our Summit presentations. If you missed a talk or are looking to view the SANS Security Awareness Summit through a visual lens, take a look at the recordings below.
In addition to graphic recordings, PDFs of Summit presentations are available on the SANS Summit Archives page (SANS account required) and videos will be posted to YouTube over the next several months.
*If you registered for the Summit, video recordings will be available on your Summit Access page in your SANS Portal shortly after the conclusion of the event.

Day 1
Keynote: Incidents, Breaches and Hacks... Oh My! It's All About the Human
Heather Mahalik, Senior Instructor, SANS Institute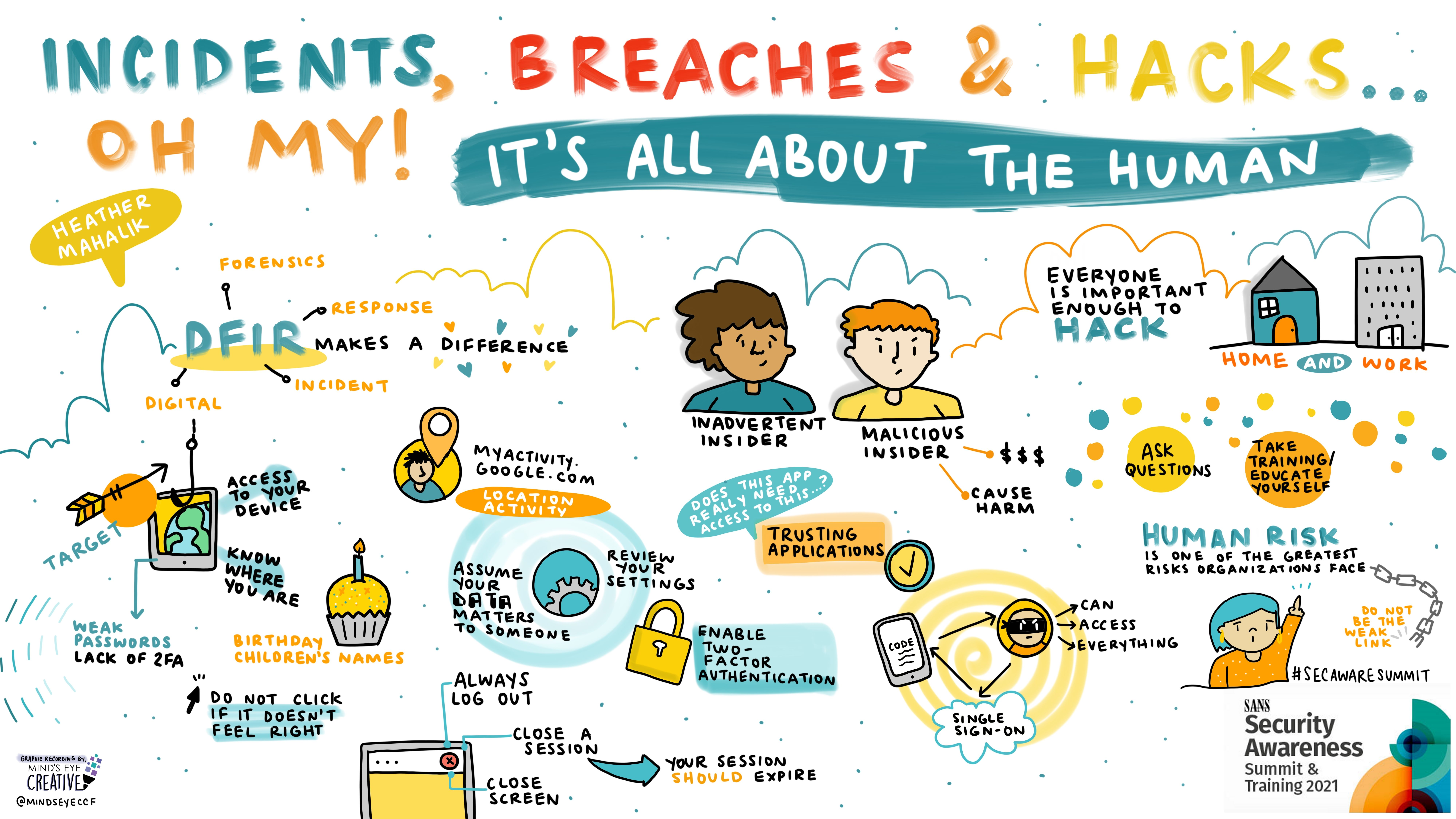 Quantifying Human Risk with the 2021 DBIR
Alex Pinto, Distinguished Engineer, Verizon Enterprise Services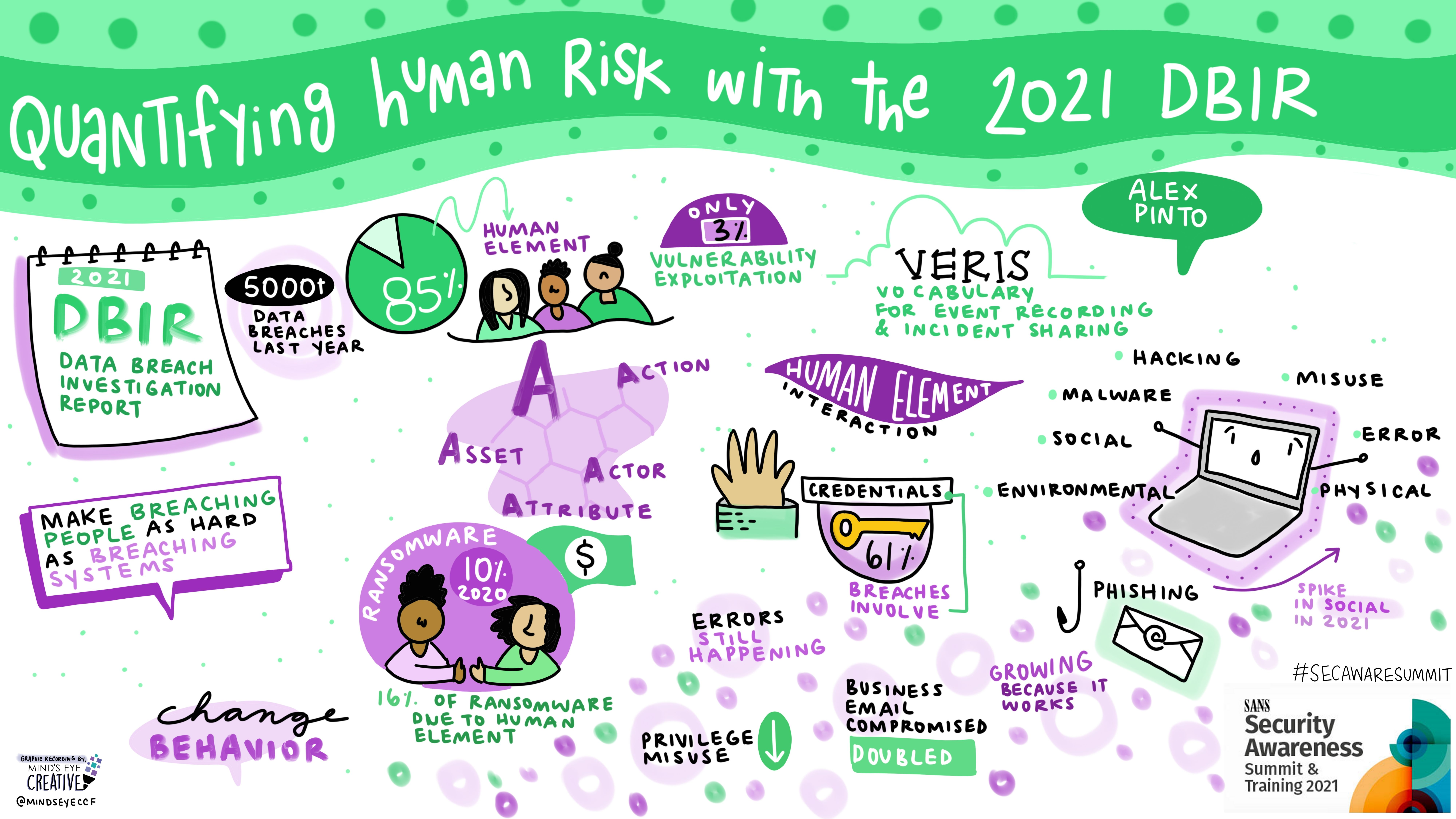 Building Partnerships Across the Company to Inform and Mature a Security Awareness Program
Abigail Beehler, Security Awareness Manager, Salesforce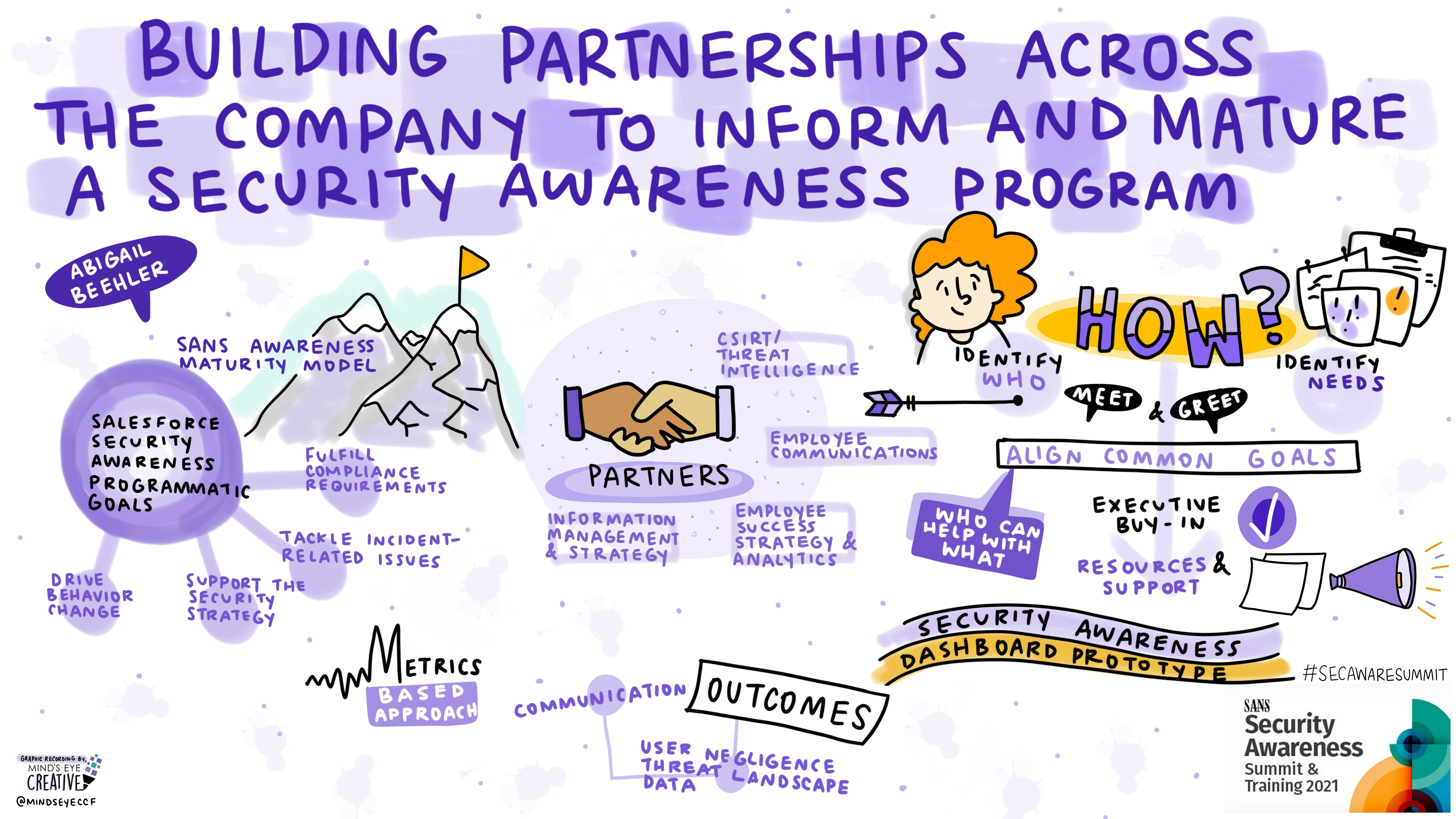 Business Email Compromise: The Silent Cyber Threat
Crane Hassold, Director of Threat Intelligence, Abnormal Security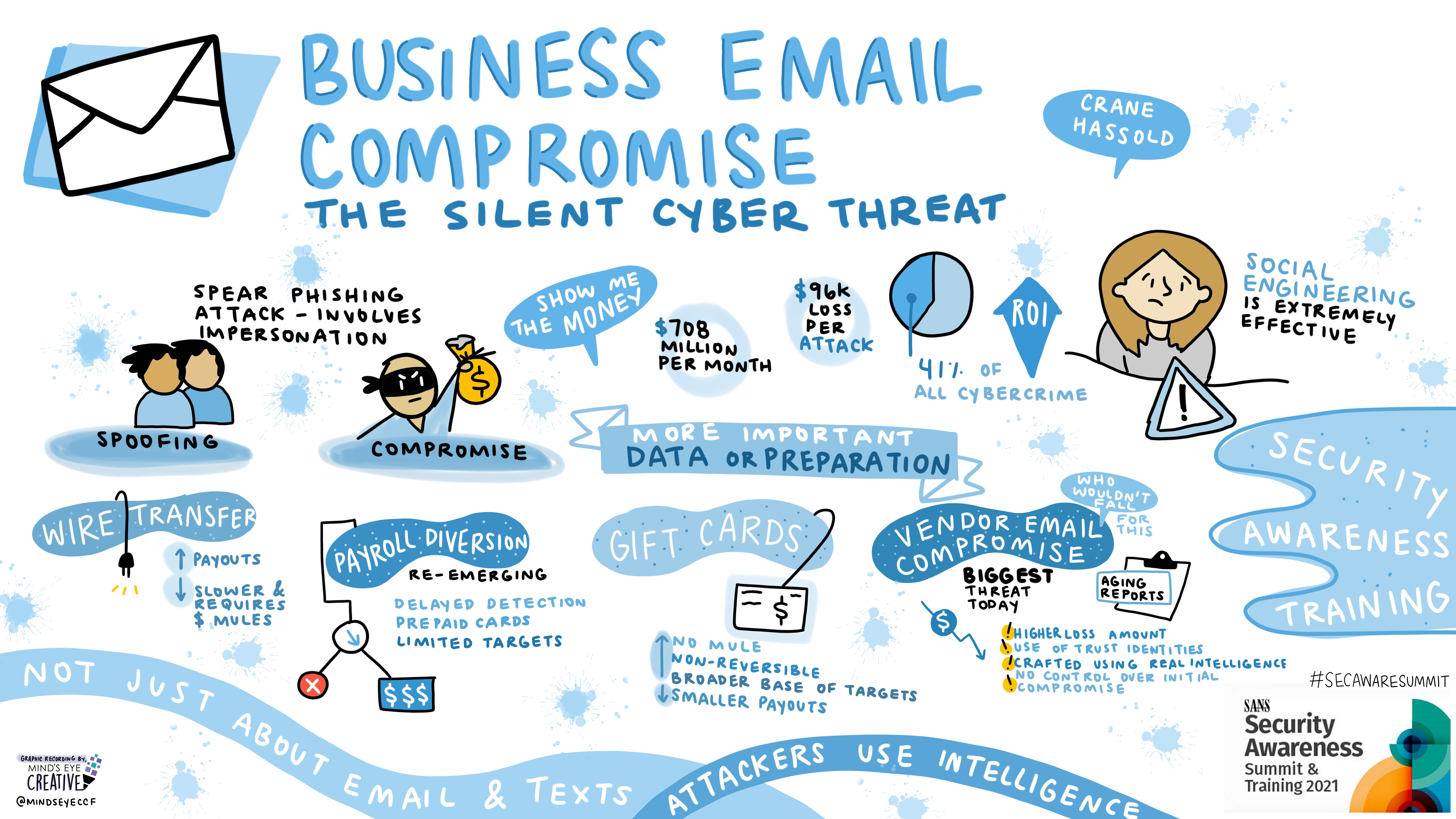 Panel: Metrics for Today's Leaders
Moderator:
David Breg, Deputy Research Director, WSJ Pro
Panelists:
Kurt John, Chief Cybersecurity Officer, Siemens USA
Masha Sedova, Co-Founder & President, Elevate Security
Oz Alashe, CEO and Founder, CybSafe
Alex Pinto, Distinguished Engineer, Verizon Enterprise Services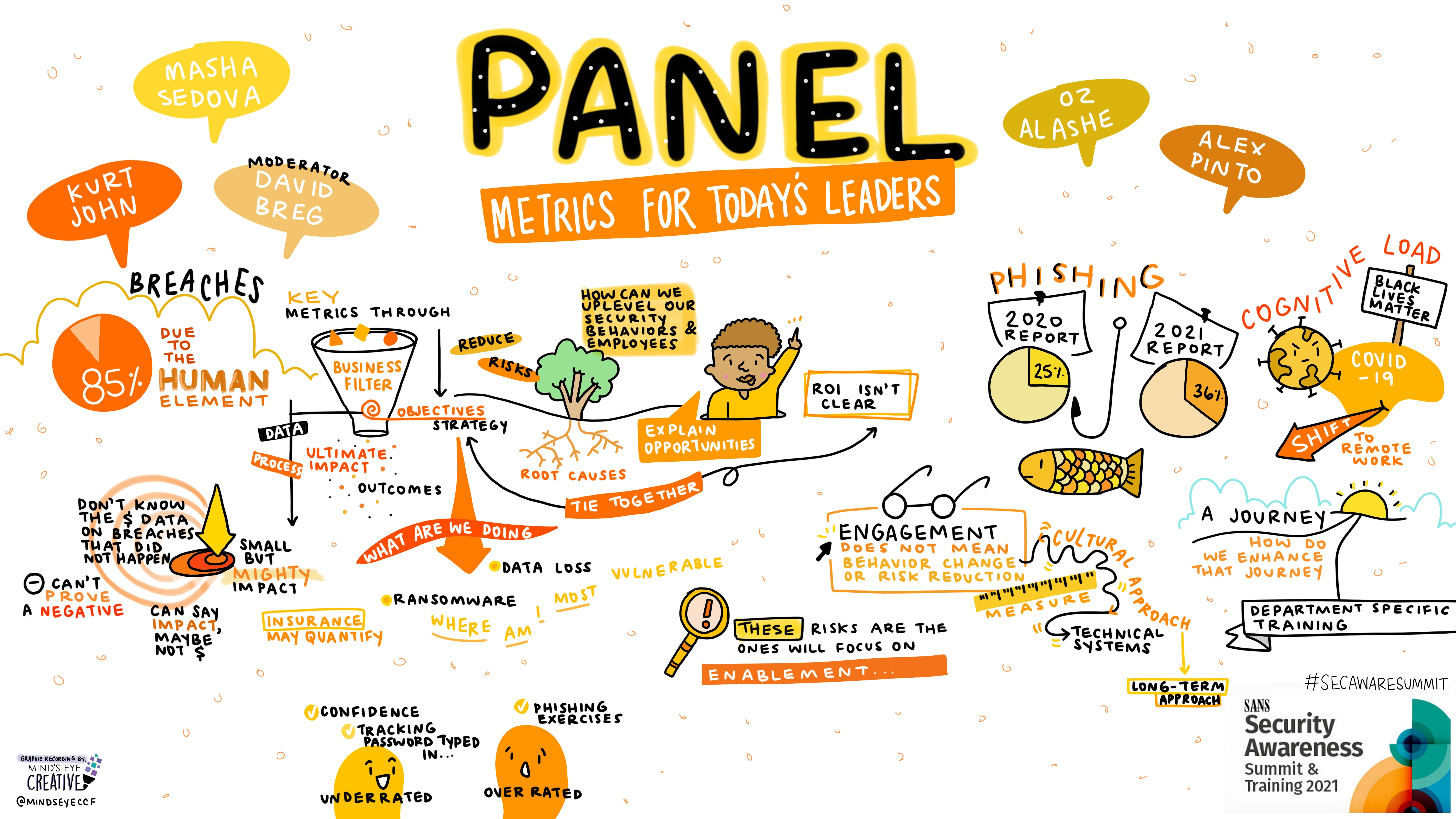 The Power of the Collective
Lisa Plaggemier, Interim Executive Director, National Cybersecurity Alliance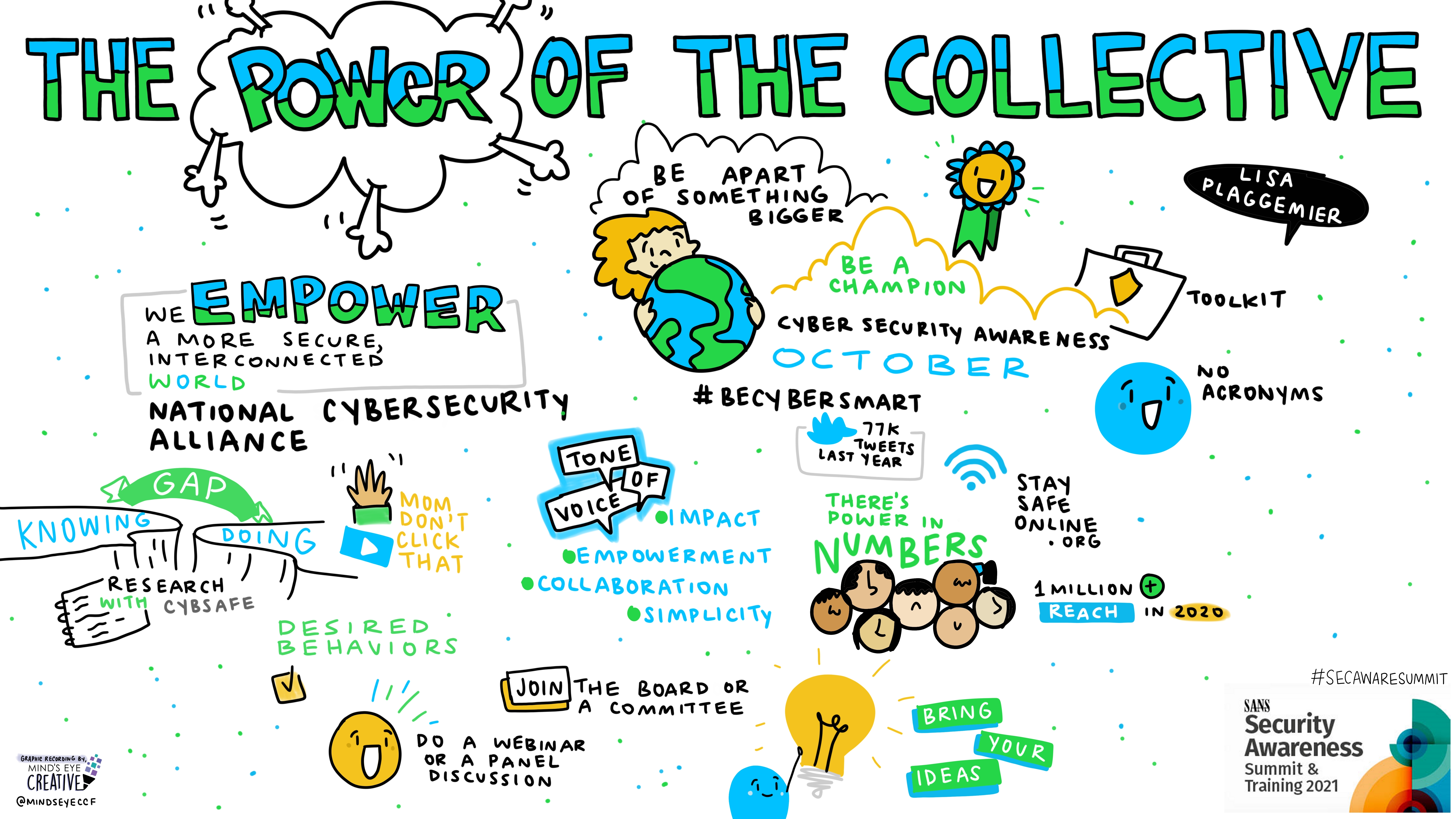 Translating Cyber: How to Shake Off the "Curse of Knowledge" and Make Your Security Message More Impactful
Kerry Tomlinson, Cybersecurity News Reporter, Ampere News
Don't Reward The Brilliant Jerk: Fix Toxic Security Culture
Jinan Budge, Principal Analyst, Forrester Research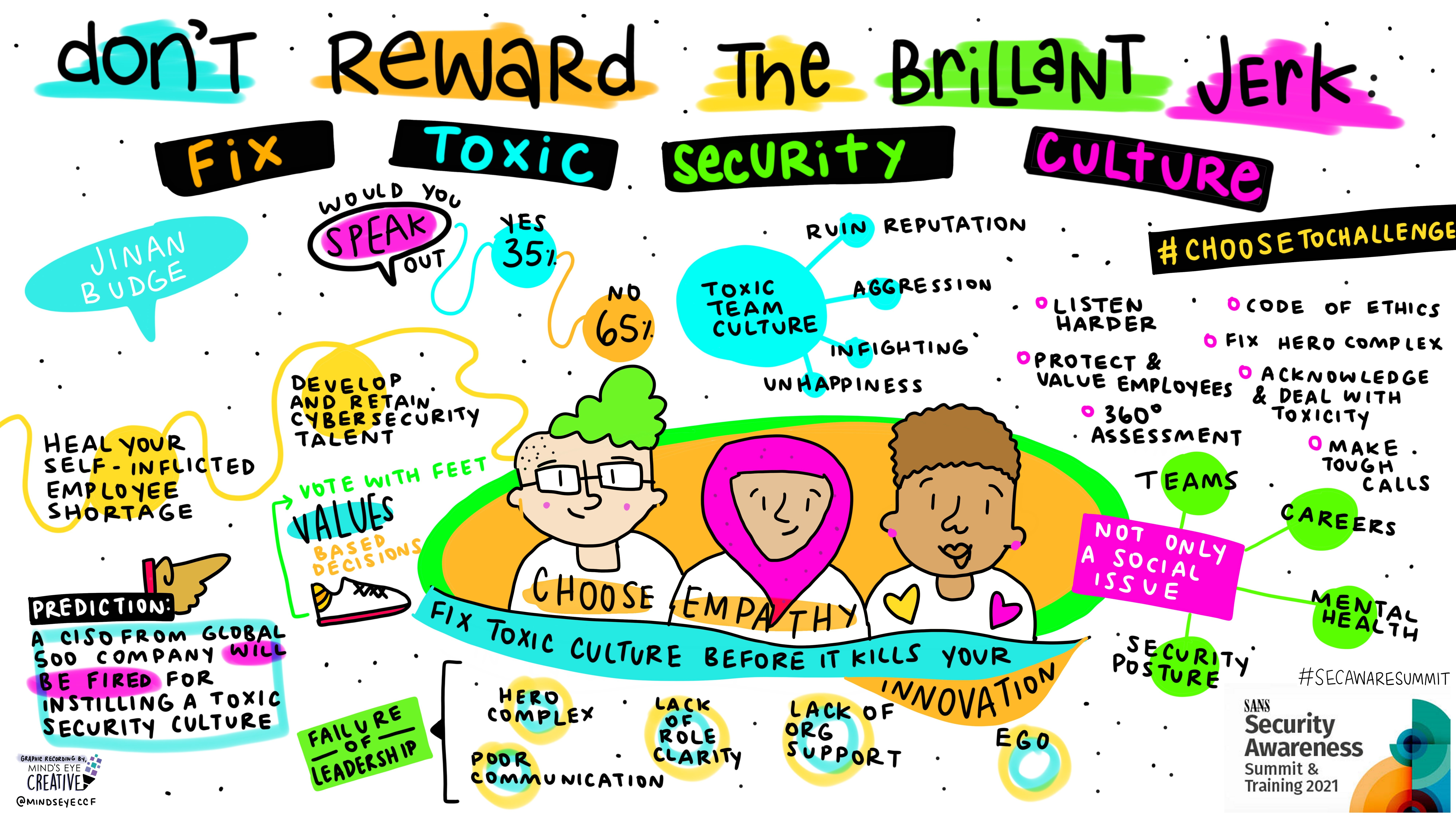 Day 2
Keynote: Designing For The Behaviors You Want
BJ Fogg, PhD., Behavior Scientist, Stanford University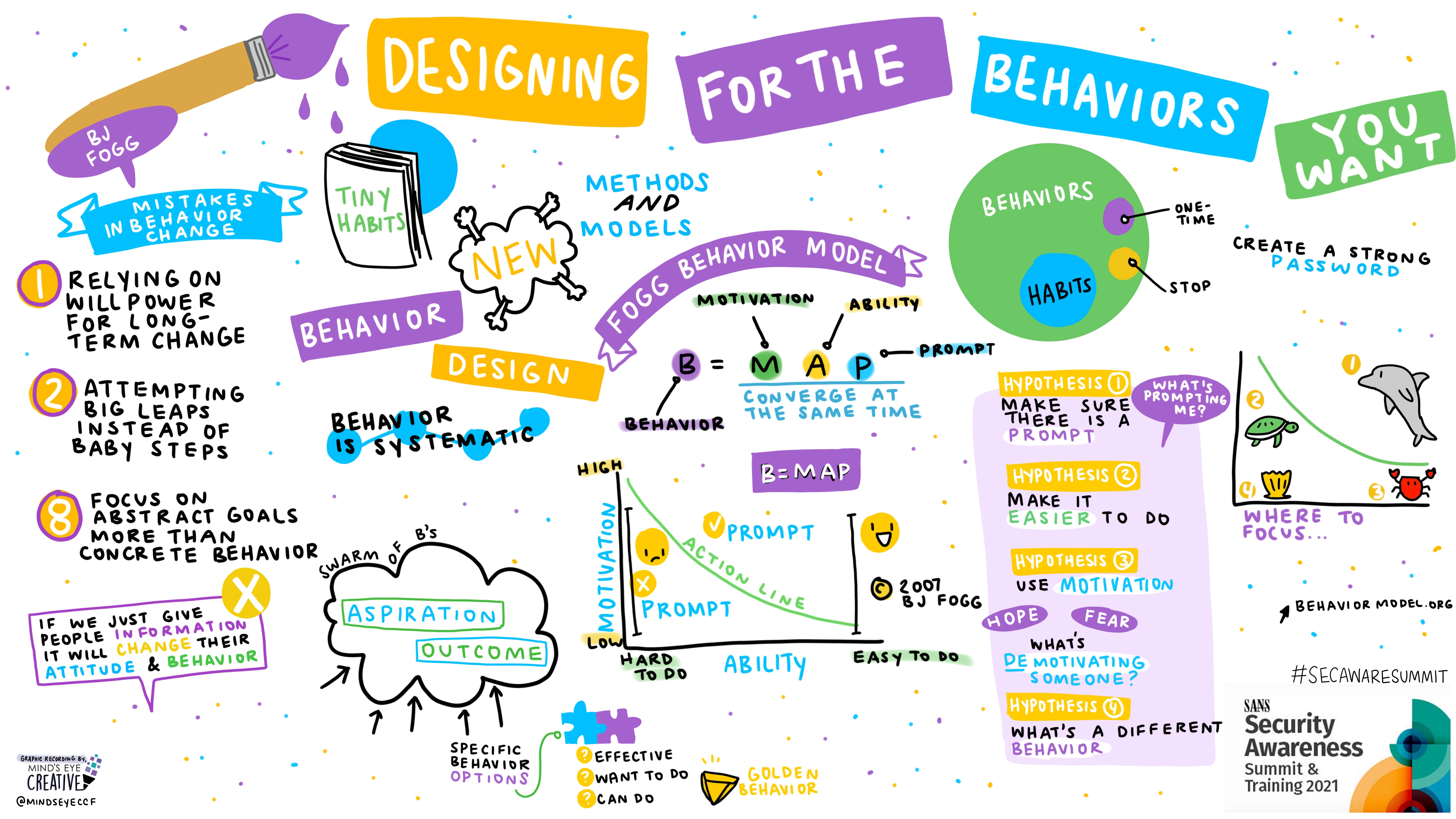 Cybersecurity is Human Security: What Does and Doesn't Work to Address Human Risk
Benjamin Edwards, Senior Data Scientist, Cyentia Institute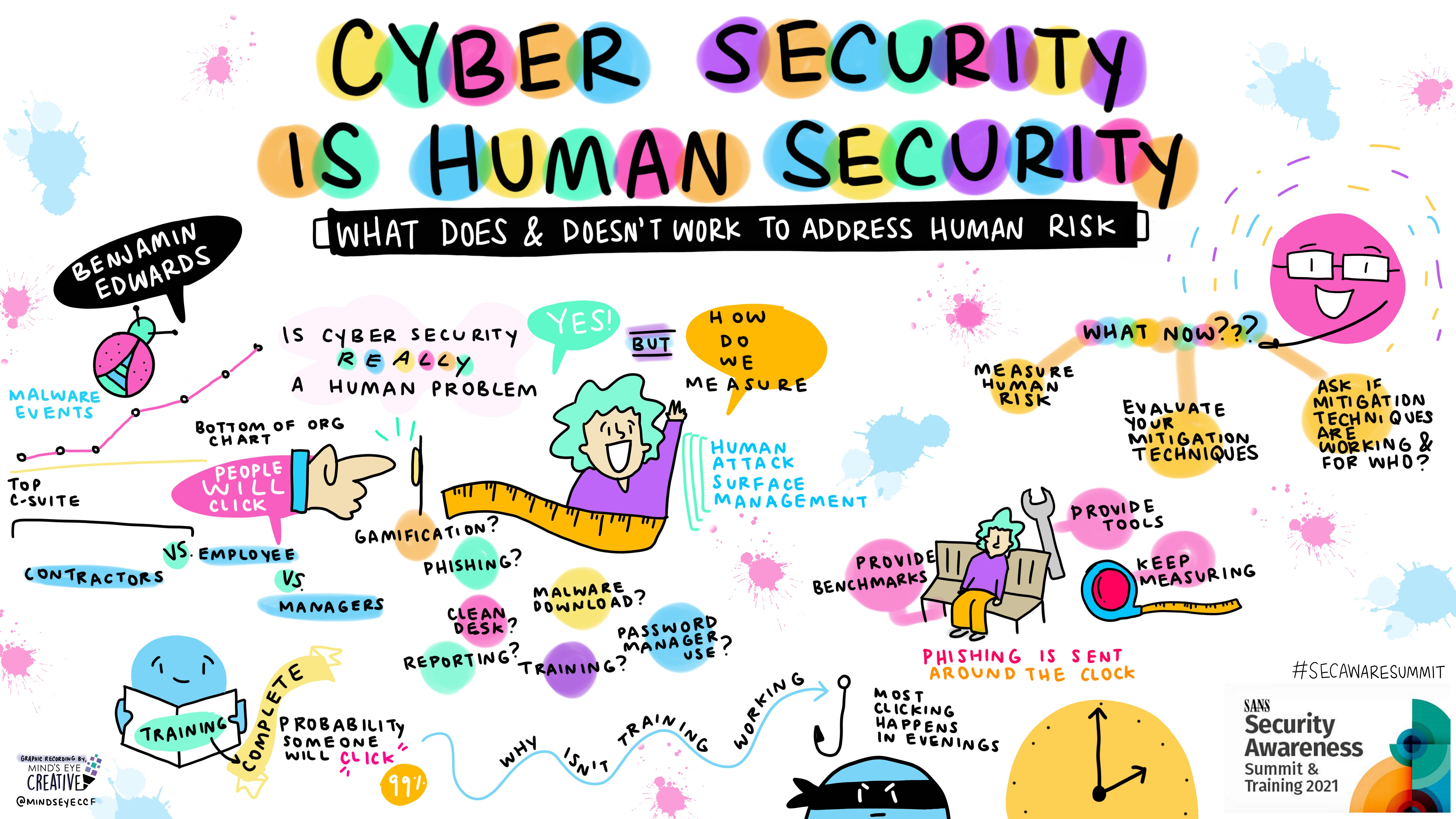 NIST, NICE and YOU – The Cybersecurity Awareness and Training Professional
Karen Wetzel, Manager, NICE Framework, NIST
Marian Merritt, Deputy Director, NIST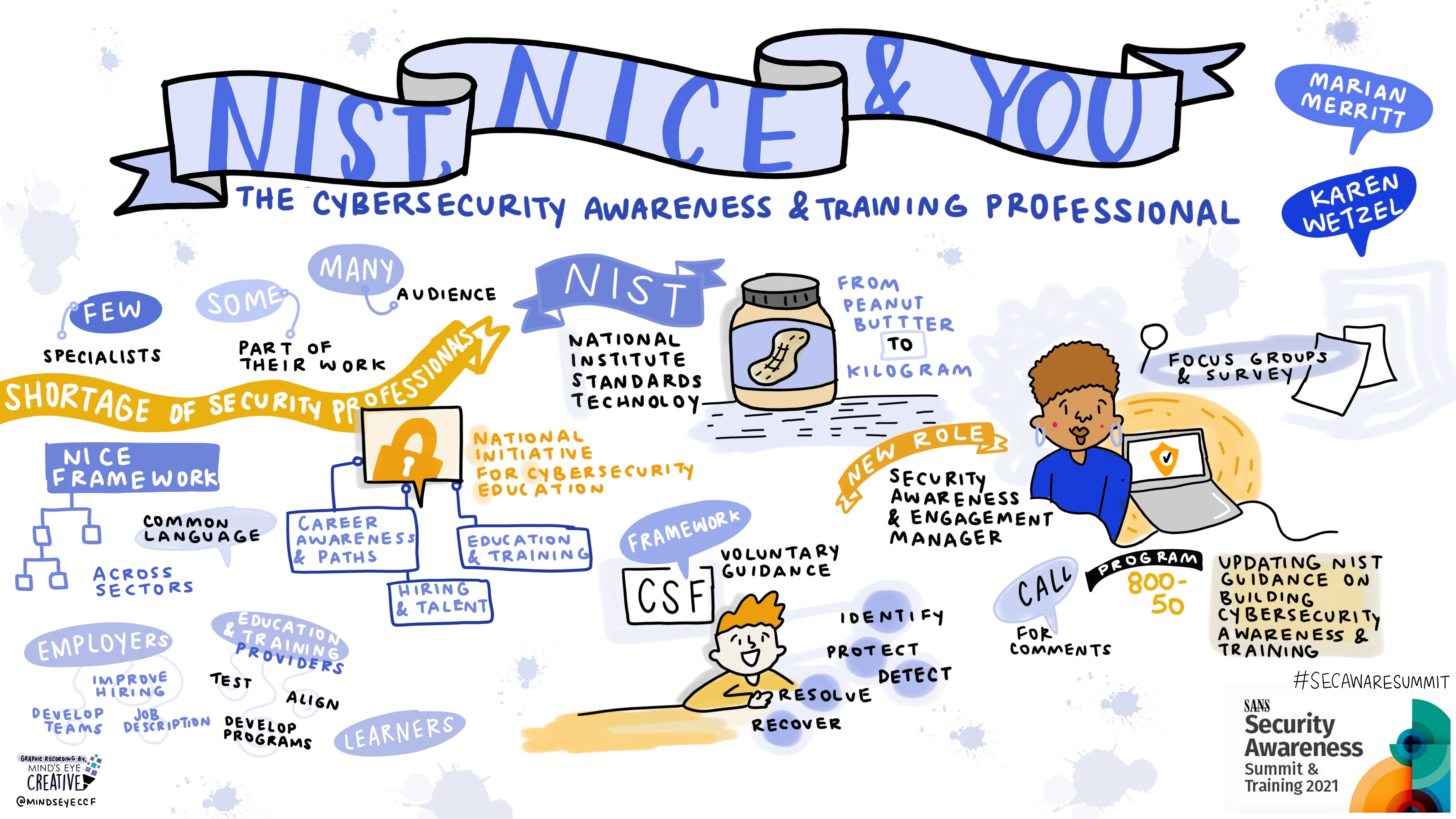 Leverage the Power of Enabling Change
Rob Oddi, Change Management, Culture & Leadership Expert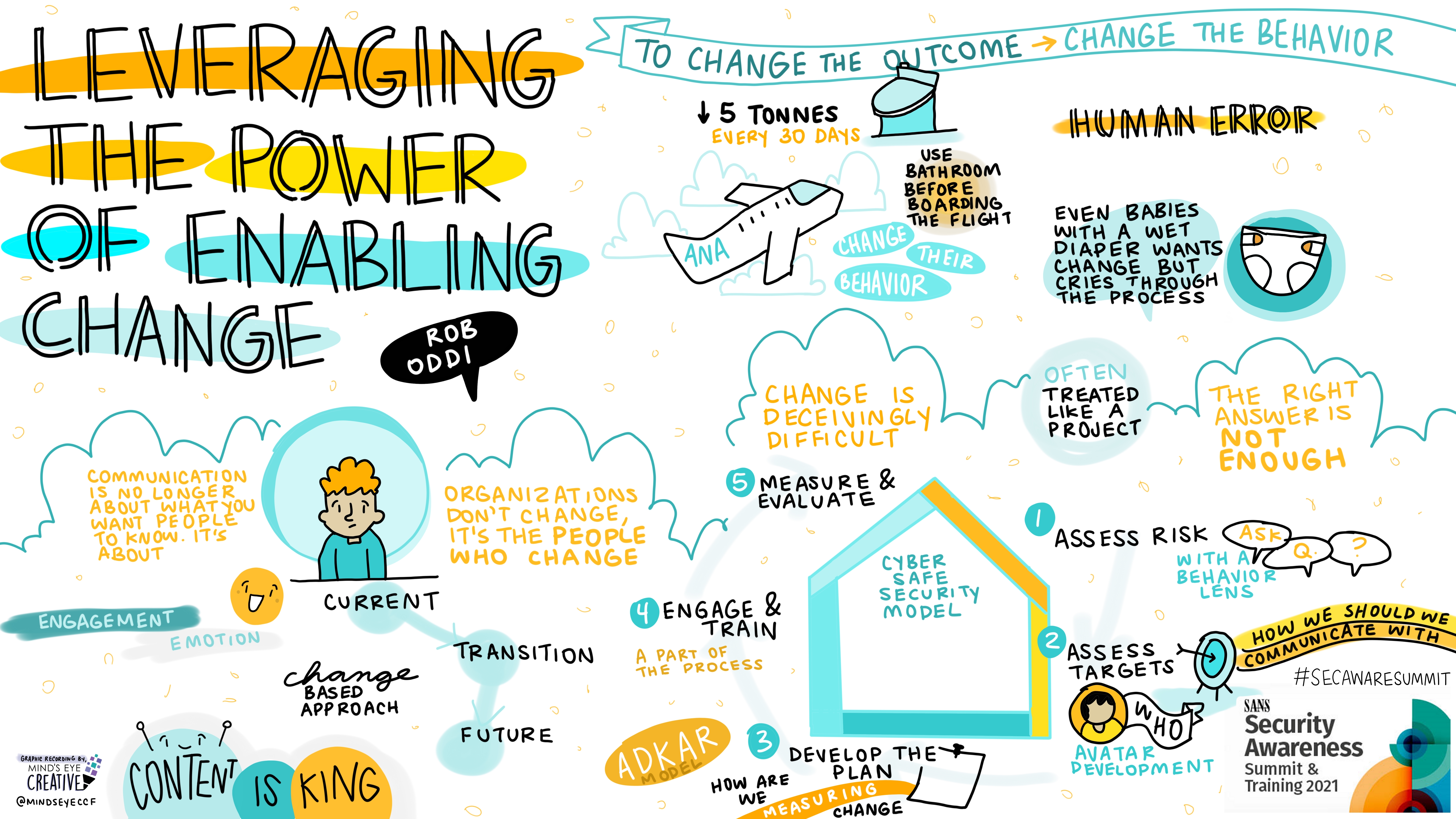 Lightning Talk 1: Carrots and Sticks: Why You Should Think Twice About Punishing Your Staff
John Blythe, Director of Research & Behavioral Science, CybSafe
Lightning Talk 2: How Aligned Are You With Your Leadership?
Janet Roberts, Global Head of Security Education & Awareness, Zurich Insurance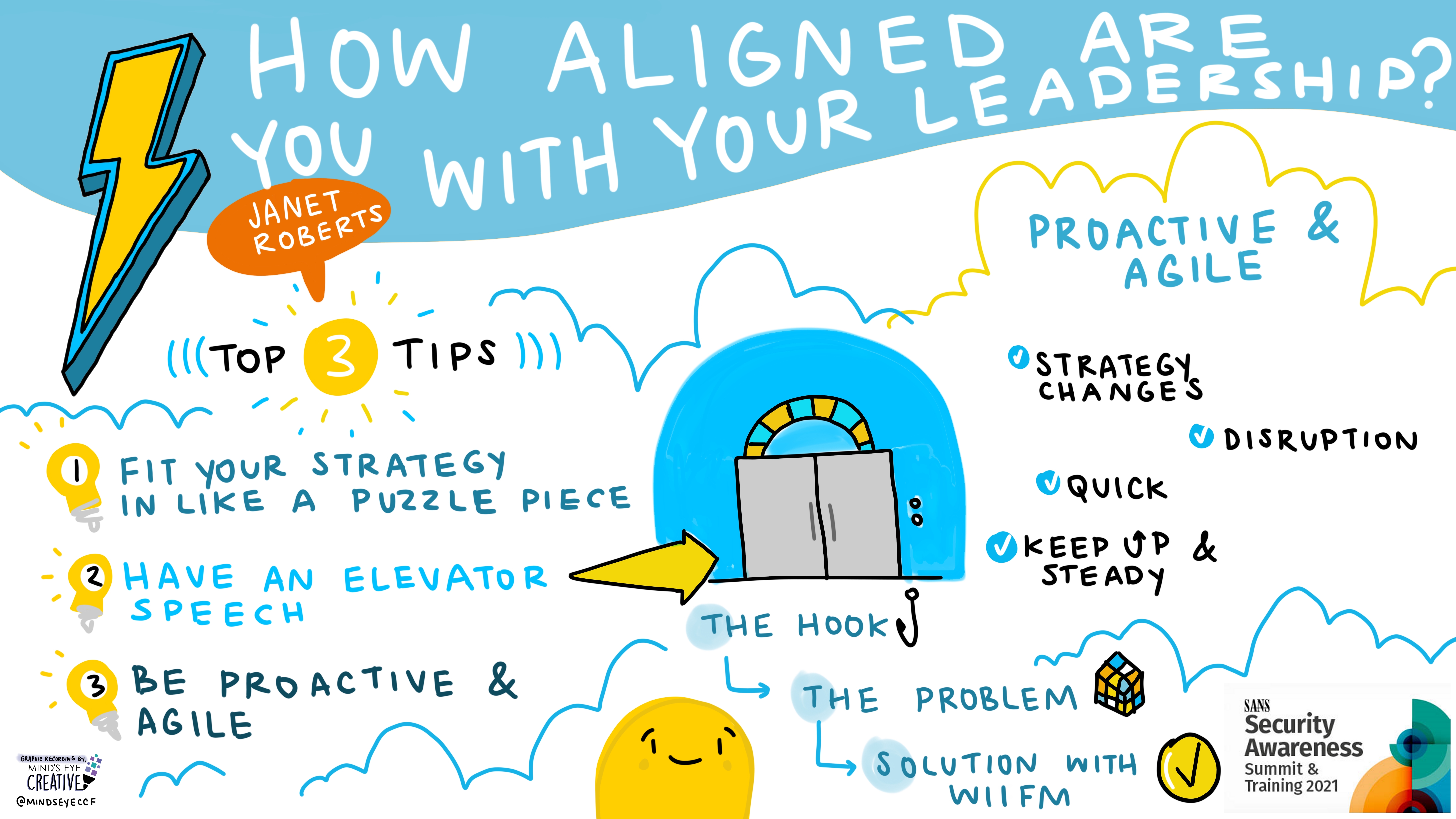 How Non-Educators Educate Effectively – The Secret Recipe to Building Impactful Training Programs
Mary Dziorny, Senior Cybersecurity Consultant, Accenture
Democratizing the Hacker Mindset – A Guide to Transitioning from Binary to Analogy
Moussa Noun, Sr. Manager Cyber Awareness & Education, Royal Bank of Canada
Virtually Training Your Workforce: How to Provide Awareness When Your Workforce is Remote
Priya Vennapusa, Governance Awareness and Training Leader, BCBSM

How to Roll Your Own Pro-Level Content on the Cheap
Perry Carpenter, Chief Evangelist and Strategy Officer, KnowBe4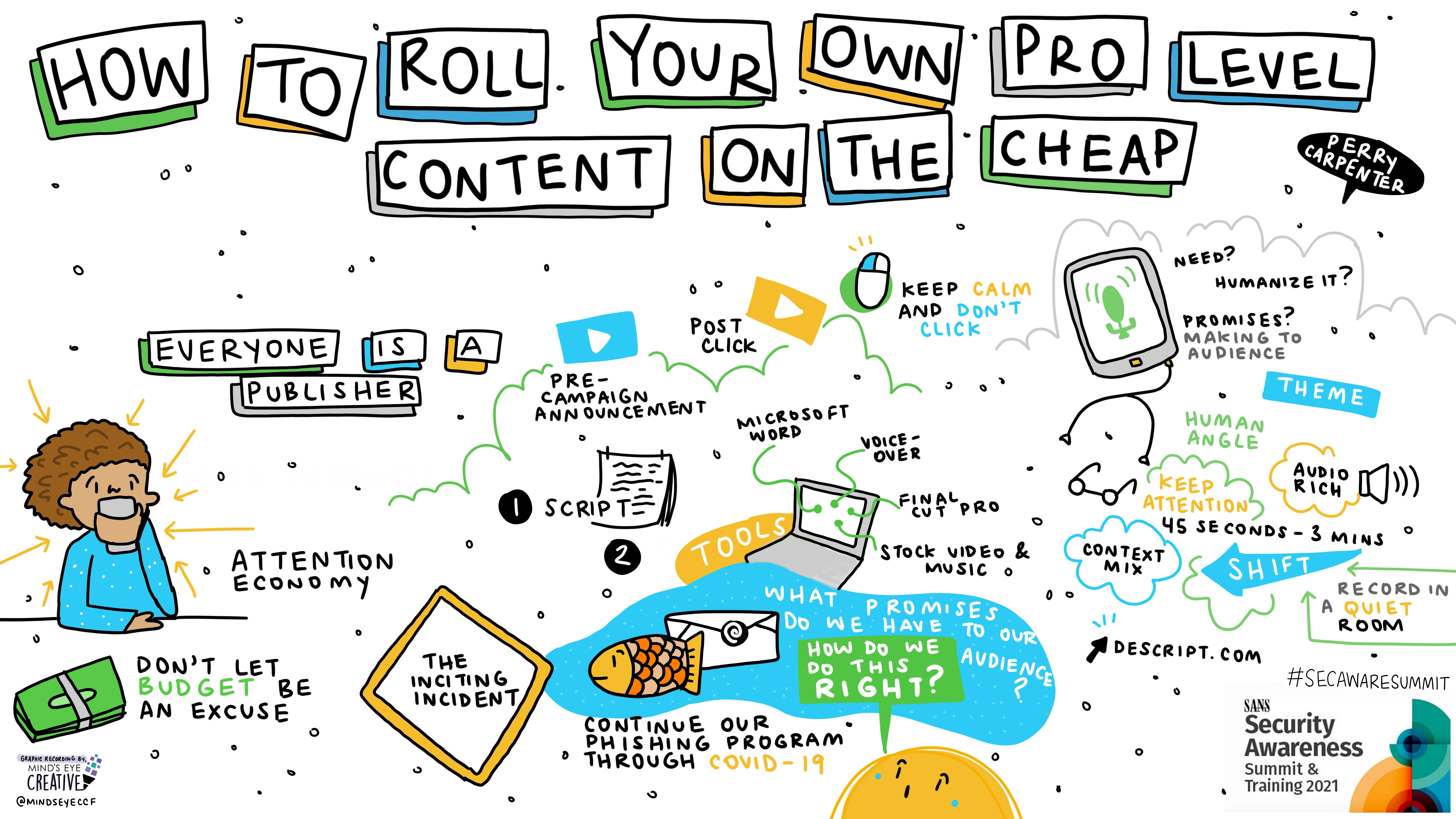 If you're interested in seeing other free virtual events SANS has lined up, visit the current listing.