On January 27-28, thousands from around the globe tuned in for the SANS CTI Summit 2022. Over two days, the CTI community came together for in-depth presentations and panel discussions focused on analytic techniques, case studies, and methods for producing actionable intelligence. It was a great opportunity for cybersecurity professionals and those new to the field.
We invited Ashton Rodenhiser and Emma Richard of Mind's Eye Creative to create graphic recordings of our Summit presentations. If you missed a talk or are looking to view the SANS DFIR Summit through a visual lens, take a look at the recordings below.
In addition to graphic recordings, PDFs of Summit presentations are available on the SANS Summit Archives page (SANS account required) and videos will be posted to YouTube over the next several months.
*If you registered for the Summit, video recordings are available on your Summit Access page in your SANS Portal.
Keynote: Journey to the Center of CTI: Story, Systems, and Self
Rebekah Brown, Summit Co-Chair, SANS Institute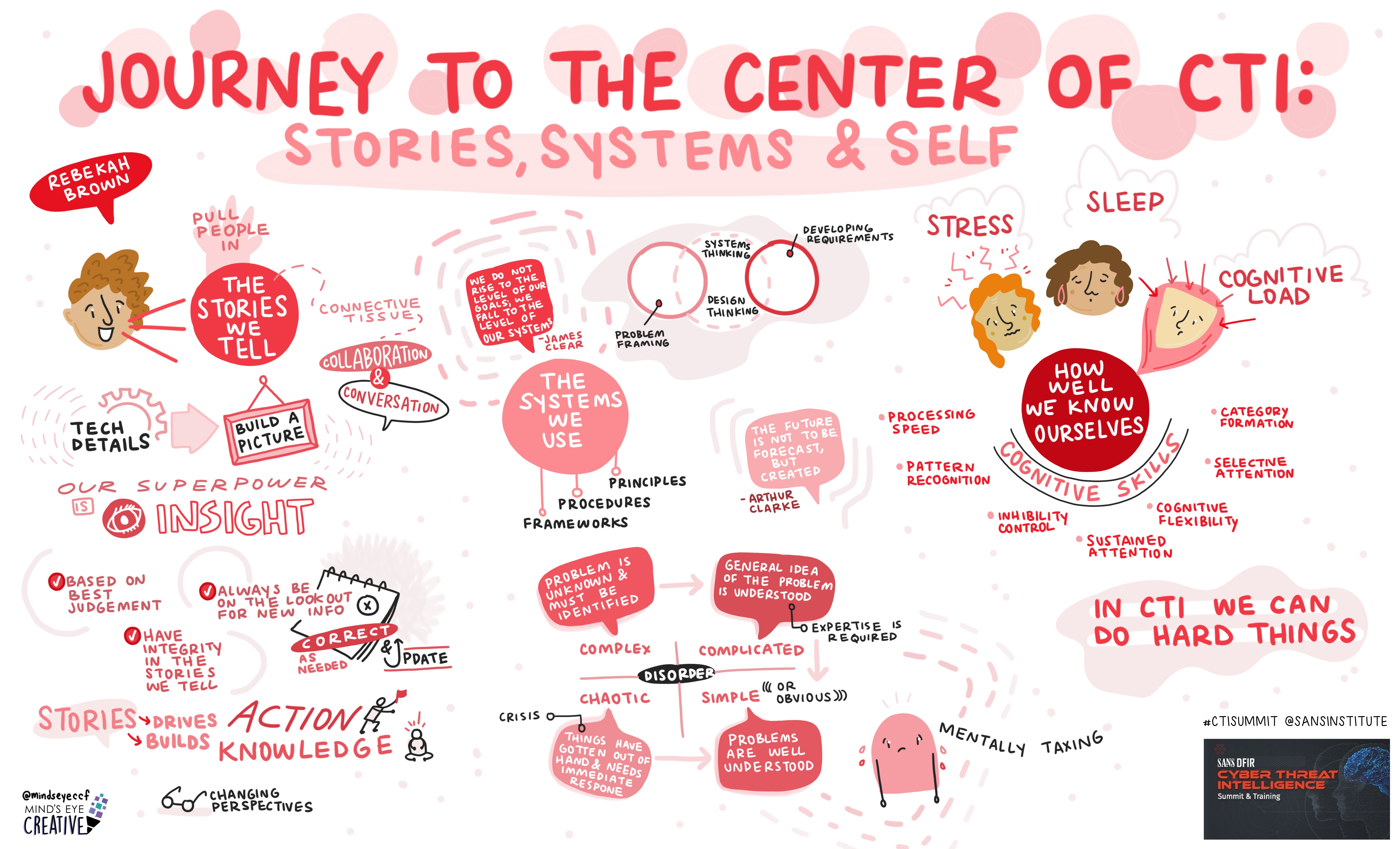 Applied Forecasting: Using Forecasting Techniques to Anticipate Cyber Threats
Gert-Jan Bruggink, Founder, Managing Director & Cyber Threat Cartographer, Venation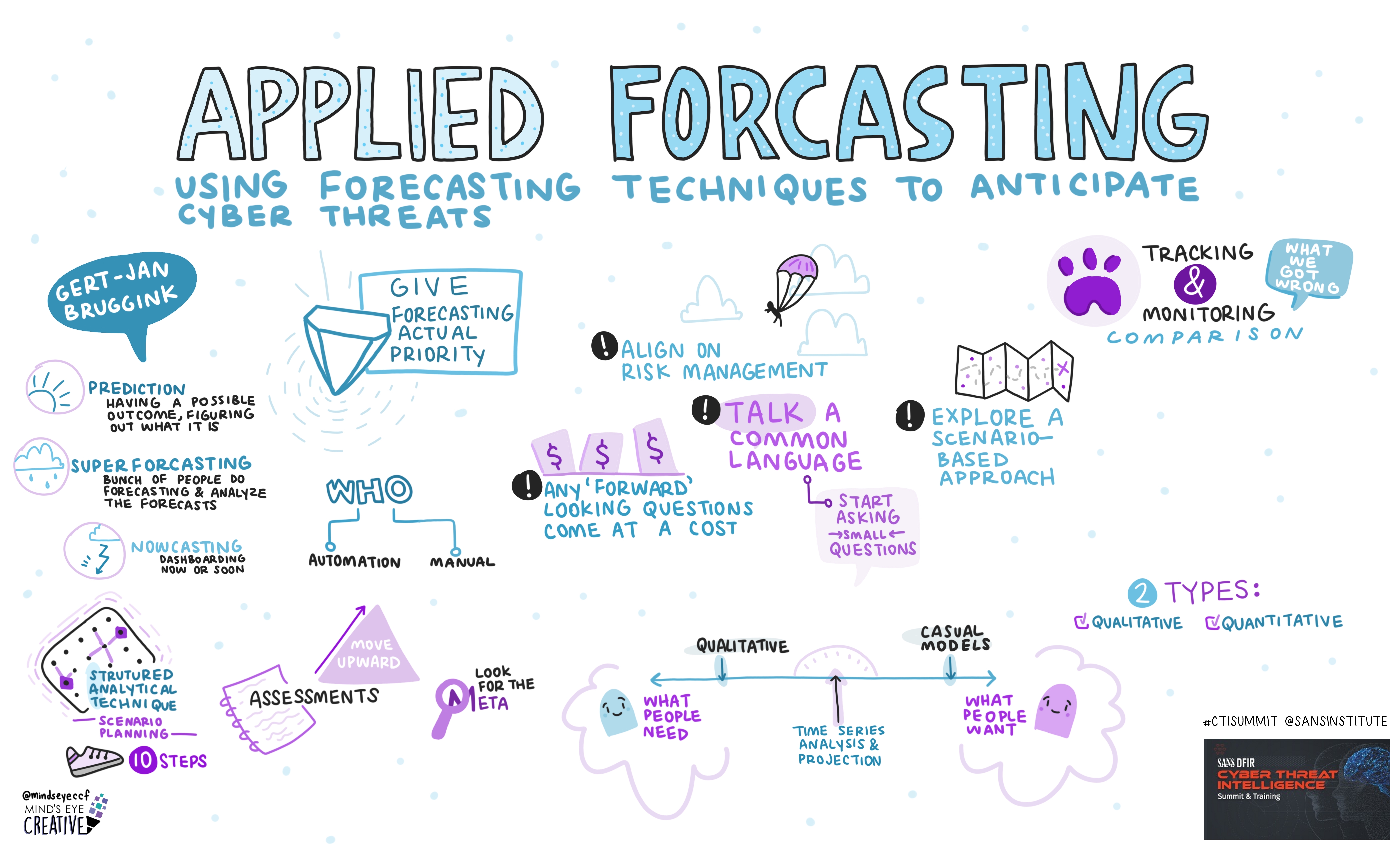 DeadRinger: Three APTs Walk into a Bar... 
Assaf Dahan, Head of Nocturnus Threat Research, Cybereason
Tom Fakterman, Threat Researcher, Cybereason 
Daniel Frank, Senior Malware Researcher, Cybereason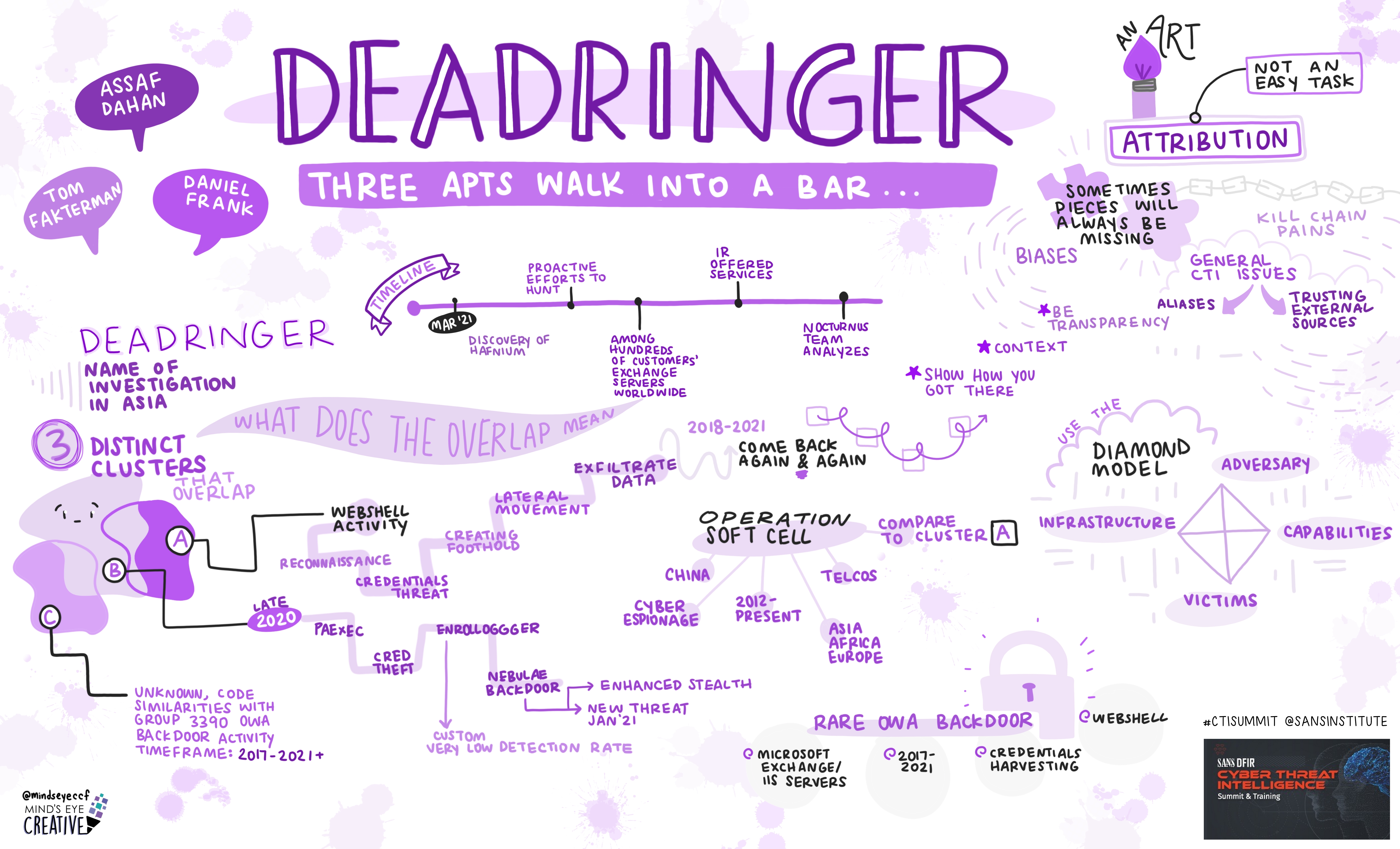 Threat Actor of in-Tur-est: Unveiling Balkan Targeting 
Jack Simpson, Senior Analyst, PwC UK 
Louise Taggart, Lead Specialist – Threat Intelligence, PwC UK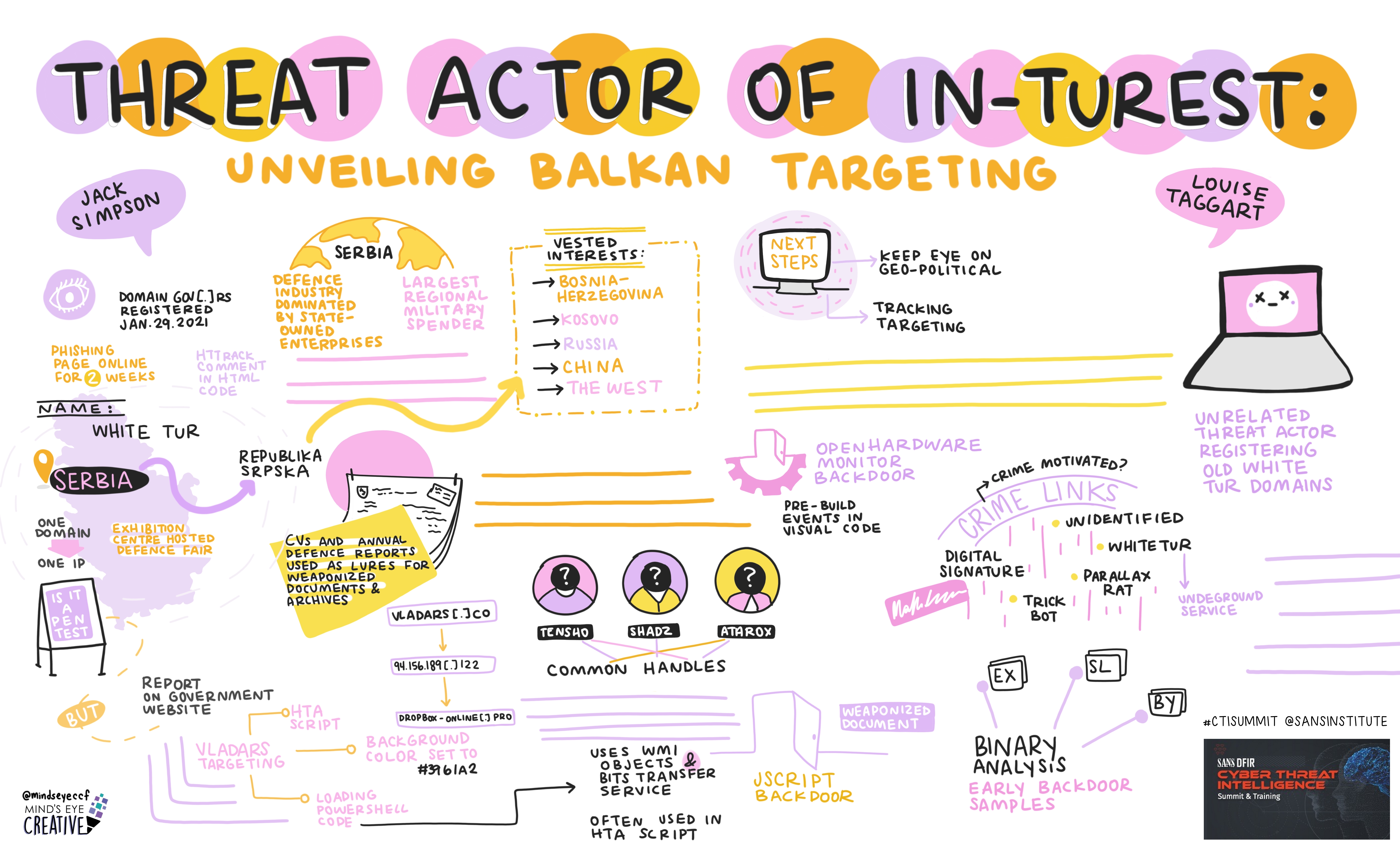 You Get What You Ask For: Building Intelligent Teams for CTI Success

Melanie Kruger, SVP – Talent, Red Canary
Katie Nickels, Certified Instructor, SANS Institute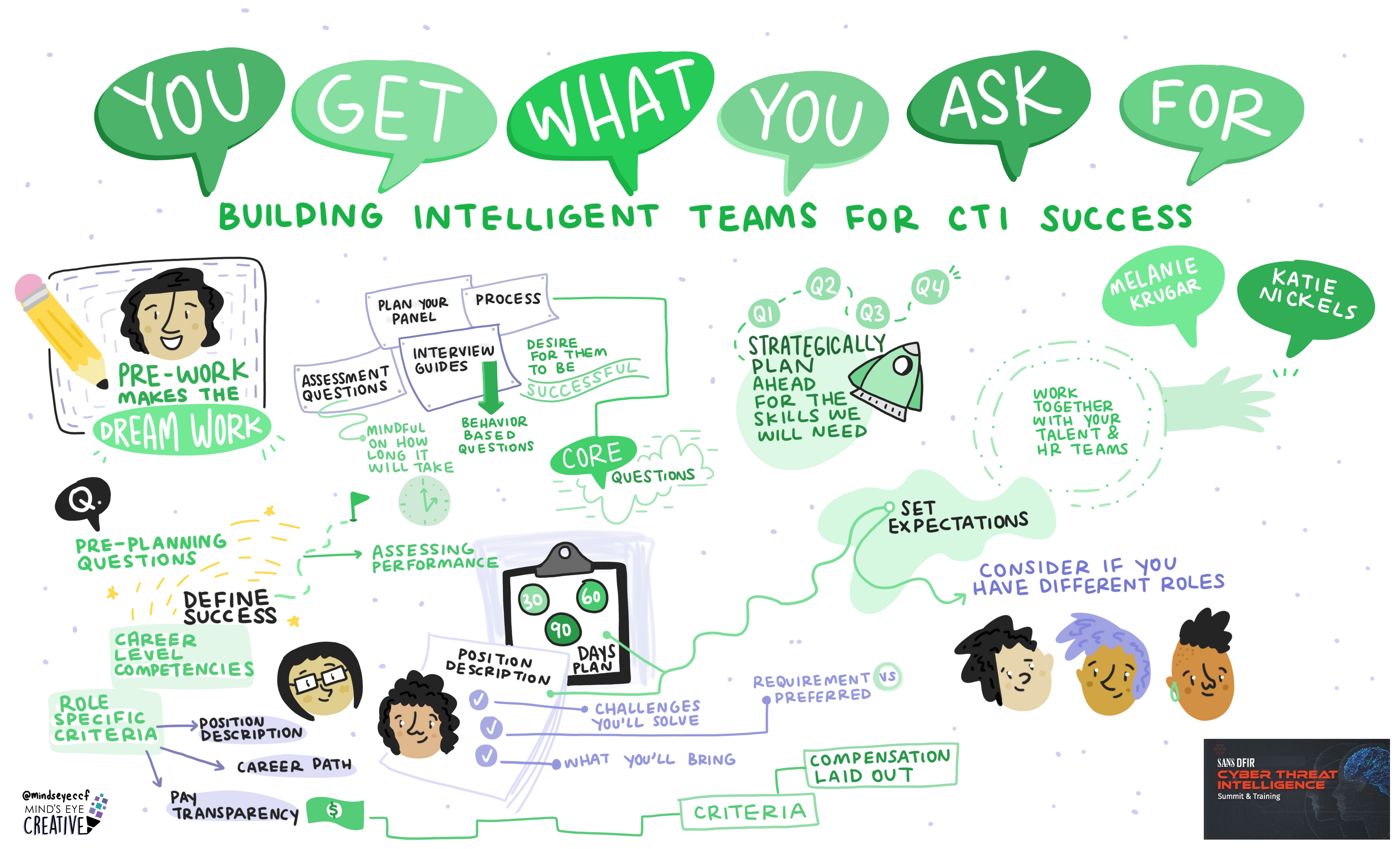 Mark Your Calendars: Why Dates Matter to Adversaries 
Nate Beach-Westmoreland, Head of Strategic Cyber Threat Intelligence, Booz Allen Hamilton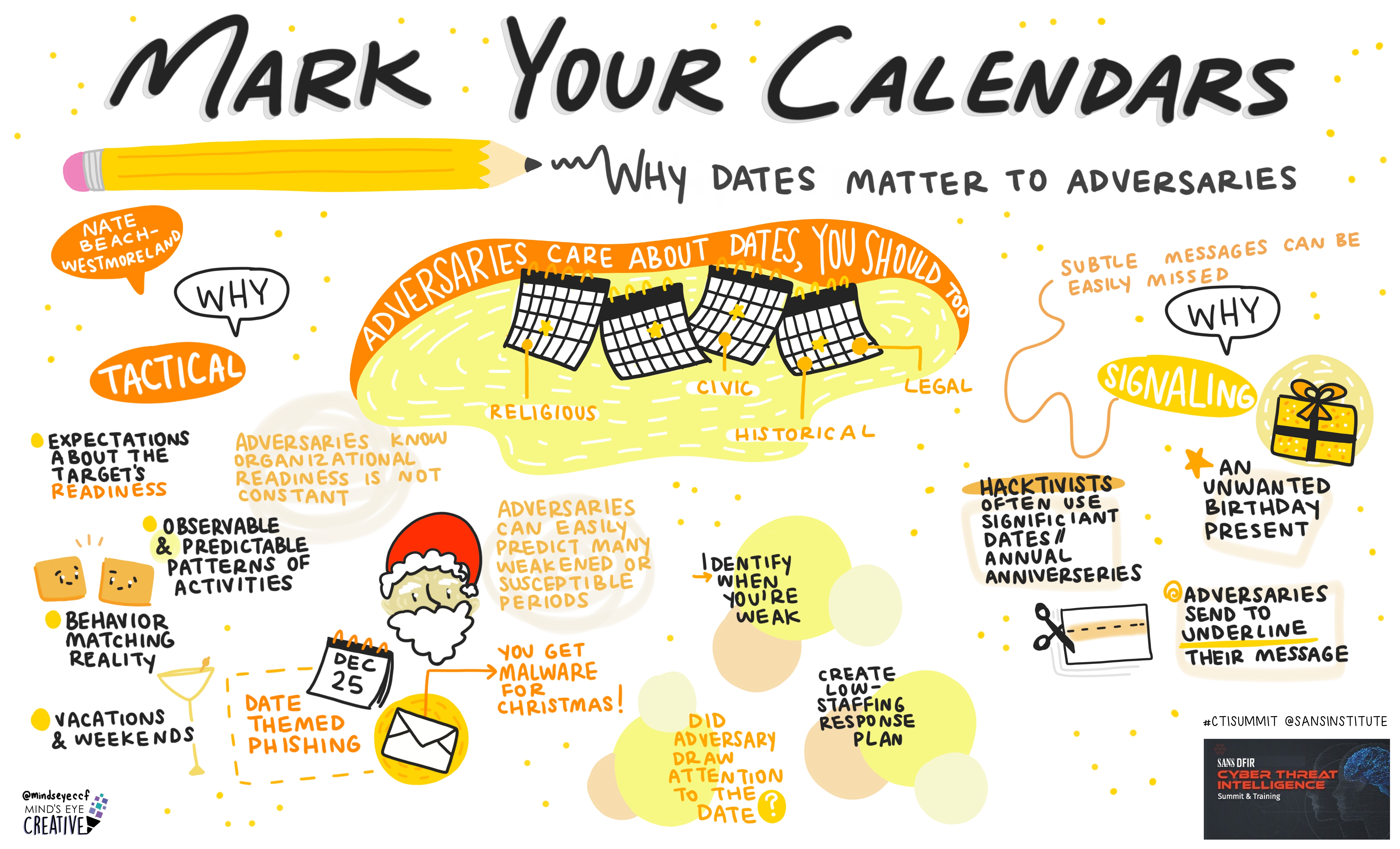 I Award You No Points, and May God Have Mercy Upon Your Soul: Feedback in CTI
Garrett Guinivan, Cyber Threat Analyst, People Centric Security Program, Proofpoint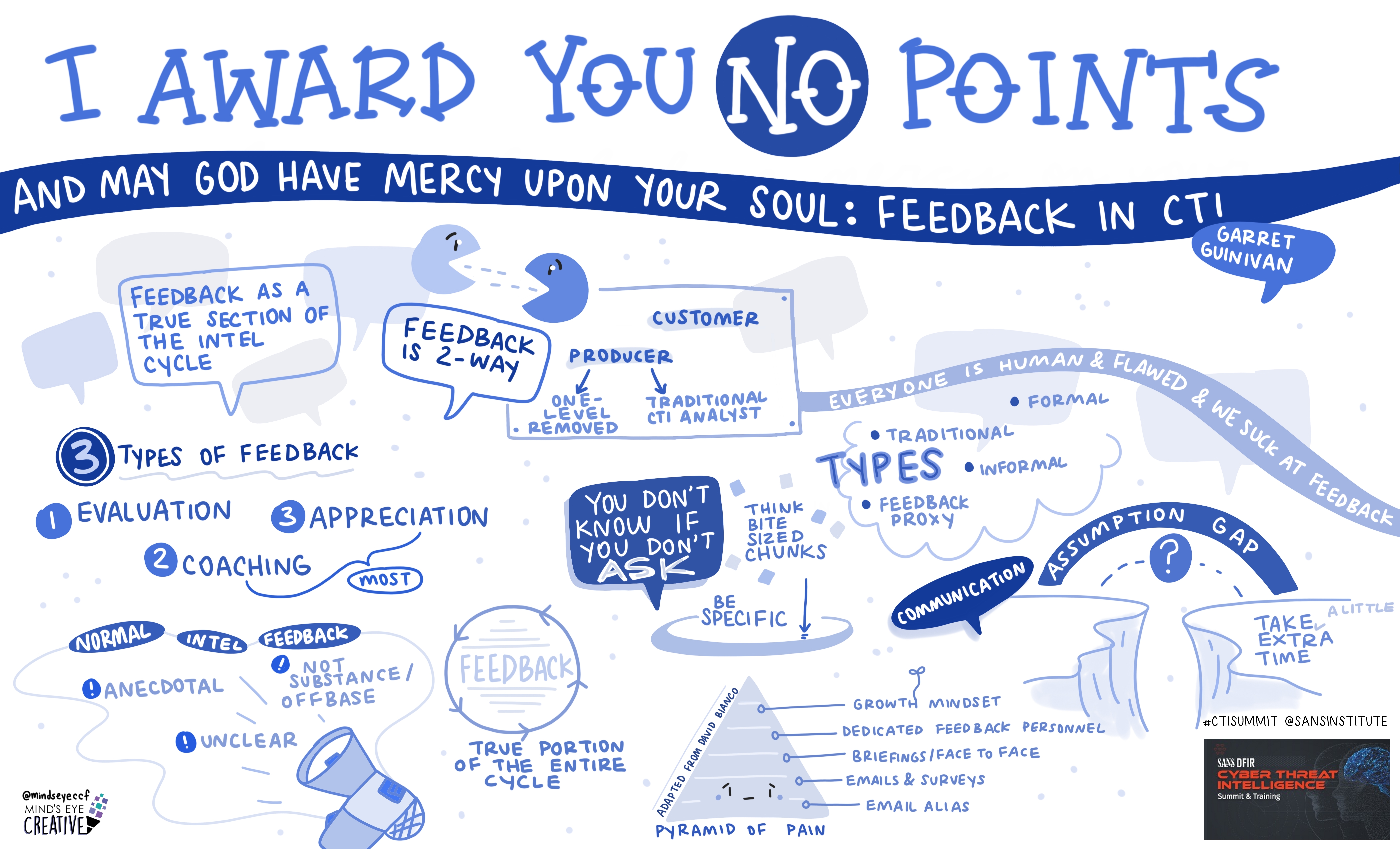 Inside the Persistent Mind of a Chinese Nation-State Actor
Lina Lau, Principal Incident Response Consultant – APJ South, Secureworks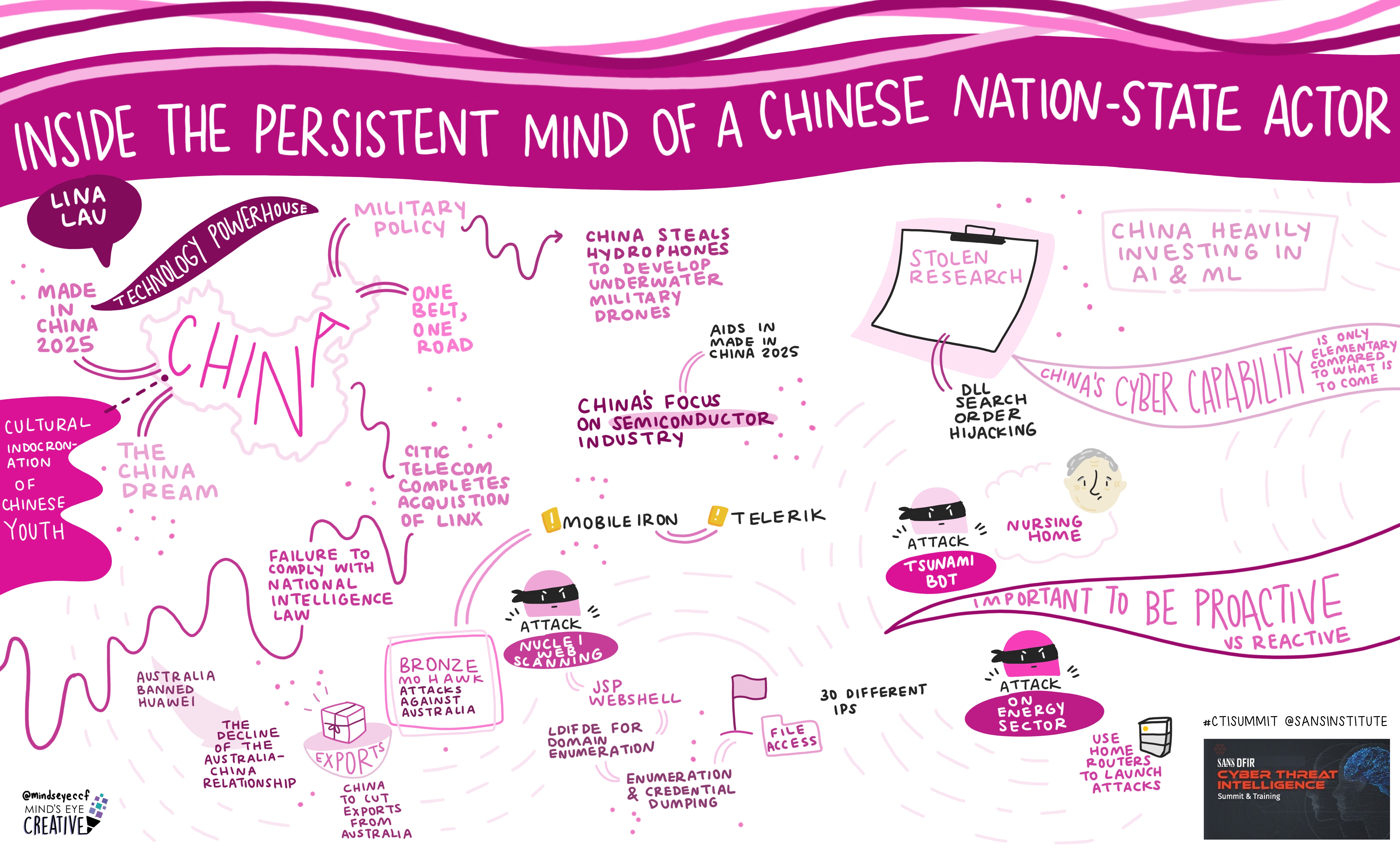 Clip Addiction: A Threat Intelligence Approach to Video-Based Chinese InfoOps
Che Chang, Cyber Threat Analyst, TeamT5 Cyber Threat Intelligence Team
Silvia Yeh, Cyber Threat Analyst, TeamT5 Cyber Threat Intelligence Team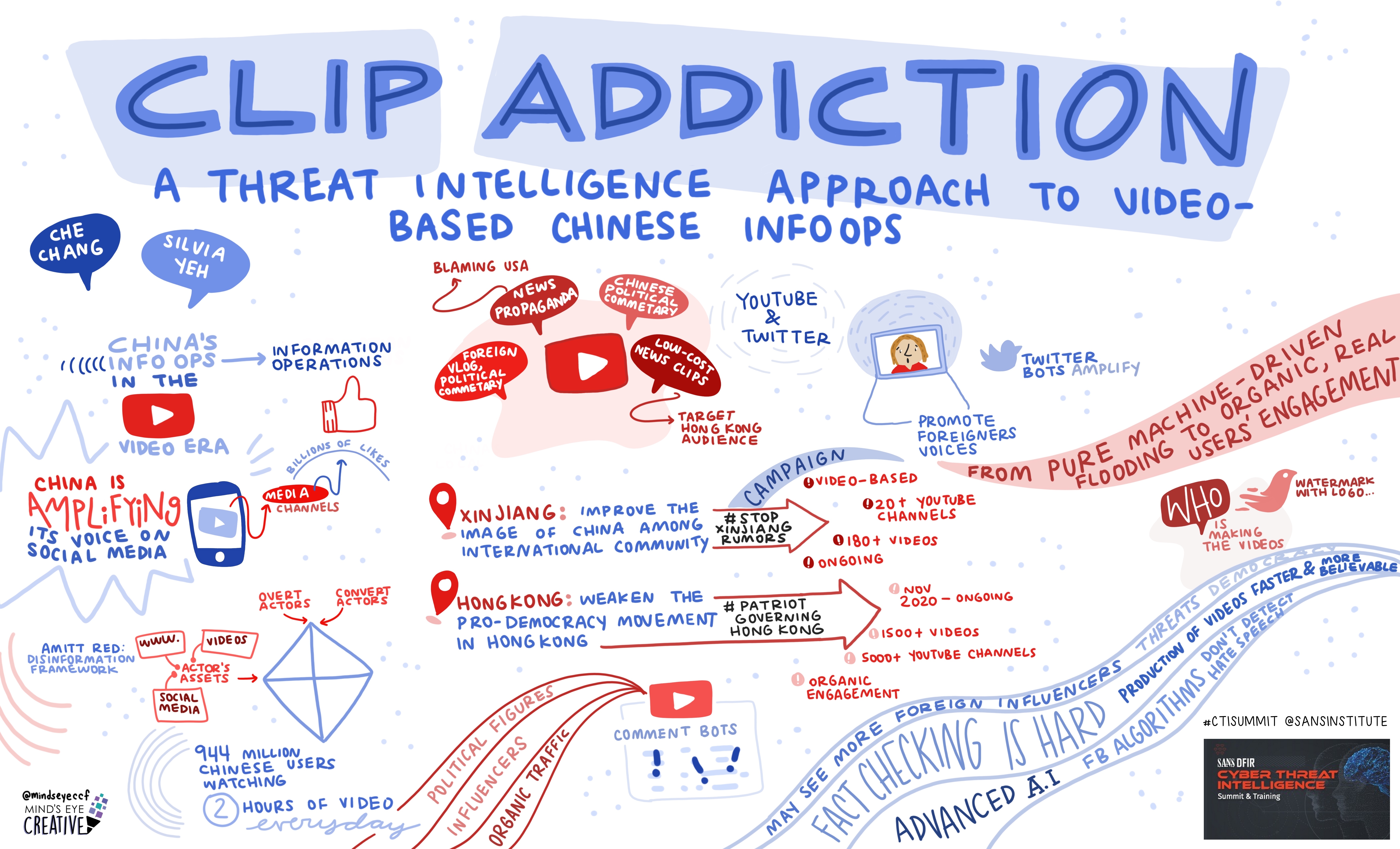 Keynote: Use Your Voice: Why Diversity and Inclusion Matter for Cyber Threat Intelligence
Lillian Teng, Director – Threat Investigations, Yahoo!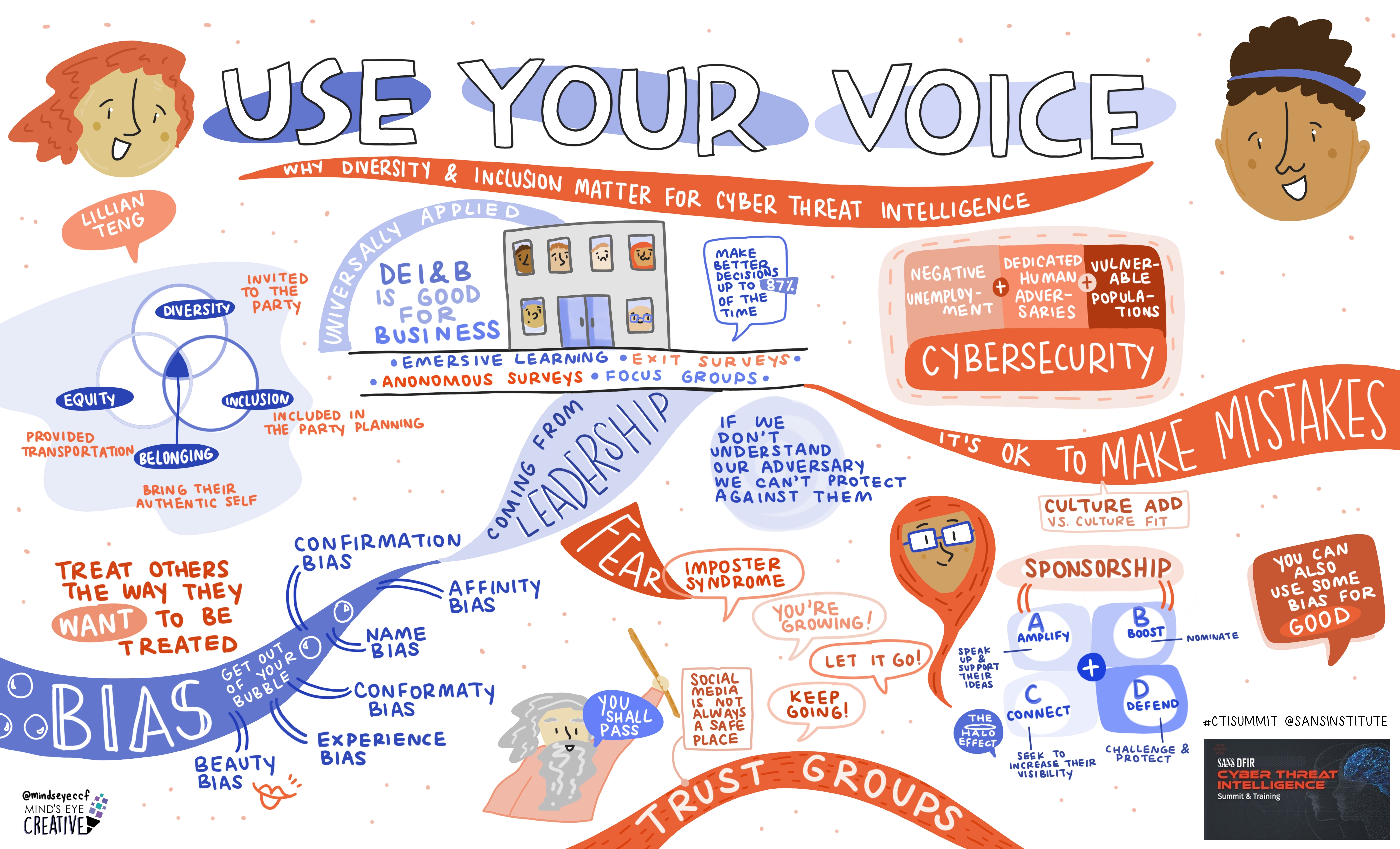 Building Strategic Return on Investment Through Cyber Intelligence
Bethany May, Cyber Intelligence Manager, Cargill, Inc.
Oralia Rodriguez, Strategic Cyber Intelligence Analyst, Cargill, Inc.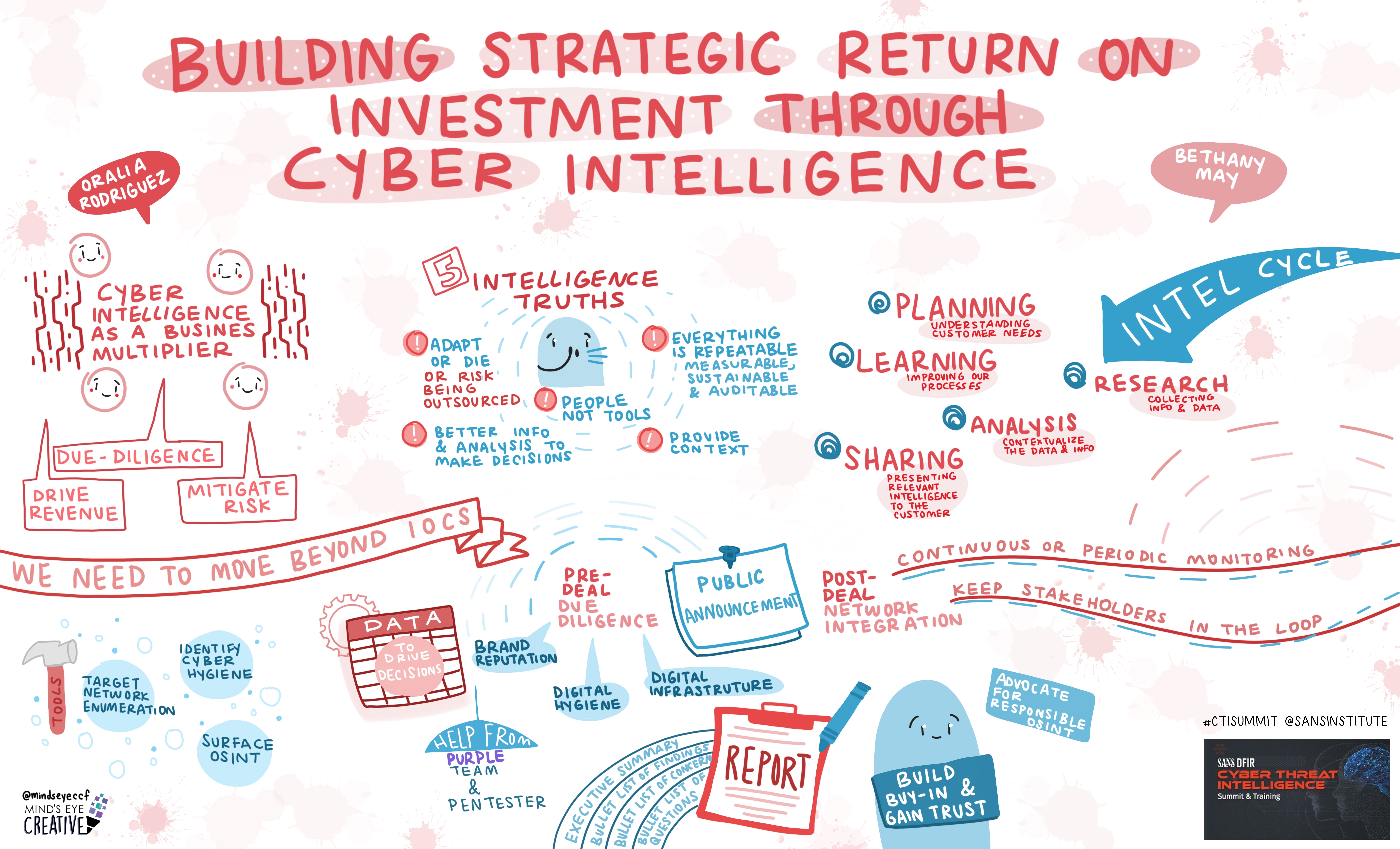 The First Purpose: Rediscovering Warning Analysis for CTI
JD Work, Research Scholar, Saltzman Institute of War and Peace Studies, Columbia University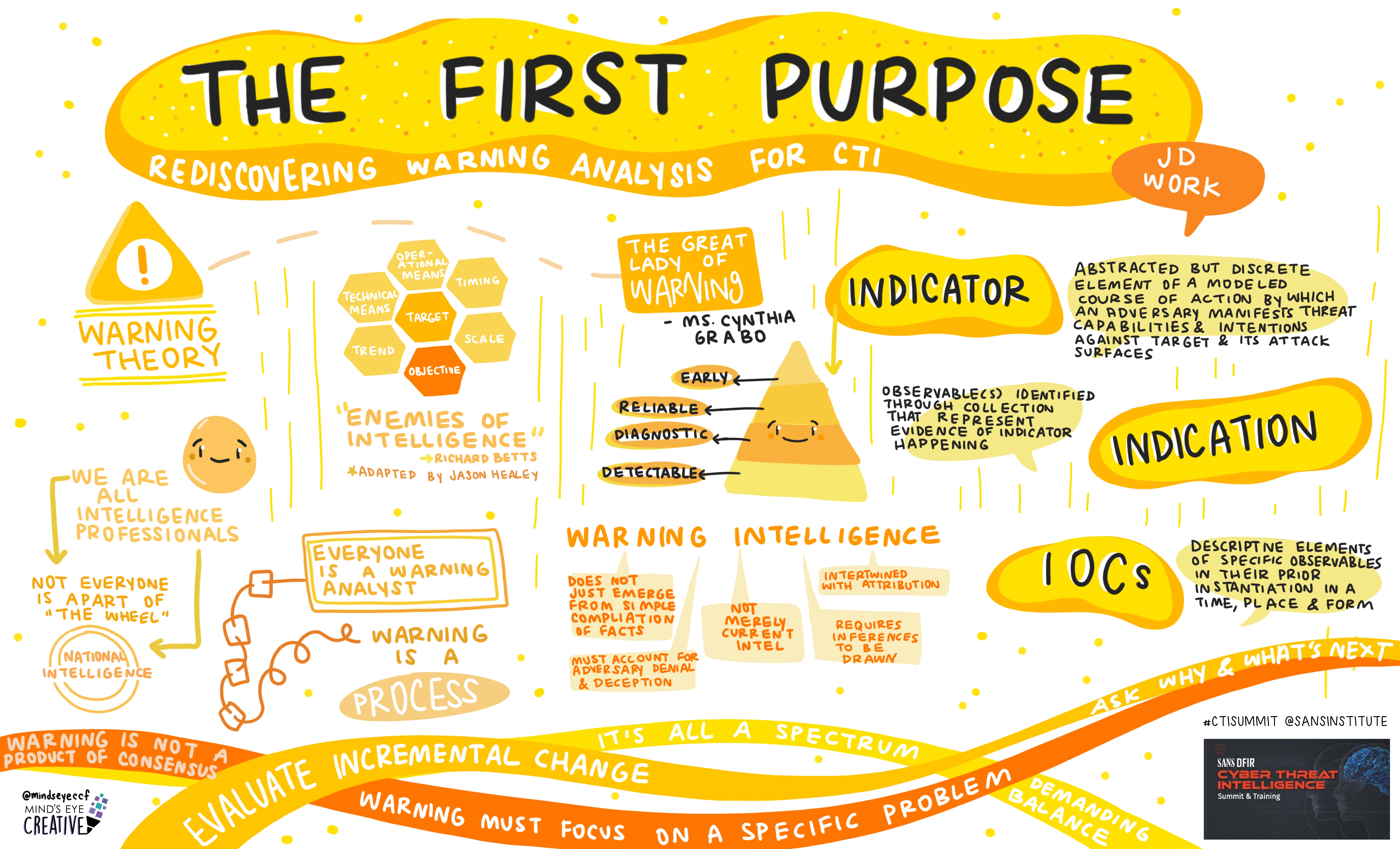 Integrated Intelligence
Samara Williams, Manager, Threat Operations, Cardinal Health
We're in Now, Now: The Tyranny of Current Intelligence and How to Manage It
Sherman Chu, Technical Lead, Cyber Threat Intelligence Team, New York City Cyber Command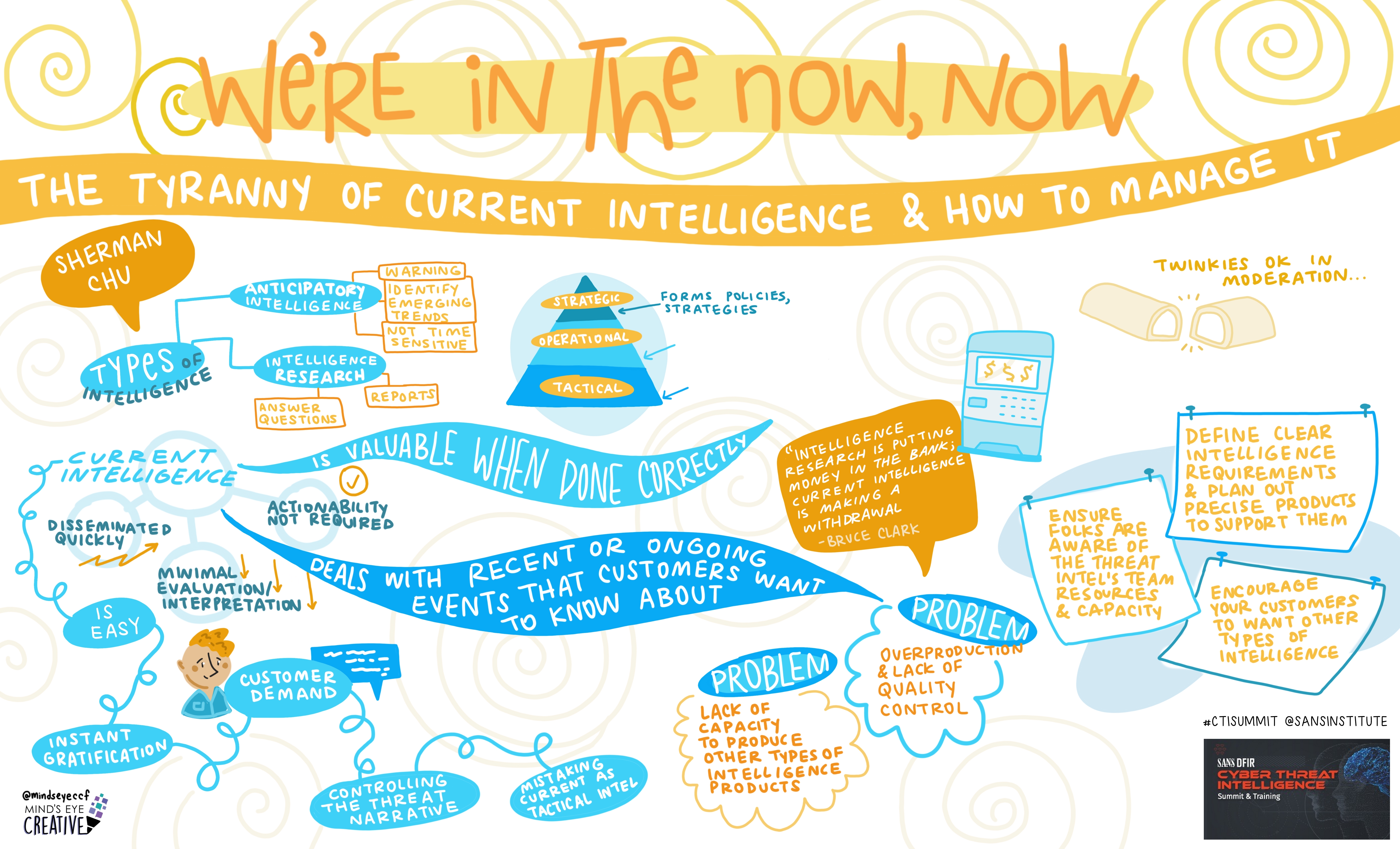 Mind Your Gaps: Leveraging Intelligence Gaps to Drive Your Intelligence Activities
Brian Mohr, CEO & Co-Founder, Reqfast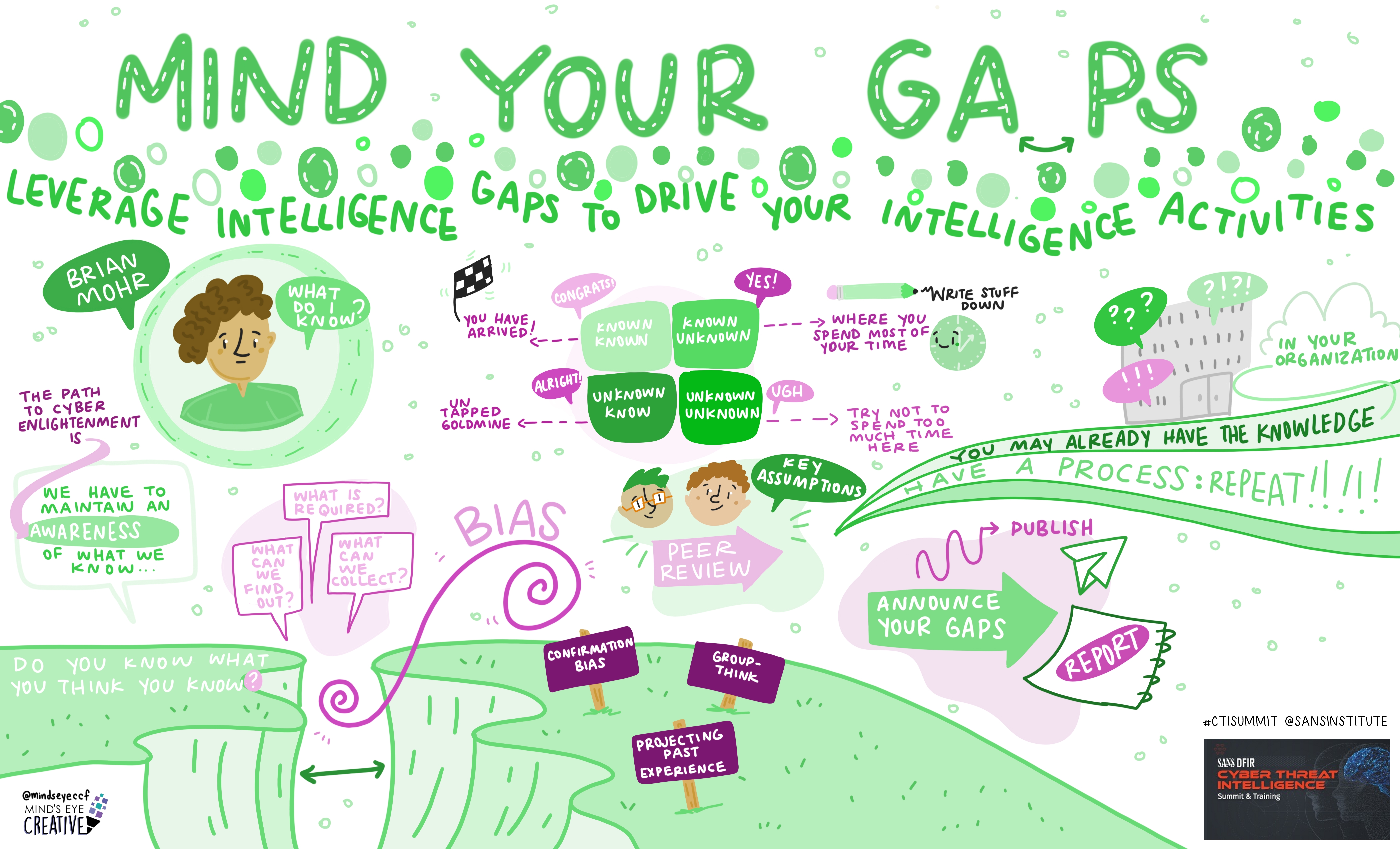 Lone Wolf Actors: How Ransomware Evolved into Freelance Work 
Laurie Iacono, Senior Vice President, Kroll 
Tony Knutson, Senior Vice President, Kroll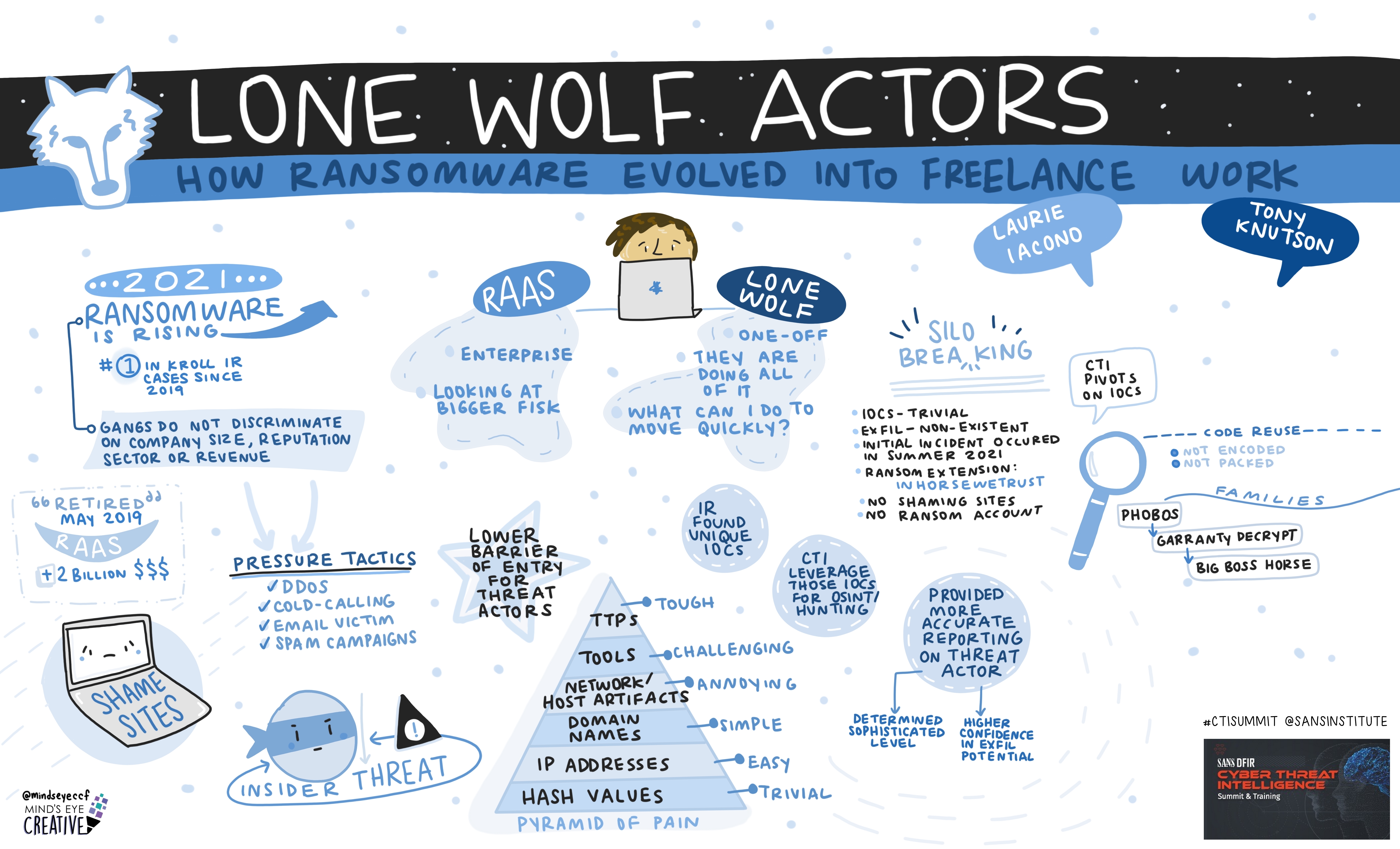 Is Sharing Caring? A Deeply Human Study on CTI Networking
Grace Chi, Co-Founder & COO, Pulsedive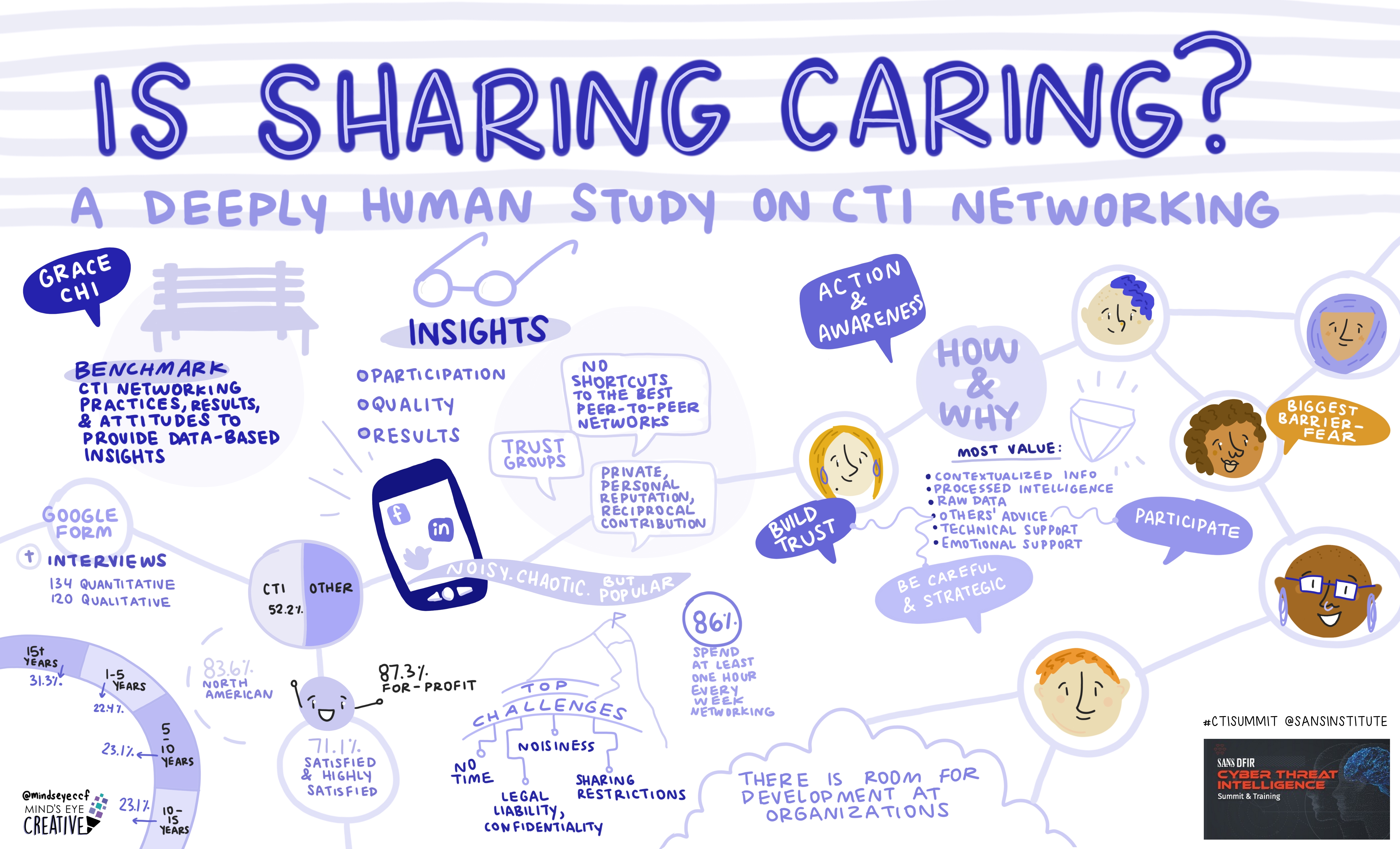 If you're interested in seeing other free virtual events SANS has lined up, visit the current listing.