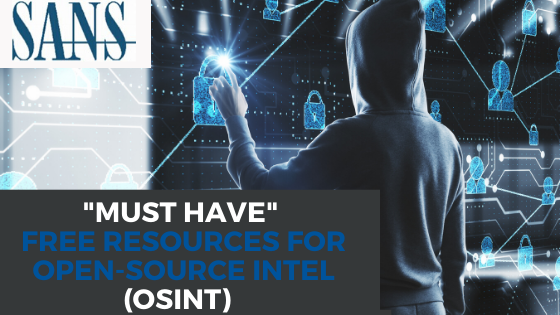 To best protect your organization, you need to understand what kind of information is publicly available. It's important to know the tools, skills, and techniques available to scour the massive amounts of information found on the Internet. Here are some free resources about OSINT to help in any investigation, pen test or to just see if your organization is exposed:

---
Must Watch
---
Must-Read Blogs
---
Must Join
---
And finally, if you're ready to really become an expert on the topic, check out SEC487: Open-Source Intelligence (OSINT) Gathering and Analysis
This is a foundational course in open-source intelligence (OSINT) gathering and, as such, will move quickly through many areas of the field. While the course is an entry point for people wanting to learn about OSINT, the concepts and tools taught are far from basic. The goal is to provide the OSINT groundwork knowledge for students to be successful in their fields, whether they are cyber defenders, threat intelligence analysts, private investigators, insurance claims investigators, intelligence analysts, law enforcement personnel, or just someone curious about OSINT. 
"The topics covered in SEC487 were incredibly broad within the OSINT analysis field and opened my eyes to capabilities and tools I did not know existed." – Daniel R
"SEC487 continues to introduce exciting and relevant data. Each day we dug deeper into techniques and learned about additional resources that can be used to do day-to-day OSINT work." - David U.

Test drive the course by viewing the course demo
Visit SANS.org/free to see all the free content available to the community.