Training for All
Dynamic, effective computer-based training teaches vital security behaviors, ensuring every employee is engaged. With different training styles to match your corporate culture, employee comprehension levels and learning preferences, SANS EndUser Training equips your workforce to recognize and prevent current cyber threats. Each style supports a specific audience or training goal.
A live action host and motion graphics are visually combined to capture the learner's attention in this highly engaging multi-sensory series. By blending an on-screen host and motion graphics, this series provides a conversational and friendly training program that is tailored to visual and auditory learning styles. This Style is suitable for learners in a multigenerational and multilingual setting to understand and build on their comprehension.
Illustrative Design is designed to engage learners in a story that includes the signature SANS "You are the Shield" concept throughout the entire storyline. With greater diversity and modernized graphics, this style covers a range of security awareness topics and engagement materials featuring heroes and villains your end users can connect with in the battle against cyber-attackers. These heroes and villains can be extended into your annual training marketing . Training modules in this style are fully translated in our core language offerings.
This straightforward training in a motion-graphic style works to ensure the learner understand the material and can build upon comprehension. Engagement Questions: These add-ons are unscored, mid-course questions that can be enabled to ensure students remain engaged throughout each module in addition to the post-test. Organizations who have more formal corporate cultures may appreciate this Training Style.
Watching real people make security related decisions – and mistakes – in a real office setting adds a human element to hook the audience emotionally and build empathy. In this Training Style, live actors overcome real-world cybersecurity challenges in these fun-to-watch Hollywood-style mini movies. Presented in a casual and modern setting, this Style can meet the needs of a multigenerational audience.
These modules engross players in hands-on challenges, requiring them to defeat security threats and display a deeper understanding of security behaviors in order to succeed. These application-based activities help make the message more sticky and help learners better remember the key points. After an informed learner builds on their comprehension, they can apply their knowledge pulled from this interactive, and engaging Style.
Challenging games engross players as they use their understanding of security behaviors and strategically apply them, in order to win. These interactive, hands-on games focus on in-depth knowledge and application of proper security behaviors across multiple topics while providing additional engagement using point, progression and leveling. Learners will better understand social engineering and apply those secure behaviors to use in the event of a cyber attack.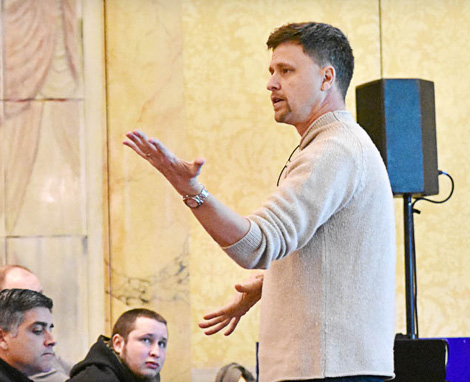 Your Program, Our Expertise
SANS experts have selected the most integral core risk and compliance topics to address employee security behaviors. Instead of digging through a crowded catalog of frivolous content, select the topics that matter most to your organization while adhering to your corporate culture and organizational needs. With short, modular, multilingual, expert-developed content provided in a variety of formats, eliminate training burnout by tailoring your security awareness training program to relevant issues and timing requirements.
Focus on your program outcomes, not surfing through endless modules.
Why SANS?
Leading cybersecurity and instructional design experts work together to keep learners engaged from start to finish.
Relatable, Real-World Curriculum
Customizable EndUser Training covers threats facing your organization right now.
Culturally appropriate content translated across over 30 languages--delivered in video, voiceover, transcripts & subtitle formats.
Put your Learner's Knowledge to the Test
Security Awareness Training doesn't have to be redundant. Allow learners to focus on the topics they have yet to master with SANS EndUser Training assessments and testing. 
PreCheck Testing: Recommended for return learners to test out of the modules in which they are proficient. When learners correctly answer all the questions for an objective, the associated module will be considered complete.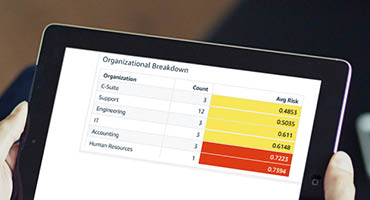 Target Your Learners without the Guesswork
The expertly-created comprehensive training for employees will help you build a powerful program that embodies your organization's needs and learning levels.
We've taken the guesswork out of building a program to suit your organization's specific culture. Training can be crafted into a custom mix of training to cover the relevant awareness topics and can be hosted on nearly any platform. 
Our culturally appropriate content allows you to utilize the right style, tone, and language of training that is appropriate for your workplace. The content can be customized with your organization's logos and the materials have been translated across over 30 languages, delivered in video, voiceover, transcripts, and subtitle formats.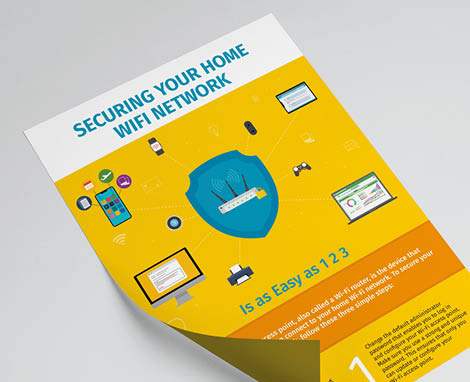 Supplemental Materials to Keep Learners Engaged
If your organization wants to take your employee cyber security training program beyond computer-based training and progress further on the maturity curve, consider the full library of Engagement Toolkits.
This supplemental material helps to continually engage learners in addition to the regularly scheduled video or gamified training you have administered. New Engagement Toolkit materials are released on a monthly basis and cover important concepts like malware or phishing.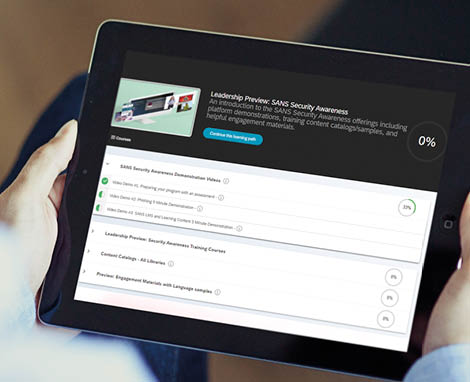 Learning Module Tracks
From essential topics, such as Data Privacy, Malware and Phishing; to compliance and regulatory topics like General Data Protection Regulation (GDPR) or PCI DSS, SANS EndUser Training has a comprehensive list of training that addresses your organization's security awareness concerns. SANS Security Essentials address the 10 core human risk areas that impact all people and organizations and is most commonly deployed as an annual course. Security Extras modules cover role-based training, the modern workforce and digital transformation. Compliance modules address any regulatory requirements your organization may have.
Your LMS or Ours
Deploy SANS Security Awareness training in your organization's Learning Management System (LMS) to streamline your security awareness training with other corporate trainings or use the SANS-hosted platform. We've partnered with SAP Litmos to provide you with an award-winning Learning Management System that offers the best user experience in the industry for both administrators and learners. Easily create and deliver training anytime, anywhere, and on any device with robust tracking and reporting at every step. Measure effectiveness and grow your program from one central location.