What is OnDemand?
SANS OnDemand is the world's leading comprehensive online training for information security professionals. OnDemand offers more than 25 SANS courses whenever and wherever you want from your computer (Windows, Mac, and Linux), iPad or Android tablet. OnDemand allows you to learn at your own pace, spend extra time on complex principles, reinforce concepts with quizzes, and repeat lab exercises - all of which increases your retention of the course material.
Your course enrollment gives you printed course books, CD/DVDs/Toolkits for hands-on exercises (as applicable), four months of online access to our OnDemand e-learning platform featuring a top SANS instructor presenting the material, quizzes, and synchronized video demonstrations/interactive labs (as applicable).
---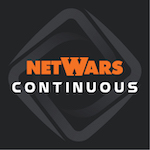 NetWars: Continuous
NetWars Continuous allows participants to build their skills on their own time over a four-month period working from their office or home across the Internet. With a whole set of new challenges beyond those included in NetWars Tournament, participants can build their skills and experiment with new techniques in this Internet-accessible cyber range.