OnDemand online training from SANS Institute is a custom E-learning option that gives students all of the standard SANS training books plus four months of online access to digital training materials, quizzes and lectures. With OnDemand you learn at your own pace, spend extra time on complex principles, reinforce concepts with quizzes, repeat lab exercises and utilize Subject Matter Expert support - all increasing your retention of the course material.
Choose from more than 25 of SANS' most popular courses and begin training from anywhere in the world tomorrow. You can also bundle the flexible features of OnDemand with Live SANS courses, giving you the best of both live and pre-recorded SANS training. To learn more about the specifics of OnDemand training, visit the OnDemand FAQ or contact us at ondemand@sans.org today.
---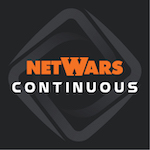 NetWars: Continuous
NetWars Continuous allows participants to build their skills on their own time over a four-month period working from their office or home across the Internet. With a whole set of new challenges beyond those included in NetWars Tournament, participants can build their skills and experiment with new techniques in this Internet-accessible cyber range.