---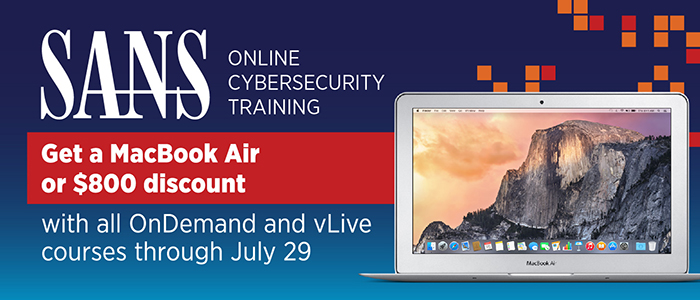 Get a New MacBook Air, Toshiba Portégé Z30 or $800 Discount With Any vLive Course For a Limited Time
Don't miss this window of opportunity to choose either a MacBook Air, Toshiba Portégé Z30 or an $800 discount to go with your vLive course! More than 30 courses are eligible for this special offer, and all allow you to complete SANS top hands-on cyber security training from your own laptop.
Redeem this limited time offer in two simple steps:
Choose a qualifying vLive course
Use the discount code of your choice at checkout:
MACF15 to receive a MacBook Air
PCF15 to receive a Toshiba Portégé Z30
800F15 to receive an $800 discount
Qualifying vLive courses include:
Cyber Defense
Penetration Testing
Digital Forensics & Incident Response:
Security Management:
Software Security:
If you have questions regarding this offer, please write to vlive@sans.org. You can also call (301)654-7267 [Mon-Fri, 9:00 a.m.-8:00 p.m. United States Eastern Standard Time].
Terms & Conditions
MacBook Air and Toshiba Portégé Z30 are only available to individuals in the United States or Canada. The $800 discount is available globally. This offer expires on July 29, 2015 and payment must be received by this date in order to participate in the offer. Allow up to 4 weeks for MacBook Air or Toshiba Portégé Z30 delivery. For Canada and APO addresses, please allow up to 6 weeks for delivery. Canada customers are responsible for paying any applicable duties, taxes or customs fees. This offer cannot be combined with any other offer or discount, including SANS Voucher Credit. Degree and special program courses are not eligible for this offer, inquire for details. SANS reserves the right to substitute this offer for an alternative product, service or cash award of approximately equivalent retail value. MacBook Air is a trademark of Apple Inc., registered in the U.S. and other countries. Toshiba Portégé Z30 is a registered trademark of Toshiba Corporation.
Apple MacBook Air 11.6"
1.6GHz Intel Dual-Core Core i5, Turbo up to 2.7GHz
Intel HD Graphics 6000
128GB PCIe-based Flash Storage
4GB 1600MHz RAM
2560 x 1600 resolution
OS Maverick
HD Webcam & Graphics
USB, Thunderbolt
Toshiba Portégé Z30 13.3"
1.7 GHz Intel(R) Core(TM) i5 with Intel(R) Turbo Boost Technology 2.0 up to 2.7GHz
128GB mSATA solid state drive
8GB RAM
1366 x 768 resolution
Windows 8.1
HD Webcam & Graphics
USB, HDMI
SANS Essentials Training Limited Time Special: Two-For-One Pricing on SEC401 and MGT414 - vLive Only!
For a limited time, two students can register for either SEC401: Security Essentials Bootcamp Style or MGT414: SANS +S Training Program for the CISSP® Certification Exam for the price of one!
This offer only applies to the vLive sessions of SEC401 and MGT414 that begin in September, and enrollment at this reduced rate ends August 19! For more information, view the BOGO Special Offer page.
Looking to maximize your budget or extend your fiscal year funds?
The SANS Universal Voucher Credit Program allows your organization to make an initial training investment and earn bonus savings on that investment. SANS will give you an additional 5% bonus if you use your Voucher Credits exclusively for SANS OnDemand or vLive training.
Learn more at: https://www.sans.org/vouchers#online
Group Training Discounts
Special pricing is available for groups and license pricing is available for companies looking to establish a training curriculum with live instruction.
Contact us today at vLive@sans.org to learn more or to discuss your needs.