This webcast has been archived. To view the webcast login into your SANS Portal Account or create an account by clicking the "Get Registered" button on the right. Sorry, the slides for this webcast are not available for download.
iOS Location Forensics
Tuesday, May 24, 2016 at 11:00 AM EDT (2016-05-24 15:00:00 UTC)
Sarah Edwards
You can now attend the webcast using your mobile device!


Overview
It is no secret iOS devices can track users every move providing location data that can be a major factor in many types of investigations. This valuable information can be found in a variety of areas on the iOS device. In this webcast, we will walk you through native iOS databases, plist files and 3rd party applications where this information is kept and tracked. We will also introduce you to scripts created to make data analysis easier by allowing you to do fast data correlation and build historical map of locations.
---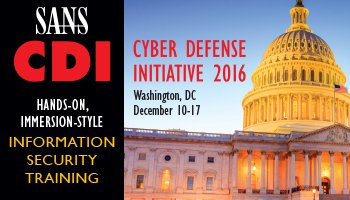 Location information can really be found everywhere and in many different contexts on iOS devices. This webcast uncovers how this location data can be a major factor in many types of forensic investigations.
This topic is just one of the many important subjects covered in our SANS FOR518, Mac Forensics Analysis course. If you are looking for opportunities to take this course, please join Sarah at SANS CDI!
---

Speaker Bio
Sarah Edwards
A self-described Mac nerd, Sarah Edwards is a forensic analyst, author, speaker, and both author and instructor of SANS FOR518: Mac and iOS Forensic Analysis and Incident Response. She has been a devoted user of Apple devices for many years and has worked specifically in Mac forensics since 2004, carving out a niche for herself when this area of forensics was still new. Although Sarah appreciates digital forensics in all platforms, she has a passion for working within Apple environments and is well known for her work with cutting-edge Mac OS X and iOS, and for her forensic file system expertise.
Need Help? Visit our FAQ page or email webcast-support@sans.org.
Not able to attend a SANS webcast? All Webcasts are archived so you may view and listen at a time convenient to your schedule. View our webcast archive and access webcast recordings/PDF slides.