This webcast has been archived. To view the webcast login into your SANS Portal Account or create an account by clicking the "Get Registered" button on the right. Once you register, you can download the presentation slides below.
Introducing the NEW SANS Pen Test Poster - Pivots & Payloads Board Game
Wednesday, December 19, 2018 at 10:30 AM EST (2018-12-19 15:30:00 UTC)
Jason Blanchard, Ed Skoudis, Mick Douglas
You can now attend the webcast using your mobile device!


Overview
It's a poster and a playable board game called, "Pivots & Payloads," that teaches penetration testing methods and techniques and also shows a few of the processes and procedures Blue Teams can implement to impede the progress of attackers.
Join Ed Skoudis, Mick Douglas, and Jason Blanchard for an overview of the new poster/board game. Discover how it was created, why it is useful, and how you can use it to learn about the skills, tools, and techniques of penetration testers.
Not only will they give you an overview of the poster/board game, but Ed and Mick will conduct demos on how to use a few techniques found in the game.
For an added bonus, we'll tell you more about this year's SANS Holiday Hack Challenge and how you can use this free gift to the industry to build and hone your own penetration testing and InfoSec skills.
NOTE: All registered attendees of this webcast, with a valid postal mailing address, will receive (3) printed copies of the brand-new SANS Pen Test Poster: Pivots & Payloads Board Game. The special mailing will take place about one week after the live webcast.
BONUS: Play in this year's SANS Holiday Hack Challenge to build and hone your InfoSec skills. The free to play challenge is our gift to the entire InfoSec industry. The game is designed for novice to advanced players. This could be your first CtF challenge or your 100th+ and you'll still learn new skills and have fun while doing it.
Visit: www.kringlecon.com and www.holidayhackchallenge.com
Download a PDF of the new Pen Test Poster: Pivots & Payloads: www.sans.org/boardgame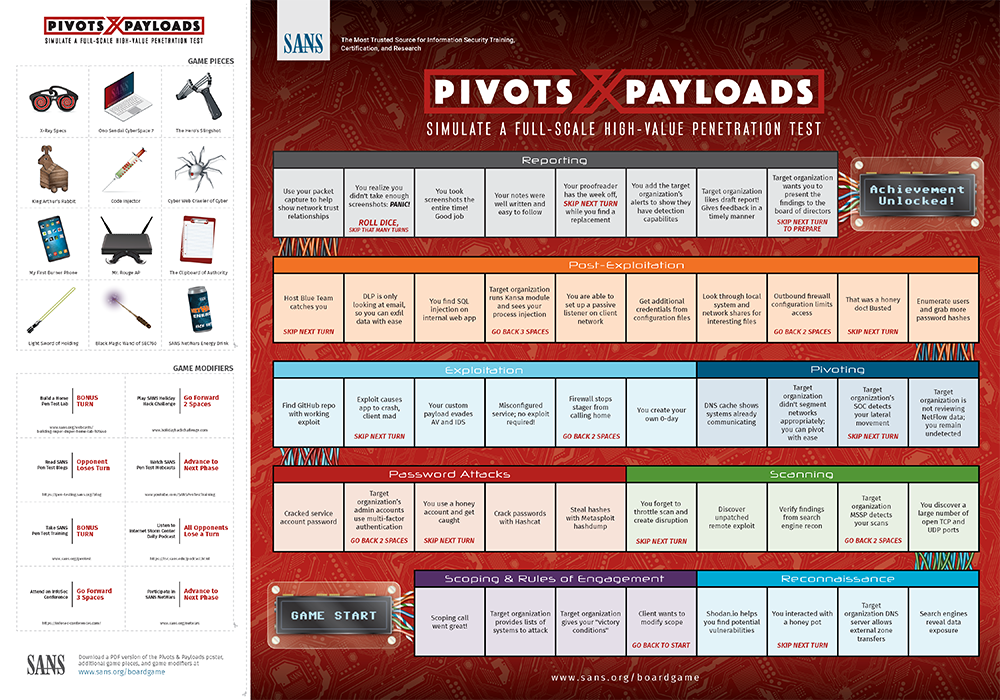 Speaker Bios
Jason Blanchard
Jason Blanchard is the SANS Pen Test Curriculum Marketing Manager
---
Ed Skoudis
Ed Skoudis is the founder of Counter Hack, an innovative organization that designs, builds, and operates popular infosec challenges and simulations including CyberCity, NetWars, Cyber Quests, and Cyber Foundations. As director of the CyberCity project, Ed oversees the development of missions which help train cyber warriors in how to defend the kinetic assets of a physical, miniaturized city. Ed's expertise includes hacker attacks and defenses, incident response, and malware analysis, with over fifteen years of experience in information security. Ed authored and regularly teaches the SANS courses on network penetration testing (Security 560) and incident response (Security 504), helping over three thousand information security professionals each year improve their skills and abilities to defend their networks. He has performed numerous security assessments; conducted exhaustive anti-virus, anti-spyware, Virtual Machine, and IPS research; and responded to computer attacks for clients in government, military, financial, high technology, healthcare, and other industries. Previously, Ed served as a security consultant with InGuardians, International Network Services (INS), Global Integrity, Predictive Systems, SAIC, and Bell Communications Research (Bellcore). Ed also blogs about command line tips and penetration testing.
---
Mick Douglas
Mick is an instructor for SEC 504 and SEC 555. He is the managing partner of InfoSec Innovations and is a member of the IANS Faculty. He loves logging. In his spare time he goes hiking and enjoys photography.  
Need Help? Visit our FAQ page or email webcast-support@sans.org.
Not able to attend a SANS webcast? All Webcasts are archived so you may view and listen at a time convenient to your schedule. View our webcast archive and access webcast recordings/PDF slides.